TracQuest+NSXCA at Pahrump, TCRA at Willow, April 2001
Ruthless Cheating Bastards
"When Racing, it is okay to Deceive, Cheat, Lie, and Connive your Way to Victory"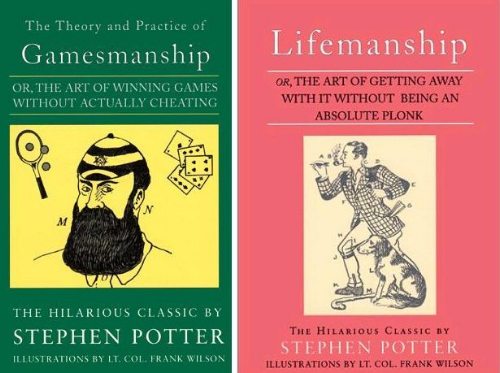 I haven't bought these books yet, but the covers seem appropriate for this chapter
The South West Region of the NSX Club of America decided to have an NSX track event at Spring Mountain Raceway, which is located in Pahrump, Nevada. Pahrump's claim to fame is that it is one of the few legal "brothel towns" in the United States. So you see lots of limos driving back and forth from Las Vegas (55 miles away) for customers that want to check out the local scenery, if ya know what I mean. Not that we would ever do that.......I saw some of those women on cable TV (probably on the E Channel), and they looked like male wrestlers. I mean, even if they were cute, we would never do that...yeah...that is what I meant....
The track in Pahrump was built by Rupert Bragg-Smith, who also runs a driving school at this track. Rupert's fleet of cars is based on Camaros and Z06 Corvettes. Rumor has it that Rupert wasn't happy about how other tracks were running their events and driving schools, so Rupert did the best thing possible: He built his own damn track, designed it how he thought it should be for teaching people to go-fast, and he gets to makes all the rules. Ya gotta admit....that is a beautiful thing to do. The City of Pahrump isn't known for rules, as evidenced by its famous reputation for legal prostitution. Rupert said that if he wanted to, he could build his own hotel right next to the track, and no permits are required from the city to build a hotel! He can just build it as big as he wants. Probably because all the town officials are getting a "therapeutic massage" at one of the local businesses, and they don't have time to worry about trivial paper work.
Wayne and I haven't attended an NSX track event in sometime. We missed out on going to Road Atlanta last year at the annual NSX Club of America meeting, due to the fact that we had a KRC Cup Kart race that weekend, and we could not afford to lose the points for our karting series. At the last minute, we decided maybe we could get someone to trailer the cars out to Atlanta and we could take a red-eye flight home, but then we couldn't get my NSX ready in time for the event, so we missed on out on one of the best tracks in America.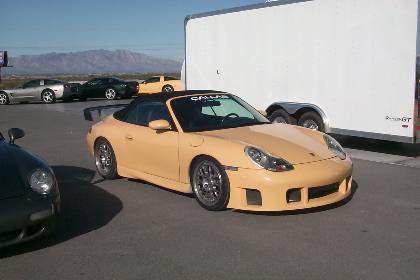 Todd's 996 Convertible with race tires
We wanted to go to this NSXCA Pahrump event, but since it wasn't a race, we had to make some decisions. The Pahrump event was on Friday, April 27, and on Saturday and Sunday the Touring Car Racing Association was having a race and time trial at Willow Springs. We heard a rumor that the TCRA was going to have two big race groups for this weekend, one for 2.2 liter and below, and one for above 2.2 liter. Big race groups are cool.....more people to pass, more jockeying for position, and more excitement.
So we had to make some decisions here. If we went to Pahrump, it would be fun to hang out with the NSX guys, but there would be no race for us, it is just a bunch of open track time. If we went to Willow Springs, we would be able to race in a big grid at Willow for the TCRA race. So we decided that what we would try to have a driving marathon this weekend. We planned on trailering 240 miles to Pahrump on Thursday, attending the NSXCA track event on Friday, then Friday night trailering 240 miles over to Willow Springs, wake up early Saturday morning, and do the TCRA event, sleep Saturday night in Willow, and wake up early Sunday morning for the final day of the TCRA track event. Of course all of this is conditional on our cars not blowing up in Vegas.
==== BLATANT COMMERCIAL ADVERTISEMENT FOR AMY ====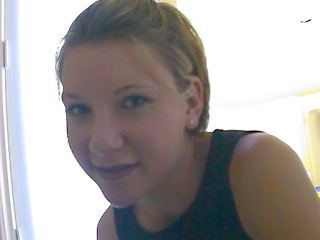 HEY! Amy (Wayne's girlfriend) is looking for a job!
She has worked as an assistant manager and as a bookkeeper for various companies. She is a customer service wiz. Highly intelligent, super energetic, and ready to help your company! If you know of any companies that might be interested in interviewing her, email Wayne! She is responsible, learns quickly, her mom was a teacher....and she and Wayne need to make that mortgage payment on that house that they just bought together!
=== END OF BLATANT COMMERCIAL ADVERTISEMENT FOR AMY ===
Some of the NSX guys in Arizona and San Diego have been going to the track quite frequently, mainly to tracks in the Phoenix area. Curiously, none of them come down to any of the events that Wayne and I go to, like the TCRA/NASA/Open-Track/Alfa events held at Willow Springs, Buttonwillow, Sears Point, Laguna Seca, or Virginia City. Kinda like how people used to avoid getting into the ring with Mike Tyson. <grin> At the AZ/SD track events, they have quite a few streetable supercharged NSXs that have been duking it out in time trial/lapping events. How fast are they? We ain't sure, as they don't usually post their lap times. But then again, Wayne's 944 Turbo is strictly a racecar, and my NSX is barely streetable, so the comparison isn't necessarily equal in some eyes. But Wayne and I consider the comparison valid………after all, everyone wants to be the Big Lion on the Rock, looking down on everyone, saying, "Yeah, I kicked their ass. And their ass over there. And those guys too, I kicked their ass. As a matter of fact, I kicked everyone's ass at the track. Yeah. Me. I did it."
So we decided that we would go to Pahrump, and see what these other NSX drivers are made of. But racing isn't about being fair…….racing is also about being crafty, secretive, and basically being a "cheating bastard", as Wayne likes to phrase it. Since the Pahrump track is fairly new, we figure very few people have been on the track, and in all probability, 100% of the people going to this event will be there for the first time, including us. Let's see……how do we get the "strategic edge" for this event……hummm…….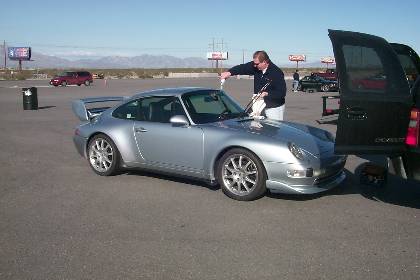 Nice looking Porsche at Todd's Event
After scanning various organizations, it appears that Todd Serota's TracQuest program is having an event at Pahrump on April 7/8th. TracQuest is primarily a lapping type of event, meaning that there is no racing and no official timing. Todd usually has about one instructor for every two students, and the instructors help out the students with their driving skills. Instructors get to attend the event for free……and it just so happens that Wayne and I are on their official "Instructor List". Usually you get so much track time that you leave early on the second day, as you are exhausted. Figure on about 3+ hours of track time each day, if not more. So we then realized that we could tell everyone else in the NSXCA that there is a TracQuest event on April 7/8th, but then again we didn't want to bleed off any participants that we planning on going to Pahrump two weeks later with the NSXCA, as we didn't want the NSXCA to take a chance at losing money on their track event. And also, we didn't want anyone else to get "ruthless cheating bastard" practice like Wayne and I were doing……….
So we agreed not to tell anyone. We told Larry not to tell anyone either. Thus, when we showed up with all the other NSX hot shoes in Pahrump, we could say, "Humm…….give me two laps to get warmed up, and by then I should have the track figured out". And then we would blow by everyone like they were standing still. Heh Heh Heh…..yeah, that was a good plan…we could have some fun with this.
Anyways, after having minor car problems with the NSX at Buttonwillow, Larry went to work trying to figure out why the car was sputtering and overheating a bit. Going around high speed sweeper turns, the car would start to get hot. When I would pull the car into the pits, there would be lots of steam coming out of the engine compartment. The cooling system seemed to be holding pressure without a problem, with no leaks. Larry went through the cooling system, checked the fans, replaced a couple of hoses, radiator cap, coolant bottle, thermostat, etc.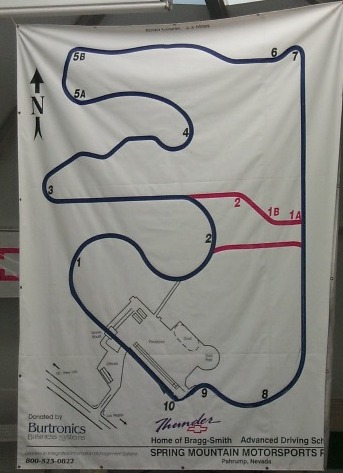 Track Map of Pahrump
Larry said that he also had some ideas on how to boost up the HP on my car. I told him to go ahead and experiment, but I want the car dynoed before we take it to a racing event. I figure we could take the car to Todd's event, and get it dialed in for the NSXCA event and the TCRA event. It is very frustrating when you spend three or four days preparing the trailer, truck, racecars, etc, for a race, and then when you get there, the car isn't 100% perfect, and you suck in the race. So around April 5th or so, Larry said that the car is ready to be dynoed, and asked me to trailer it to the SHO Shop, which has a pretty reliable dyno. Now I know dynos are not all that reliable, and that temperature, humidity, etc. etc. make it so that you really can't compare dyno charts from one day to the next. But all the racer dudes around here go to the SHO Shop to test out their motors. The same guy (Vadim) runs the dyno every time. They usually only do dyno runs after 6:00 p.m., after they are done with their regular work.
Anyways, I go to pickup the car from Larry, and he put on these big Super Trapp mufflers at the end of the straight pipe. I asked him what the hell he was doing, as most people believe that the Super Trapps are not all that good for racing, as they are too restrictive. Larry says just test it out like this, with all the discs in the Super Trapp, as he thinks my car needs a little bit of back pressure. He was driving it around town, and he felt like the car was making excellent power. He also mentioned that with the Super Trapp, we won't have to dick around with swapping the entire race exhaust to the street exhaust whenever we need to drive the car around town, we can just take off discs to quiet the sound. It is a pain the ass to switch exhaust back and forth. I protest some more, and then I finally give in, but only after agreeing that we put the straight pipe back on if the car sucks on the dyno.
Larry has a zillion people at his shop, and a bunch of customers there. He says he can't make it to the dyno, but to take Jesse and Brent with me to help out. We trailer the car there, and we setup for the first dyno run. We dynoed pretty strong there the last time, somewhere around 380 HP. This time, we get on the dyno, and we crank out an amazing 391 HP at the rear wheels! Vadim says that we need to bump up the fuel pressure a little bit more, and redo the run, as he feels that from the dyno chart we need more fuel. Jesse bumps up the fuel pressure, and we do another dyno run. This time we do 396.2 HP, and 273 ft lbs. of torque, and the torque curve look pretty good across the RPM range. Vadim smiles, and says that we finally got it right after all these years. Back when we were dynoing at 330-340 HP, Vadim felt that there was more potential for the engine and supercharger (but then again he is a big Iron, low RPM, SHO Taurus tuner, who is used to big cars with big engines).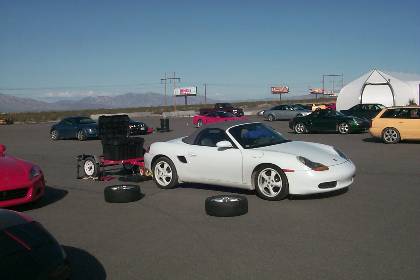 Boxster at Todd's event, pulling a small trailer with tools and tires!
Anyways, we get back to Larry's shop, and he is pretty happy about the dyno results. He grins and says, "I told you not to worry about the horsepower, didn't I? You don't think I just sit around on my ass all day long here, do you?". One of Larry's assistants at the shop quickly posts to the NSX List Server that my car is pumping out 396 HP. Some of people on the List are suspicious of the results of the dyno chart, and almost scream, "Bullshit". I can't say I blame them, as many people have tinkered around with the Comptech supercharger, and most people get around 330-350 max HP or so at the rear wheels. Even Comptech wasn't getting the 396 HP number. So what has Larry done different that everyone else? A lot of people with NSXs want to know what they have to do to get more HP out of there car.

I tell Larry that he should tell me what I did, and then I will post it on my website. But Larry says, "Hell no. I worked damn hard over the years trying to figure out how to get more HP out of your engine, and why should I tell everyone else how to do it. If they want the power, they should bring their car to me, and I will get them the max possible power. And besides, a lot of people think they are "tuners", and call me bogus, yet they still want to know how I did it? Screw them!"
So now here's the moral dilemma in a different light. Let's say you have worked 10 years to work on the cure for AIDS. You sweated, you cursed, you tested, you failed many times.....but then you finally got it figured out after all that hard work. People doubt that you really have the cure, but they want to see your formula and test results to duplicate it for themselves and prove it to themselves. Do you:
Tell the world how ya did it and divulge the secret formula, because it is good for the world, so they can duplicate the results for free, and put it in the public domain?
OR
Do you keep the formula a secret and sell the end product, so you can recoup your investment over the last 10 years, especially all those late nights when you could have been out partying, but instead were working and scratching your head all night, trying to solve the problem?
Yeah, I know, the analogy isn't quite the same, nor is the scale as important, but you can sorta see where Larry's thinking is. You can read about some of what Larry did to my car in Chapter 66, with parts of it edited out, a la the Freedom of Information Act.

Anyways, we decide to take the NSX to the TracQuest event. Our goal for this event is to get the car dialed in, check to make sure the overheating problem is cured, play around with suspension settings, etc. We decide to turn it into a big test day.
Meanwhile, Wayne's car should be ready, as his new tranny is installed. He blew up the old one at the NASA Buttonwillow event. The shifter linkage just needs to be tightened on his new tranny. We got a couple of days before the event....Wayne and Larry don't think it will be a problem to adjust the linkage. The night before we are to go to Pahrump, we get ready to pack the cars in the trailer. I have spent two days getting the trailer and truck ready for the trip, using the checklist. Wayne gets in his car to park it in the trailer....but he says that the linkage isn't right. Butch comes down from Larry's shop, and screws around with it some more, but still can't get the linkage to shift quickly. It takes seconds to find each gear, instead of being instantaneous. So they take the car back to Larry's shop, and try to work on it at night and the morning before we are to leave for the TracQuest event. Damn....impending doom, I can see it coming a mile away....
The next morning, Larry and Butch still can't get the shifter to work correctly. They think that maybe a piece is missing, like a custom bracket, as this transmission is modified with a short shifter kit. Wayne says that the shifter kit was great when it was working, and it makes the car really fun to drive. But now, we can't get it to shift even halfway decent, and it is 12:30 p.m. We need to leave in 60 minutes to beat the Friday afternoon traffic, or else we will be stuck in rush hour traffic with a 48 foot trailer that takes goes from 60 MPH to 0 in about a half mile.
Wayne and I thought about our situation, and we decided to blow out of town without the race cars. No use bringing the 48 foot trailer to Pahrump to support just one racecar. Instead, Wayne would take his new NSX Targa that his just bought to replace the F355, and I would take my relatively new S2000 to the track. It was a "back to the basics" type of event, in that many years ago we would put some BFG R1 tires on our cars, drive to the event with a $30 set of tools, run the time trial event, and then drive back home in the same car. Now, we can't go anywhere without lugging around a 48 foot trailer and two tons of support equipment. We tried to call Larry, but his damn answering machine and his cell phone wasn't accepting calls. Wayne and I throw some clothes and a tire gauge into our trunks, and hit the road in a panic. Going up the 91 freeway, there is one of those "Fast Track Only" toll lanes. Except that in our new cars, we don't have our Fast Track transponders. If you blow through the toll lane without a transponder, they take a picture of your license plate, and send the fine to you in the mail. The regular freeway lanes will be bumper to bumper by now……but then again since our cars are new, we don't have license plates, so the picture that the Fast Track camera takes won't be able to track our ass down. We blow through the Fast Track Lane at 85 and right by all the rest of the suckers stuck in 5 mph traffic......we will be cheating bastards whenever we can.......
We blast into Bally's, and gamble for a couple of hours before crashing into bed for the night.

The weather forecast is rain. Bummer. We leave Bally's early in the morning, and we have to go over a mountain range to get to Pahrump.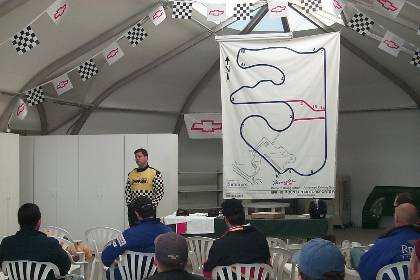 Todd at the driver's meeting
At the track, it is cold and wet. At Todd's event, there are usually three run groups, so everyone gets a ton of track time. There is a beginner group, an advanced group, and the instructor group. Unfortunately, the track is so damn wet that we can't blast around the track at all. Tires are slipping, cars are understeering, and everyone is wet and miserable. We can't even learn to drive the correct line. At 5:00 p.m., we all make the drive back to Vegas through the mountains, except now we have to navigate through ice and snow, which is a drag for us Southern Californians, as we have no clue whatsoever in driving conditions other than sunny days with a minimum of 70 degrees. We slog through the ice and snow, and make it back to the casino. We gamble more, and Wayne is having a rough time at the tables. He has been kicking butt the past year at the blackjack tables, but he is getting a whupping this trip. I am up about $700 or so.....but I have been getting my ass kicked on our last couple of trips.
The next day, we have bright sunshine. A perfect driving day. In our haste to leave on Friday, we didn't bring the hot lap timing equipment, so we are stuck with tie wrapping a stopwatch on our air conditioning vents, picking a point on the track, and hitting the stop watch to figure out our laptimes. Wayne and I are duking it out on the track, and I am destroying him in the turns. The handling on the S2000 is pretty incredible, and I am on his bumper through all the twisties, but he pulls from me in the straights. There is no way I could pass him in a race. We switch cars, and the same thing happens, meaning that Wayne is all over my ass with the S2000 in the turns, and I am trying to slog his NSX through the turns. People have said that the 2001 NSX has a much softer suspension. Softer? It feels like a damn boat. Yeah, it is fine for buzzing around town, but for track duty, Acura toned down the suspension so it feels like a Cadillac. By the end of the day, we destroyed the street tires and brakes on our cars, and our fastest lap times were 2:02.22 for Wayne, and 2:02.30 for me. So Wayne is faster by 8/100ths of a second on this track. Damn.....I thought I was gonna beat his time. Wayne also said that he was being a little cautious with his car, as he didn't want to spin off and screw up his NSX that only has about 800 miles on it......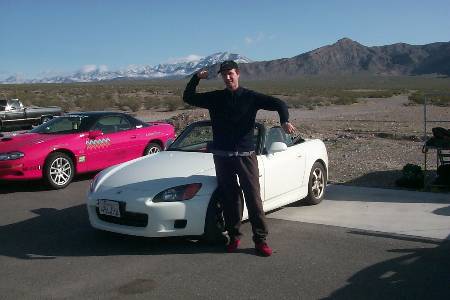 Aaron Bitterman was kicking our ass at the track.
Todd Serota seems to be one of the fastest guys there with his 996 Convertible with track tires. He has been on this track before, and he is running somewhere around a 1:54. Aaron Bitterman in his S2000, and lots of experience with it on the track, kicked my ass and Wayne's ass with a 1:58.x laptime. However, Aaron had race tires, has been on this track before, and I think he mentioned that he setup his camber settings for the track. So Wayne and I figure that if we had race tires, we would be five seconds faster, and could have taken down Aaron...but for now, we must bow to him. As we are getting ready to leave, Rupert, the owner, goes out and tests one of his Z06's in the race group session. Remember, it's his track, and if he wants to test his cars or if he needs an adrenaline buzz in the middle of your run group, his rules says he can get on the track at will.

Rupert looks like he is BURNING up the track in that car, chasing Todd down, as if to say, "Yeah, you ain't bad, but you ain't the Big Dog on this track". I grab a helmet and a stopwatch, and after Rupert comes in after a couple laps, I ask him to take me around the track for a couple of laps. From a standing start onto the hot pit lane to track entry, I time his first lap. He turns a 1:54. Holy shits, that is from a standing start, it wasn't even a flying lap, and he is on street tires! He is driving the Z06 like a kart, meaning he is getting on the power real quick around the turn, spinning the tires, controlling the car completely with the throttle and subtle brake and steering inputs, doing big downshifts and hurling the car into the next turn. As we are ripping around the track, I try to say something like, "Damn, you are god like on this track", but as soon as the first word comes out, Rupert just raises his right hand very quickly as if to say, "Shut the hell up and observe how a professional drives this track", and just as quickly drops it back down to the steering wheel. After getting this tutorial of how to rip around this track, I now know how much I can push a car here without wiping out. I get out of the car, and chase Wayne down, and tell him to get a ride with Rupert. Wayne comes back after getting a ride, and says that Rupert gave him the best car ride ever. Rupert also gave him the "Shut the hell up, can't you see I am driving this car within an inch of doing barrel rolls" hand signal when Wayne opened his mouth in the car. So now we are totally dialed in as to how to drive the track for the NSXCA event....heh heh heh......this is gonna be fun......
We stop at the Pahrump Nugget hotel to gamble after the track event. The ATM machine takes Wayne's ATM card, debits him $300, but doesn't give him any cash. Wayne complains to the manager on duty, but he doesn't have a key to the safe, just the owner does. Wayne even loses money at the ATM on this trip....which means his is having really shitty luck.
We take the back road home from Pahrump, that connects to Baker. It is a barn burning road......let's just say you can comfortably cruise at a very high rate of speed. We hit Baker, get gas, check KFWB for the traffic report. Uh oh....apparently there are two wrecks about 20 miles from Baker on the way home. The traffic is backed up so bad that people are getting out of their cars and walking around, waiting for them to clear the road. We look at the freeway from the gas station, and sure enough, we can see the traffic backing up all the way to Baker. So there is a 20 mile parking lot on the 15 freeway. We go to Plan B.......and drive 50 miles the opposite way on the freeway back to the Stateline, and we use the cellphone to reserve the last two rooms at the Prima Donna hotel. We ain't gonna wait for hours and hours for the freeway to clear up....we are gambling, and staying one more night.
On the way home Monday morning, the ride is terrifying. It is more scary that racing your car at the race track. You see, in California, people drive REALLY FAST on the highways. There isn't a lot of radar used on the freeways like in other states. And, for some wacky reason, radar detectors are okay to use here, unlike other states. So you have a situation where there isn't a lot of officers with radar, and those that do have radar, ha ha, you use your Valentine One. So picture this:
Two lanes on each side of the highway.

The Fast lane going home has people driving NASCAR style, going 90 mph (speed limit is 65), and are less than one car length apart.

Slow lane going 80 mph (only because the big semi trucks are pegging out at 80 mph, their speed limit is 55), and all the cars in the slow lane backed up behind the big trucks are trying to squeeze in between the cars in the fast lane. So anytime there is more than one car length of space between cars in the fast lane, ZOOM, a guy in the slow lane cuts over. So everyone in the fast line is trying to protect their position in the race to get home. And these aren't good drivers either, we are talking SUVs and vans with itty bitty brakes, and their drivers using cell phones at the same time

Since people are trying to cut in, the drivers in the fast lane stay right on the bumper of the guy in front of them at 90 mph. No wonder there were two major wrecks on the freeway yesterday.....and Phil Jackson once mentioned that driving the freeways in Los Angeles was one of the hardest things for him to get used to as coach of the Lakers. You guys in Chicago must be slow.....
Okay, so we get our "cheater practice" in, but I still have to make sure my NSX is okay. So, if my engine is putting out 396 HP, there is one easy way to prove it in my mind: Faster Lap Times. I tell Larry that we are going to take the car to Willow Springs, and we are going to blow away my previous fastest lap of 1:29.75. If we have all these extra ponies, we are going to back up our big talk. We schedule a test day for the middle of the week at Willow Springs. It is a "Semi-Exclusive" test day, meaning that only 6 cars are allowed on the track. We get there, and some dude had his Ferrari F50 and his 360 Challenge car towed to the track, while he himself showed up in a new 996 Turbo. I start thinking about the possible footage of this test day.......visions of passing an F50, a 360 Challenge car, and a 996 on video tape....heh heh heh....this is gonna be cool......


The best road racing discussions happen at www.corner-carvers.com
So me, Larry, Reuben, and Alex unpack the 48 foot trailer and the car, and get to work. I buzz the car around for a couple of laps, and run a 1:32. This looks good....just warming up, and the car feels faster. We should be able to easily break our own lap record, and go home victorious. Except on lap 4, the car starts to overheat all the way into the red. I pull off the track, bring it into the pits, and Larry starts checking the car again. There is coolant in the engine compartment, but it sorta looks like it is still coming from the overflow tube on the coolant tank. But it could be a hose. Larry replaces some of the hoses on the coolant tank, and we try again. We go two laps, and then it overheats in the turn 2 horseshoe shaped turn. We bring the car in, and bleed the coolant system again. We go out, do two laps, it overheats. Come in, check hoses, etc., and try to wire the fan so it is on 100% of the time. We got out, do two laps, overheats. Come in, replace thermostat. We go out, do two laps, overheats. Larry replaces a couple of the hoses up front that had minor kinks in them. We go out, do two laps, overheats. We repeat this procedure about ten more times....and still no success. After 8 hours at the track......we give up.....and head home, defeated. We can't prove to the world that we have 396 HP via our lap times. Damn.
On the way home, Larry is taking a nap, and then suddenly says, "I got it. I screwed up by taking out the heater a couple of months ago, and plugging that hose up. That hose should be recirculating the fluid back into the coolant loop, rather than just plugging that hose....that has got to be it." We go home in a good mood. We know how to fix it. Wayne rags on us, saying my car is really fast, and can win the next race....... if the race is only two laps long.

Tuesday, April 24th.
Larry has a ton of customer cars at his shop. Our track event is in three days. My car ain't done. This is depressing. Frustrating. I am feeling suicidal about my car. I need to figure out a way to get out of this mood. I need something inspirational. I need some guidance. I need to have my soul cleansed. I need a religious experience. Hummm....I know, U2 is playing at the Arrowhead Pond tonight! I grab the wife, and tell her let's go on a date to see the U2 concert. We head down to the Pond, and we are walking around, looking for scalpers. I am walking around with a seating chart, talking to crowds of people like a carnival barker. "Anyone selling tickets. Anyone got tickets to sell. I need two tickets." There aren't very many people selling tickets today, which means it resembles the electrical power crises in California. Lots of demand, little supply, means big bucks if ya want the resource. And there is no way to get around it using political posturing.....ya just gotta pay. Ticket scalping and the power crisis are both examples of a simple ECON 101 case study, and you can't solve either problem with price caps, no matter how much political posturing the governor tries to do. A couple of guys are selling the worst seats in the house for $125, which I refuse to pay. Sorta like if you think your electricity bill is too damn high, then shut off more lights, use less power. We walk around for almost an hour trying to procure some decent tickets....and it looks like we will be watching TV tonight.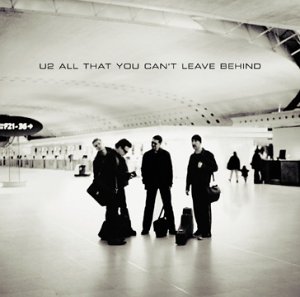 U2 - The Cure for the Broken Down Car Blues
One guys is selling general admission tickets for an outrageous price, but they will be better than the shitty upper deck tickets. I read in the paper that U2 has setup their stage with a big walkway extension that is shaped like a ring that extends into the general admission floor section, which is for standing room only, as there are no chairs on the floor. If you are lucky enough to be one of the first 250 or so people, you stand inside the ring, so the stage is in front of you, and a five foot wide stage extension goes all the way around you. I ask the Wife if she minds standing up for the entire concert, and she says that it is fine with her. We get the tickets, we go inside, and the opening act is almost done. We are standing about seven people deep from the front part of the walkway that comes out to about half court on the floor. The crowd is kinda tight, with people jostling for position. U2 figured that since the stage extension is shaped like a ring, even if there were lots of pushing, people would not get crushed, as they would just be pushed along the outside of the ring. That is pretty damn smart.

Anyways, the concert starts, and Bono spends quite a bit of time with the Edge on this walkway, prowling the audience. This is awesome, Bono and the Edge right in front of us, singing and playing guitar with a big spot light on them. Highlight of the night was having Bono and the Edge fifteen feet in front of us, singing, "In a Little While" , the song that Joey Ramone was rumored to be listening to when he died of cancer. It was an uplifting, life-affirming concert.....something that only the true artists can achieve. Unlike you punk-ass rappers that can't play an instrument. And you flailing techno-musicians that can't write any fucking lyrics.
Wednesday night, April 25.
The 1-800-Phoneguys Coed Softball team wins their final game of the season, thus winning the championship with a perfect, undefeated, 10-0 record. Out of 50+ coed teams that play on Wednesday night, only two teams go undefeated. Our last league championship happened 9 seasons ago (3 years ago). Unfortunately, this means that will move our team up a couple of leagues, but at least we get to bask in glory for three weeks....and then the next season begins.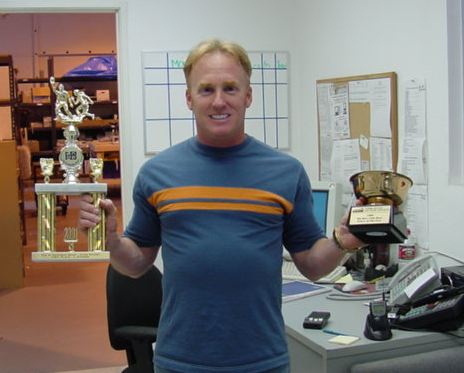 Wayne holding 1st place Softball Trophy, and 1999 TCRA Big Bore Driver Cup

After the softball game, I stop by Larry's, and he says he thinks the car is ready. I take the car on the 405 freeway at 9:30 p.m., and I try to get the car to overheat. I keep the car at 7000 RPMs in third gear, and it won't overheat. I accelerate between 5000-8000 RPMs multiple times, and can't get it to overheat. I idle it on the city streets, and it won't overheat. Looks like it might be fixed....hopefully. We got the NSXCA event coming up in 36 hours....and we don't want to look like idiots at this event, in a car with big horsepower, but can only go a couple laps before it starts puking its guts out on the track. I haven't had much success at NSXCA events. The last time the NSXCA was at Laguna Seca, I started getting huge amounts of oil blowby.....so I was pretty much a DNP(Did Not Play) at that event.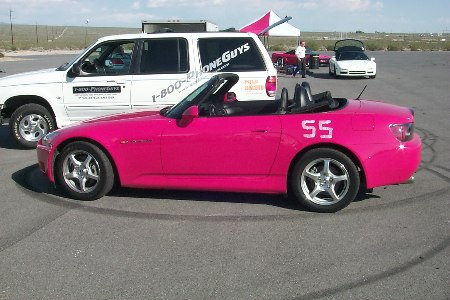 The S2000 as the "backup car" at the NSXCA Event
Wayne gets Rick, the guy who built the White 944 Turbo, to come down fix the linkage. Apparently Rick knows stuff about the 944 that Larry and the rest of us can't figure out when it comes to this short shifter package. Rick works on it for a little bit, gets the shifter dialed in....so it looks like we are ready to go.
Thursday, April 26th
We want to leave for Pahrump by 10:30 a.m., as we need to have the freeways as clear as possible for us to drive the 48 foot trailer. Bonehead Larry isn't ready to go, as he has a bunch of customers that are still trying to get stuff done to their car at the last minute. We bail on him, telling him we ain't waiting around. I tell him to bring his tools up in Wayne's Ford Explorer, and if one of his guys wants to drive my S2000 up to the event, that would be great. As I have a sneaking suspicion that we haven't seen the last of that overheating problem....and I will at least get to buzz around the track in the S2000.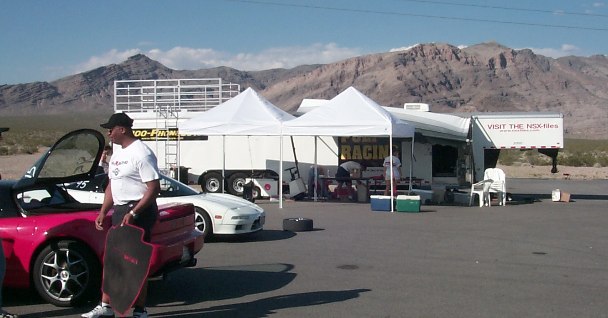 The Pulp Trailer, EZ-Ups, observation deck, etc. with the mountains in the background
We get to Pahrump by 4:00 p.m., and we stop by the track. We talk to Rupert, and remind him not to tell anyone else we were here two weeks ago, and to act like he doesn't know us. He agrees to our plan. Since it is still sunny outside, we ask him if Wayne and I can get an hour of track time in our cars, just to "warm them up" for tomorrow. Unfortunately, they are closing soon, and some dude with a Pantera there has rented out the track for himself.....undoubtably, another guy getting some cheater practice in......he is probably gearing up for a Pantera Owner's Club event.
Friday morning, 7:00 a.m. Looks like Larry and them left the shop around 2:00 a.m. last night for Pahrump. To make matters worse, they didn't correctly read my Mapblast directions, and instead of taking the short cut from Baker to Pahrump, they take the long cut, and go from Baker to Vegas to Pahrump, thus adding another 80 mile on to their trip........so they are all dead tired and look like zombies.
We go to the track event. A lot of people ask us if we have been on the track before, and we kinda stutter , and we mumble something like, "No, this is the first time for the racecar", or some innocuous b.s. like that. We have our driver's meeting, and we all agree to:
1. Pass only on the left
2. Pass only on the designated straightaways on the track
3. Obey all the corner workers.

We go out in our session, and after 3 laps, my car overheats. Oh no....not again......this isn't happening. Wayne's car is running fine, and he is blazing around the track. As a matter of fact, Wayne is going so fast, he is ignoring all the rules. The organizers of the event come up to me, saying that Wayne is currently on the track, and he has
1. Passed on the right
2. Passed in the "not approved" passing areas multiple times
3. Ignored the black flag when it was waved by the corner workers so they could yell at him

Since Wayne already knows the track like the back of his hand, he was just bombing away on people, and probably intimidating the hell out of them. They were probably thinking, "DAMN, he got fast on this track after only two laps. He must be a really good driver." Wayne comes in and explains that he was waved by the drivers in front of him to pass on the right in a non-approved passing area, so that is why he passed. And he didn't see the black flag, as he was looking at his hot lap timer that was setup by the start-finish line where the flagger was stationed. We all yell at him, saying that it doesn't matter if someone waved you by on the right in a non-approved passing area, and the rules are ONLY pass on the left, and ONLY on the straightaways defined by the track steward. We verbally beat Wayne into submission. But Wayne is grinning at me, as if to say, "We are gonna kick everyone's ass at this event."

Larry is bleeding the cooling system on my car. We go out, I overheat again, and car is sputtering at 7000 RPMS, which is a 1000 RPMS short of the normal redline. Larry swaps out the fuel regulator, and adjusts fuel pressure since we are at a high altitude than usual. I go out, overheat and sputter again. I come in, and we decide to swap out the radiator for a better radiator. We do that, and it helps somewhat. Going down the straights, the car cools off a little bit, but again, on the fast sweeper turns, when I am at 7000+ RPMs, the car overheats into the red. Most of the time on the track, I am waving people by to let them pass, as I don't want to end up dumping radiator coolant on the track, and having them spin off and trashing their nice street NSXs.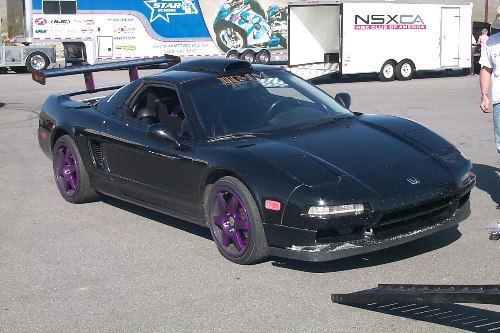 Dale's Black "Batmobile"
Wayne is still out there buzzing around. After one sessions, he is at 1:54, or what Todd ran with his 996 convertible. Wayne says he is pretty sure that we can both get it below 1:50, and that the track is a great track for a race prepared car. I take the S2000 out for a spin while Larry and crew are working on my car. I see Dale on the track from Phoenix, and he is driving an exceptionally good line around the track. Almost as if he is a "Cheating Bastard", and was on the track before this event. But I can't really ask him that......since Wayne and I are "Cheating Bastards" also. It is kinda hard to accuse someone of cheating when you yourself are cheating, because they will then interrogate you to see if you are cheating. So we just don't say anything to Dale......

It is clear that I can't catch Dale in his modified NSX with track tires with my S2000 on street tires, so I give up on the little four-banger and hope that Larry can get my NSX running. Wayne is now running 1:51 lap times, and he thinks he can get it below 1:50. Rupert sees Wayne, the lone Porsche at this NSX event, buzzing around at a good pace....so Rupert fires up one of his many Z06's, and goes in hot pursuit of Wayne. Except this time, Rupert can't catch him......and Wayne is feeling pretty good. Wayne overhears that Dale told someone that no one has passed him yet today......so Wayne grids his 944 Turbo in the hot pit, and tells the Flag Woman to send him out as soon as the black Batmobile passes by, which is how people described Dale's car. Wayne goes off in pursuit, and in a couple of laps, passes Dale. So Wayne is feeling like the Big Dog so far. Wayne keeps cranking up the speed in his car, and in his last session, runs a 1:49.x, and is pretty jazzed about beating the goal he set for himself. Except that coming into the front straight turn, his cockpit fills up with smoke, his engine sputters, more smoke comes up from the engine compartment, tires are sliding from liquid on the pavement. Wayne pulls over.....and it looks like he has blown up his engine. I get the Ford Dually, and I tow Wayne in. The track crew is out there, with a ton of oil absorbent to pick up the gallons of Porsche blood that Wayne dumped.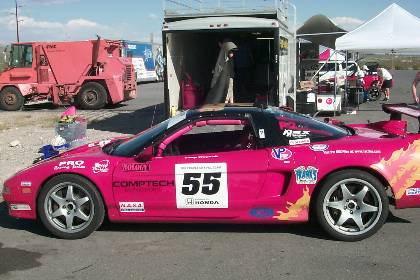 Camera isn't WYSIWIG....

Larry says to take my car out for one last time, and see how far we are off from getting the car to work correctly. I cross my fingers, fire up the NSX, and I get on the track. The car is still overheating, but not as badly as it was before we swapped out the radiators. Car is still sputtering at 7000 RPMs, so I shift at 6900. My first couple of "at speed" laps are at 1:56. Wayne is on top of the the observation deck of our trailer with a stop watch and Dean is next to him. Dean asks him what he is doing, and Wayne says that the knows that I will be out there desperately trying to beat his 1:49 lap time at all costs, even if I have to risk blowing up my engine or melting the engine into a blob of aluminum. The three more laps I get it down to 1:54. Two more laps I am at 1:53. Car is still overheating some, and car is still sputtering, but I try to see how much further I can go. I run a high 1:52. Next lap I am at 1:52.12. But that is all she wrote. Car is overheating more, and sputtering more, and the tires are dying. Damn....that is all she wrote for today. I cruise into the pits, and Wayne knows that he is King for a Day at Pahrump. Larry and I have been defeated.....along with the rest of the NSXers....by a Porsche that blew up.
As we are packing the trailer up, Rupert comes by to talk to us. He rags on me about the NSX, saying with all the money invested in my car and all the mechanics thrashing on it, his Z06 on street tires could easily get by me. But he then turns to Wayne, and says, "I couldn't catch you. You were driving good out there". Wayne gets a big grin....as even Rupert the King pays him a complement....and Rupert doesn't seem like the type of guy that gives out many complements. Make me puke......I woulda ran a 1:48 if my damn car wasn't overheating and sputtering....woulda coulda shoulda.....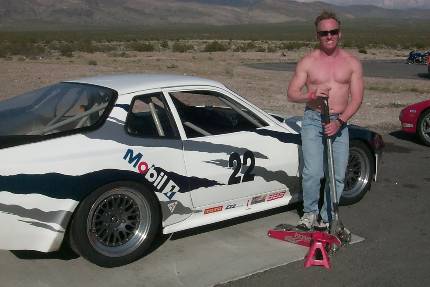 Wayne feeling like the Big Dog.....except his motor blew up
Okay, so Wayne's car is dead in the water. Looks like a rod may have poked its head through the oil pan. My car is running at 60%. We decide NOT to trailer to Willow, and instead we will gamble in Pahrump and stay the night. Except that I am so damn tired, I barely do any gambling, and I crash for about 11 hours in the hotel room. Wayne kicks butt, takes the casino there for $1000 bucks. His luck is back with him....except for his motor.
We decide that we are heading back to Huntington Beach at 11:30 a.m. Larry says that perhaps the reason why the car overheats on the sweeper turns is because the g-forces are moving the fuel cell a little bit to the left/right, and maybe it is pinching one of the radiator hoses that is below it. He also wants to replace the hoses that run underneath the car from the radiator to the engine. I tell him that since it seems we can ONLY overheat the car on the track, that we could trailer to Willow Springs in the morning, and test the car at the TCRA event. Larry agrees that will be the plan. This means that tonight he has to empty the fuel cell, drop the fuel cell, recheck all the hoses, and replace a couple of hoses. He also wants to rebuild the fuel regulator to get rid of the sputtering problem. He and his crew are dead tire from working in the hot sun all weekend long, and not getting any sleep. In the morning, Butch, Larry and I are going to go, except that Butch feels sick, so he has to bail on us. So it is me and Larry, with the 48 foot truck and the Flamemobile, going to war at the TCRA event.
We sleep for about four hours, and then it is back to the shop at 5:00 a.m. to trailer 125 miles to Willow. We get there, and I ask the TCRA guys if I can sign up for the race group, and for the blue time trial group. I figure I will need the extra practice sessions of the blue time trial group to sort the car out, and see if we have fixed the overheating problem.
I take the car on the track. After 3 laps, it overheats. Damn. Here we go again. We rebleed the system from all four or five bleeder screws, and go out again. After three laps, it overheats. Damn. Larry pumps up the cooling system to 24 lbs of pressure, and it holds it for 15 minutes without a problem. So it doesn't look like any leaks. We try a couple of other things with the same results. By now, it is lunch time, and the race group is up right after lunch. I tell Larry that there is one last thing that I gotta try. When Larry put the new engine in, he wrapped the headers in this header wrap stuff, the theory being that this would keep heat out of the rest of the engine compartment. I tell him that maybe the header wrap is keeping too much heat in the headers, and thus heat can't dissipate, which in turn heats up the engine block, and is causing the overheating. He disagrees with me, but we decide to take it off anyway. We jack the car up, and since the header wrap was put on while the headers were OUT of the car, it was easy to wrap. But now that the headers are IN the car, we have to cut the wrap out piece by piece off of the hot headers. Definitely not fun. So we are under the car, with screwdrivers and cutters and pliers, pulling off tiny pieces of header wrap one by one. Except my brain isn't working, I am tired, and it is getting damn hot here at Willow underneath the car. I am in my tank top, on my back, cutting out this header wrap. Except the header wrap is made of fiberglass and asbestos.....and after I am done with the job, I have this shit all over me. And it itches.....itches real bad. When you try to wash it off with a paper towel, it gets deeper into your skin, and itches more. Great.....just what I need.
I tell Larry, screw it, lets run in the race, so what if they grid us at the back of the pack as we didn't qualify on Saturday. They grid me next to Buzz in his Mustang, we are probably on row 7 or 8 of the grid. Buzz says that since I am a little more aggressive on the start, he will let me get the jump going into the first turn. I tell Buzz thanks, and that he should tuck in behind me and let's blast ahead of the guys in front of us who have less horsepower. I figure I can at least get some good footage of the race. I fire up the camera....and there is no signal from the Racecam...something is wrong. Man, this is a really rough weekend...it can't get any worse.
We are going side by side at 20 mph, green flag drops, and the supercharger kicks in, and we go right up the damn middle of the grid, door to door, passing about six cars, and Buzz is right behind me. Things look tight going into turn 1, so I back it off a bit, figuring I got 15 laps to make it to the front. Over the next three laps, I pass some more cars, and I feel like I am making my way to about 5th or so.......car is overheating and getting into the red on turns 2, 3, 4, and 5, and cooling down a bit after that. Blasting into turn 3, I try to grab 2nd.....and nothing is there. I grab 3...nothing there. I try to grab any gear....nothing there......looks like the clutch blew up on me.....yes, it can get worse.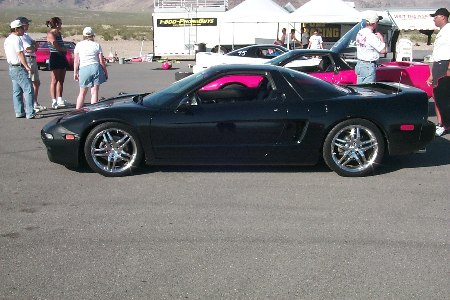 Nice looking black NSX
I am able to get the car started if I push in the clutch, put the car in gear, and then turn on the car so it jerks to a start....and I hobble back to the pits in 1st gear. Larry said that watching the first three laps of the race almost made up for the entire week of frustration, as the car was looking sharp for three laps. He said the start was awesome, seeing me and Buzz go right down the middle of the field, barely a car width between the cars we split. Larry and I eat a leisurely lunch at the snack bar, thoroughly defeated. We give up for the day.

TCRA has a second race group after lunch, called the 2.2 liter and below, so we stop in the stands to watch that race. There are two souped up Integras that are fighting it out for first place. The yellow Integra definitely has more power, and he pulls on the straights. The guy in the white Integra had a little more driving skill, as he is faster in turns 8 and 9 than the other guy, but didn't have enough power to hold onto the lead going down the front straight. There were numerous other battles in the race. Near the end of the race, the guy in the white Integra tried to pass on the OUTSIDE of the yellow Integra going into turn One, as the yellow Integra was protecting the inside line. Unfortunately, this is a very tough pass on the outside of turn 1, and the white Integra got four wheels off into the turn going about 85 mph, spun a long ways, and ended up in the ditch outside of the turn 1 exit. Bummer........as he was looking good until that attempted pass.
Not sure who won our race but I think Paul was there Viper, kicking butt. I also didn't take any pictures at this event for the website, we were too busy thrashing on the car.
Usually we have at least four people packing up the trailer for the ride home. But this time it is just me and Larry. We have destroyed our pit area, tools, trash, containers, coolant, food, strewn all over the damn place. Larry has his tools and my tools are mixed up, and he looks so tired that he is going to faint. I tell him to take a nap for a half hour in the trailer, and I'll start packing. It takes us damn near 90 minutes to pack up the trailer. Now I know why we always travel with a minimum four people to the track.
On the way home, we decide on a new game plan. Ever since we put this engine in (right before we went to Sears Point last year), we have been having some type of overheating problem. The other engine that I blew the rings up on many months ago was sent to an engine shop to fix, and they might be almost finished. This six speed tranny sucks, as the clutch that you use with it seems to be exceptionally weak for racing applications. We have been breaking clutches left and right. We decide to swap out this engine, put in the other engine, get rid of the six speed tranny, put my old five speed tranny in, and put in Larry's new five speed clutch that he builds/sells. Alex has one of these clutches in his supercharged NSX, and it is the only clutch that he has not had a problem with. We only have about 45 days until the Virginia City Hill Climb, and we gotta rebuild the Flamemobile, retest, and do some extra special stuff to make the car go-fast on the Hill.
Tuesday, May 1st.
We stop by the engine shop, and talk with Rick. Rick says that he feels that the heads of our existing engine is lifting up due to compression and boost, thus overheating the water jackets and getting steam into the cooling system. He says that he just finished polishing, porting, putting new rings on my spare engine. He says that he will O-ring the cylinders, which he thinks will help the head from lifting up and overheating the water jackets. The O-ringing should help with sealing the head on top of the block. We tell him we are in a mad rush, when can we get the engine? He says as soon as we can get him the main bearings that he has been waiting for from Acura. Larry makes a phone call, and calls in a favor.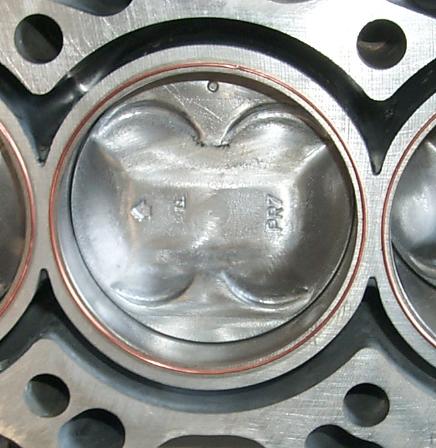 The spare engine, with newly O-Ringed cylinder walls. Hopefully this will fix overheating..

Wednesday, May 2nd.
Rick gets the main bearings, does the O-ringing of the block. Not sure how they did this, but the copper color ring above is embedded in the cylinder wall.

Thursday, May 3rd.
Rick finishes up with putting his part of the engine together.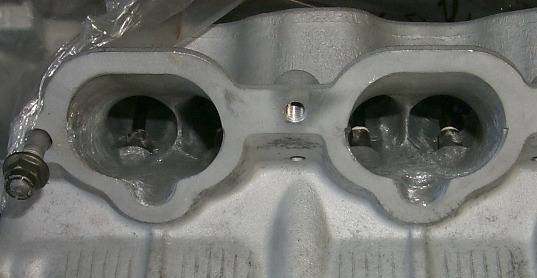 Bored out exhaust. Or was it intake? Whatever, it is now bigger.
Friday, May 4th.
Rick delivers heads and engine block in separate pieces, so Larry can finish the rebuild.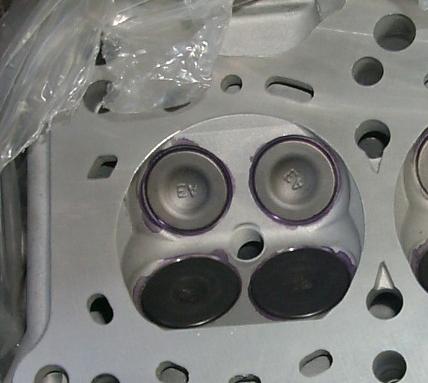 Shot of the valves

Saturday, May 5th.
Larry leaves for back east, to install a supercharger for someone who sent him a plane ticket to setup their NSX to go-fast.
Mark and Bill, www.corner-carvers.com regulars, start their assault on the One Lap of America. They are equipped with a wireless modem, and planned to have daily updates on their cool website on how they were doing against the competition. I promoted their website (since they are wearing Pulp Racing T-shirts, jackets, and stickers), along with promotional help from the Corner Carvers, the RX-7 sites, and the BMW sites.

Monday, May 7th.
Apparently we promoted Mark and Bill's site a little too well. Rumor has it their site got a 175,000 hits, and their ISP yanked their site off the Internet, possibly because they were generating too much traffic. There was no backup of the website files that anyone could easily grab to rebuild the site, so we didn't get any updates the rest of the week long competition. This really sucks, I was looking forward to their daily updates and rooting for them to kick some ass. I tried to look at their ISP's Terms of Service agreement to figure out what the violation was, but the ffing document looked liked a hundred lawyers wrote it up. Bastards. Anyways, John tried to reconstruct part of the site from the IE cache of some of us, and this is what the site looked like before it bit the dust. Here is the newly Updated Site at http://www.onelapadventure.com/.
The One Lap of America sounds like it could be tiring, but a lot of fun. But since all the tracks are back east, it is virtually impossible for Wayne and I to get any "ruthless cheating bastard" practice on all those east coast tracks, unless we take a month off of work. If we can't get our extra practice in, we ain't gonna compete against drivers that use those tracks on a monthly basis, it would be suicidal, as it takes us forever to learn a new track. We have short term memory problems.

In the One Lap, I think you only get two "recon" laps, and then you run for three timed laps, and then you drive 500 miles or so to the next track. So you only run about five total laps at each track, and you can see the huge advantage that you will have if you are familiar with the track. Since all these tracks are on the east coast, some people at the Corner Carvers think they should call it "The One Lap of the East Coast" instead of implying they go all over America. We all put pressure on John of Open Track/NASA LA to do a One Lap of the West Coast, (maybe they should call it the "One Lap of the World" it would be just as incorrect as The One Lap of America). I mean, we could do Willow Springs, Buttonwillow, Laguna Seca, Sears Point, Las Vegas Motor Speedway, Las Vegas Speedway, and Pahrump....you know, the tracks that Wayne and I are really familiar with........
Tuesday, May 9th.
My MSN mail account still sucks. I think it is still dropping messages. No one at MSN can help me.

Thursday May 10th.
Larry returns to Huntington Beach. We only 36 days to build us a Hill Climb car.....and yes, we have some secret "Ruthless Cheating Bastard" plans to make sure we go-faster at the Hill Climb than last year. Our current plan is that if we can get the car running again, get some good dyno results, maybe we can test it at the TCRA event on May 26/27 at Buttonwillow to see if the car is reliable. I don't want to be spilling coolant and spinning at the Hill Climb, as most of the turns do not have guard rails, and the drop off the side of the mountain looks ugly.
Jeff has been rebuilding an RX-7 over the past couple of months, solely for the purpose of beating me and Wayne at the Hill Climb. He has spent about 3 hours a night for two months in getting the car ready to rock. But then his wife finds out that he is building the car into a Hill Climb Killer, and she sort of vetoes his entry for the Hill Climb, possibly because she doesn't want to see the father of their two daughters taking a chance at crashing and burning like the Ultima did many years ago, just to prove that he can beat me and Wayne up the Hill. (But then again, Jeff could be a "cheating bastard", trying to sandbag me and Wayne into thinking he is not going, while he continues to build his Hill Climb Rocketship, thus trying to surprise us at the very last minute when he magicially just "shows up" at the Hill....humm.....) So for the moment, it looks like Jeff ain't going, Wayne needs an engine, and I need an engine, in order to get ready for our premier event of the year. Especially since the sponsors pulled out off the LA Street Race this year......
Well, so far, we haven't backed up our 396 HP dyno sheet that we bragged so much about in Chapter 66, but we think we have the hardware and knowledge to try it again, and pass the 400 HP milestone...and be able to finish a 15 lap race with it.....

The shop next to Larry's just installed a brand new dyno. How convenient.....heh heh heh.......