Alfa Romeo Club of Southern California at Willow Springs
January 22/23, 2000
"Ruthless Precision"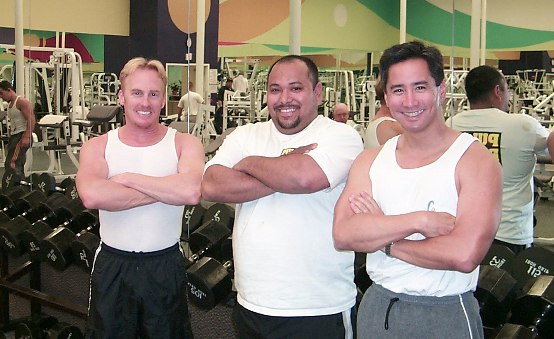 We are working out 3 days a week to prepare for the new season. What are YOU doing?
(NOTE: If your browser shows broken links for the pictures, hit the "refresh" button a couple of times. And get rid of that 28.8 modem, for crying out loud, we are heading into the next millenium. Call your cable company or phone company and DEMAND a high speed Internet line immediately, or else you will sue as they are hindering your ability to read The NSX-Files)
Okay folks, it is the start of the new season. I am about two months behind posting the story of our first race of the season. As you may recall from the last story, the wife and I got booted out by our landlord who wanted to move back into the condo we were renting. This is the second time in four years that this happened to us. The move was traumatic. We had some movers help us in moving all the crap we accumulated over the years to the new place. It took the movers about 11 hours to move our stuff out of an approximately 1600 square foot townhouse to the larger 3000 square foot townhouse. The problem was that they only moved about 50% of the stuff. The wife and I didn't have time to move all the stuff at once, so we figured we would do it in two moves over the course of a couple of weeks, which should be less stressful. Two weeks later, we had the movers over for another 10 hours. Unfortunately, their regular truck was broken, so we could only fit another 40% of our stuff in their rented truck. A week later, I got a different set of movers to move the remaining 10% of stuff. The problem that I perceive it to be is that the wife has way too much shoes, purses, suits, jackets, drinking glasses, wine glasses, cognac glasses, martini glasses, champagne glasses, shot glasses, margarita glasses, vases, pots, pans, etc. Of course she views it that it isn't fair, as I keep all my racing stuff, race car, trailer, tires, etc., at the Pulp Racing shop, so I don't have to move it. I tell her I can fit my entire wardrobe, including shoes, in two big suitcases. She can't even fit just her wide variety of blue silk blouses in two suitcases. And yes, she has blouses that correspond to every hue in the entire color charts, along with suits in every color, and a shoe collection that is rapidly approaching Imelda Marco proportions. [Editorial comment from wife: If my husband had a real job, maybe he would need real clothes...]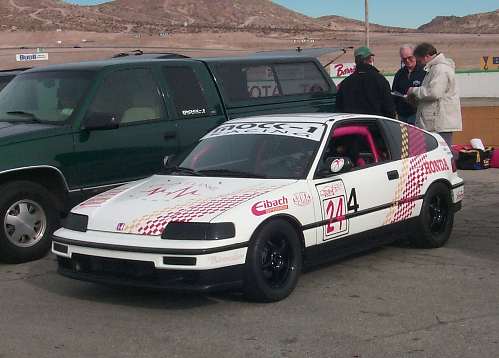 Don's Racing CRX
Anyways, for the new season, Wayne and I decide we are going to focus on running our cars in the PRO Racing Series, the KRC Cup kart series, the Touring Car Club, and the Alfa Romeo Club. The PRO Racing Series is fun because you are running against some pretty fast machines, including Porsche, Ferrari, Vipers, Vettes, etc. KRC Cup series is fun because everyone is forced to run the same spec kart, with a minimum weight of 385 lbs for both driver and kart, so in theory it is only the driver that makes a difference. The Touring Car Club and Alfa Romeo Club are also a lot of fun in that Wayne and I have a chance of winning their weekend club race, as most of the monster Porsche cars do not show up to their events.
Jovo goes off on the deep end with his program for the year. Jovo is the guy who developed the G-Tech Pro gizmo that you see advertised on Speedvision. He wants to run in the Speedvision GT series this year, and has Dennis Aase building up a Supra to compete in what maybe the most exciting racing series in America, in my opinion. He will be racing against Vipers, Porsche GT3 996s, Ferrari Challenge cars, built up Mustangs, etc.
James is also looking to buy a car to run in the Speedvision series. He ran once race last year in the Speedvision Touring class, and came in 6th place overall, so he is hooked on it.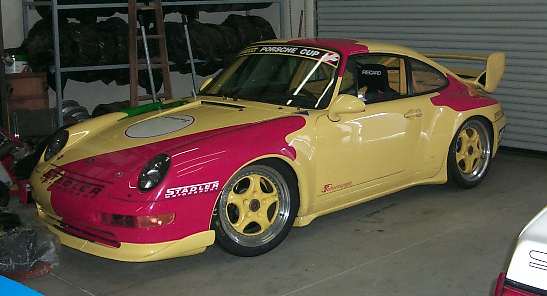 Ryan's Porsche Cup Car. Much faster than me and Wayne....
Ryan (from Kart Racing Company) gets a deal on a couple of Porsche Cup Cars from Europe. $50,000, and he is running about 4 seconds (1:26) a lap faster than us at Willow Springs. Damn, I gotta throw more weight out of my car and get some slicks.
Who knows, maybe next year, Acura will come out with an eight cylinder, 400 HP NSX, and that would probably be what is needed to be competitive in the Speedvision series. And if Wayne and I can make some good bets in the stock market, perhaps we can be there, racing against Jovo, James, and the local fast Porsche drivers.
Okay, so for our first race of the season, it is the Alfa Romeo Club at Willow Springs. Also this weekend is a KRC Cup kart race. Let's see, for the Alfa Club, it is practice on Saturday, and a qual race on Saturday around 3:00 p.m. Then KRC practices Sunday morning, and races around noon for their final race. And Alfa has practice on Sunday morning, and their final race on Sunday around 3:30 p.m. So in theory, we could:
1. Practice on the big track with Alfa Saturday morning.
2. Run the qualifying race with Alfa on Saturday afternoon.
3. Practice Sunday morning with KRC on the Kart Track at Willow Springs at 8:00 a.m.
4. Run the KRC qualifying race Sunday at 10:30 a.m.
5. Run the KRC final race for points Sunday at 12:00 p.m.
6. Run over to the Big Track, hop in my NSX and Wayne in his 944, and run the Alfa final race at 3:00 p.m.
Now that would be cool. However, Jeff tried to do something similar last year, running his Sports 2000 in an SCCA race in the morning at Buttonwillow, and then rushing over to Willow Springs to catch the mid afternoon KRC race, and wasn't successful at either. How would Wayne and I fare in a similar situation? It would require lots of coordination, good timing, a good pit crew.....which add up to Ruthless Precision. Here's the story......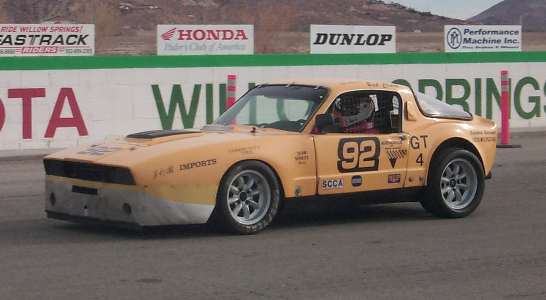 Cool looking Saab.(?)

Preparing for the first KRC Cup Race
If you recall from the last KRC Race, I was running nose to tail with about five other karters in the race, when an incident occurred between the two drivers in front. People spun, touched karts, and I ended up ramming the guy in front of me. My kart frame was damaged, and the KRC folks said that once you bend a frame, you can't get it to bend back the way you want it to, so you could never properly align it. Bummer. So I told them to order me a new frame back in late October. Only problem is that the frames are made in Italy. Italy is a third world country when it comes to efficient processing of manufacturing orders. If you don't believe me, call your local Ferrari Dealer and ask them how long it would take to get something like a front quarter panel for an F355 delivered. And after you get a date from them, add another month and MAYBE you will get the part. I kept calling KRC every week to check on the status of my frame, as I wanted to practice during the winter. I called every week for about 10 weeks, and couldn't get delivery of a new Tony Kart frame. Bummer for me, as now I had to practice with a school kart, meaning a kart that was used in the KRC school. KRC of course prepped it well, meaning good brakes, good motor, etc, but running a rental kart always seems slower than your own personal kart. Plus you also don't know what kind of abuse these rental karts take when you are not around.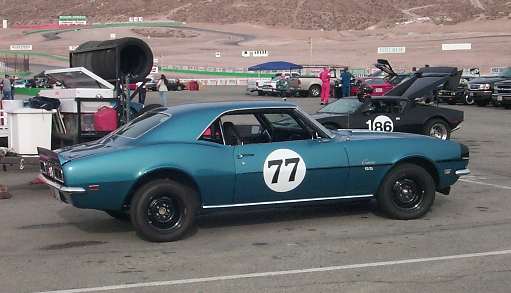 Even old Detroit Iron runs at these events
Last year, KRC had about 20 people entered in their very successful KRC Cup Series. This year, they have about 30 drivers, so they decided to split the group into F1 and F2, with the faster guys going into F1. Jeff and I were given the option of either running F1 or F2. In F1, you have the very fast drivers that kicked our ass last season, along with a factory BMW driver that is entered in F1. In F2, the field is twice as big (20 people vs 10 people in F1). My initial decision was to run in F1, as even though I would be at the back of the pack in F1, I could at least get to be a lot faster trying to keep up with the fast drivers. On the other hand, it would suck to always be at the back of a pack in a small field. If I run in F2, the field is bigger, which means potentially more actual wheel-to-wheel racing. After talking with Jeff, we agree to run in F2 for one more season, get some more experience, and then go into F1 against the big boys. Providing, of course, we don't end up sucking in F2.
KRC has five races per season, with prize money and a racing scholarship to a racing school for the winner of F1 and F2 series. You can drop one of the five races, so if you DNF or miss a race due to scheduling problems, you can still have a chance for the title. Jeff also says that his main priority is running in the PRO ACRL Sports 2000 series, so he will already have to drop one of his five races due to a scheduling conflict. But he feels confident that he still has a chance at winning the F2 title, as long as he doesn't DNF (which means you get no points)
Wayne and I were caught a little off guard last season as to how strenuous kart racing is, so we decided to get as strong as possible for this racing season. No more screwing around, we are going to be RUTHLESS this year in our pursuit of victory. For the first time in more than a year, we make it to the gym three times in a two week period. We also start to drag Larry the Mechanic to our workouts, as we want everyone on our team to be physically and mentally prepared for the racing season. We are working out at least three times a week, getting to the gym by 7:00 a.m. to lift for about an hour and fifteen minutes, with Wayne being the Nazi drill instructor. This is Larry's first time at the gym in years. After his first workout with us, he was about to die. We out benched him, out curled him, out pressed him, etc. He had to sit down halfway through the workout and rest so he wouldn't faint and die. Curiously, Wayne and I have always been about exactly equal in bench pressing over the past six years, but he seems to be rapidly getting stronger. I accuse him of being a cheating bastard and taking that andro hormone shit that Mark McGuire was taking. Especially since I am benching about 6 reps at 185 lbs, and Wayne is doing 6 reps at 205 lbs. Something is fishy here. After a couple of weeks of working out, Larry is getting stronger, and is getting close to outlifting Wayne. I accuse both of them to be cheating against me, as they must both be taking andro and getting extra workouts when I am not around. Wayne says that I am the only one that cheats on everything, saying that he knows I am getting extra go kart practice or extra batting practice when no one is around, so I can get an unfair advantage on other people without telling them.
Over the winter, getting prepared for this race, we had big hopes of doing a lot of stuff to the car. However, Larry's shop took forever to get permits, licenses, etc., which really slowed down progress. So we didn't get a chance to put the fuel cell in, take more weight out of the car, etc.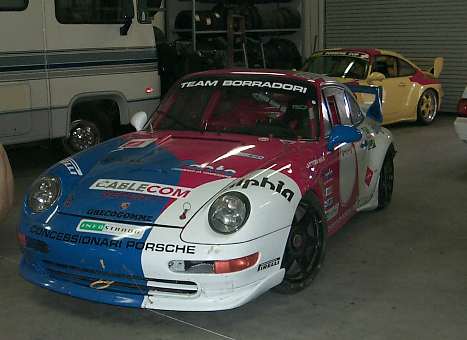 Another one of the Cup Cars that Ryan bought
In getting ready for this race, something strange happened. We wanted to leave Saturday at 4:00 a.m. in the morning, as I wanted to get to Willow Springs at 7:00 a.m. to get a good spot to park the trailer. We actually beat Raceaflais, and had everything packed in the trailer, ready to go by Thursday night. This means that we actually had a chance to take it easy on Friday night, and at least attempt to get a good night's sleep.
Early Saturday morning.
Since I am the official timekeeper that tries to hold everyone to a schedule, I figure that it will take us 2 hours and 50 minutes to get from the shop to the track, taking into account that we have to stop at McDonalds and the grocery store at the freeway exit to Willow Springs. I tell everyone that they need to be at the shop by 4:00 a.m. I figure that since Jesse is going to wake Larry up, and Jesse seems like he is always on time, and I am calling Wayne to wake him up, we should all get there at 4:00 a.m., it will take us 10 minutes to pull out the Monster Trailer out of its cavern, and then we will be off. We have a leisurely drive in the trailer. We stop at McDonalds, and I have Larry order my breakfast while I go to the store and buy stuff for bologna sandwiches, Ding Dongs, Snapple, chips, etc. I get back to McDonalds, wolf down my pre-ordered english muffins, and we head off to the track. We pull into the track, sign our waivers forms, and it turns out that the time is 6:59.30, so I was only off by 30 seconds for our arrival time......I like it when everything goes according to plan......remember, we are going for Ruthless Precision this year.
Wayne and I look at the competition. Paul in the Dunestang is here. We beat him at our last race, but Paul is not to be underestimated. John and Bob are there, who are good friends that we have been racing with for many years. We then see that they are sharing a Sports 2000 at this event, so now we are rolling our eyes, cursing, as a Sports 2000 can run around a 1:25 here at Willow Springs, and Wayne and are are struggling to get to 1:29 in our cars. Shit. John and Bob are going to kick our ass at this event, and they know it.......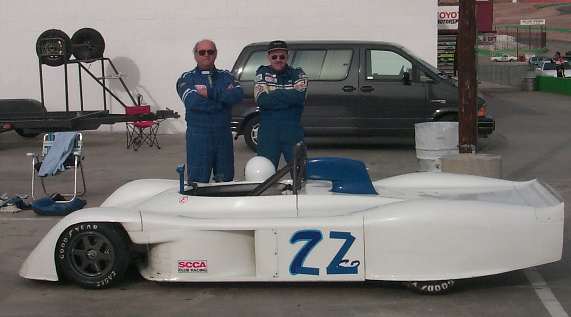 Bob and John posing next to their Sports 2000 that they shared for this event.
Practice sessions go fairly smoothly. Wayne is running faster with his new injectors and turbos, so he is running low 1:31's, and I am running low to mid 1:30's. We don't even bother trying to time John and Bob in the Sports 2000, as we know for sure they are easily below 1:30.
For the qualify race, I am gridded 2nd, next to the Sports 2000. Wayne is behind me, along with the Dunestang. Green Flag drops, and I blow by the Sports 2000. The S2000 only has a Ford Pinto engine in it, but it also only weighs about 1300 lbs. I can out accelerate it, but it will destroy me in turns. I lead the S2000 for one lap. In turn 3, it dive bombs on me and takes the inside turn. I follow it thourgh turn 4, but it rips through turn 5 and takes a 7 car lead going out of turn 6. I use the Supercharger to narrow the lead to about 3 cars going into turn 8, but coming out of turn 9, John uses the superior handling of the Sports 2000 to grab a 15 car lead. I miss a shift coming out of the end of the front straight. John is now gone. I can't catch him. All I have to worry about is keeping Wayne and the Dunestang behind me. I cruise for a couple of laps, and then realize that can't grab 6th gear. Then I also realize I can't grab 4th gear. Uh oh. Slowing down a bit, I realize I can't grab 2nd gear. So all the even gears ain't working for me. DAMN. I try to run as long as I can with just gears 1, 3, and 5, but as I start getting passed by other cars, I feel that it is not safe, as my powerband is all out of wack, and I can't accelerate smoothly, which means other cars may misjudge my speed. I pull into the pits. DAMN! I tell Larry that I hope I didn't blow up the tranny when I missed a shift. When I say miss a shift, I mean instead of grabbing 5th gear to down shift, I grab 3rd. Or worse, instead of grabbing 4th gear, I grab 2nd. Can you say, "Oooops, I almost blew up my engine?". Larry and Jesse are test driving the car in the pit area, trying to figure out why it won't go into the even gears.
After having Larry drive the car around, he says that he fairly certain it is the clutch, but it can also be the tranny. If it is the clutch, we have the portable lift, and a spare clutch ready to go. If it is the tranny, we are screwed. Our options at this point are:
1. Throw in the towel, and concentrate on the KRC Kart race tomorrow morning.
2. Put the car on the portable lift. Rip out old clutch. Put in new clutch. Hope it ain't the tranny, as it is a big job to retake the new clutch out again and put a tranny in.
3. Larry and Jesse could drive the Flamemobile back home Saturday evening, work at Larry's shop on the clutch, if it is a clutch, just throw in the clutch, if it is the tranny, throw in one of the spare trannys that Larry has at his shop. That way Larry has everything he needs to guarantee that he can get the car running again. If we take option 2, there is a chance that he will do a lot of work on the car, and it still won't be running at the end of the night.
I say let's just throw in the towel, it is already getting dark. We ain't racing for points like in the PRO Series or the KRC Cup, so if I DNF, it ain't a big deal. But Larry and Jesse are determined to get the car running, so they throw on a street muffler on my car, and proceed to drive home in the freezing cold (meaning 40 degrees for us Southern Californians) in a car with rock hard suspension and no windows in the doors.. They get to Larry's shop around 7:30 p.m. Larry throws the car on the lift, and sees that it is a broken piece in the clutch. He throws the spare in, buttons up the car, and he and Jesse start the two hour drive back to the track. About 30 minutes into the drive, Larry and Jesse realize how tired they are, and decide to stop in Los Angeles at the Holiday Inn and crash until the morning. I tell them to take their time, as we ain't racing the cars until 3:00 p.m., so they can sleep in and eat a big breakfast. Wayne and I crash. Wayne is feeling good, as he is gridded 2nd behind John, and he knows that I will be at the end of the pack for the big race tomorrow.
Next morning. We wake up early, head for the Willow Springs Kart Track.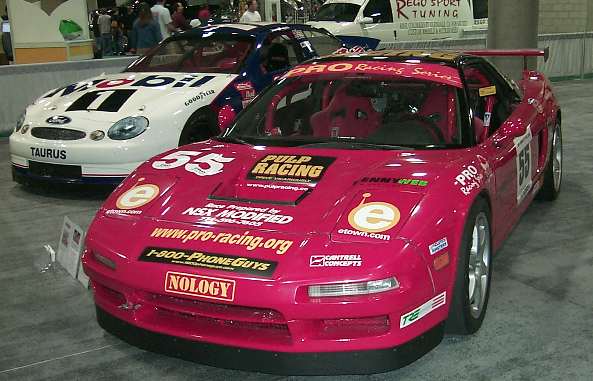 The NSX posing at the Los Angeles Auto Show for the PRO Racing Series booth
I still don't have my frame from back from the Italians. I guess they operate at Ferrari speed. Meaning if you order a new 360 Modena, you will get it in about 8 months, and if your order a 360 convertible, the wait list is around two years.
So, I get to race in this rented kart. But at least the KRC folks put good brakes, rebuilt the engine, etc., to make it faster than their regular rental karts. I end up qualifying 5th out of 17, with a 44.88. Wayne qualifies at 12th, with a 45.70, and Jeff is on pole with a very fast 43.93. True, he is almost a second faster than me, but I am also running a rental kart. That is my official excuse......
Getting ready for the final kart race of the day, the green flag drops, and were off! Well, all of us except Jeff. He and the KRC guys could not get the kart started to get on the grid for the warmup laps. BUMMER for Jeff. He is a DNS. I get to move up one position to 4th in the starting grid.
The race is on........and I ended up around 5th place in the qualifying race. Jeff is pissed, as now he is gridded last due to a DNF. Wayne spins off, and is also a DNF in this qualifying race. So for the first race of the season for points, I am gridded 5th, and Wayne and Jeff are in the back of the pack. Green flag drops, and Jeff's kart stumbles again. Bummer. DNF. His weekend is shot. I do some quick mental calculations. Hummmm.....Jeff DNFs this race, is a DNS for a future race, so now he is only able to score points in three races. If he is lucky enough to come in first for those three races, he will score 25+25+25=75 points. Since I get to use points in four races, if I come in 7th for those four races I will score 19+19+19+19 = 76 points. Thus, I would beat Jeff in our mini-championship series for points between him, me, and Wayne. I am in fourth place, but struggling with a couple of guys right behind me. I notice Wayne spun off to the side of the track. Looks like another DNF for Wayne.After about 19 laps, I almost touch tires with another karter, and I bounce off the candystriping, thus slowing me down, and two guys get by me. I end up coming in 6th place. Which means I get 20 points, and Wayne and Jeff get none. So I am currently leading in our F2 mini championship series.
Right after the kart race, we rush over to our pit area on the big track, and prepare to race the cars. Larry says that it was just a metal piece in the clutch that broke, and since we have a spare clutch at his shop, he and Jessie threw it in, and we are back in business. Unfortunately, it starts to rain a little bit, and the grid for the final race starts getting smaller and smaller. We thought there was going to be about 18 cars for the final race, but we are now down to about 7 diehard racers that will risk life, limb, and machinery in the rain. Wayne is gridded first, (since I DNFed the day before), the Dunestang 2nd, and then a couple of Mazda/BMW/Alfas that are still hanging around. Now it is starting to rain harder. Green flag drops, and Wayne blasts off. I pass all the cars coming into turn 3 except for Wayne. Wayne is blasting ahead at a high rate of speed. Except, in turn 3, he goes a little too fast, and ends up doing a long slow spin right off the track. See ya Wayne!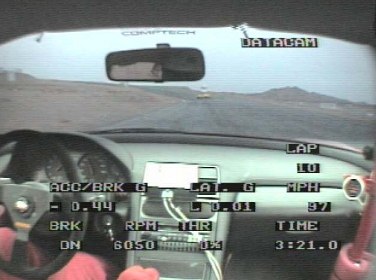 Wayne, in first place, blasts into turn 3 in the pouring rain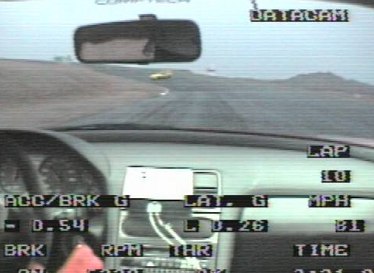 Humm....looks like some problems negotiating that corner in the wet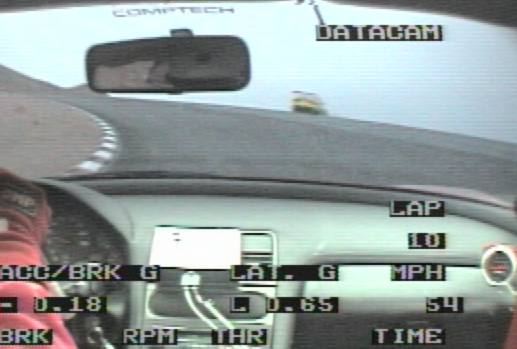 Oooops. The apex is to the left, but Wayne slides off to the right, completing a 360 degree spin

Now I am back in control, and since everyone saw Wayne spin off, we all go a little slower than usual, so we don't spin off also. Wayne gets back on the track, and starts chasing down the rest of the pack. The rain is getting hairy, but there is no one really catching up to me. I am running Hoosier racing tires, as I didn't bring any rain tires. Instead of going 100 mph through turn 2, I am going about 80 mph to make sure I don't slide off into the mud, and lose my first place position.
Wayne is in second place, and he notices that there is a red RX7 behind him, that probably won't pass him. I start getting a little faster in the rain, and start moving a little closer to Wayne. I pass the RX-7, and Wayne just glances in the mirror, and sees a red car. He still thinks it is the RX-7. Meanwhile, Larry and Jesse are on the sidelines cracking up, as they both know what is going on in my mind. I am going to lap Wayne in the race! At the last minute, Wayne realizes that it is me right on his bumper, and not the red RX-7, and starts cursing. On the last lap, coming out of turn 5, I put the pass on Wayne. But uh oh, my car heads to the far right of the track and almost spins off, I try to catch it and now almost spin off on the left side, and I try to catch it and the car swerves to the far right side again, where I catch it and finally get out of the way before Wayne crashes into me or passes me. I end up taking the checker flag and Wayne takes 2nd. It is starting to rain harder, so we scramble to throw our 5 tons of equipment and cars into the trailer, and head for home. So I end up taking a 6th in the kart race, and a first in the car race. True, only seven cars where in the car race, but what the heck, a win is a win. So thanks to Larry and Jesse, we pickup a first place victory in the opening race of the season, and Wayne picks up a second place. It pays to have a couple of hot shot mechanics on your side......it gives you the Ruthless Precision that you need in order to win a race.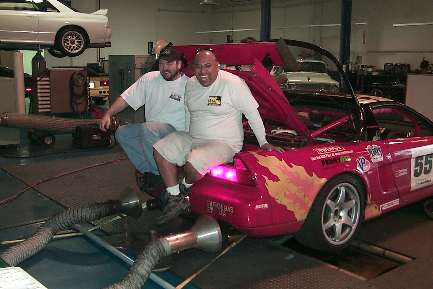 The "Official Dead Weights" for the NSX Dyno Day. Rear wheels kept spinning on the Dyno.