September 26th, 1999
Ferrari F355 Update
(And F355 vs. Supercharged Comptech NSX Comparison)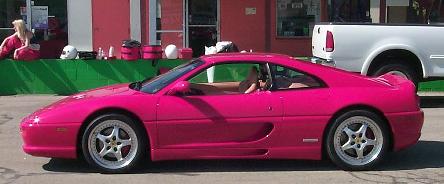 The F355 GTS(hard top on) with extra track rims and Hoosiers
(note: if your browser shows broken links on the pictures, hit the refresh button on your browser. And get a faster internet connection!)
So it has been about seven months since I picked up the F355. It is a pretty cool car, but it doesn't generate any real exciting racing stories like the NSX does, since I don't race the F355 or take it to the track very often. But a lot of people have been asking for updates regarding the F355, so here is a story to appease those people…….
So Wayne and I are buzzing around with the F355's, and we are coming to the conclusion that ourselves, along with Jeff, are going to single handedly change the perception of Ferrari owners. Not that Ferrari owners are strange or anything, but there are some things that are "different" from other car owners. Take for example the Ferrari Market Newsletter. It comes about every two weeks or so via paper, or you can subscribe online at http://www.ferrarimarketletter.com. But here is the thing that I find "different" about Ferrari owners is the following "generalization": They don't drive their cars very much. I mean, if you look in the Ferrari Market Newsletter, most of the F355's for sale are averaging about 2000-3000 miles a year on them. I mean, what are these people thinking? It can't be to preserve resale value, as Ferrari made about 10,000 F355's, so it is not like the price is going to go up on these cars. Meaning that for a car to become a "collectors item", usually it has to be a quantity of 400 or less of that particular model.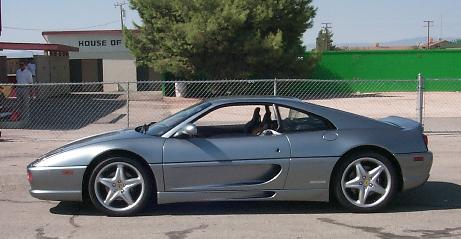 Jeff's F355 Berlinetta
Anyways, instead of averaging 2000-3000 miles year, Wayne and are on a slightly different pace. Like 1300 miles a month. I have 9200 miles on my car in a little over seven months, and Wayne has done about the same, plus the 4400 miles that were on it when he first got it. If you are a Ferrari owner, don't take offense at my generalizations. But you will have to agree, most people seem to feel that Ferrari's aren't driven very much compared to other sports cars. I know there are a lot of people that only seem to take their Ferrari's out of the garage a couple of times a month. You know who you are……and it is NOT a bad thing to only occasionally sample the fruits of Enzo, don't get me wrong here. It's just not the way that Wayne, Jeff, and I view our F355's.
The First Track Event for the F355
Early March, 1999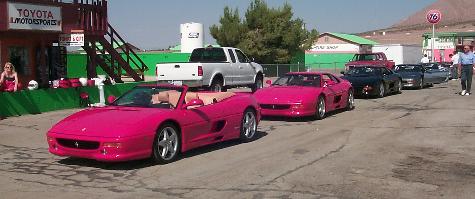 Line of F355's waiting for there turn on the track
I told everyone that I was NOT going to take the F355 to track, that it would be really stupid to spin it and screw it up. That promise lasted for about 20 days, as Ferrari of Beverly Hills was sponsoring a weekend track event at Willow Springs. So much for self-control. They were going to have a bunch of Ferrari F1 cars at the track, the mythical F50 Le Mans GT car, 355 Challenge Race, and some open track slots for Ferrari owners. I said, "What the heck, I should know what the limits of this car are before I drive it on the streets, right? And besides, I did buy those extra Speedline rims so I could put track tires on. And, it just so happens the same Hoosier tires I use on the NSX will fit on the F355 rims."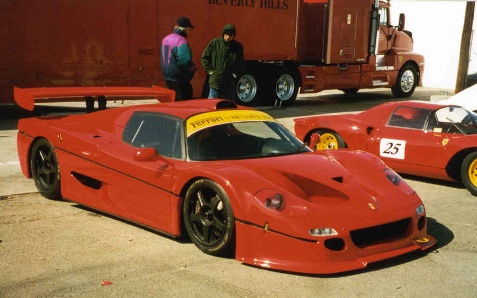 The Ultimate Track car? The mythical Ferrari F50 Le Mans GT that never raced
I arrive at the event with Jeff, and a fellow NSXer named Terry. It was real windy, and on the Sunday of the event. I expect there to be 80+ customer cars there. There were about 17 customer cars. Here I am thinking, "What is with this? A cool event like this, and only 17 customer cars?" Again, it seems that most Ferrari owners don't like to put miles on their cars, and definitely don't want to track their cars. But I guess I shouldn't talk, as the southern California NSX Club of America has not had that many NSXs on the track at the same time, except at the NSX Club of America convention at Laguna Seca in May, 1999.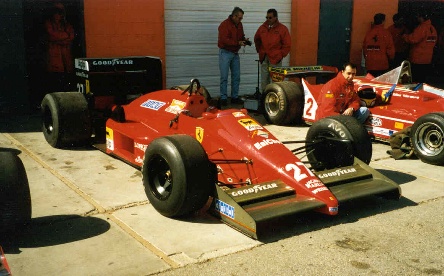 Formula One car getting ready for some fast laps around the track
I was ragging on Wayne, because he refused to take his NSX to the race track except for the one Brainerd event when both my NSX was getting ready for the LA Street Race, and his 944 Turbo blew a head gasket. I kept bugging Wayne for weeks about putting his F355 on the track, and he was screaming at me, "Are you crazy? Hell no, I got a race car already (meaning the Porsche 944 Turbo), I ain't gonna screw my new F355 up at the track. You know we will start driving like idiots if we are on the track at the same time". Wayne falls into the category of, "I'll drive my nice car every day around the street and beat the crap out of it, but it will NEVER ever see a racetrack."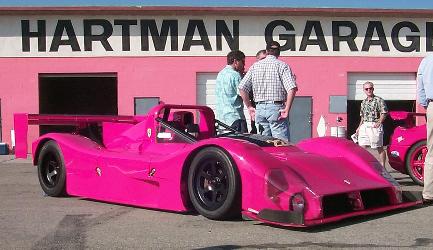 Nice 333 SP. It is lower to the ground than my kart. But it needs some decals! (See Bigger)
I tried to get Armen of Newport Autosports to bring out his F40 or his F50. He said, "Heck no", but at least he has an excuse. He is trying to sell his cars to Ferrari buyers who want the car to be impeccable, with low miles and not a single scratch anywhere.
Anyways, we of course have to rip through Angeles Crest Highway to get there. Angeles Crest is a two-lane, winding, mountain road that is great for a sports car enthusiast. Sometimes, the drive to the racetrack is as much fun as being at the racetrack.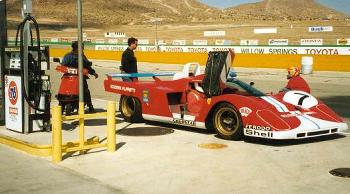 How often do you see a Ferrari like this filling up the tank?
As we get to Willow Springs, some people at the track are putting masking tape and duct tape on the front of their cars to keep the rocks from dinging the car. Jeff says that "Real Ferraris" should have some rock dings as badges of honor, to show that they have been to the track. I decide to agree with Jeff on this.
At the track, the F355 is slower than my supercharged NSX, but seems to be faster than a stock NSX. Car feels good on the track, but it does need to have stiffer shocks/springs to be a good competition track car, as there is too much body roll going through turn 2 at the track. Jeff is running pretty fast at the track, he is a good two seconds or so faster than me, running probably 1:36 or so, but he also has a coupe as opposed to the GTS, and he has driven his car on the track before. There were no spins or overly dramatic moments. I signed up for both the competitive session (no passengers allowed), and the touring session(passengers allowed). In the touring session, I drove with Dagmar as a passenger. After the first session, Dagmar said, "Hey, I think I want to drive the car, as I feel like it is easy to drive and I can quickly learn the line here." I handed the car over to her, and she did a good job in the three sessions that she drove. It is easier to teach a woman than a man, because men will always go faster than they should when learning. But this could be dangerous….can you imagine if Dagmar also got the racing bug, along with me and Wayne? It would be like three crack addicts hanging out with three pipes and a ounce of rock cocaine.
After the event, I wash the car and I see a lot of small rock dings on the front of the car, mainly because I was following Jeff around the track, and Jeff was also running Hoosiers on the track, which means a lot of rocks are thrown up. DAMN! I guess I shoulda put something on the nose of the car. Wayne can't bear to look at my rock dings, and says that he is glad that he didn't take his car on the track.
The Second Track Event for the F355
August 1999 - Introduction of the 360 Modena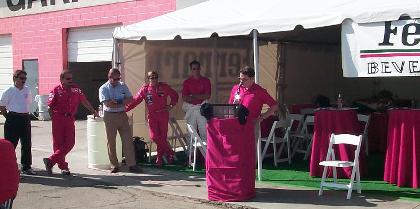 Giacamo, owner of Ferrari of Beverly Hills, introducing the 360 Modena
Jeff calls me, and tells me that Ferrari of Beverly Hills is having a one-day track event on Wednesday, August 25 at Willow Springs. They are going to have a formal introduction of the F360 at the track. I sign up for the track event. Dagmar mumbles something about she has a lot of work that week. Two days before the event when she finds out they are going to have the 360 there and she can drive the F355 on the track, she changes her mind and ditches work. Again, I try to get Wayne to sign up, and he just laughs, and says, "No. I am NOT going to take the Ferrari to the track. That is insane. Besides, I missed a day of work last week for the KRC kart practice, I will miss a day of work this week because of the KRC race, and I will miss a day next week getting ready for the LA Grand Prix. You are ruining my business…."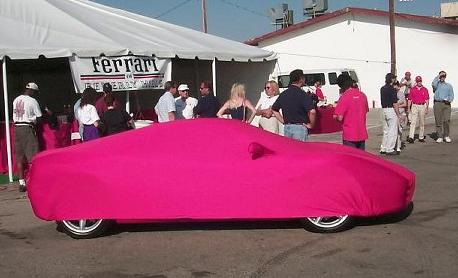 Getting ready for the unveiling of the 360 Modena
The Hoosiers that I used last time I took the F355 to the track still have quite a bit of tread on them. I decide to put the used Hoosiers/rims on the car again, and use up the other 50% of tread that is left.
Jeff cruised up with his mom, and I cruised up with Dagmar. Of course we went to the track via Angeles Crest Highway . I am now comfortable driving the Ferrari using left foot braking, even at high speeds on winding mountain roads. Which is nice, as this is how I drive my KRC Tony Kart, using the left foot for braking, and the right foot for the accelerator. With the Ferrari, when I down shift, I blimp the throttle with my right foot to get the car to match revs and smoothly downshift.
We get to the track, and there are about ten F355's, three 550 Maranellos, a couple of 348's, a 333 SP, an F50, an F355 Challenge Car, and what looks like a Daytona/365 car. I brought the hotlap timers for Jeff and myself, so we can see what kind of lap times we are turning. I also mounted the video camera mount with the suction cup on it inside my F355, so I could try to get some videotape.
There is a nice ceremony at the track, and they have the 360 under a car cover. They talk about how the car was "conceived" back in 1993, and now the cars are being delivered to customers. After a short talk about the development of the car, they unveil the 360 Modena. I never liked any of the pictures of the car, but in person it looks pretty good. I was hoping they would take people for rides in the car……but that was not the case. They didn't even run the 360 on the track, as the owner didn't want to drive his brand new 360 on the track. Sounds like Wayne. I like the looks of the F355 better, it looks more "boy racer", and I like the GTS removable top on the F355.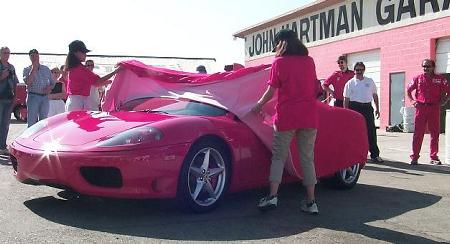 The Babettes from Ferrari of Beverly Hills unveil the 360 Modena
In the first session, the F50 and the 333 SP are in my session. Cool thing is that I was able to follow them around for a lap or two! I could catch up to them in the twisties and through the sweeper turn, but then they would pull away from me in the straights in a hurry. Dagmar said she was in the pits talking to some people, and then people started watching the F355 chasing down the F50 and the 333 SP, and then realized that it was me out there driving like an idiot to catch up with them. (note: I am sure the drivers of the F50 and the 333 SP were much more concerned about not spinning their cars, and were taking it easy on the track. But hey, this is MY webpage, so I will say that in my view, I was "chasing them down".) My F355 did get a lot hotter than usual, meaning that it is always at the halfway mark when driving around town, and on this day at Willow, it was one click away from dipping into the red.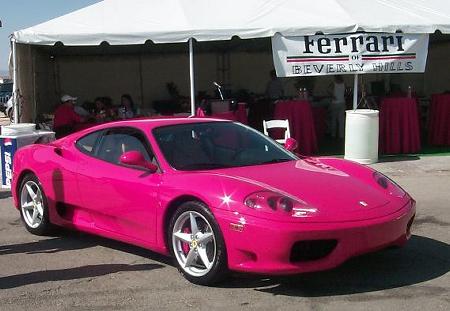 Presenting the new 360 Modena. It looks even better in person.
I was an "instructor" for the event for a student. Unfortunately, my "student", spun out into the dirt at about 85 mph, and did a couple of 360's in the dirt and gravel. I always say that if a student spins with the instructor in the car, it is 80% the instructor's fault for allowing this to happen. Unfortunately, the student was Dagmar, and she was driving our F355. Yes, our F355 went for a dirt bath. I was her instructor, showing her the line around the track. She started going faster and faster, but in a safe manner. Going down the back straight, I saw one of the instructors coming up on us in a 355 Challenge car, so I told Dagmar to wave him by. She didn't hear me the first time, so I yelled again, "Wave him by". So she stuck her left hand out the window to motion to him, and started moving our car over the right, but she kinda "jerked" the wheel to the right instead of slightly moving over to the right. The Hoosiers tires responded to the jerking of the wheel by gripping the pavement immediately and jerking the entire car to the right. But now the rear was a little loose, and Dagmar still had just one hand on the wheel (other hand was still pointing to wave the other driver by), and tried to jerk it back, but it was too late…….off into the dirt a la NSX-Files Volume I. Dirt and dust went everywhere in the car, rocks and gravel hitting the sides of the car as we spun. After the spin, I said, "Oh shit…..", and Dagmar said, "Uh….sorry about that honey". We sheepishly brought the car back into the pits, and there were some rocks in bead of the tires. I couldn't see if there was any damage, as the car was now brown instead of red from dirt and dust.
I took the car down to the local tire shop to get the two driver side tires reseated, and bought my FIFTH dust mop from the auto shop there to get the dust off the car. (The other four dust mops where used on four other occasions where I did horrible wipeouts in the NSX trying to learn the secrets of going fast) Damage wise, there a few rock ships, but no dings, and the driver front fender lip was bent a little bit from the Hoosier tire catching the lip after we went off due to the car compressing down. Whew! The spin sounded really bad…….and I was thinking the car would look like the F355 that went off and hit the hill at the Virginia City Hill Climb. Anyways, I dusted the car off, got the air compressor at the tire shop to blow out some of the dirt that was now all over the interior, and we each ran one more session at the track. Dagmar's next session was really good, and she could probably break the two-minute barrier next time we are out there.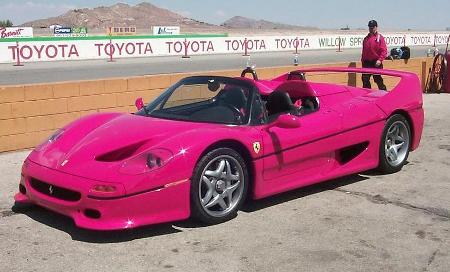 The Ultimate Street Car? It could be the Ferrari F50! (See Bigger)
Later, we here that after we left, a driver in an F50 went a little too fast into turn 1, dropped the right side tires off the track. He tried to correct (fatal mistake, I have done that before) instead of just driving off into the dirt with all four wheels and slowing down, but only succeeded into shooting back ACROSS the track into the dirt and rocks on the other side. The driver then hit a three-foot dirt berm, and launched the car up in the air like a glider, and then bounced on the ground, coming to a halt at the chain link fence by the go kart track. Bummer…..sounded like it was almost completely totaled, but hopefully they can at least reuse the carbon fiber tub and rebolt all new mechanicals, body panels, etc to try to rebuild it. There are some horrific, gut wrenching pictures of what a wrecked F50 looks like that I ripped off from a friend's site.
Maintaining the Italian Dream Machine
Living with an F355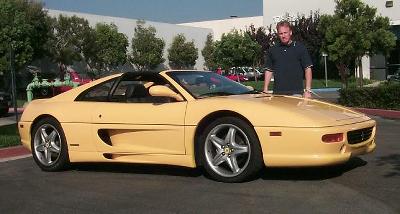 Wayne's fly yellow F355
Everyone wants to know, "What's it like to maintain and service an F355? The car comes with a two year warranty. In the first seven months of ownership, here's what has maintenance has been on my car:
My driver side window wasn't going up sometimes. I would have to bang the door panel with my fist, and then it would work, or else I would have to completely shut the car off, and turn it back on, and then sometimes it would work. This went on for two weeks, and then mysteriously it now works all the time. Jeff says it is because of the aftermarket stereo system that was put in. Wayne was cracking up when this happened after two weeks of ownership.
That black stripe down the side of the car looks cool and give it a good "line". Unfortunately, that black stripe is not painted on. Instead, it is plastic tape. Yes, kinda like electrical tape. And it is peeling off on my car. You pay this much for a car and they put electrical tape along the entire side of the car? This had to be replaced on the driver's side.
I add a quart of oil every 700 miles or so. Ferrari of North America says that this is "normal". I never had to put oil in the NSX the first 127,000 miles that I owned it. It holds 10 quarts of oil, which you can only buy from the Ferrari dealer. It is some "special" Shell blend that goes for $12 a quart. Oil changes cost $250.
I dropped two quarts of gear oil in front of my wife's work when I went to pick her up. Oil got on the exhaust/header, and caused tiny flames to dance on it after I stopped and opened the engine compartment. I proceed to try to blow the flames out, which is a bad move, as I am just giving more oxygen to the fire. Wayne was really cracking up about this one when he heard it. He then proceeded to buy both of us a little 2.5 lb halon fire extinguisher to keep in the trunk.
My car started stumbling badly, like it was missing. Turns out the #5 cylinder had a shorted out injector wire. Injector wire shorting out?? The car is only 7 months old.
Car battery idiot light comes on intermittently when driving, as if there is a loose wire or something.
Rear tires wore out at about 4600 miles. $400 bucks a tire. My car has the Goodyear Fiorano F1 tires on it, and it took about 3 months to get a set of rear tires for the car. I put Pirelli tires on the rear for a couple months until the Goodyear tires were back in stock. Car handles horrible with Goodyears on the front, Pirelli's on the back. I guess because of the different tire treads.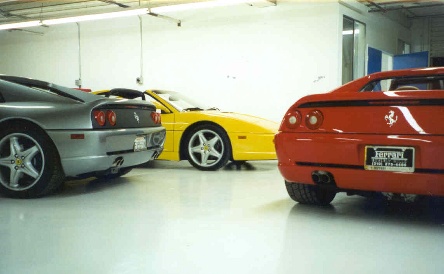 Cars hanging out at Mike Duncan's new shop
Maintenance on Wayne's car:
Wayne turned on his hazard lights. But could not turn them off. He called me at home, and I grabbed the manual and we figured out which fuse to pull for the hazard lights. Apparently his switch got stuck. I don't think Italians can make reliable switches.
Wayne's car had a "Slow Down" button light up on the dash. It had something to do with the catalytic converter/ODBII sensors. So to check it, he had to send it to Ferrari of Beverly Hills. He didn't want to drive it, so we had a transporter pick his car up. We told them to send down a two-car transporter, and I would get an early oil change and checkup on my car, as well as look at the peeling tape.
Wayne's rear tires had to be replaced at 6600 miles. Ferrari of Beverly Hills also suggested that a less aggressive wheel alignment on his car, at a cost of $250.
For a 5000 mile service(which is what Wayne had done at 6600 miles), cost was $1000 for checkup + fluids
Suddenly, one day, Wayne's car went quiet. When he stepped on the gas, nothing happened. Apparently some bypass valve in the header/muffler that opens up at higher RPMS got stuck. Back to the dealer.
Air bladder in Wayne's driver seat when flat. Entire new air bladder had to be stitched back in.
Now it is true that Wayne and I aren't driving our cars like normal people. In fact, we drive the cars to within an inch of its life everytime we get into the car. Perhaps that is why maintenance seems high on our cars so far……
The service folks at Ferrari of Beverly Hills are very kind and gracious. And we are very happy that they opened Ferrari of Orange County, which is about 15 minutes from the shop. Now that was a big score, having a dealer just down the street.
Comparing an F355 to a Supercharged NSX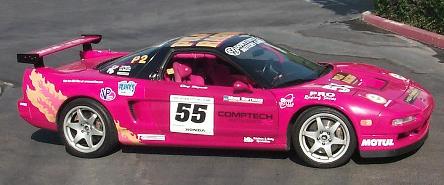 The new Dali Big Ass Wing, hood scoop, and decals. (See Bigger)
Okay, so after driving the NSX and the F355, what are some of the differences between the two cars? Everyone keeps asking me. Now keep in mind that I am comparing my HIGHLY modified NSX with a stock F355. So it is not an apples to apples comparison. But here are some "observations" or "opinions" on the differences between the F355 and a modified NSX.
1. I am about eight seconds faster around Willow Springs in my NSX vs. my F355 F1 GTS. I can run 1:29 lap times in the NSX, and run about 1:37 in the F355, both equipped with Hoosier Racing Tires. True, I may have been a little tentative in that I didn't want to spin the F355, but on the other hand, there is another second or two left in the NSX that I have yet to squeeze out.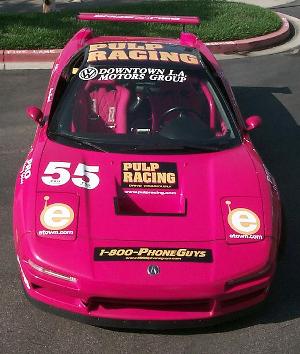 Car now looks like a toy Matchbox car. (See Bigger)

2. NSX with Supercharger seems to out accelerate the F355(which will out accelerate a stock NSX from a ROLLING start). With the F1 shifter in the F355, it is hard to get a good 0-60 start. But if you are rolling at 5 mph, and race to 100 mph, I bet the F355 will win against a stock NSX, because gear shifts in the F355 seem almost instantaneous with the F1 paddle shifter in Sport Mode.

Front view from ladder (See Bigger)
3. NSX with Comptech Brembos will outbrake the F355 (which seems to definitely outbrake a stock NSX). Wayne and I beat the crap out of my modified NSX in our enduro races and we have no fade whatsoever at anytime. And we are late braking into turns, diving in on people, etc.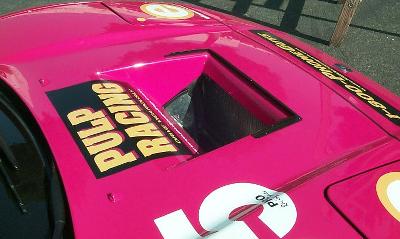 Big Ass Dali Hood Scoop, theoretically to help keep the front end down (See Bigger)
4. The NSX with modified suspension has less much body roll than stock F355 in sport handling mode. When I was following Jeff who was driving his F355 at Willow, and through turn 2, and there seemed to be a lot of body roll in the F355. But then again, the F355 is a bone stock street car, and I am comparing it to a highly modified streetable NSX. The NSX with the big wing and hood scoop will go through sweeper turns 8-10 mph faster than the F355.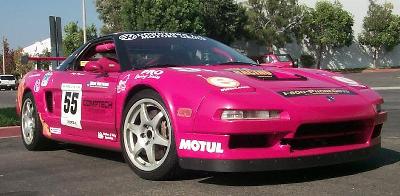 View from the ground (See Bigger)
5. The reliability of the NSX is pretty hard to beat for a sports car. It shows that Honda can build fast, reliable, user friendly cars.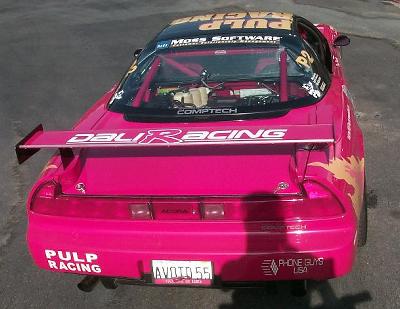 Rear view from Ladder (See Bigger)
The F355 GTS F1, on the other hand:
1. Is the most beautiful car in the world. (says my wife, and I probably have to agree with her). You don't really notice the visual impact until you wash the F355, and you can "feel" the "curves" in the car. Elegant vented engine cover, wrap around rear windshield, perfect lines on the side of the car, it is a work of art. The NSX is a great looking car, but I think the F355 is a leg up in this category. With the F355's removable roof taken off, the car is the perfect cruising car for cruising down Pacific Coast Highway by the beach.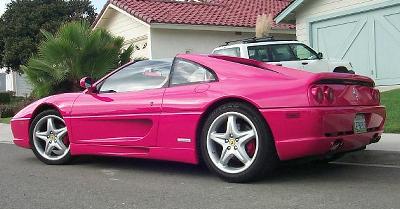 Italian styling is pretty hard to beat (See Bigger)
2. Completely stock, the F355 is the best sounding car in the world in a freeway underpass or tunnel. This includes any modified cars that I have heard. No other car on the street (stock or modified) that I have heard shrieks like a Formula One car in an underpass or tunnel. None. I can't imagine wanting an aftermarket exhaust on this car. Between Wayne and I, we have tried about five different aftermarket exhausts on our NSX, and none sound as good as a stock F355 exhaust. The aftermarket exhausts might be louder and growl more on the NSX, but the F355 really blows it away in the sound category if you are a Formula One fan. The car also "burbles" real nice when making your downshifts and you blip the throttle.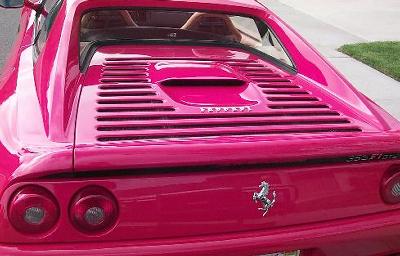 Wrap around windows, engine cover grill, lots of curves
3. Handling wise, it seems like you can feel the "ground effects", the F355 really seems to vacuum itself to the ground on freeway onramps, and sticks real well, and is effortless. The undertray of the car is completely flat to help with aerodynamics and help it stick to the ground. With the setting of the F355 in "Sport Mode", handling is great for the street, not so stiff that it feels like you are riding on a trashcan lid (like the NSX with competition suspension), yet stiff enough to push pretty hard on the onramps/offramps.
4. The F355 F1 is a comfortable car to sit in and drive fast. Remember that I was driving Dagmar around the track at a Ferrari event as a passenger, and she said she would like to drive. She buzzed it around the track for two 20 minute sessions the first time we took it to the track. She would never ask to do that in the NSX. The paddle shifters make it really easy for her to drive.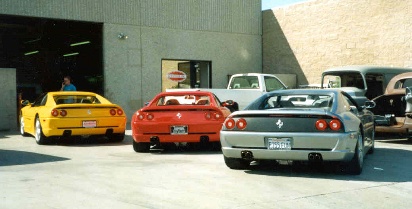 Hanging out at Ian's, getting ready for five point harnesses
5. The F1 paddle shifter is pretty cool. When accelerating, you just keep the gas pedal to the floor, and pull the paddle on the right hand side to shift. In Sport Mode, shifts take about 2/10ths of a second when accelerating, and are violently quick, neck snapping shifts. When driving around the street and let's say I am going 60 mph towards a stoplight in 5th gear, I can brake with my left foot, blip the accelerator with my right foot to try to match revs with the downshift, and pull the left paddle four times to get into first gear. If you synchronize it correctly, in about 2 seconds you can make the exhaust note go BAM BAM BAM BAM like the F1 or Indy cars do when they downshift going into a turn off the straightaway.
6. The "experience" of driving the F355 F1 GTS is AWESOME. Remarkable. It cannot be described. The NSX driving experience is also very good, but Ferrari takes it up another notch with the F355. Wayne would never go back to an NSX after driving the F355, simply because the rush is too awesome. Wayne and I now understand why people become fanatical about Ferraris. We want our next car to be a Ferrari also. Unless Acura can make a NSX with a V-10 that is faster than a 911TT and sounds better than an F355. Hey, Honda, that sounds like a simplified design specification, "Faster than Porsche, Sounds Better than Ferrari".
7. The F355 has turned Wayne into a dating machine. This didn't happen when he had the NSX. Women go crazy for guys who drive a Ferrari. Wayne had a dry spell where he couldn't find a date if his life depended on it. Then he bought the F355 and suddenly he transforms from Wayne Mello to Joe Stud. For those guys out here with a lackluster love life.......BUY THIS CAR!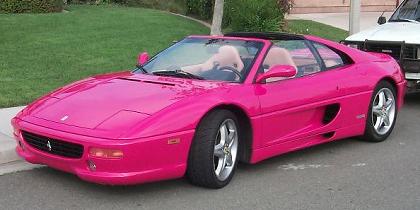 Women go bonkers over guys with Ferraris. Just ask Wayne!
So which do you buy if you have to buy just one car??? If you figure all the mods I have in the NSX, it probably comes close to the to the same cost as a stock F355. I would say your choices are:
1. If you want to go fast at the track, and compete in a lot of events, Supercharged NSX is the way to go.
2. If you want to drive the most exhilarating street car in the world under $250,000, pick the F355 GTS F1. The sound and sensations that this car produces cannot be beat. (Yes, I have briefly driven a 911 TT, a Diablo, and a Viper. Doesn't even come close to the Ferrari F355 GTS F1 "experience")
3. If you want to have a daily driver you can pound every day, and you don't live close to a Ferrari dealership, NSX is the way to go.
4. If you want women to treat you like you are Brad Pitt or Ricky Martin, Ferrari F355 is the way to go.

Note: if you want to go REALLY fast at the track, and you want the chance to win at any race.......then buy a used Porsche 911/993 and strip it down and put go-fast parts on it. It will probably cost less than an F355 or a Supercharged NSX, you got a zillion different aftermarket parts and vendors to choose from, and you can hop up the Porsches up to 600+ hp. And then it is game over for the Supercharged NSX or F355, but your Porsche will still remind me of a fat, bloated, overweight Kermit the Frog. I know it sounds sacrilege to say that a Porsche 911 is the fastest way to go on a site called The NSX-Files, but let's face it, there are some Porsche drivers that can run 1:20 laps at Willow Springs. Ain't no way possible you can build an NSX that will do 1:20 laptimes for an extended period of time without blowing up. (Yeah, you might be able to do a 1:20 laptime in a souped up Viper GTS, but do you really want to drive a race car that was built in Detroit?). If want to build a car to run at the 24 Hours of Daytona, it seems that if you do the research, Porsche seems to be the way to go, you will be fast and competitive and fairly reliable.....but you will look ugly...
So there you have it. Both the NSX and F355 are unique cars for different purposes. Both have very different heritages, and you can tell the final goals of the designers of each of the cars is very different. Which is the right car for you? It is a tough decision........but just sell everything ya got, and buy one of them. After all, you could die tomorrow because of some freak occurrence (drunk driver hits you, psycho 13-year-old starts randomly shooting his AK-47 into a crowd, hurricanes, earthquakes, lightning bolts, plane crashes, etc.), and as the lights are going out in your brain as you desperately gasp your last breath of air, you don't want to be thinking, "DAMN, I KNEW I should bought an NSX or an F355!". Live every day like it is the last day you will be on earth, cause there may not be a tomorrow!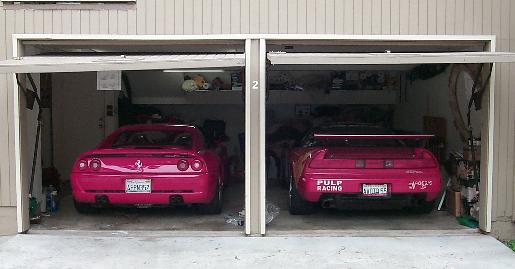 Choose your vice........the Prancing Horse from Italy, or the Tochigi Dream Machine..