Touring Car Club and Pro Racing Series at Willow Springs, CA
February 26/27, 2000
"Raceaflais on the Rampage"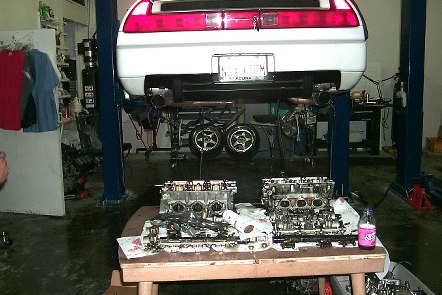 Mark's NSX fails a compression test......which means he pays Larry's rent for the month
(NOTE: If your browser shows broken links for the pictures, hit the "refresh" button a couple of times. And get rid of that 28.8 modem, for crying out loud, we are heading into the next millenium. Call your cable company or phone company and DEMAND a high speed Internet line immediately, or else you will sue as they are hindering your ability to read The NSX-Files)
So after our Ruthless Precision victory last month, things seem to be going real good. My car seems to be running strong and Wayne's car seems to be running pretty good. Larry says that he feels my driver's seat is broken, so we have to throw that out and put the passenger seat in. Since we are doing that, what the hell, let's throw out the carpeting. Slowly, but surely, the NSX is turning into a stripped down race car.
Wednesday February 10.
Larry's wife has been borrowing my trusty Toyota MR2 to go to work. Well, actually she and Larry and been borrowing my MR2 since October, as they work on getting their NSX Modified Shop up and running. Most people would think that getting an automotive repair shop would be relatively easy. But, from experience, just make sure you got a lot of time and patience to deal with the city, licensing, permits, bank accounts, etc. And about $30,000 to spare for lifts, tools, equipment, moving expenses, first and last month's rent for the shop and new apartment, and money to tide you over until the shop becomes successful. Anyways, it seems that the engine in the MR2 blew up. It has been burning about a quart of oil every couple of weeks or so for the past six years. And apparently it burned more than usual the past two weeks. Like about all the oil in the engine. And so the engine died. Bummer......that engine went 142,000+ miles before going to the engine heaven in the sky. That was my first car that I ever bought, back in 1986. Luckily, Larry says he can swing a deal with the shop next store that works on Toyotas, and can get a used engine and clutch for about $700.
Larry also looks deeper into Mark Schulten's Turbo NSX engine. He is getting a lot of oil blow by. Looks like he has a cylinder that is now failing compression test. Bummer......looks like Mark needs a new engine. It is good that we got two lifts for Larry's shop, as it will take weeks to get Mark's engine repaired, as Larry has to send the engine block out to get fixed before Larry's puts everything back together. Looks like a bad month for engines.....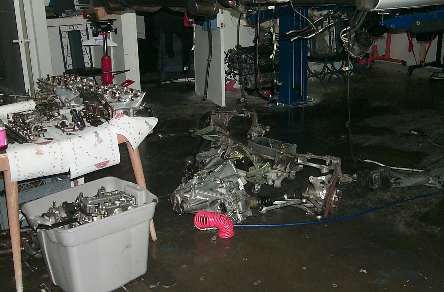 Mark's NSX Twin Turbo engine completely disassembled by Larry
Thursday, February 17th.
A week before we are to pack up the trailer to go racing with the TCC and the PRO Racing Series, a guy by Larry's shop comes by and washes my car and Wayne's car. Unfortunately, I guess Wayne's car isn't designed to get washed. Either that, or some of the rainwater from the big storms got into his 944 Turbo as it was sitting outside Larry's shop. We have problems starting the 944 Turbo. You turn on the ignition, and the brake lights go on, and the car is hard to turn over. Larry thinks it is just a problem with the battery kill switch on the hood that got wet, so he isn't too concerned about it. I mean, how hard could it be to fix it?
Sunday, February 20th.
The weekend before the race, Larry still has problems with trying to get Wayne's car to properly start. Uh oh....
Monday, February 21st.
We all start to panic, as it seems that computer brain and other wiring harnesses in the 944 Turbo got wet from a puddle inside the car, and shorted out a bunch of stuff. Larry tried to dry out the box with compressed air, but that didn't work. We call Dwaine over at Vision to see what he recommends, and he mentions that it sounds like water shorted out some of the electronics, and to bring the car over to his shop, as he can't diagnose it over the phone. We curse, as it is only about four days before we go to the track. Raceaflais rears its ugly head. Damn, especially after we were so organized last event.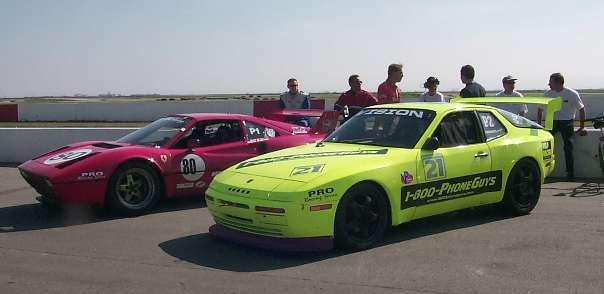 Wayne's 944 Turbo lined up next to a Ferrari 308
Tuesday, February 22nd.
We are behind, and after Larry is done prepping my car, I get the car aligned, new race tires mounted, etc. We take the car back to my shop, and put it on the scales to do the corner balancing. Ooops, we were supposed to corner balance THEN do alignment, oh well, maybe next time we will do it correctly. Anyways, now my car is down to 2660 lbs with a half a tank of gas in it. So now it weighs about 360 lbs less than a stock NSX. After this next race, I think we will have to take another step to reduce the weight, which means we will have to ditch the Alpine Stereo, EQ, amplifier, and CD player in the quest to get the weight down to 2600 lbs. Wayne's car still ain't working.
Wednesday, February 23rd.
Wayne's car ain't done yet. Dwaine had a bunch of cars to get ready for various races, and we dropped in at the last minute trying to get Wayne's car fixed. Bummer. Ten months after ordering the Racecam for the NSX, which is a little mini camera with a wide angle lens that feeds into the Datacam, and then feeds into a Sony DV Camcorder, I get it working. It took a long time to get the camera from Racecam, as they were having production problems. Then it took about four months to get the cable to connect into the Datacam. I used it last race, but we got way too much hiss when accelerating on the track. It was so much hiss that it made the video almost unwatchable. I call Racecam, and they said that it was probably from the alternator, and using filters won't make the hiss go away. Instead, I would have to use a separate gel cell 12 volt battery to power the camera, which should get rid of the hiss. Again, you go with what you think is a simple camera setup, then you need a modified cable, then you need a modified battery source to make it work. And of course a modified bracket to hold the modified power source. Again, one mod requires 3 more mods to make it work.
Thursday, February 24th.
Dwaine ain't done yet with Wayne's car. He is still going through the wiring harnesses, trying to figure out what is wrong, which wires can be completely tossed out, etc.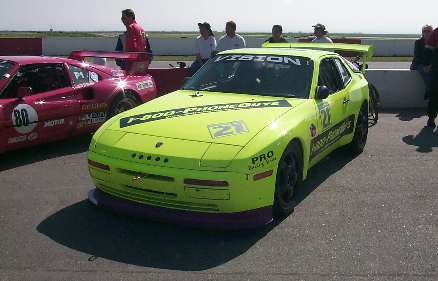 Wayne's car at the track.
Friday, February 25th.
Finally, around noon, Wayne's car is done. It ends up costing Wayne $1100 to get the water damage corrected. We pack the car in the trailer, along with our 3 tons of equipment, and off we go the track. For the pit crew, we have Larry, Guy and Brent this weekend. We leave around 7:00 p.m., as we don't want to have to make the long haul out to Buttonwillow early Saturday morning, especially since we are doing a two hour enduro on Saturday. We leave on time, and I predict that we will arrive in Buttonwillow at the hotel at about 10:30 p.m. At 10:32 p.m., we park the trailer in front of the Motel 6. I love it went things go according to plan!
Saturday morning, February 26th.
We unpack everything from the trailer, and set out to do battle. It looks like a fun event. The two Ferraris, a 308 and a 348 from previous PRO events, are ready to do battle. Dwaine is there in a 944 Turbo, and two other guys in some really nice 911 race cars are in the event also. Mike is there with his World Challenge Corvette. Another guy is there in a Viper, Buzz is there in his Mustang, along with the entire TCC cast of racers. The agenda is two practice sessions, a sprint race, then a two hour enduro. However, since there is a threat of rain over the weekend, attendance was lower than usual, and the two hour enduro is shorted to a one hour enduro. Wayne and I talk it over, and it looks like we will run both our cars in the sprint race, and we will each race our own cars in the one hour enduro, so we are going mano-a-mano all day long. After all, we are working out three days a week, so a one hour enduro should not be a problem. Buttonwillow is about 3 miles long, and can be configured in a bunch of different ways. TCC and PRO set it up for about a 20 turn course. My car seems to be running pretty good. First session out, Wayne has some problems and has to limp the car back into the pits. Apparently he blew one of the turbo hoses out of the hose clamp. Whew! We thought it was going to be electrical, and we would then never figure out what the heck was wrong.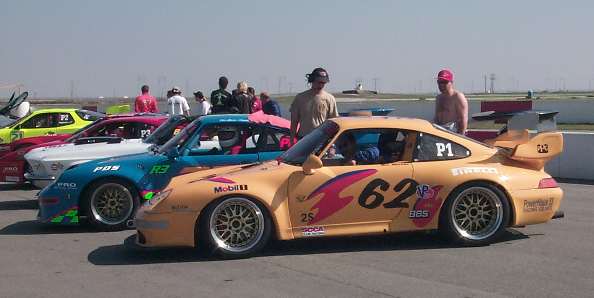 Two extremely nice Porsches ready to do battle at the track
Going into the qualifying session for fast lap, my car feels pretty good. TCC is going to time some random laps of the cars that are out on the track. I am behind Wayne, who is following a yellow 911 race car. This is for fastest lap, and Wayne seems to be having a problem passing the yellow 911. Wayne and I have the radios working, at the request of Larry, so we can all talk to each other. I am right on Wayne's butt, but I can't easily pass him. I stay like this for about 3 laps, as Wayne can't get by the 911.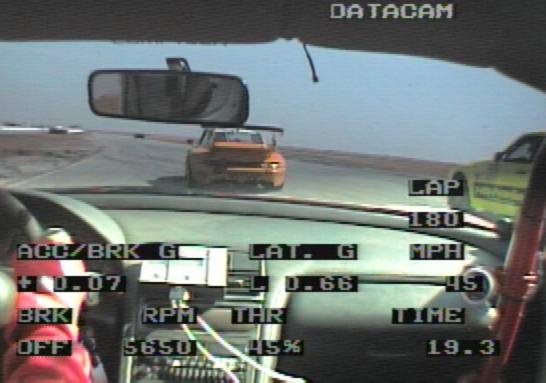 In hot pursuit of Wayne and the yellow 911 coming out of the turn down the front straight.
I feel that I can outbrake the 911, as I have been watching where the driver is starting to apply the brakes. I radio to Wayne that coming into the turn on the front straightaway, to give me a little room, and I want to try to get by the 911. Wayne moves over coming into the turn, and he lets me pass, but the 911 is slightly out accelerating me down the front straight. Coming to the end of the straight, I decide that now is the time, and I make a run for it. I pull up on the left hand side of the 911, the 911 brakes first, I wait another two seconds or so and go shooting by him, and then I hit the Comptech Brembos, and swooped in front of him. Brembos are worth their weight in gold. They should, the cost about the same ffing amount as if the calipers were made of gold. (of course, the 911 driver might have just been courteous and let me by, but hey, it's MY webpage, so I will say I successfully dive bombed into the turn and beat him to the apex due to my excellent driving.....).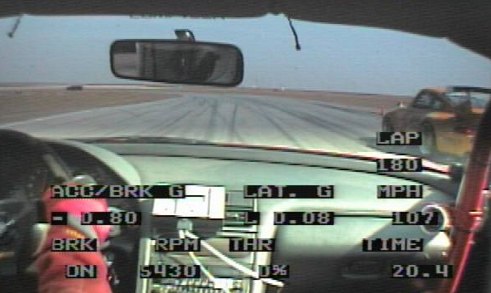 Getting ready to pound on the Brembos to beat the 911 to the apex.
So now I am in front of the 911 and now he is chasing me. I get about a 6 car lead on the 911 for the next lap or so. On the next lap, I come through the short chicane on the far left side of the track sloppy, and the 911 is right back on my butt. Coming into the Talladega sweeper turn, I am doing about 125 mph in 4th gear, with the 911 in hot pursuit. Then I have a huge brain fart. Either I thought I was in 6th gear and needed to grab 5th coming into Talladega, or I was at the readline in 4th and wanted to grab 5th going into the sweeper. In any event, what actually happened was that I threw the car into 3rd gear while going 125 MPH. Now this is bad, especially since I have a short gear setup that means that 3rd gear is probably good for about 90 mph max at the readline. Anyways, I hear the tranny and engine both let out a huge groan as the RPMs of the engine probably hit 11,000 RPMS. Oh shit. For the next half a lap, the car seems sorta okay. I let the 911 and Wayne pass me. But then power from the engine starts fading away faster and faster. Engine light is on, Oil light is on....uh oh. I shut down the engine, and pull off to the side of the road. Bummer. I think I got a problem. A big problem.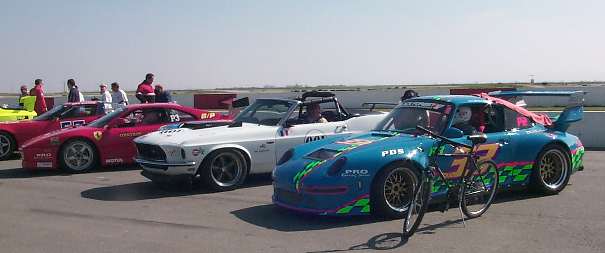 Cool looking Porsche, convertible Mustang, and a 348 with a big-ass wing
I get towed back to the pits after the qualifying session is over. I radio to Larry that I lost power, and the engine and oil light came on. We jack the car up, Larry gets underneath the car, and has me turn on the engine. It sounds like a clothes dryer with four big rocks inside spinning around. I ask Larry if he knows what happened, and he says something like, "Yup, I think we BOTH know what happened". When I put in this supercool 6th speed transmission to replace the five speed tranny about nine months ago, Comptech warned me, "Now be real careful, these six speed trannys don't shift as nicely as as the five speed trannys, and it might be harder to grab a gear quickly." I wanted the six speed as the gear ratios are tighter, and 5th gear in the six speed pulls pretty good, as opposed to the 5th gear in the five speed which doesn't pull very well. I had problems shifting at a couple prior events. The scenario is usually this: You are going as fast as humanly possible into a turn, and then you want to brake, blip, shift, and get back on the gas ASAP, all within less than 1/2 a second or so. Unfortunately, instead of quickly shifting from 6th to 5th, you do 6th to 3rd, (or you want to do a 5th to 4th, and accidentally grab 2nd instead of 4th) and the car gets all unbalanced as the engine and tranny and clutch fight each other on your missed shift. I have done this before, and the engine/tranny seem strong enough that they didn't blow up, but I think this time I ran out of luck. (NOTE: for those of you with NSXs with six speeds that aren't racing them wheel to wheel, you will probably never have this shifting problem. It only occurs when you are going at 120+ mph into a turn, and you are trying to brake, blip, and shift faster than the guy behind you.) So anyways, it looks like my car is dead. Bummer, especially since I qualified 3rd in this qualifying session. (yeah yeah, I know, people racing on the track will complain that it was kinda like random laps were timed, but since my random lap was faster than 17 out of 20 of the other drivers, I still feel I can say I qualified 3rd. Those of you who want to push the issue saying that you were faster but were not recognized by the TCC random laps, there is a solution for you. Create your own damn webpage!). Wayne qualified fifth or so. Strangely enough, a Viper qualified in first, which astounded everyone, as no one recognized this guy before. But he was pretty fast and he gave Mike a run for his money.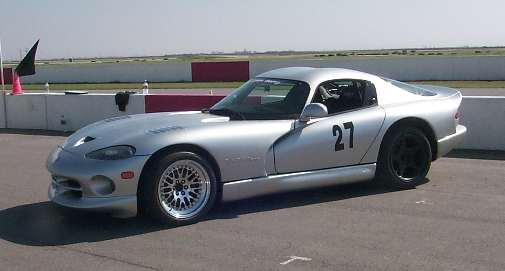 The Viper that kicked butt in the sprint race on saturday
With my car dead, Larry and I watched Wayne in the Sprint Race. He did a good job in the race, he finished around 4th or so, behind the Viper, the Vette, and one of the 911's. The guy in the yellow 911 seemed to be a good driver, meaning that it seemed he got a little faster every session, until he was eventually faster than Wayne. That is probably the correct way to go fast, meaning you slowly build up speed each lap, without driving like an idiot your first couple of sessions like Wayne and I do.


The grid for the Saturday Sprint race
So, now we are up for the enduro. Since my car is dead, we swap cars and decide to team up in Wayne's 944 Turbo, which will allow us to both get points for the PRO Series for this year. We agree that Wayne will start out driving, and I will drive the last 20 minutes or so of the one hour enduro. Green flag drops, and Wayne is out there doing a good job of hanging in around 4th or 5th place, behind the Vette, the other 944 Turbo, and the two racing 911s. 30 minutes into the race, Wayne is screaming that his shifter linkage is coming loose, and he is having problems shifting. We radio him and tell him to come into the pits, and we will put in the mandatory 5 gallons of gas, and then jack the car up and have Larry check the linkage. Unfortunately, the linkage is in a tough place to get, and the underside of the car is really hot, so Larry tries to do what he can without taking the whole thing apart. Larry screws around with the connection for a bit, and says that is all he can really do in the hot pit area for now. I hop into the car, and I can shift okay for the first 10 minutes or so. Wayne was running 2:03/2:04's lap times. I rarely drive Wayne's car, and it is a difficult car to drive. The brakes aren't as good as my Comptech Brembos, the shifter is loose, and trying to figure out when the boost comes on from his turbos is tough. I run 2:07/2:08 lap times, not bad considering I rarely drive this car. But then the shifter linkage gets really loose, and I can't get the car into 2nd or 3rd gear when I am downshifting, without fumbling around for about 3 seconds. So I passed the Ferrari 348 twice, but he passed me back twice when I failed to grab a gear coming out of a slow turn. DAMN! I try one more time to repass the 348, and I pass, but then I forget that Wayne's brakes aren't as good as my brakes, and end up shooting off the track at the end of the front straight, but then I make a U-turn in the dirt and get back on. Now my lap times are dropping into the 2:12-2:13 range, which really sucks. Larry is watching the race from the end of the front straight, and cracks up as he sees me going right off into the dirt. I feel like I did everything right, meaning I was trail braking deep into the turn, except I guess I fried Wayne's brakes from the previous turns, so the brakes didn't slow the car down, and the car understeered right off into the dirt. I get back on the track. I struggle with the shifter for about 3 more laps, and then they throw the checker. We finish the race, but didn't do as well as we would have like to. We finish far down in the pack. Bummer for us.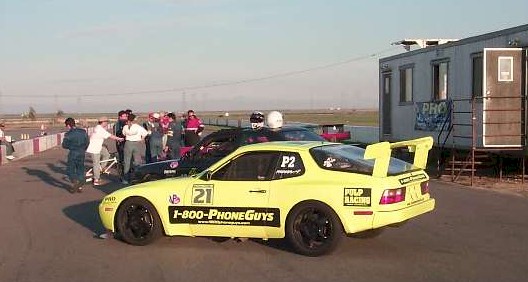 Saturday afternoon, after Wayne's car make it through the one hour enduro without breaking down!
Sunday morning, February 27th.
The big storm rolls into town. It is pouring outside. Our options are that we can pack up the trailer and bail, or stick around for about 5 more hours until Wayne can run in the Sunday sprint race. Wayne also doesn't have any rain tires. We decide screw it, let's bail, and we pack up and are outta here, and go home early and relax.
Next event is Friday, March 5th, go karts in Las Vegas. After that is the Alfa Club at Laguna Seca. But that will be three weekends in a row, and Wayne and I are not sure if we can do three race weekends in a row without getting too burnt out from the traveling and preparation for each of the events.....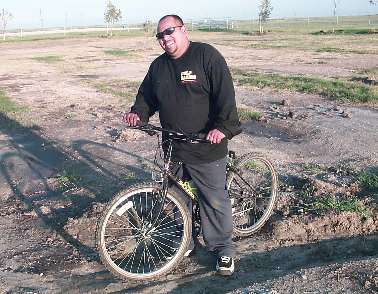 Larry looking like an East LA Gang member on Wayne's bike at the track.
Epilogue. Saturday, March 11.
Larry is able to find a used NSX Engine for me. He has two other NSX engines at the shop on "consignment", for other NSXers that happen to have "engine abnormalities". He starts to throw the used engine into my car for right now, and then he will determine what has to be done to the engine that I blew up to make it go zoom-zoom again. After all, the engine I blew up had all the Comptech go-fast goodies on it......damn it all. Hopefully by Monday, March 13th, my car will be driveable again......and I guess I will have to drive it on the streets to make sure I get used to slamming the car from 6th to 5th gear correctly....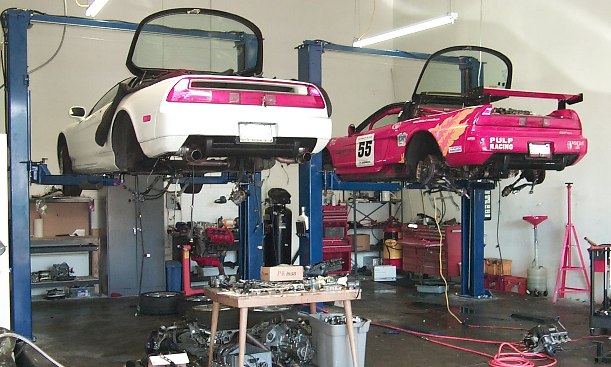 My car joins Mark's on the lift. We both waiting for engine transplants.