September 4, 1998 to Present time
Going Italian: Ferrari Frenzy!!!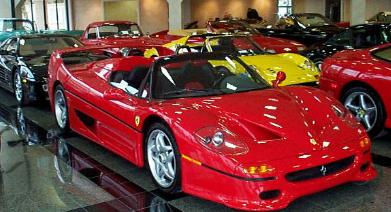 Ferrari F50 and a bunch of other Exotics at Newport Autosports
This one Wayne and I blame on Jeff. He went out and got an Ferrari F355 with the F1 paddle shifter early last year. It is a pretty amazing car. It's fast, is one of the best looking cars in the world. But it was the sound that killed us. Jeff blames all this on me, as back in 1992, I told him I was thinking of buying an NSX. Jeff said if I do that, he will buy one of the older 12 cylinder Ferraris. I bought the NSX, and then Jeff promptly went out and bought a 1972 GTC/4. But then again, Jeff dragged me to my first track event, and that is when I changed my lifestyle to focusing on cars and track events, so I still feel it is his fault. Then I dragged Wayne into this addiction to speed and fast cars. Here's the story of our downfall into another auto rathole……each one a little more outrageous than the last……
Wayne and I always thought the F355 was a pretty cool car. But we didn't think we would try to get one. After all, it is expensive and it is Italian, who aren't known for making reliable, easily maintainable cars. But Jeff says I am full of crap, and that he will match dependability of his F355 to any other exotic automobile, including the NSX.
The day before the LA Street Race, there was an informal meeting at one of the Downtown LA Motors dealerships for some refreshments. Wayne and I followed Jeff to the meeting. We were in Wayne's truck, and in order to get to the dealership, we had to take a couple of back roads that went under the freeway. Jeff was in his silver F355, and as we entered the underpass, he blipped the F1 paddle a couple of times to downshift into first gear, and then hit it to the 8500 RPM redline, blipped the paddle into 2nd gear, and hit it again to 8500 RPMs. The sound of the four cam, five valves per cylinder, Ferrari V-8 was amazing. Astounding. Intoxicating. Unforgettable. Wayne and I looked at each other and just said, "Oh my god, did you hear that?" We had to go under another underpass, and Jeff did it again, as if he knew it would torment us hearing that sound. After we got to the dealership, he mentioned that the car sounded even better when you are in a tunnel. We asked him what exhaust he had, and he said it was just the normal, stock exhaust that comes with an F355. He said that they are some tunnels that he has driven through, and then turned around, went through the tunnel again, turned around, went again, and turned around, and went again, just to hear the Ferrari scream at the redline. You can imagine yourself driving at Monaco, were the F1 drivers rip through the tunnel on the street course.
A couple of months later, we rented an F355 Spider for a day. My wife rented it for me for half a day for my Xmas present last December, but we just hadn't had a chance to drive it. I gave Wayne the same present for his Xmas gift, so we combined the two to rent it for 24 hours.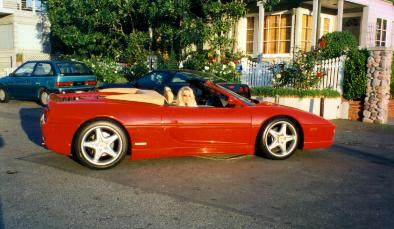 Dagmar looking cool in the F355 Spider
When we picked up the car from Beverly Hills Rental, they walked us through how to use it. Since we pulled up in NSXs, they at least knew we understood how to drive a lowered exotic automobile. They went over the car with us with a fine tooth comb, just to show that there was not a single scratch on it. They even brought out a mirror with a four foot handle on it, so they could show us the underside of the car didn't have a single scratch on it.
They also said that the NSX was a great car as they rent one of those also. The NSX is very low maintenance, but the Ferrari was kind of a pain in ass for little things. Things like the gas lid wouldn't open, so they had to take it to the dealer. While we were there, they were having problems with the convertible top. Sometimes the hand brake would act flaky. But they also mentioned that it was one of the most exciting cars in the world to drive. So we gave them our $15,000 deposit, secured by a bunch of credit cards, signed our life away, and agreed to the $1500 a day rental fee, and a buck per mile. Off we went. A half-mile from the rental place, guess what is there? The underpass or probably more accurately called a tunnel that goes below the LAX runway. It is probably a quarter mile long or so. Wayne and I blasted, and I mean BLASTED through the tunnel. This was a bad thing to do, as now we were really hooked on the sound….
We cruised it around. I took the wife cruising around in it. It is a very exhilarating car to drive, as the sound and sensations are fantastic. It is also a little fatiguing, due to the same reasons. At night, I gave the car back to Wayne, and he cruised it around at night with his fiancée,(now ex-fiancée) The next day we dropped the car off, after ripping through the same tunnel by LAX a couple of times. We probably looked like idiots, with Wayne driving the car at the redline, and me next to him in my NSX trying to capture what it looked and sounded like with the camcorder in my hand……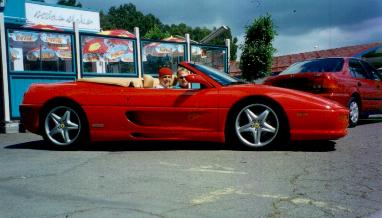 Wayne with 16 year old Andy the Neighbor. Andy worships Wayne, can you tell why?
We drop the car off at the rental place, and they come out and inspect the car. They note that there is a scrape underneath the spoiler that wasn't there before.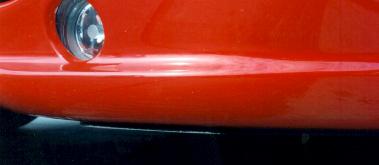 I don't see any damage, do you see damage?

I say underneath, meaning you can't see it looking at the spoiler, you have to get a mirror, put it on the ground(like you did in junior high school with a mirror on your shoe) in order to see it. The black fiberglass undercarriage was scraped, and the underside of the red part of the spoiler. They call me the next day, saying it will cost $400 bucks to fix it, and it is my pocket it is coming out of. $400 bucks for a scrape I can't see?


Looking from under the car, I concede. Damage was done. But $400 worth?
They explain that every car goes out perfect, that way if it doesn't come back perfect they know who screwed it up. They don't want the car to turn into a junker…..so if you scrape it, you fix it.
Okay, so now the hooks are in us. Our life as we know it is over with. We are going Italian. We are going to buy those Berlitz "How to Speak Italian" audiotapes and CDs. We are going to watch old Italian movies. Buy Italian loafers. Hum the theme song of the Godfather. Listen to Pavarotti, or whatever the fat guy's name is. If it is Italian, we are doing it. Wayne also mentions that Italians can pinch girls and get away with it, can't they?
In September, I decide that I just have to have an F355 F1 GTS(removable hardtop). I figure that with the top off, it will feel like a convertible, yet I could throw the top on, and still be able to take it to "informal" drive arounds at the track. Jeff calls the GTS and Spiders "poseur cars", and only real men get the Berlinetta like he did. I call the local Ferrari dealers. They don't have one in stock. I call the dealers in California. Also none in stock. I call dealers all over the US. None in stock. Damn. I call Ferrari of Beverly Hills, and they say that F355 GTS are pretty rare, Red/Tan more rare, and with F1 shifter, even more rare. If I order today, (September), I might get it in January or February. But no promises, as cars get done when they get done. It's the Italian way. They are not on a production schedule like your typical car. They drink wine on their lunch breaks. I end up putting my deposit down for the car, and get the carbon fiber racing seats with leather, red brake calipers, and painted hardtop roof as options. (Note, I plan to keep my NSX as a track car and daily driver, but use the F355 for crusing down PCH).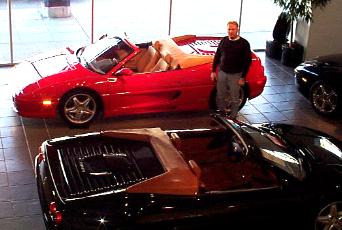 Wayne looking at two of five used cars in the Ferrari of Beverly Hills Showroom
It was kinda weird at the Ferrari dealership, as there are only five cars in the show room. Five used cars. Wayne and I laugh, as we feel it is kinda of a rinky-dink dealership, since they don't have any new cars. If ya want new, ya gotta tell em what you want, and they will order it and get your own car built exactly how you want it. Wayne is looking hard at the Red/Tan F355 Spider in the showroom, and is asking James the salesman a bunch of questions. Wayne is doing the calculations in his head and talking to himself, "If I sell the NSX, pay off the remainder of the loan, and sell a couple more phone systems a month, , sell the Rolex, sell the engagement ring that I an no longer going to use, I can make the payments….hummmm…."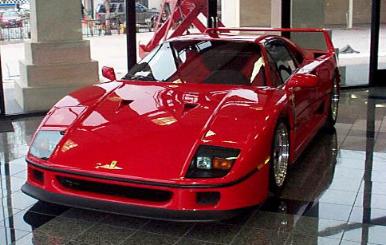 F40 in Armen's showroom
September goes by. October. November. December. January. I call Bryant, and ask him where my car is. He says they should be finishing it up soon, and then they will put it on the boat. He says he will call me when it hits the water. Middle of January or so, Bryant calls, and says it in on the water, headed this way on the east coast. Last part of January, Bryant says it is on the east coast. It has to go through customs, get put on a transporter, and since we are in Southern California, it will be the last stop for the transporter as it drops cars off between the east coast and here.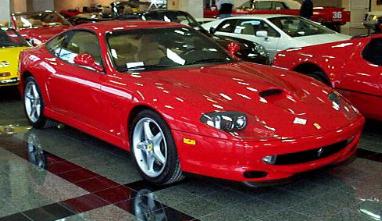 550 Maranello in Armen's showroom
In the meantime, about two miles from where we live, Newport Autosports is opening up. Armen Gugasian is the owner. He has in their beautiful Italian Style showroom a 550 Maranello, 328 GTS, Testarossas, F40, F50, 512I, etc. etc. All are in pristine, perfect condition. You can tell that Armen is real meticulous about how his cars look. Wayne and I go there drooling. They aren't open yet, but they let me, Wayne, and Dagmar into the building to start looking at the cars. The only reason we got in was that Armen's dad, Leo, saw the Rolex on Wayne's wrist and said, "Come on in, by the looks of your watch, you got money to spend." I translate that to mean, "You look like a fool that will spend every penny you have in the world on a car, come on in". I am drooling over the F50. Wayne asks the owner, Armen, if he has any F355s coming in. Armen says soon.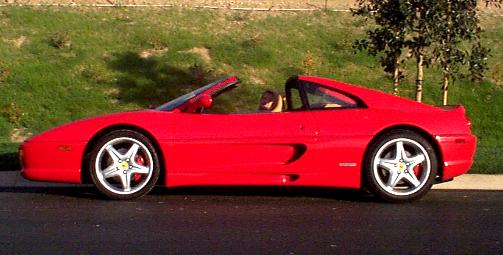 The new cruising car for the weekend
My car finally gets into town February 9th, and we schedule a time to pick it up the next day. Dagmar, Wayne and I go to pickup the car. It is awesome looking. Bryant takes me for a spin, explaining how to work the paddle shifters, and other stuff on the car. He demonstrates that if you are on the freeway going 55 MPH in sixth gear, and some bozo is in front of you picking his nose, you simply pull four times quickly on the paddle shifter on your left to drop the car into 2nd gear, and then gun it. WOW! That is awesomely cool. When you flip the car into "Sport Mode", the suspension stiffens up, and the F1 paddle shifts are now violently quick. You can feel the drivetrain and clutch shuddering from the brute force of the engine and the quickness of the shift. A human being cannot shift as fast as the car can in sport mode. FERRARI FRENZY!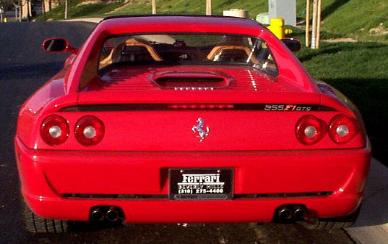 Rear end looks muscular, tight, kinda like......oh never mind....
Bryant also asks us if we want to take a look at some of their other cars they have stored. We say sure. Bryant takes us to the "secret" storeroom. Up in their storeroom, our jaws drop.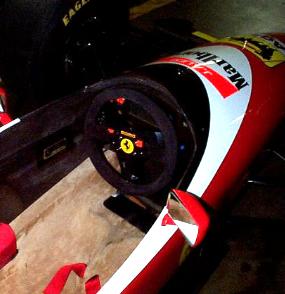 1979 Ferrari Formula car......with one of the first paddle shifter mechanisms

They got about thirty Ferraris stored up there, probably10-12 million dollars worth of cars up there. In this dingy storeroom, they have old F1 cars. They have vintage racing cars. They have a 1979 Formula car that has paddle shifters on it, one of the first cars ever to implement it. They have a Ferrari race car from the 1950s.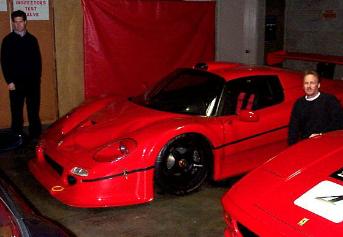 Bryant on left, with Wayne next to F50 GT1 Le Mans car
They have one of the three "GT1 Le Mans" F50 machines up there. Some are their cars, some are customer cars that are being stored, and some are cars there for servicing. Dagmar says something like, "Hey is that a Ferrari P4?". Bryant replies that he is impressed that she knows so much about cars. Okay, so now Wayne and I no longer think that Ferrari of Beverly Hills is a rinky dinky dealership with only five cars……now we feel that that they are sitting on top of the mother lode of all cars.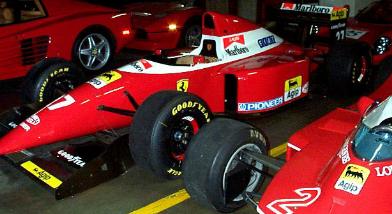 Ferrari race cars at Ferrari of Beverly Hills
We are getting ready to leave, and a guy named Brian comes in driving an F355, and he has one rim with him. He explains to Wayne that he bought his car used, and it had these Speedline rims with the Ferrari logo on it and the bolts all around, but he prefers the stock rims. He brought one rim in to show as an example, and he wants to sell all four. Wayne asks him how much, and he replies $2500 for all four. Wayne starts working him, and gets him down to $1900. Wayne says I gotta snag them, as this is cheaper than new el cheapo steel rims, and these are Speedlines. I agree, and we make the deal for the rims.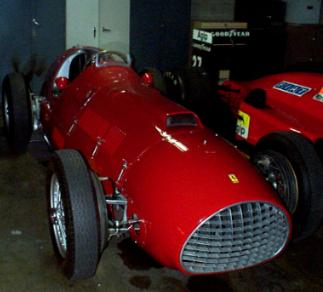 Antique Ferrari Racermobile
Bryant says that the car is pretty well broken in from the factory, but I should take it easy with the brakes for the first 400 miles until the pads bed in. I leave the dealership with Wayne in the car, and we hit 8500 RPM redline immediately before the first stop sign. So it took about 400 yards until I had to dip into the ABS. Well, that is kinda how I break in my race pads on the NSX…….
Wayne and I buzz the car down PCH, intoxicated by the sound. I can see the look in on his face, he is starting to do the mental calculations to see if he should get rid of the NSX and buy an F355. It is a glassy eyed look……I know he is in trouble…
We go to Brian's house. We expect to see a huge house, but Brian is like us. He has a nice, modest house. You would not suspect that an F355 owner lives here. We go to his back yard, and it is huge, along with a four or five car garage, almost bigger than the house. He has a GT40, a Cobra R, and a vintage muscle car he just bought, along with a bunch of tires and rims. He says that he has another 10 cars stored elsewhere. We go into his house, and he has stacks and stacks of auto magazines, memorabilia, etc, everywhere in neat piles. I mean EVERYWHERE. He definitely has car fever big time, even worse than Wayne and I. He apologizes profusely for the water spots on the rims I am buying. They look immaculate. Wayne and I wonder what other car parts he has for sale…
Suprisingly, the F355 comes with a stereo in it. Not surprisingly, it sounds like crap, I can't deal with the sound of it. I am sure F355 owners are not supposed to listen to the stereo, they should listen to the motor, but when you are stuck in southern California traffic, ya gotta have some good tunes. Listening to a tinny, 12 watt stereo system just doesn't cut it. It sounds like a 79 dollar Kraco special that you buy at Pep Boys.
Monday night, February 15th – on our way home from Laguna Seca, we stop at Ogner Motorcars, and checkout the F355s that they have there. They have about four Spiders, and a couple of coupes. The yellow coupe looks real good, but they want big bucks for it as it is a low miles car. We end up leaving without buying anything. But Wayne has that frenzied look in his eye. The hook is in really deep….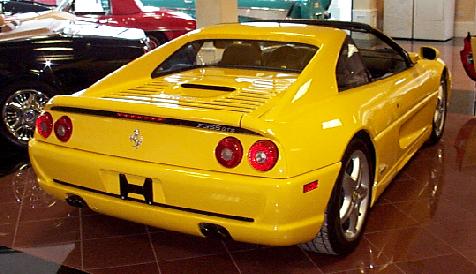 The car that caught Wayne's eye.....yellow F355 GTS at Armen's shop
A couple of days later, Wayne is getting his car cleaned at the car wash next to Newport Autosports. He calls me up and says, "Hey, I am getting my car washed, and I look next door, and Armen just got in a 1998 F355 GTS in yellow/black, with 4000 miles on it, and 18 months left on the factory warranty. Dennis Rodman is in here also, trying to buy a Bentley. Come on down". I drive down, and Wayne is trying to get more info on the car, as well as figure out the purchase price. Wayne is thinking that this is a cherry looking car. It is yellow, which looks pretty stunning. Rodman is in there, negotiating to try to buy the white Bentley that is in there.
Friday, February 19th. Wayne pulls the trigger. He decides to get the yellow F355 GTS at Armen's. Today's the Day! We go down there, but Armen isn't really open yet, so he can't do the financing. His finance guy is working on getting the deal through someone, but we can tell it ain't going smoothly, as this is their first one. They have to establish relationships with banks, financing people, etc, as they are starting from ground zero. We agree to come back on Saturday.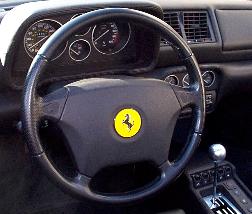 Wayne opts for traditional manual shifter
Saturday, February 20th – Today's the Day! Sun is shining, it is 70+ degrees out, a perfect day for cruising an F355 GTS with the top off. But, still no financing, especially since it is Saturday, no banks are open. Wayne is itching for the car. Too bad, we could have been driving up and down PCH all day long, bursting to 8500 RPMs every now and then.
Sunday, February 21st – still no financing. Wayne drives down to Symbolic in Los Angeles, and looks at a yellow F355 Spider with 1200 miles on it. Except that the warranty runs out in a month. Probably not a good deal, especially with the way we drive cars. Sunday night, Wayne can't decide if he wants the Spider or the GTS. I tell him the GTS is better, because since he is going to sell his NSX:
It gets cold in the winter. You will need the top on a lot at night. Spider would give you lots of wind noise, and it doesn't look all that good with top on.
Even driving the GTS for an hour with the top off is fatiguing, from all the wind hitting you. In a Spider, this would be multiplied by two
With the GTS, if you need to park the car at night somewhere, you can put the hard top on to secure the car. With the Spider, you just have the cloth top.
GTS at Armen's comes with 18 month warranty, the Spider only comes with 1 month warranty.
Armen said that if Wayne bought the GTS from him, he would take us for a cruise in his F50……..obviously I want Wayne to buy the GTS from him!
Monday, February 22nd – Today's the Day! Except that we find out that Armen has to sell the car to Fletcher Jones Motorcars(the big Mercedes dealer) and then Fletcher has to sell it to Wayne, so we can take advantage of Fletcher's financing, since Armen isn't setup for financing. Armen used to work at Fletcher, so he knows them pretty well. We are ready to get rocking and rolling with the deal. Wayne is ready to drive off into the sunset in his yellow F355 GTS. Except the main financing person at Fletcher for a special deal like this is on vacation. We have to wait ANOTHER DAY. Armen is profusely apologizing for the delay in selling the car. It really isn't his fault. He isn't supposed to be open for business for another couple of weeks, and we are on his doorstep begging him to sell Wayne the F355, and he is trying to do everything he can to get us the car.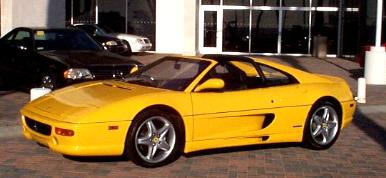 Wayne's car sitting outside at Fletcher Jones Motorcars

Tuesday, February 23rd – Today's the Day! We go to Armen's place to pickup the F355, so we can take it to a mechanic's shop down the road to get it checked out. Except Wayne is 80 minutes late. So the guy at the mechanic's shop who was supposed to check it out is busy now, and can't do it until 2:00 p.m. or so. At 3:00 p.m., we go to pickup the car. I go there with Wayne in my F355, and Armen shows up in a Black Diablo SV that he just bought (so he could add that to the cars that he is selling). Now the plan is to take my F355, Wayne's soon to be F355, and the Diablo over to Fletcher to seal the deal, so we can drive off with Wayne's car. It is about 80 degrees today, PERFECT weather for driving an F355 GTS. Except we have a problem with the financing, since Fletcher doesn't normally sell Ferraris, and the bank doesn't have their "financing tables" setup for an F355. We are haggling over prices, balloon payments, etc. Wayne is looking for monthly payments to be reasonable, and I keep telling Wayne that monthly payments are irrelevant, the main thing is minimum down payment, and keep as much money in Cisco and Microsoft as possible, since these stocks will probably go up, and then just stretchout the payments as long as possible, even if they are expensive. If all goes well, he can pay for the car in full a year or two down the line from the stock profits. (Interest is 10.5% a year on a used car, Cisco and Microsoft have gone up about 100% in the past year. Hummmm…I wonder where I should keep my money???) Bottom line is that they need to charge Wayne an extra 1000 bucks over what he thought he was going to pay, but it won't affect the financing quote that he got earlier. The reason for the extra $1000 bucks is that Fletcher says that they found out they are now unable to make money on the financing deal, but if they charge a 1000 more upfront, they can also make the monthly payments lower, and Wayne's down payment and balloon payment won't change. This confuses Wayne, as how can it be cheaper if he is paying more? I tell Wayne don't worry about it, it sounds okay to me, as long as the other payments that were agreed upon are not more, and we got minimum down payment. Wayne wants to call a financing friend, so we page him, fax him documents, etc. In the meantime, the sun is going down quickly……..Armen is bummed that the deal is taking so long. We tell him not to worry, we understand that he ain't formally open yet.
6:00 p.m. Three hours later, we are FINALLY ready to finish the deal. Wayne is ready to sign, but the finance guy comes back and says, "uh…..we need to get confirmation of the balloon payment, but since we don't do Ferrari's, it isn't in our "financing book", so we have to re-verify with Chase Manhattan Bank that all our numbers are correct. Except the local Chase Manhattan Bank can't verify balloon payment on an F355, as it isn't on their books either, so they have to get special approvals from headquarters. Unfortunately, headquarters is back east, and they are closed. Armen is really frustrated that this is taking so long to sell his first car, I am frustrated because I have spent about 40 hours the past week looking at F355s with Wayne and listening to financing numbers, and Wayne is every more frustrated as he just wants to drive off in the damn car and make it go "wheyyyyyyy……..wheeyyyy" off into the sunset. So now, we got to take the Yellow GTS back to Armen's shop. Wayne drives the yellow GTS, I have my GTS, and Armen has the Diablo, and we go blasting three abreast down Jamboree Blvd as darkness falls. The Diablo has an aftermarket Tubi exhaust, and sounds big, mean and throaty. The two F355s sound like Schumacher and Irvine ripping down the straightaway, passing each other back and forth, revving on each other.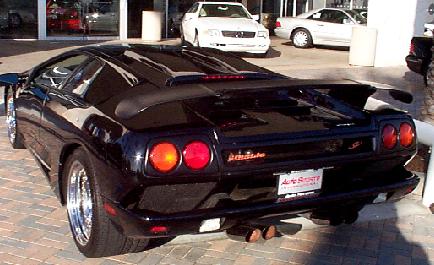 Diablo SV that Armen just bought to stock his exotic car store
We get back to Armen's, and he has just taken delivery on a yellow 550 Maranello and a yellow F355 Spider. It just so happens that he bought the other car that Wayne was looking at over at Symbolic in Los Angeles. Wayne says, "Hey, I almost bought that car on Sunday". Armen kiddingly mentions, "You told me the other day you were looking at a yellow F355 at Symbolic, so I bought it. I will buy up all the cars that Wayne may want, so he HAS to buy from me…."
So I take Wayne back home, who is totally dejected that he still doesn't have a car, he has missed about 20 hour of work the past couple of days screwing around with trying to buy this car. We go to Larry's for pizza, (it is really called Mossimo's, but for some wrong reason five years ago we thought it was called Larry's, so we still call it Larry's even though that is NOT the name of the place, and no one named Larry works there…..)
Wednesday, February 24th, The Day!
Now it has been five days since Wayne said, "I'll buy the car". At the very last minute now, Chase Manhattan wants an amendment saying that a max 5000 free miles per year, anything over that is a penalty. Wayne goes ballistic. He is BUYING the car, NOT leasing. But Chase is trying to protect themselves if someone buys the car, drives it 30,000 miles in year one, and then goes bankrupt, and then tries to return the car to them. If Wayne keeps the car for five years and pays the balloon payment, then the car is his to keep, and it doesn't matter how many miles he puts on it.


Jeff's Berlinetta, my GTS, and Wayne's GTS. Burning precious fossil fuels is our hobby.
All you tree huggers, get in this car for 60 seconds, and you will embrace offshore oil exploration
A couple of days ago, Jeff called me and said he wants to go to Kiwi Auto and have them install a five point harness in his F355. I tell him to ditch work, as Wayne is buying an F355, and we can probably scam a ride in the F50. I tell Jeff to met us at Armen's at 9:30 a.m. Jeff, being a big time Ferrari nut(He is the editor for the Southwest Ferrari Newsletter) agrees to blow off work. Unfortunately, Wayne is way late. We don't get to Armen's until 10:30. Then, we find out that we have to go back to Fletcher Jones Mercedes, to have Wayne sign an "amendment" to the deal he signed the day before. We take my F355, Jeff's F355, and Wayne's soon to be purchased F355 to Fletcher. Now this is pretty cool, hearing three F355's screaming down Pacific Coast Highway. We get there, sign the papers, and the car is finally Wayne's. It's done!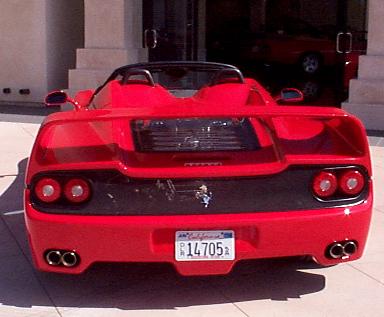 The Ultimate machine. FERRARI FRENZY!
We cruise back to Armen's, taking up three lanes down Jamboree Blvd and Pacific Coast Highway, buzzing the car at the redline whenever possible. True to his word, Armen pulls out the F50. Suddenly, people are flocking around the dealership, whipping out cameras from I don't know where.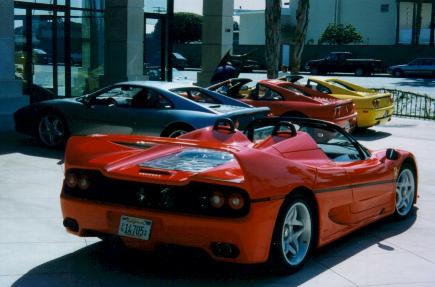 Parked in front of our itty bitty eight cylinder Ferraris, warming up the oil
The body is made of carbon fiber, and you can still see the lines of the carbon fiber. Ferrari didn't want to put too much paint on the car to make it shiny because, hey, more paint = more weight. He takes Wayne for a ride first, going about a mile down PCH and back. He comes back, and Armen then takes me for a ride. Since the engine is bolted to the carbon fiber tub, you feel every vibration of the motor, just as if you were in a really tight race car with no interior. What an awesome feeling. Armen said that this model has an aftermarket Tubi exhaust on it, which costs about $12,000. (yes, that is the right amount of zeros).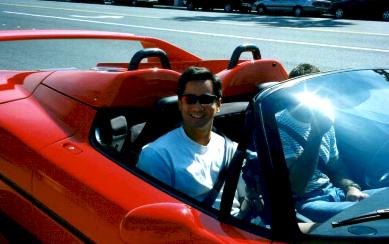 FERRARI FRENZY!!!!!
The engine and exhaust sound is loud and wild. The car in motion looks like a high tech, speedy Batmobile. Armen pulls out into the street. Traffic stops. Time stops. I am dead serious. Everyone in the surrounding cars, people at the carwash, the construction workers by the building, is looking at the car with their jaws to the ground, pointing at the car like they have just seen a SR-71 Blackbird on the street. Armen steps on the gas, and all hell breaks loose as your back is SLAMMED into seat. You gotta admit, Ferrari has some big balls to build a car like this for the street, and only build 349 of them. Armen has only put on 200 miles on this car in the 6+ months that he has owned it.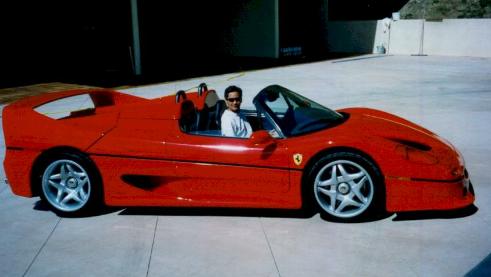 I get to sit in the driver's seat. I need it. Gotta have it....maybe one of these days....
Armen takes Jeff for a ride. I tell Wayne to quit complaining that I ruined his life since I let him drive my F355 and thus he ends up buying an F355. Now Armen has really wrecked our value system by giving us a ride in the F50. He says we can drive it off the lot for $625,000, plus tax, license, and registration. We gotta get one of these machines somehow. Rob banks? Knock off a drug dealer? Create an Investment fund and bilk all the investors? Collect a bounty by assassinating third world dictators? Setup a sex sting operation on a politician and blackmail them? Kidnap a child movie star? Sell our F355s, go to Vegas, and see if we can triple our money at the blackjack table?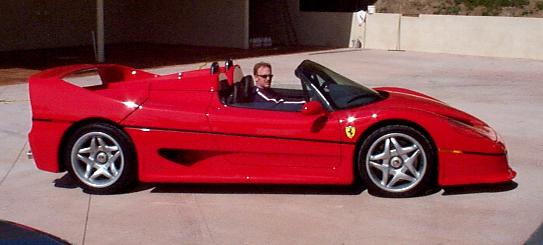 The look on Wayne's face describes it all.......hummmm....there's gotta be a way to get enough cash....
Jeff comes back thoroughly impressed. It is now about 12:30 p.m. Jeff pretty much ditched work all morning long, and it is now going into the afternoon. Wayne's business is going down the tubes, as we are now in a car frenzy, and we can't think about anything but cars, specifically Ferrari cars, and the sound that they make. I haven't been returning email, answering the phone, etc the past two days. All we can think about is CARs CARs CARs CARs, Vrooom, Vrooom, Vrooom, Vrooom, specifically those cars made by a particular Italian Manufacturer.
Next stop for the three us is Kiwi Auto, the same guys that put my rollcage in the NSX. We need some harness bars, or some eyehooks so we can secure ourselves when driving around with a five point harness. On the way there, we are of course dropping the car into first and second gear, and taking it to the redline, so we can all hear each other's car with that Ferrari roar.
Jeff drops off his F355, as his car is now the guinea pig for the harness bars. Wayne and I take Jeff back to his house in Manhattan Beach, and everytime we go underneath an underpass, we drop into 2nd gear and take it to the redline. It sounds like F1 racing on the 405 freeway.
Wayne is selling his 1992 NSX in perfect condition with 45k miles on it to Robert, who designed the decals for his 944 Turbo. So slowly, we drag another victim into exotic sportscar frenzy……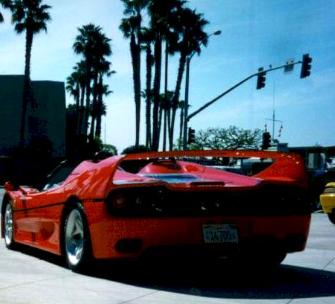 February 24. 80 degrees. Palm Trees. F50. Violent Acceleration. Searing engine noise.
I feel like I was just in Ferris Bueller's Day Off. Damn, this was a good day.....