Ferrari Club of America
California Speedway, May 25/26, 2002
"Dancing With A Legend"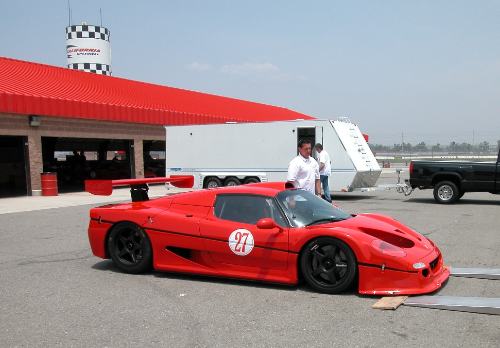 Only true car geeks know the exact name of this car
(click here for bigger - 493k)
(Note: This page will take a long time to load, especially for you geeks using that pathetic 28k AOL link. Get a cable modem or DSL. Or a T1. Then click on this page, let the pictures and text download, while you do something else on your computer. Also note that I finally updated my digital camera to a Nikon Coolpix 5000, so reds will look like reds instead of pink like that stupid Kodak DC260 that I was using. Also note that I kept the bigger pictures in full resolution, so if you wanted to print them out or use them as your screen saver, the resolution will be excellent, but they take a long time to download as they are so big.)
(Note 1a - Updated - Ooops. Seems like there are 50-100+ people at anyone time trying to download the videos off my 384k DSL line. That is why you are getting 313 byte a second uploads (that's bytes, not K-btyes). I am trying to upgrade my line to a 1 meg Qwest DSL line, but it will take three weeks. I am searching around trying to offload the videos files, which would help dramatically. So the site will be sucky slow for a couple of weeks. I haven't even posted the link to this page to the usual BBS yet, as I don't want to drag down the bandwidth any worse than it is.)
(Note 2a: Updated again June 1. Ben put a mirror of this page at http://www.autozotica.com/stealth which should help considerably with bandwidth problems, as the site is crawling along still. Trumps, Chris and Keith also offered up some bandwidth for the videos.
(Note 2: I haven't updated OTC page yet, the wife has been trying to fix/edit the pictures from the Kodak DC260 so the colors look the same. There will be a lot more pictures and more stories hopefully by the end of the week.)
(Note 2a The wife caught me. She says it ain't her fault that the OTC page isn't updated yet, she was finished with the pictures on May 29th. She's tired of being the scapegoat)
(Note 3: the Virginia City Hill Climb in happening on Father's day weekend in June. More info at http://www.vchillclimb.org. Hopefully the NSX and the 944 Turbo will be ready by then)

The Ferrari Club of America had their annual meeting in Southern California this year. They had a full week of activities, but we just got back from the OTC the week before, and needed some time to recuperate. It took two full days to unpack the cars, both trailers, tools, tires, rims, etc, from the OTC. We then had only two days to get the F-cars ready, repack the small trailer with food/supplies, get fire extinguishers installed in the cars. And then off to the California Speedway for the weekend.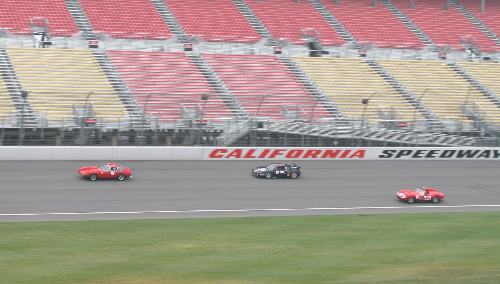 Cool cars ripping around the front straight
(Click here for bigger - 631k)
We didn't make any of the FCA drive arounds, museum meetings, dinners, lunches, rallys, or the concours that were held Wednesday through Friday. Since we are hooked on the Go-Fast Crack Pipe, we figured we just go to the track event scheduled for Memorial Day weekend.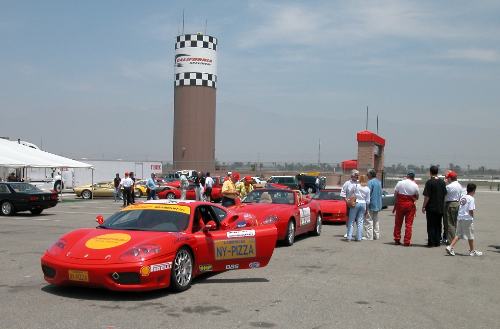 Cars lined up go to on the track
(Click here for bigger - 498k)
The event was a little pricey, meaning that if we wanted to do just the track event, we still had to pay $495. Kinda high, especially when the schedule just said that we get two 25 minute run groups on Saturday and on Sunday. The price included registration, some lunches, etc, and other activities. But they did get the big ALMS course at California Speedway, running about half of the big oval, and then dropping down into the infield course.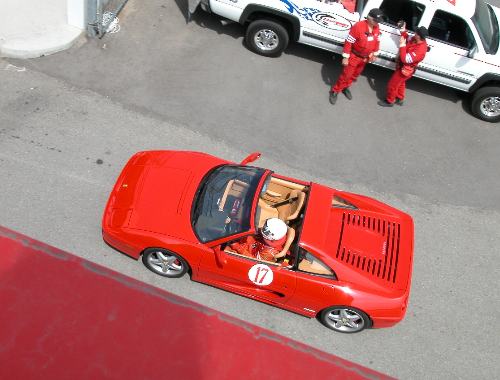 Top view of the F355
(Click here for bigger - 705k)
But then again if they had four 25 minute run groups on each day, we would probably blow our cars up. I convinced Wayne that we have to check out this event, and take the F-cars out on the track. I also convinced my wife to come out even though they don't allow passengers. That's how we got all these photos.

Chasing down Wayne down the front straight
(click here for bigger - 425k)
I have found a good use for all those used Hoosier tires I have from the NSX. For the past two months, I have been running them on the F355 around town. The F355 rear tires are the same size as the NSX rear tires, and they wear twice as fast as the fronts. Screw it, I will just run the Hoosiers, and just drive the F355 once a week when it is hot and dry. Unfortunately, the Hoosiers are low profile tires and take another 1.5 inches or so of clearance off the car. Now I have to make my wife get out of the car when I go up/down the driveway, or the tranny/gearbox scrapes the cement. I have about a 2.5 inche clearance. She thinks I am a moron.....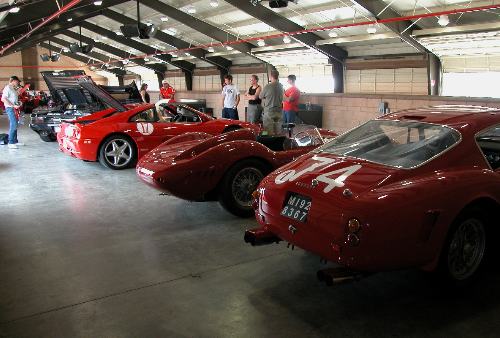 Garage area with televisions hanging from ceil to watch F1 and Indy race
(click here for bigger - 762k)
I still have the Porterfield R4 pads from Thunderhill on the F355. They squeal real loud, but I have trained myself to realize that this horrible noise means I have awesome brakes on the street. All the "non-racer" drivers on the city streets think my brakes are screwed up. But they don't know shit, as with R4 pads and Hoosiers I will outbrake their ass to any stoplight by 40 feet. What a bunch of morons....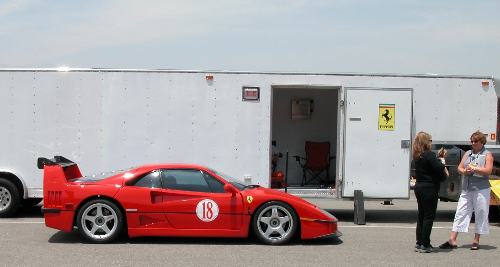 F40 ready to duke it out on the track
(click here for bigger - 440k)
So I figure a total of four run groups over the weekend, I can get by with a set of used rear Hoosiers, and a new set of fronts that I ordered, and the same R4 pads from Thunderhill. I tell the wife I am saving money at this event.....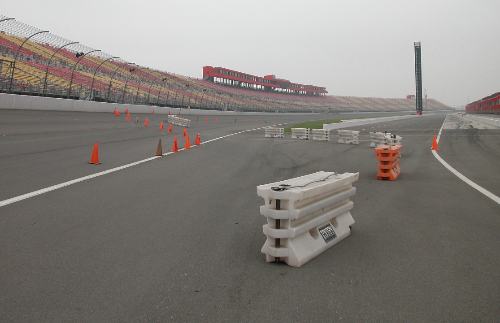 View of the chicane that you drop into from the top of the front straight
(click here for bigger - 542k)
Speedventures/Wurth Motorsports is having their S2000 Challenge at Pahrump this same weekend, which is always a lot of fun. But I figure that I have never run the big course at the California Speedway, and perhaps some collectors will bring out an older Ferrari F1 cars and run them at the track, which would be cool. And if the F1 cars make it to the track, perhaps I will get lucky and be on the track at the same time, and get some video footage of this event. As Beavis would say, "That would be cool...heh.heh.heh."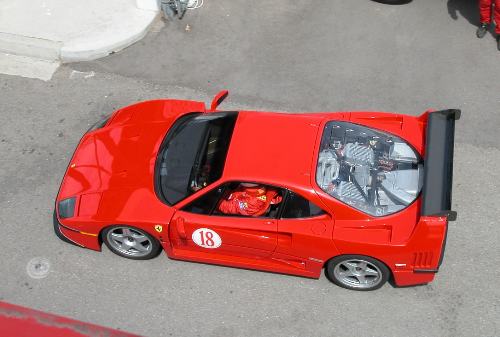 Top view of F40
(Click here for bigger 562k)
So we get to the track. I drive up on Hoosiers, and Wayne takes his 360 Modena with my old Michelin Pilot street tires that I had on the F355 for a couple of months. Those tires sucked. I prefer the Goodyear Fiorano F1 tires that came with the F355, but for a while last year they were backordered for about 4-6 months. So I got the Michelins instead, but decided they sucked and didn't give me enough grip on the street.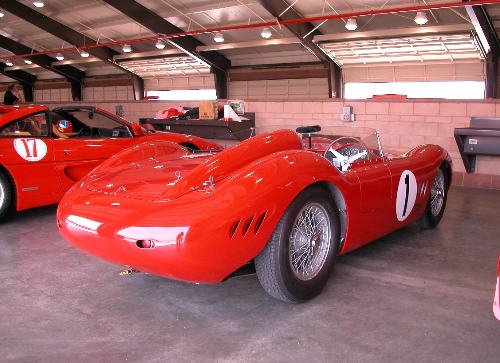 Vintage Maserati parked next to my car
(click here for bigger - 725k)
Wayne decides that for just four 20 minutes sessions over two days, he will not buy Hoosiers, and instead will trash my old Michelins that have been sitting in our warehouse the past year or so.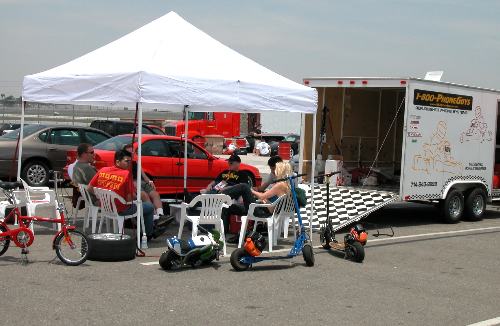 We brought four pit vehicles - Pyrotech bike, mini motorcycle, and two scooters
(click here for bigger - 758k)
So we get at the track.....and there are no Formula One cars that are there. Damn.....I thought that since this is the annual Ferrari meet, there would be four or five drivers/collectors that would want to experience this high speed track in their Formula One car. But I guess not. But there is a car there that is more interesting to me than any Formula One car.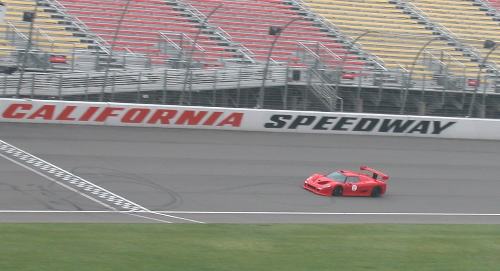 F50 GT1 blasting along the front straight
(click here for bigger - 493k)
I mean, Ferrari probably builds quite a few Formula One cars each year to support their F1 team, and they have a lot of spare cars that they use. But a collector at this event brought one of the mythical F50 GT1s to the event......and bless his soul.....it looks like he is going to put it on the track. Only three of these exist in the world. It is kinda like taking the Mona Lisa out of its glass case, and letting 6th graders pass the picture around so they can touch it. It's a risky proposition, as it is irreplaceable. There are no spare parts for this car, and by looking at at the car, it is in perfect condition. I got my Hama Suction Cup Camera mount and Sony camcorder ready to record this event......this is gonna be good.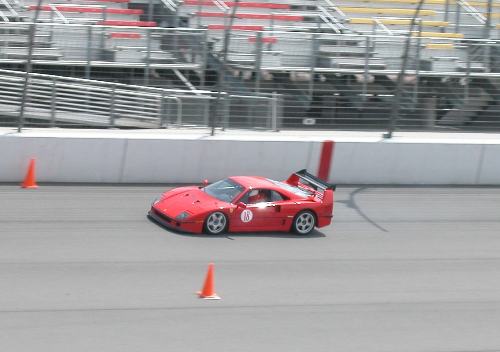 F40 coming into the chicane
(Click here for bigger - 517k)
The F50 GT1 car ran faster than the Ferrari 333 SP racecar at the Fiorano race track. The story behind the F50 GT1 is that Ferrari planned to run this car at Le Mans in 1995 and 1996, but then Ferrari killed off the program before they had a chance to race it. Forza Magazine in April 1999 states the following:

"During each year of this frenetic present era, the top designers of endurance racers have pushed the envelope so far that it became necessary to design completely new cars for the following season, a formula literally destined for self destruction. History has proven that no racing series can survive without rules stability. Ferrari seemed poised to enter the fray in '96 with their incredible F50 coupes, but two factors dictated otherwise. First, budgetary restraints at Maranello, combined with the factory's all-out emphasis on Formula One, killed the program, with only three prototypes ever completed. The second reason, and this is the most important factor in canceling the program, was simply that Ferrari's design, like the first McLaren, adhered too closely to the spirit of the rules! The Ferrari qualified as a true road going GT, while the later McLaren, Porsche, and Nissan entries had already escalated into the ACO-accepted version of GT1, which allowed true racing versions of GT coupes. Instead of adhering to the ACPO technical committee's original intent, the club officials reversed their original concept of having constructors rebuild real road cars for racing. The class had evolved into specially-built racing cars detuned to meet road standards."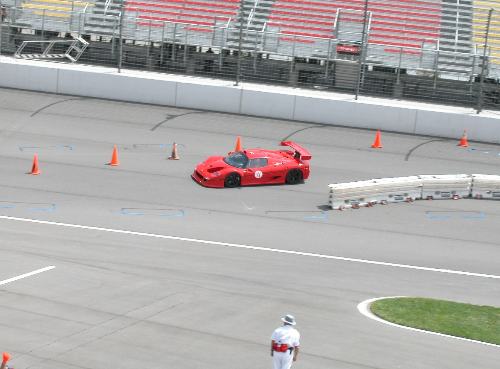 F50 going through the chicane
(click here for bigger - 688k)
My translation and interpretation: Back in mid 1994/1995, Ferrari didn't think they could win at Le Mans with this car, because other manufacturers were Cheating Bastards and built cars that were prototype racecars instead of building up versions of their street cars to race like Ferrari did with the F50 GT1. Ferrari then decided to throw all their brains/technology (and about a billion dollars) behind Formula One and kick everyone's ass there instead of Le Mans. Looks like they achieved their goal. But these F50 GT1 cars never got a chance to participate in a real race like Le Mans. So the first one made is this one pictured on this web page. Two other were made from spares from spares of this car, and that is all the parts that exist.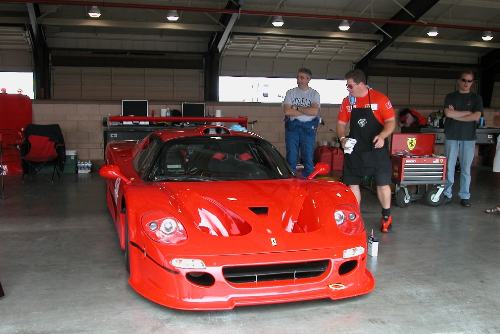 Parked in the garage, just waiting to go out on the track|
(click here for bigger - 519k)
Anyways, the stats on this car are pretty wild:
750 HP at 10,500 RPMs

Sequential gear box

Carbon Fiber chassis

1800 lbs (without water and oil, 2000 lbs with)

Carbon rotors

0-60 mph in 2.9 seconds

235 MPH top speed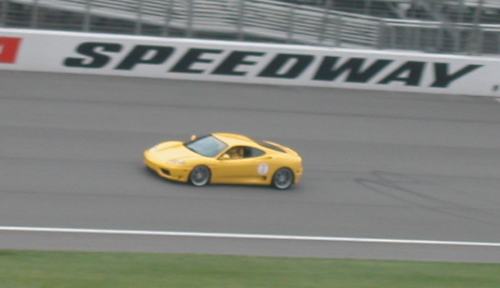 James Chen of Axis wheels blasting down the front straight in his 360
(click here for bigger - 322k)
My first session out on the track seems real short. I decide to go out on the track without the top, despite the fact that the car is faster with the top on. But since it isn't a "timed event", I don't really care about my time versus other people's lap time, I decide to be a Boulevard Pimp and cruise out topless on the track. I only get about 8 or 9 laps, and am running about 2:18, as I am trying to learn the track, along with everyone else out there. We are talking high speed track, with a chicane to break up the oval(so we don't go too fast), and then dropping into a fairly fast infield course. On the infield sections, I can hit about 110-120 on the three straightaway sections before slamming on the brakes for the turns. I throw a hot lap beacon on top of the barriers at the end of the front straightaway, because you ALWAYS have to measure your performance, even if it is just against yourself.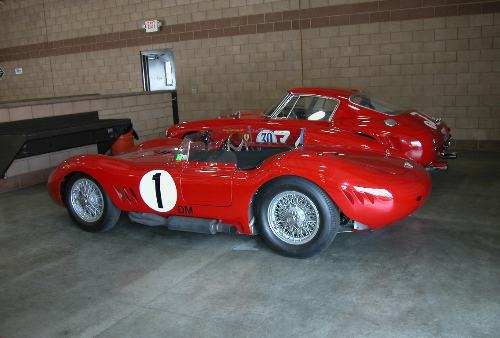 Another view of Maserati with vintage Ferrari in the background
(click here for bigger - 622k)
I have been on a similar type of course at the big track at Las Vegas many years ago, so I feel pretty comfortable just hammering the car at full throttle going around the oval sections. On the first part of the oval, I am hitting about 130 mph or so, and on the back part of the oval after the chicane, I am getting about 120 mph. And I am just warming up.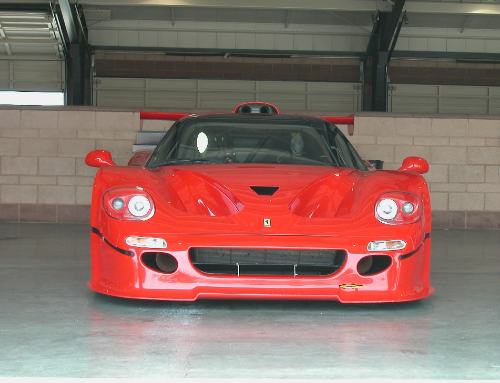 Front view of F50 GT1
(click here for bigger - 479k)
I hear the engine of an Formula One car firing up, and a bunch of people crowd around to check it out. Not sure what happened, but it looks like they are starting it up, but not taking it out on the track. Bummer. Then I see a guy with a broom and some kitty litter. And you know what he is doing behind the F1 car.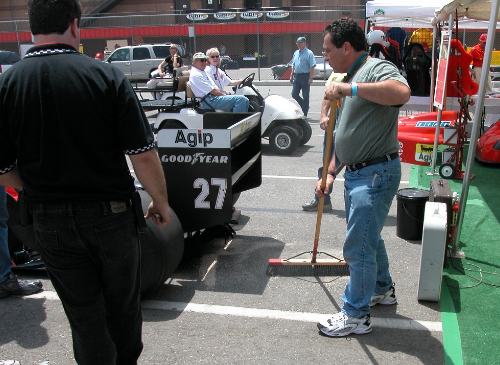 Fluid leak behind the Formula One car. Just like my F355! <grin>
(click here for bigger - 585k)

In the last session, the F355 felt pretty stable, did not over heat, did not leak any fluid, and it seems to be running good......so now it is time to get the "money shot".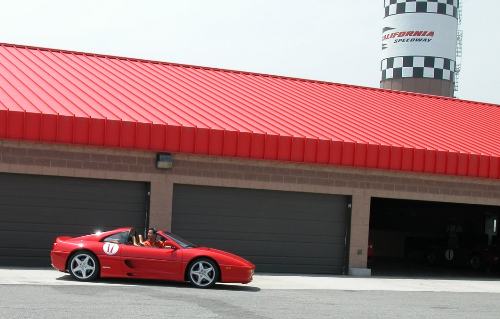 Where is it. I know it is here. I ain't moving till I see it.......
(click here for bigger - 469)
Before we go out for our second run group, I start looking around for that F50 GT1. And you know what I am going to do. I hear them firing up the motor six garages away, and it is a beautiful sound. The guy is taking it out on the track in the Red run group, which is my run group! Good thing I kept the top off the car so I can hear that motor roar. I take another hit on the Go-Fast Crack Pipe. Yeah...this is gonna be good.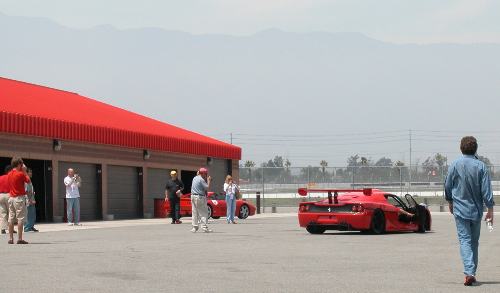 Five minutes later, the F50 GT drives by me. I tuck in behind
(click here for bigger - 545k)
Going over to the pre-grid area where they stage us before going into the hot pit, there seems to be some confusion. The guy in the F50 doesn't seem to be ready to go out on the track. But I think many of us are waiting for him to out first onto the track, and he doesn't seem to be moving anywhere. Especially me, as I have the primo spot right behind him. And I ain't giving it up. None of the other cars are moving out, because they are trying to figure out why there is a traffic jam with no one willing to move.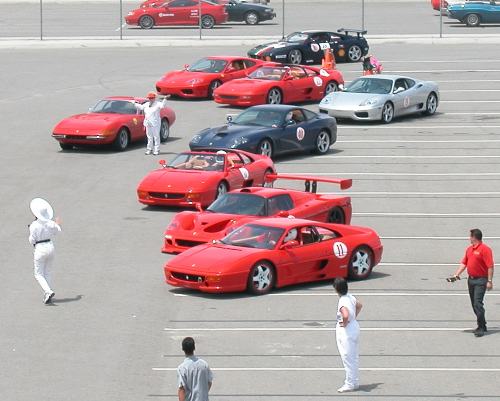 Staging person in middle throws her hands up. "They won't go out on the track!"
(click here for bigger - 575k)
The lady that is staging the cars is motioning to me to get my butt out to the hot pit, but I motion back with two hands, trying to indicate to her that I am waiting for the guy in front of me to go.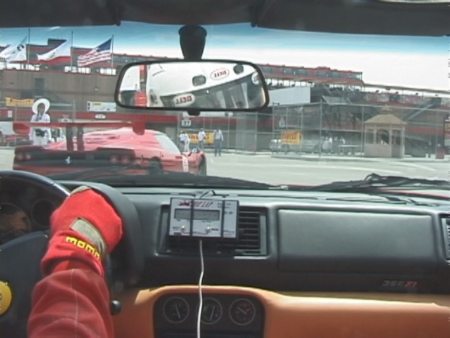 F50 GT1 finally pulls out of staging area
(Click here for bigger - 160k)
The guys in back of me are waiting for the F50 and me to go. I just play dumb and sit right where I am, because I got the best seat in the house. The guy in the F50 gets his helmet on, is strapped in, and starts to move out to the hot pit. I tuck right behind him, leaving no room for anyone else to sneak between us into the hot pit.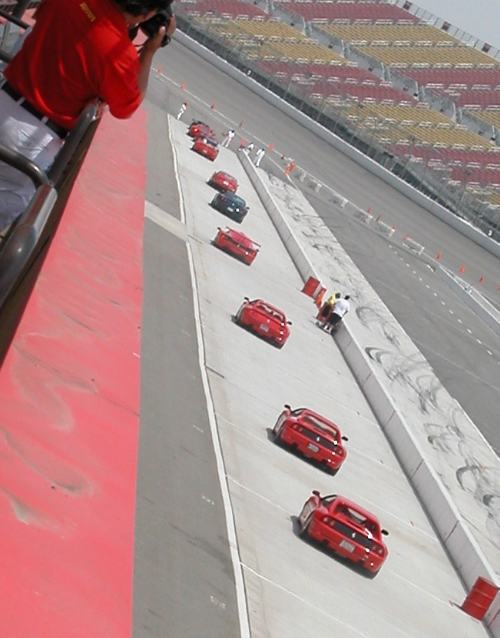 Mission accomplished: Gridded right behind the F50 GT
(click here for bigger)
We wait in the pits for about four minutes, and then they give the signal for us to fire up the motors and take off.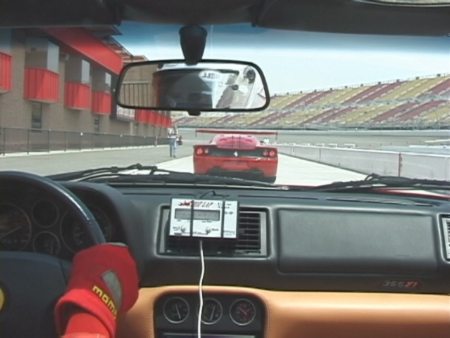 Waiting in the hot pit
(click here for bigger - 160k)
The F50 has an amazing sound. It is a LOUD mechanical snarl, maybe best described as a "shrieking banshee". My car is loud, but with the F50 in front of me going out onto the track, I can't hear my engine, as the F50 exhaust note drowns it out.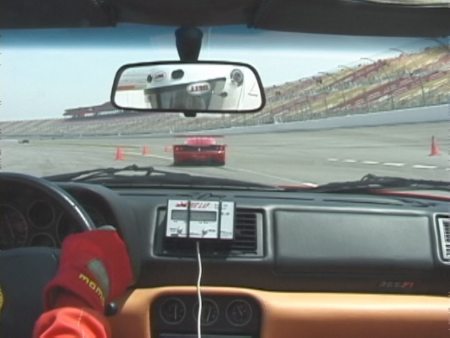 Pulling out onto the course
(Click here for bigger - 160k)
It is the epitome of "The Go-Fast Crack Pipe", as just being around that machine makes your eyes go wide and glaze over, your jaw drop, your heart beat faster, the adrenaline starts pumping, and it makes your brain cells buzz.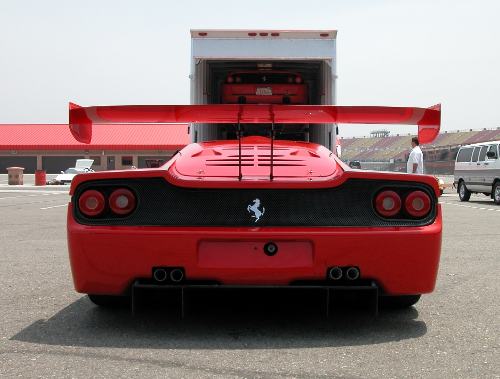 Rear view of big ass wing and diffuser
(click here for bigger - 463k)
The first lap you can tell the owner is just warming up the car and tires, and getting used to the track. I stay about five or six car lengths behind him in the turns, being careful not to get too close to a car that must be worth around two million bucks. As soon as the F50 is pointed straight, the owner starts goosing the throttle a little more, no doubt checking his gauges to make sure the car temps are okay.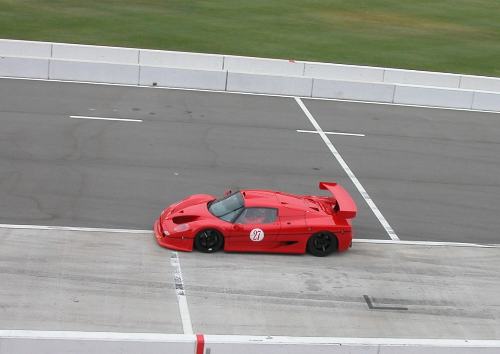 In the hot pit. Windows do not go down
(click here for bigger - 454k)

The F50 snarls, and it makes me try to go faster to continue hearing that SOUND. Going into the front straight, I have my car floored and shifting at the redline, and the F50 easily leaps to twenty car lengths in front of me.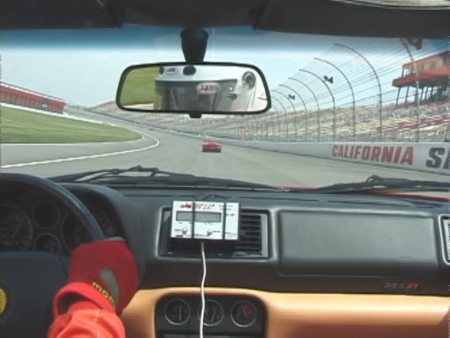 7 seconds ago I was right on the butt of the F50, until we got on the straightaway
(click here for bigger - 160k)
I catch up to him at the chicane, and coming out of the chicane he leaps forward again.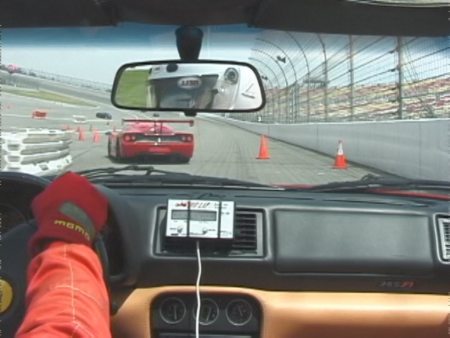 I catchup to the F50 in braking zone of the chicane
(click here for bigger - 160k)
Some dude in an F355 jumps in between me and the F50 after the chicane. Damn. He's screwing up my video!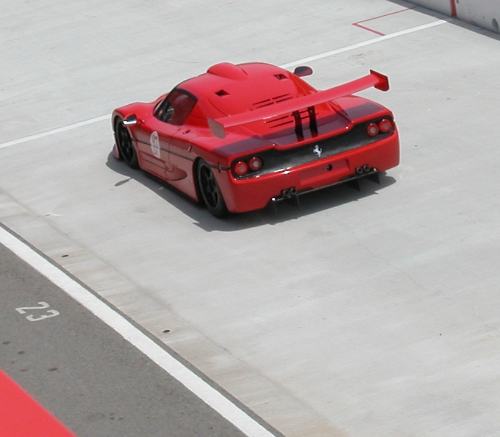 Looks like the Batmobile
(click here for bigger - 321k)
Now I get on the F355's butt, so I can continue to hear the sound of the F50 in front of him. He pokes around, trying to pass the F50 in the straights, but ah.....what's he thinking? The F50 puts the hammer down, and it's "See Ya." This happens for the entire infield course, and then we get on the front straight, and then the F50 blows by a 550 Maranello and a 365 GTC like they were standing still. The F355 gets by the 550, and two turns later I get by the 550, and the chase is on again. F50 and F355 are about 20 car lengths in front of me, and I make a up a little ground in the braking zones for the front straight and back straight. The F355 passes the F50 under braking, and then a F355 Challenge car and a 360 Challenge car go blowing by me. The F50 lets all of us go by in the infield section, probably figuring we are a bunch of yahoos with "toy" cars on the track compared to his "Big Dog" car.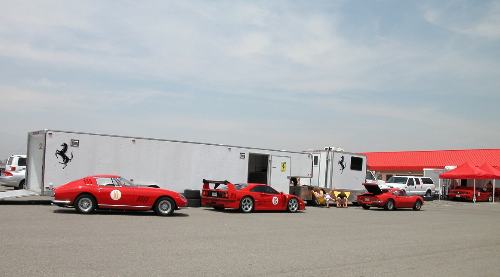 Ferrari's lined up
(click here for bigger - 499k)
I try to catch the 360 and 355 Challenge cars, but they got full racing slicks and way less weight, so there is no chance there. I do a couple of boring laps with no traffic, dropping my laptime 8 seconds to 2:10. Going down the front straight, I pass an older 365 Coupe, and now I am hitting about 140 mph down the front straight, and there is a red missile coming at me from behind....and an F40 blows by me doing probably 160 mph.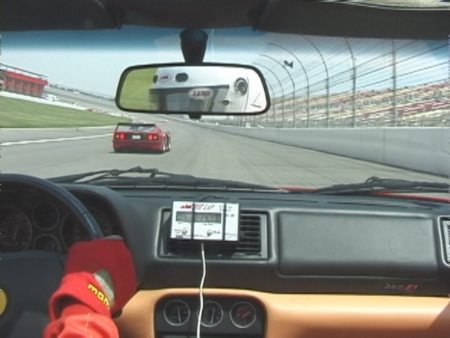 F40 blowing by me on the front straight
(click here for bigger - 160k)
Coming out of the chicane, I see and hear the F50 coming at me on the back straight, and he is in hot pursuit of the F40, and he is wailing on the car now down back straight, ripping by me.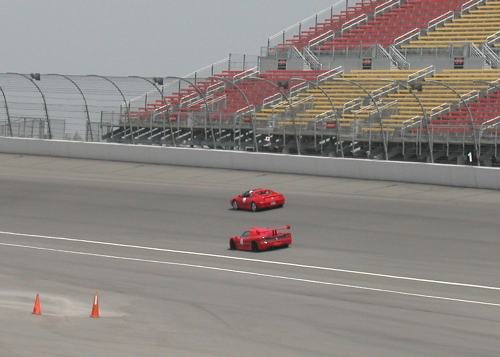 F50 getting ready to blow by me down the back straight
(click here for bigger - 414k)
The wife is in the stands watching all this happen, and she knows EXACTLY what I am thinking. I am gonna chase these guys down. And it is gonna be on video!
In the turns and braking zone I get to about six car lengths behind them, but in the straight sections they burst to 20 car lengths in front of me.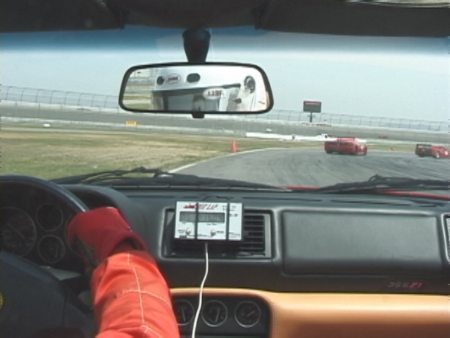 I chase down the two red missiles into the turn
(click here for bigger - 160k)
I don't blame the F50 for going slow in the turns, as his front splitter is about one inch off the ground, so if he hits the curbing, it will wipe out the splitter.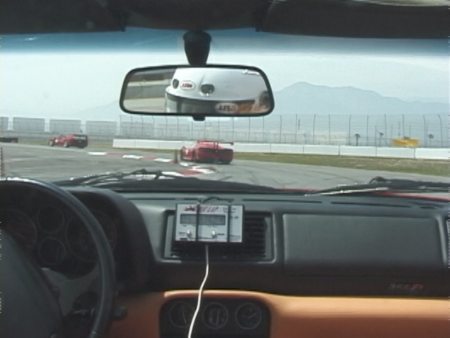 Catching up to them on the 2nd to the last turn in the infield
(click here for bigger - 160k)
Someone else said they heard that the F50 GT1 can break the tires loose at 150 mph if you slam the gas pedal down too quickly, so you can imagine what happens to the car if you give it too much gas in a low speed turn. In the infields turns, I catch up again, and then to the front straight, they pull to to 25 car lengths.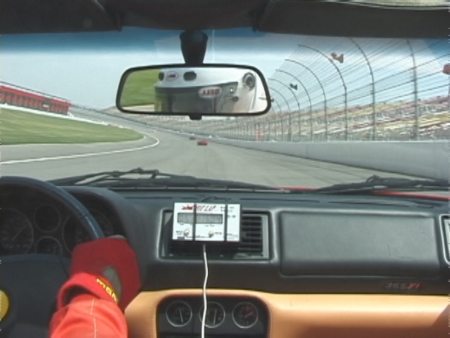 The get their car on the straightaway, and it's "See Ya"
(click here for bigger - 160k)
I am now hitting 130 mph down the back straight in an effort to keep them within the "sound distance" so I can listen to the music that the F50 is making. It looks super cool watching the F50 chasing the F40. I mean, how often in life do you get a chance to see that happening right in front of you?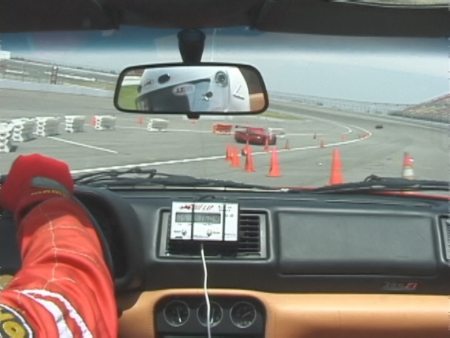 I catch up to F50 in the chicane, but F40 blew braking zone and skipped the chicane
(click here for bigger - 162k)
The F50 and F40 are now getting used to the course, and are now pulling away from me, and I have no chance of catching up again. Going down the front straight another 360 Challenge car blows by me. Damn those cars are fast. James Chen is running about 4 seconds a lap slower than me in his 360 on street tires, but he says he is hitting 150 mph down the front straight using raw horsepower. The session is over, and it was one of the best sessions I have ever had in 10 years of tracking my cars.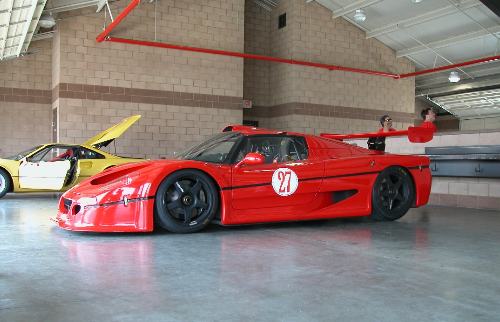 Sitting in garage
(click here for bigger - 565k)
I pull the car in and check the F355, and nothing is leaking. Awesome. The F355 is turning into a dependable track car. As we are leaving to go home, I try to start the car, but the "N" neutral light for the F1 tranny is blinking, like it is an error code. Uh oh....car won't start. There is nothing in the manual for a blinking "N" light. Wayne grabs a guy supporting one of the F355 Challenge cars, and he looks at it, and says that the tranny is locked up. He rocks the car back and forth, turns the key on and pulls on the F1 paddle for about 20 seconds, and then the tranny finally shifts. He puts it into neutral, and now the car fires up again. Whew! That was a close one. On the way home, we just miss getting involved in a four car accident that happened right in front of us, due to some morons changing lanes without looking and crashing into each other. One of the guys in from might have been trying to decide: "Uh oh...someone hit me, I am spinning, Ferrari on the right, center divider on the left, no where to go in front." Good thing he chose the divider. The wife calls 911. I make it home without a problem.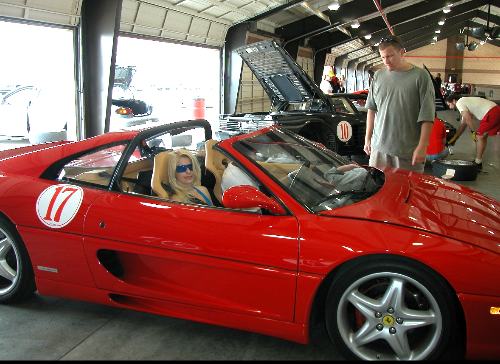 Dagmar in seat, Challenge mechanic in driver seat, trying to get the car to start
(click here for bigger - 740k)
That pretty much sums up Day One of the Ferrari event.
On Sunday, Wayne decided not to go to Day Two, as his clutch was acting funny, and he wanted to keep his car in one piece. Wayne is real competitive, and he knows he will start pushing it harder and harder, and with street tires, something could go wrong and he would have to eat the car. I decide to go without him, and Brent goes up with me to help out at the track. My wife also decides to bail, as she just spent 10 days at the OTC with the Pulp Racing Wack Pack, and she can't take having listen to car geeks talk about cars and bench racing for another day.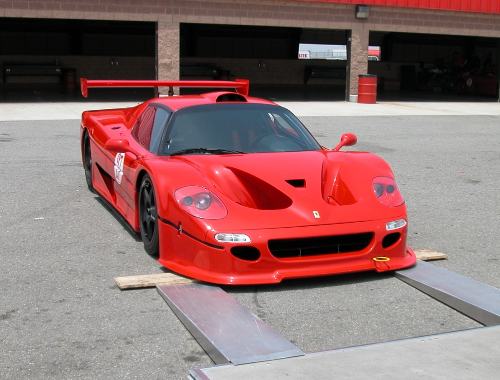 F50 GT1 going into trailer
(click here for bigger - 547k)
The F50 and F40 guys aren't here today, I guess they didn't want to take a chance at pushing their cars hard two days in a row. There are only half as many cars as today, and the organizers decide to increase each run group from two sessions to four sessions! Yeah....hummm...wonder if my car can make it through four sessions? I decide that since the F50 isn't here today, I drive with the top on today, and see if it is faster. In the first session, I drop my laptime four seconds to 2:06. I don't pick up that much more speed down the front straight, maybe hitting 142 mph, but down the back straight I get it to 135 mph. In the second session, I go out, and I have to come in about halfway through the session, as I uh...forget to put gas in the car. Damn. I gotta stop doing that. Maybe a simple checklist on the rear view mirror? "Gas okay? Oil okay? Tire pressures okay? Wheels torqued? Hot Lap plugged in okay? Camcorder on? Camcorder battery okay? Tape in camcorder? Helmet, gloves, neckbrace okay?" And you thought driving on the track was a piece of cake.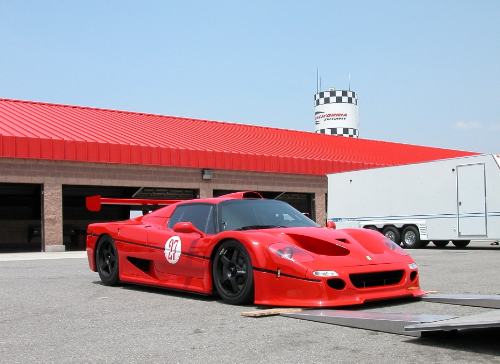 Real low to the ground
(click here for bigger - 469k)
Despite this, I get it to 2:05.92, and blow my first braking zone of the day. Coming down the front straight at 140+ mph, I can't get the car stopped in time for the chicane, so I just drive right between a couple of the cones instead of dropping down on the bank oval. Looks like the brakes are getting a little hot. I pull into the garage after this.
I walk outside the garage, there is a trail of dust, looks like brake dust.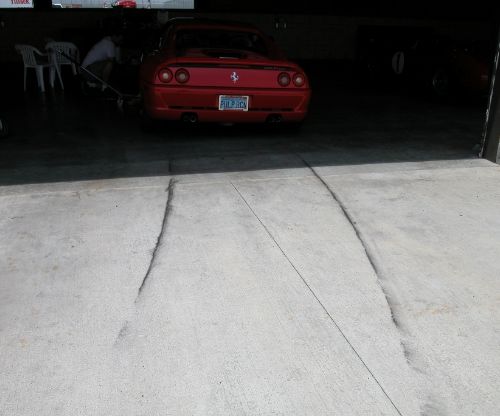 Brake dust outside the garage
(click here for bigger - 368k)
I wonder what idiot did that. Hey, that dust......leads to my back tires. Oh...I guess those repeated stops from 140+ on the front straight and 135+ on the back straight kinda beat up my brake pads, and when I made a sharp turn to come into the garage, the dust came out from the rims/pads/calipers. I pull off a tire and check the pads, and I still have about 50% left, but I probably shouldn't try to do any more 140+ mph braking manuevers. Let's just say that the California Speed ALMS course is definitely a course that you can do brake rotor and brake pad testing on. Damn....if I would of known I was going to get more than two session today, I would have brought more pads and tires.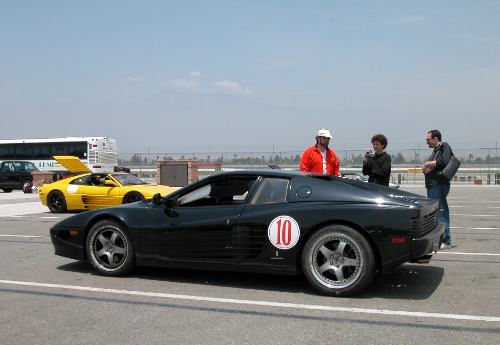 This 512 LM blew by me. He had Pirelli slicks.
(click here for bigger - 447k)
I decide to go out in session 3, but will take it easy. After my first lap, I feel a wobble.....humm....I don't remembering torquing that front wheel after pulling it off to check the brake pads. Damn. I go in and check it, and yes I did torque it. Moron. I go back out. I can't get any faster than 2:08, the track is getting hot, so I call it quits for the day. As I come into the hot pit area, one of the officials says that they are turning it into an open track, so any run group can go out on the track. There are two hours left in the event. Damn.....shoulda brought more tires and more brake pads. Oh well.......Brent and I pack up the truck and trailer, and we are outta here, still in one piece.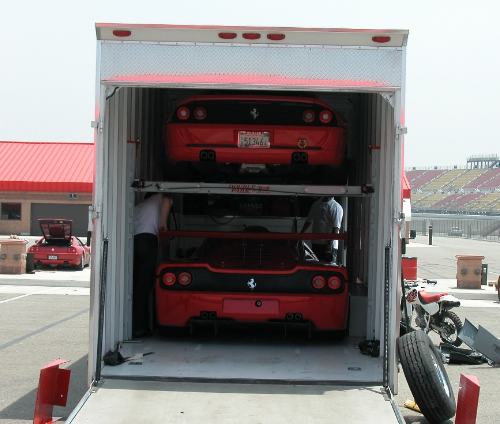 Trailer with F355 Challenge car and the F50 GT1 car in it
(click here for bigger - 437k)
So it was a pretty fun weekend. And I got to "Dance with a Legend". I must have watched the video tape of that session six times over the Memorial Day weekend.
Many thanks to the F50 GT1 owner/driver for bringing out his museum piece out on the track. I am sure it was the highlight of the week for most of the Ferrari Club of America members.
More pictures of Ferrari cars at the Century City Concours at Erik Reynolds' website at http://www.imagestation.com/album/?id=4291775087
Oh....and if you want to view the warmup lap behind the F50 GT1 car choose from these options due to a bandwidth problem: (thanks to help from Ben, Trumps, Chris, and Keith for additional bandwidth to host the files)

WARM UP LAP BEHIND F50 GT1:
Right click here and select "save target as" to download 12 meg Windows Media Player file
Turn the volume up!
LAP BEHIND F40 AND F50 GT1:
Right click here and select "save target as" to download 14 meg Windows Media Player file.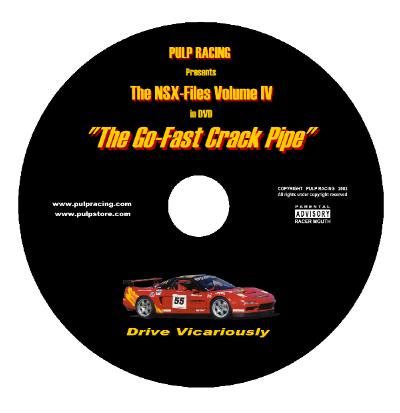 Buy this DVD and see the F50 GT1 on your big screen. More info here.
You can buy The NSX-Files Volume 4 on DVD that has the clips above on it at www.pulpstore.com. That way you can watch it on your big screen TV with the volume turned up!