KRC Kart Race #3, Amago Raceway, April 22, 2001
The Terrible Obsession with Tenths of a Second
"Time Waits for No One"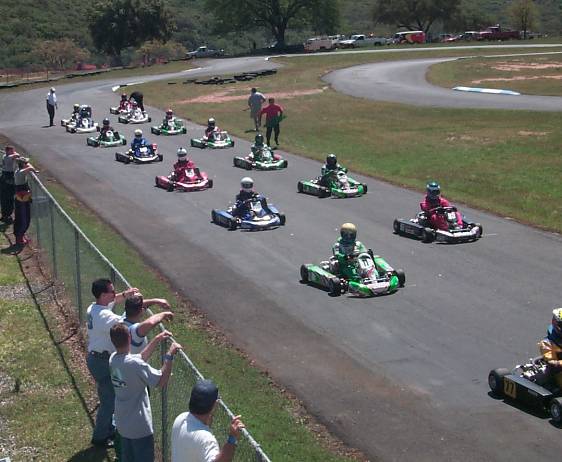 Getting ready for our F1 style standing start
Most of the people who are regular readers of this web page know about my obsession with time. I am always on time. I can predict what our arrival time will be to any racetrack in California or Nevada within a couple of minutes, taking into account day of week, traffic patterns, how much fast food we will eat, how many bathroom stops, etc. Example: One time I predicted how long it would take us to trailer back home from Las Vegas on a Sunday night, with lots of traffic, with a stop for food, and I was only off by 30 seconds. Now that is damn near perfect timing. The trip before that I was off by about 3 minutes. Most of the people I hang out with incorrectly predict their arrival times on trips by two hours or more....do you know what I mean?
But now there is also another obsession with time. Wayne and I walk around in a daze all day long, trying to figure out how to gain another 2/10ths of a second around the track. In the Kart Racing Company F1 class, we are now only only a half a second behind the guy on pole for our races. So now there is this terrible obsession that we have to deal with, and every day we are not at the track, we are mentally driving the track where the next race is scheduled, trying to figure out how we could gain another precious tenth of a second here, maybe another tenth there, maybe another tenth here, in order to get faster. Our next KRC Cup race is scheduled for Amago on April 22nd, which means we only have a month to figure out how to drop our lap times. Which can only mean one thing: we gotta get some serious seat time in the karts.
Amago is about two hours away from Huntington Beach. Amago is located about one hour past the intersection of the 5 freeway and the 76 freeway. Wayne and I decide that we need to practice once a week for the next month to prepare for the race. Instead of being at the back of the pack in F1 like we thought we would be, we are now clawing our way into the top six or seven places out of about 16-18 drivers. But we need to work harder.....the top guys in F1 know we are gunning for them, and they aren't going to cut us any slack at all. They are fast, don't make mistakes, and they have more experience than us. Here's the story of how we deal with our obsession.......
So once a week, during the month of April, Wayne "ditches work" (and so do I), and we head off to Amago Raceway. Since there are races on the weekends at Amago, this means that we have to go between Monday and Friday to get some practice in. Amago doesn't open up until 11 a.m., so we are basically have to blow off an entire day of work. To make matters worse, the Pala Indians have taken advantage of the White Man taking advantage of them in previous generations. Meaning that the Pala Indians have used their political clout to build a casino on the 76 Freeway, about 20 miles from Amago, and 20 miles from the 5 Freeway. And this isn't just any little Indian casino, it has about 45 blackjack tables, 2000+ slot machines, high ceilings, good restaurants, and a "high roller" section that Wayne and I hang out in. It would be a fairly respectable midsize casino in Vegas. Over in the "high roller", area they have a couple of double deck games, with a minimum of $25-$50 a hand. We usually stop by in the morning before we hit the track, and then we stop by again as we are leaving the track. Our modus operandi is that we usually don't stay longer than 20-30 minutes, so we try to do a quick hit and run on the Indians, instead of trying to do to them what they did to Custard. We don't need to make a killing, we just want to leave with an extra $300 in our pockets each time.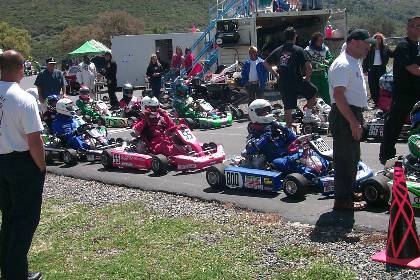 Gridding up for the qual race (click here for bigger)
When we go to Amago, usually Jeff shows up for practice also. I think it is partially to practice and hang out with us, and partially to make sure that he is still able to maintain his narrow (very narrow) margin of speed over us. At the weekday practices, we also see a wide variety of other cheating bastards from the KRC Cup at Amago getting their cheater practice in. Ted, Jim, Bob, and numerous other people are seen getting some extra practice in, as they are also obsessed with time. They also need to gain another couple tenths of a second. We meet Eric Van de Poole, who has run in the ALMS racing series, and also raced in Formula One with the big boys back in the early 1990's. Eric says that he does the karts to stay in shape, and comes to Amago to rent a shifter kart and flog it around the track for about 50-100 laps. I'm telling ya, karting is where the serious action is. In one of the practice session, Jeff passes Eric, and afterwards Jeff makes the comment, "Yeah, I passed a Formula One driver on the kart track". That is just the type of people we are.....everyone is out to be The Big Dog at the track.

Okay, so after the first practice session, I am running 33.3 or so, and Wayne is about the same. Jeff is running around 32.6, so he is 7/10ths of a second faster than us per lap. Not good. But I have an excuse for this. My reasoning is that I am a little slower than usual, due to the helmet camera that I am trying to get used to. I got it from Head Hunter Helmets, and it is the Stick On camera that we purchased.The helmet cam is tie wrapped to my helmet through the little air holes in my Bell M3 helmet. The helmet cam has wires that comes down the back of my helmet and are tie wrapped to my kart, and then the wires plug into my Sony TRV900 camcorder, and the battery for the helmet cam, which are stored in a camera bag below my steering wheel. The helmet cam is introducing additional drag off the top of my head, as well as making my neck more tired from the g-forces of the kart.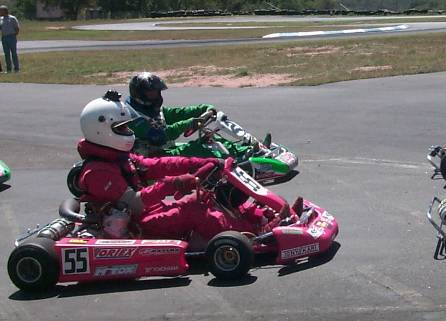 Me with the helmet camera on top of my helmet
We test the helmet camera over numerous sessions and practice days. We have too much volume/gain on the mini microphone that is in the helmet cam. Over the next couple of weeks we experiment with different configurations, such as using an external microphone or Jeff tries to point the internal microphone on the helmet camera backwards, to reduce the sound capture. We can't turn the gain down on the camcorder, and Head Hunter Helmets doesn't have a good solution. So as a last resort, we keep the microphone pointed back into the helmet cam, I put double stick tape all over the microphone to reduce the sound, and I pack the inside of the helmet cam shell with foam to keep any vibration noises down. This seems to help. We also have problems with the connections. Either the helmet camera wire into the camcorder comes out of the socket, or the the record switch gets turned off from vibration, or the battery cable for the helmet camera comes loose. So we do what all racers do when faced with stuff that comes apart: We put duct tape all over the connections and the camcorder. That seems to do the trick. After 10 sessions with the helmet camera over three practices, we finally got it dialed in. The footage is kinda jerky, but it is also awesomely fast. You know how when you watch Formula One on Speedvision, and they show the in car camera footage of them in the race, and it seems like the curbing is coming up faster than is humanly possible to navigate? Well.....the karting footage is FASTER, it makes Formula One look slow. And then if you are a motorsports fan, you look at this footage, and you say, "Yeah.....I gotta try this karting thing out."
Anyways, after a couple of practice days, Wayne is dipping into the 32.6's, Jeff is at 32.5 or so, and I am still struggling with 33.00. So I am definitely off the pace. Damn......I need to find a half a second to be running with these guys. Something has got to be wrong here......usually I am faster than Wayne, and Jeff is usually about 4/10ths faster than me. This is getting depressing. On my final session on the third practice session at Amago, I find out why I am slower. I am ripping down the straights, the motor bogs, the tranny locks up. The kart won't start. Looks like the motor blew up. No wonder Jeff and Wayne were kicking my ass so bad, my motor was on its last leg...yeah, that was it. I knew it couldn't be my driving skill that was keeping me back........So now I have to drop my kart off at JM, and have them rebuild the motor. There is no explanation as to why it blew........other than it is Italian racing motor. And you know what that means in terms of reliability.......and your pocket book.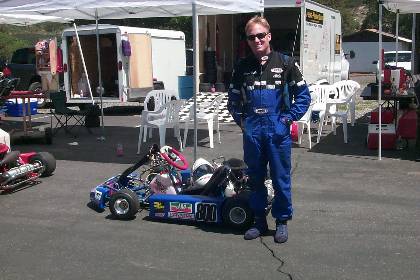 Wayne smiling, as he is kicking my ass in practice by precious tenths of a second
Okay, so I get my kart back after a week or so and $1100 bucks for engine rebuild, and we go out for another session. Wayne is doing okay against the Pala Indians, he is probably up about $500 after 6 stops at the casino. I am around even. Some people may think we need to go to Gamblers Anonymous due to the fact that we have to stop at the Pala casino every time we pass it. We don't think it is a problem. At least we didn't go there to explicitly gamble; it just happened to be there on our way to and from the track. One morning we stop there at 8:30 a.m., and some woman is getting killed there for about $3000. She said that she has been there since 7:00 p.m., playing 13 hours straight through, trying to get her money back. After we leave the track at 5:00 p.m., we stop by the casino on our way home, and sure enough, she is still there playing, 21 hours in a row, trying to win her money back. Now that is what I call a problem. Never mind the fact that we stop at the casino two times on each track practice day.
On our last trip to Vegas, we picked up on of those Gambler Anonymous brochures, to check if we have a gambling problem. We only exhibit one of the warning signs, and maybe two, so we are pretty sure we do not have a gambling problem. But then we rearranged the wording of the brochure to reflect our other "problem", and we have at least 7 out of 8 of the "warning signs" about our other "problem".........unfortunately I don't see any self help groups or 12 step programs out there for this problem.....
I got a couple of cases of Maxxis karting tires. The problem is that mounting the tires is a tremendous pain in the ass, and is very frustrating. Usually KRC mounts them for us, but since we are practicing at Amago, and I don't want to drive an hour the opposite way to get the tires mounted, I usually go to Motomo International. Motomo is about a mile from our shop. But J. C. at Motomo doesn't like dealing with the Maxxis tires, as even he feels it is a pain in the ass to change these tires. He charges $30 a set to change them, which we don't bitch about, but J. C. usually can't turn them around in a day, as he has a bunch of kart racers that he has to support. I know I need to practice on good tires, as if you practice on old tires, you are anywhere from one to two seconds slower a lap, and you don't really drive the line like you would in qualifying with good tires. Plus it is bad for your ego that you are losing those precious tenths of a second. Since we are going to practice tomorrow, I decide to try to change the tires myself. It takes me about 90 minutes to change four damn tires. My entire upper body and arms are tired from trying to force the damn rims through the tires. This is way too damn painful.......there has got to be a better way.
Okay, so now I get my re-built kart motor back, and it is off to Amago for one last practice day before the big race. Wayne and I are getting good enough to feel some of the subtle differences in chassis setup. We see Bob at the track, and he spends his entire day experimenting with different widths for the rear hubs, different spacers in the front wheels, bar in or bar out for suspension stiffness, changing gears, etc. No wonder he is always in contention for a win in the final race, as he is a lot more scientific that us boneheads. Bob is part of the "Big Four", meaning him, Oscar, Vince and Jeff are the guys to beat in the KRC Cup. After playing around with setups, I am now running about 32.21 laptimes. Fortunately for me, Mr Mello's fastest time of the day for this practice session is 32.23.......so I am faster by 2/100ths of a second.....and order has been restored in the universe. Wayne has been ragging on me for weeks, as he has been faster at the track during practice, but now I finally get to shut him up. And now I can rag on him all week long about how I was faster than him......and cause him sleepless nights over being just a little bit slower than me.....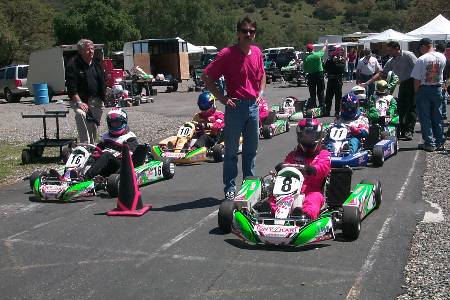 The F2 guys, with Josh and Tom in the front row. Both are too young for a Cal. driver's license
Sunday, April 22nd.
There was another formal practice day here yesterday that we intentionally skipped. We felt like we had our karts dialed in, we knew the track as well as we were gonna know it, and we didn't feel like we would benefit from a practice the night before the night before. Especially since the last time we practiced at Amago on a Saturday, it was a damn zoo. Instead of 3-6 karts out on the track like during the week, one weekend session had about 26 shifter karts on the track at the same time. In one respect it is good, as you can practice passing the slower dudes in the turns. But you also cannot get a clean lap, so there is no way to tell if you can beat your prior fastest lap time. Of course, during this session, since I blew by a lot of karters, I was thinking the the helmet cam footage would show me to be God-like. Unfortunately, the record switch got bumped, and no footage was taken. Damn. I forgot to put the duct tape on the camcorder....

In one of these practice sessions, Wayne and Bryant said that I took the inside lane to pass a guy on the back straight, and the other guy didn't blink and stayed right by me side by side, but then his front wheel hit my rear wheel, and his cart went flying into the hay bales and the driver came flying out of the kart. I zipped through the turn, and didn't even realize that the other guy went airborne with his kart. Bryant said that it looked like his fault, Wayne said he couldn't tell who was at fault, but thought I mortally wounded the guy. All I know is that I rarely get involved in wrecks, I try to drive pretty clean so I can finish the race without taking any unnecessary chances. And that I had the inside line to the apex......enough said.
So for the first time in five trips to Amago, we pass on the casino on the way up without stopping in, as it is race day, and we need to be ready for the two hour practice session, five laps of qualifying, 15 lap qualifying race, and the final 25 lap race for points. KRC announces that Maxxis flaked on them, and they couldn't get tires for the weekend. So instead, the spec tire for the day is the Bridgestone YGC racing tires. We put these tires on, and they are awesome. Everyone likes them better than the Maxxis tires, so it looks like Maxxis no longer gets to sell about 30+ sets of tires to KRC for each race. Supposedly the Bridgestones are easier to mount than the Maxxis, as they are softer. These tires make you feel like you can drive like Schumacher......
Okay, so there is the usual trash talking by everyone at the event. Wayne, Jeff, and I are laying it on pretty harshly to each other. And it looks like we have some racing legends that are going to compete with us in the F1 race today. Alex Barron, who is a local karting legend, whose home track is Amago, and who also raced in CART (the big boys in CART, not carts or karts) is running with us in the KRC Cup. Another surprise appearance is Boris Said, who will be racing with us today. A discussion with Lou Gigliotti on www.corner-carvers.com has described Boris Said as the "probably the most talented driver anywhere, in cars over 2300 lbs" in the world today. (Note: read father down in the bbs thread to see this). But Jeff, Wayne, and I are not afraid of anyone.....we have been practicing our ass off for this race.
In qualifying, things get really competitive. I run four pretty good laps, and then on lap 5, the final lap, I over drive the kart and get out of shape, and blow that lap. I look for Wayne and Jeff, and we compare times. DAMN! I am the slowest of us three.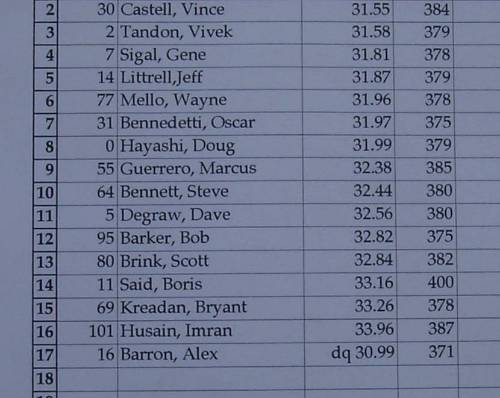 The qual results. Bob was on Pole with a 31.45, but my stupid camera isn't WYSIWIG.
Wayne beats me by 3/100ths of a second, and makes it to the upper 1/3 of the grid. Oscar, always a threat for a podium position, beats me by 2/100ths of a second for 7th place on the grid. DAMN. Now do you understand my obsession with time? Do you know what 3/100ths of a second computes to? Probably 14 inches. Have you ever seen what 3/100ths of a second looks like on a stop watch? It happens so fast you can't see it. Jeff beats me by 12/100ths of a second. DAMN! If I just got on the gas a millisecond faster in one of the turns, or turned in three inches better towards the apex, I would been gridded 6th. 17/100ths of a second is all that separates 4th place from 8th place. DAMN. Two more lousy tenths of a second is all a need.......
Anyways, as a consolation, I realize that Jeff, Wayne, and I are gridded in front of the great auto racer Boris Said. Damn, we are good. We also out qualified Alex Barron on his home track. We are strutting around the pit area.......looking good, kicking butt, taking names. Some people try to bring up the fact that Boris probably hasn't practiced on this track before today, probably hasn't run a Tony shifter kart with a Vortex motor before, and since he is a big guy, is probably over the minimum weight of 375 lbs (for this race, as scales were screwed up, normally it is 385) for kart and driver by 20 lbs. We don't care, as we still consider the results to be an ass whupping. Someone else also tries to bring up the fact that Alex Barron got disqualified for not making weight, and thus is gridded last, despite him DESTROYING the field with a 30.99 lap time. He smoked Bob by .46 seconds, and Bob always smokes me and Wayne by about .46 seconds. But hey, I could be fast also if I didn't make weight.. All I know is that they are behind me in the grid.......all that hard work over the past month paid off handsomely so far......and we feel like professional kart racers today.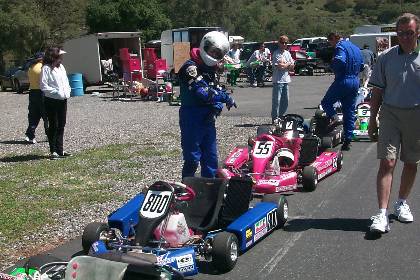 |
Wayne takes pride in qualifying the 1-800-Phoneguys Kart in front of #55
Qual race, 15 laps
I am gridded 8th, right behind Wayne. All I can think is that I am gonna kick his ass. I know Boris and Alex are lurking in the background, ready to blow by all us weekend warriors who can't drive fast enough to get a sponsored ride in a real race car. KRC grids us with more spacing between the karts than usual, not sure why that is. Anyways, all 17 Tony Karts are revving up to 14,000 RPMs, waiting for the flag to drop. Flag drops, and I get a fairly good start, Going into turn 1, a fast right hand turn, I take a spot from Oscar, who was gridded 7th. Yeah baby.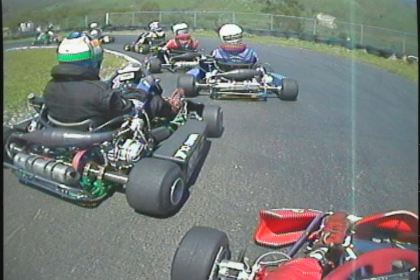 Wheel to wheel into turn 1. Vivek, Wayne, and Jeff are in front of me
Unfortunately, Oscar knows that Turn 1 isn't the crucial turn to the start of a race at Amago, it is turn 2, a left hander, and he pokes his nose back under mine. Damn. So I am back to 8th, I take a look behind me, the rest of the pack is 10 kart lengths behind, so I focus on Oscar and Wayne, and continue to chase them down. About six laps into the race, going down the main straight, my kart jerks forward like a turbo charger kicked in. The turbo turned out to be Alex Barron, who gave me a friendly little bump going down the straight, as I was blocking the line. The next turn, he blows by me. In another lap or so, he blows by Wayne and Oscar. Wayne comes in a little too hot down the back straight, and spins the kart, and Vivek crashes into him. They both stall their karts, and Vivek is out permanently. See ya Wayne and Vivek.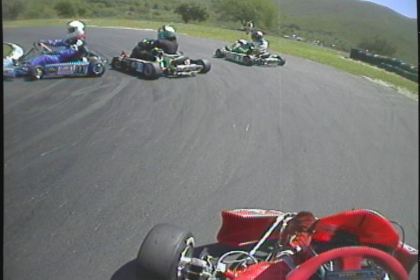 Wayne spins at the apex, Vivek crashes into him, Oscar gets around the outside

Let's see....I was in 8th, now I am in 6th. In another lap, Jeff and Alex are barreling down the same back straight where Wayne spun, which has a tight second gear turn at the end. Both give no quarter, they crash, and they spin off, stalling their karts. Alex ran up Jeff's kart and wiped out Jeff's radiator, so Jeff can't restart. Heh heh heh...I blow by them....let's see, I was 6th, Jeff spun out and has to get restarted, so it looks like I am 5th.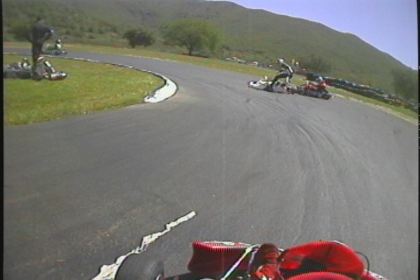 Vivek on left. Alex Barron trying to restart his kart after crashing with Jeff
The chase continues. The guys in front are too far for me to catch, and the guys in back can't catch me. I opt to slow down a bit, and save my tires. Alex Barron crashes into Marcos, but Alex restarts again. Coming down the to the checker, Alex Barron is on my butt, but I manage to keep my 5th place spot. Heh heh heh. I am in front of Jeff, Wayne, Alex Barron, and Boris Said for the final race. It is a good day indeed.......and the trash talking begins for the final heat. I beat Alex Barron on his home track. Never mind that he started last, crashed and stalled his kart twice in the 15 lap race, and almost passed me on the final lap of the race. All I know is that the results say:
5. Doug Hayashi
6. Alex Barron
7. Wayne Mello
8. Boris Said
...
15. Jeff Littrell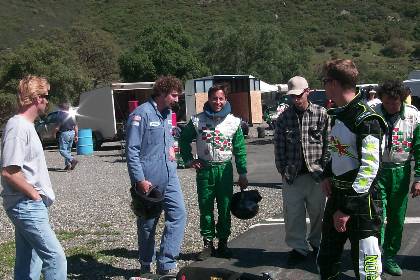 Bob standing to the right of Boris Said. Alex Barron is in right corner
Jeff says that his crash was Alex Barron's fault. Although Jeff seems to be involved in a lot of "incidents" so far this season. Wayne says that he boneheaded and spun, but Vivek shouldn't have hit him. Vivek has also been in a lot of incidents lately. Me, I have been keeping my nose clean, and haven't really crashed into anyone or been involved in a crash in probably 10 races. Knock on wood. That is why I took 3rd place in points in F2 last season, and collected $187.50 in prize money, along with a three foot high trophy.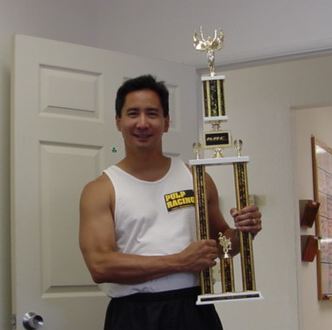 Belated picture holding the 2000 F2 Third Place Overall Trophy
For the final race, I am gridded 5th. Right behind me is Alex Barron, behind him is Wayne, and behind him is Boris Said. Way back in 15th spot is Jeff. Looks like it will be an awesome race.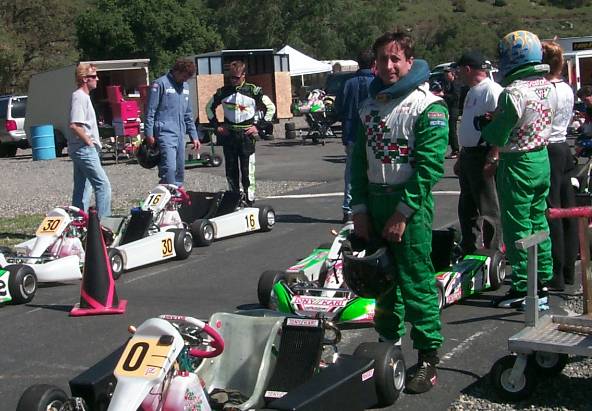 Bob on Pole. Happy because Boris Said and Alex Barron are behind him in left corner
We do our two warm up laps, and then we grid for the final race. We rev up to 14,000 RPMs, green flag drops, and Alex Barron rips by me on the start like he was shot from a cannon. And right behind him Wayne and Boris Said blow by me. DAMN. Back in 8th place. All that hard work and I blow the start.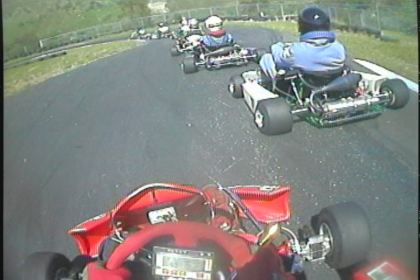 Wayne, Boris Said, and then me going into turn 1
So now the hunt goes on again......and time to start chasing people down. Bryant and Scott crash into each other. Me, I am driving mean and clean, and after about 10 laps, I am right on the bumper of Boris Said, pressuring him in every turn. Heh heh heh......this is going to be good. Going into one of the hair pins, Boris hits the curbing, thus throwing off his momentum.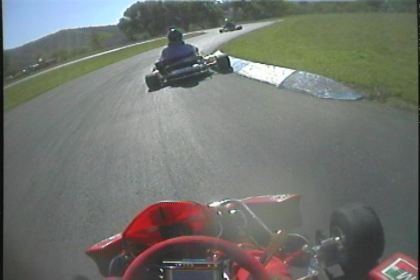 Boris hits the curb with right tires, thus unbalancing kart, and throwing him off line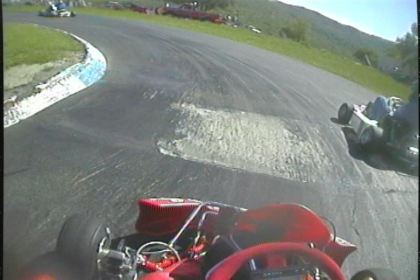 I capitalize, and immediately pass Boris on the next turn, as he is way off the apex
I can see the headlines now in Chapter 67 of The NSX-Files, "Hayashi Crushes Boris Said and Jeff in Final Race". Meanwhile, Wayne is about 10 karts lengths in front of me, and is driving very, very good. After about 5 more laps through, I can tell he is starting to tire. On lap 20, I think about diving to the inside on him, but this is the same corner where Jeff wiped out twice, Wayne wiped out once, and also where I sent the guy in practice a couple of weeks ago into the fence.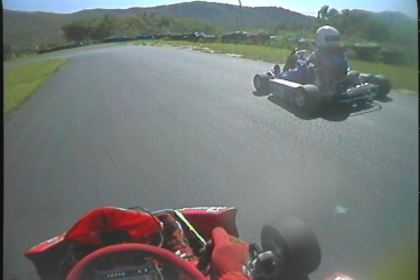 Looking down the back straight, I think about diving on the inside....
Since I don't want to spoil our chances in completing the race, I decide to back off a bit, and wait for Wayne to make a mistake before I pass him. After one more lap, my intense pressuring of Wayne forces him to go WILDLY up on one of the curbs right before a series of "S" turns.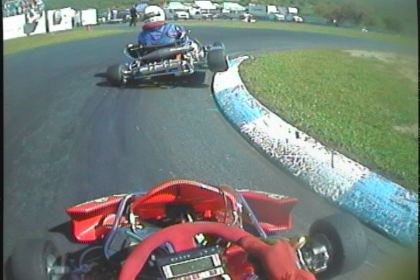 Wayne gets two wheels almost airborne after hitting the curbing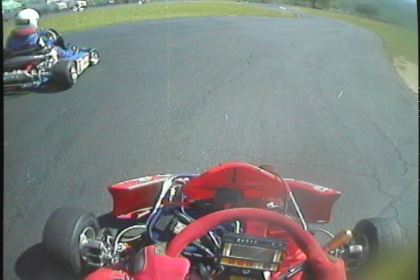 He bounces WAY to the left after this big mistake
He bounces to the left. Since I was a foot off his bumper, I capitalize on his mistake, and I take the inside line and I blast forward. Hitting a curb drastically slows you down in kart, unlike when you are racing a car. Cars have a suspension and can absorb some of the smaller curbings, but karts have no suspension at all. I see the the new headline flashing in my brain again, "Hayashi Crushes Wayne, Jeff, and Boris Said in Final Race". Damn, this is going to be a real good day. After bouncing off the curbing, Wayne shoots to the left, gets two wheels off into the dirt, but decides that he can still make it, and never lets off the gas.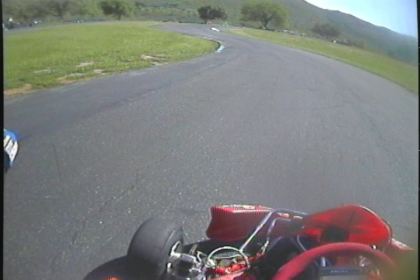 He lost a lot of speed after hitting that curb, so I zip right next to him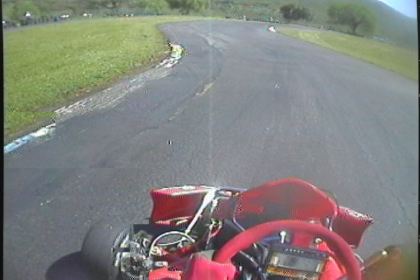 And successfully pass him going into halfway into the "S" turn.
I don't see his wheel in front of me, do you?
Wayne gets back on the track by jerking the wheel. Unfortunately, I am in that spot that he tries to grab back. He crashes into me, and we both go spinning off the track in opposite directions, stalling both karts. I look at Wayne in disbelief. "You moron, you knocked us both out of the race". Wayne looks at me in disgust. "You idiot, you should never pass there in the esses, there isn't enough room".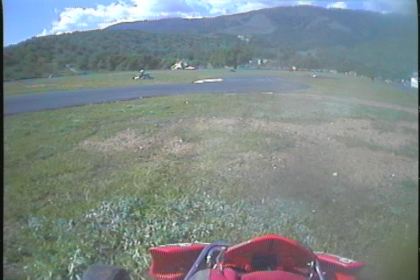 We crashed. Stalled both karts, pointing backwards. Wayne is in background.
One second later, Boris blows by us, probably thinking, "Man, these guys are a bunch of amateurs. No wonder they have to pay for their own racing." Jeff blows by us, and he started at the back of the pack. DAMN! Unfortunately for me, it takes me forever to find neutral, and get room on the track to get my kart restarted. It takes Wayne forever also, but he get back on the track before me. Meanwhile, Jeff narrowly avoids an incident with Marcos, and but he goes spinning off and stalls his kart. It took me and Wayne so long to restart our karts, that Jeff thought we were out of the race, and didn't bother trying to restart his kart. Wayne and I limp home, and finish the race 3 laps down. Instead of us finishing 6th and 7th, we finish 12th and 13th, thus losing six valuable points in the run for the KRC championship. A month's worth of practice, five trips to Amago, 8 trips to the Pala Casino, and we end up crashing into each other. Unbelievable. Those six points I lost would have tied me with Fast Bob for third place overall in the F1 series, now I am tied for 4th instead. DAMN!
People are cracking up who were watching the race. "I can't believe you guys took each other out. You were both running a great race." Jeff is pissed, as he finishes behind us, due to his wipeout, and him not restarting his kart. I accuse Wayne of recklessly trying to get back on the track, and he was BEHIND me when he crashed into me, thus he was at fault. Wayne accuses me of trying to make an unsafe pass, as there wasn't enough room in the narrow esses to make the turn. I tell him since he hit the curbing and went four feet off line, that is plenty of room for me to jet through. We argue for the next two weeks as to who screwed up our chances. Anyways, it was a great race day, despite the fact that bonehead Wayne took us both out. The next race is at Willow Springs Kart Track, running it backwards (clockwise). Which means we will have to practice once a week until the next race, and try to grab those valuable tenths of a second per lap. Tenths of a second......that is our obsession......
Click here for a sample of the Helmet Camera footage, courtesy of Jeff, at the Kart Racing Co website.