KRC Super Cup Series, February 25/26, 2001
"Who will be the The Rain Master?"
First Kart Race of the New Season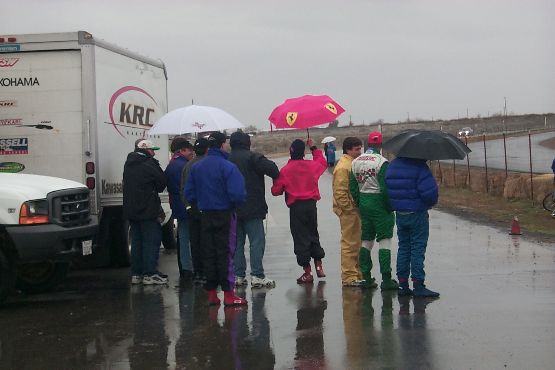 F1 Drivers checking out the F2 race in progress in a pouring rain
Okay, so it is the start of the new KRC SuperCup Series for 2001. As you may recall, due to all the bonehead stock analysts saying, "The Sky is Falling", we are getting our clocks cleaned in the NASDAQ. It seems that all the analysts were once tripping over themselves to upgrade stocks like Cisco, Nortel, Worldcom, Nokia, Motorola, Siebel, and the infamous Internet Stocks like Amazon, CMGI, etc. Now all the analyst are tripping over themselves to downgrade everyone. It would be nice if the stupid analysts would tell us BEFORE the market crashes that there is a problem in the future, or that earnings will be for company XYZ before they announce the true earnings, but that doesn't seem to be the case. I don't need any pundits to tell me the market sucks after the market already starts sucking. I need someone to tell me, "Lookout, bail out now, and buy back in at the bottom"..
Case in point: Henry Blodgett, a couple of years ago, is the guy who said that when Amazon was at $200, that it would go to $400 in the next year. People said he was full of shit. And then about seven days later, Amazon hit $400, due to speculators going bonkers over what Blodgett said. But I don't think Blodgett ever warned anyone that Amazon would go back down to $10, did he? So now what stock is Henry Bonehead covering now? You guessed it.....now he is covering Microsoft. Let's just say that I don't expect any great insight from him.
I didn't get burned on any dot com stocks. But I was an "angel investor" in www.etown.com two years ago. Unfortunately, those guys couldn't get continued financing for their operation since everyone at this time has no cash....it seemed like they had a good business plan....they almost turned the corner to profitability...and ah.....then they ran out of cash and went belly up a couple weeks ago. So much for parlaying stock profits into a two car Speedvision World Challenge Team.....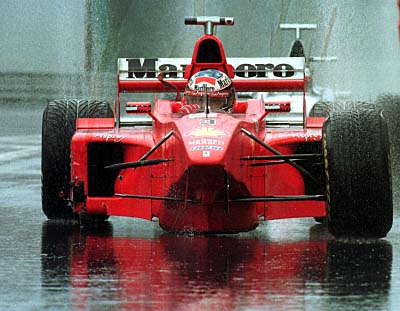 Schumacher - Definitely a Rain Master
Anyways, for this weekend, we had a lot of options. TCRA was running at Buttonwillow, and their events are always fun, as their race group is pretty competitive for cars like mine. The Southwest NSX Club was having an event billed as the "Supercharger Shootout" in Phoenix at a NASA event, with a variety of supercharged NSXs showing up. Larry was saying that we should go to Phoenix and see how well the Flamemobile will measure up to all the other Supercharged NSXs that are there. Maybe we would be forced to give them a 3 second a lap handicap. <grin> But Wayne and I decide to go for points and "budget racing" with the KRC guys at the Willow Springs kart track. We need the points, as we both want to become the World Champion of KRC Super Cup Racing for the 2001 season.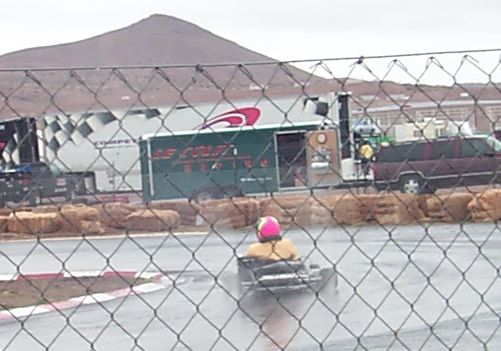 Whipping around a turn in the rain
For our first race, Wayne and I moved up to the F1 class, along with about five other F2 drivers. We have our new Tony Karts with Vortex motors dialed in for the this first race on Sunday, with practice the day before. There was only one problem: A big rainstorm was forecasted for the weekend for all of Southern California. Wayne went out and bought a couple of motorcycle rain suits for us with his money he won in blackjack the weekend before in Vegas. (Let's not talk about that weekend. I had one of the worst runs of luck ever at the blackjack table. I have erased it from my mind.)

Driving up Saturday morning, it pours most of the way up the 5 freeway and the 14 freeway to Willow Springs. We get over the mountains, and it is dry. But as soon as we get within 5 minutes of Willow Springs, it is pouring again. We get there at noon, figure we will practice on the new rain tires that we ordered from KRC for the weekend. We have never used rain tires before, so we figure we need as much practice as possible. Except for one thing: KRC has all the rain tires, but the rear tires require a different set of rims, and the rims are arriving with the JM Racing truck on Sunday morning. Raceflais happens to everyone. But some of the guys who arrived early were lucky enough to get their rain rims, but not me and Wayne. So anyways, it is raining, and no one is eager to go out on the track with the exception of me and Bob. I figure that if you want to be fast, ya gotta do whatever the fast guys do. Bob took the Summer 1999 Super Cup championship, and always seems like he is one of the guys fighting for first place.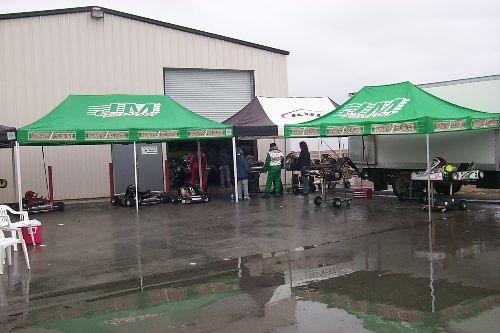 Pit area has a huge puddle of water
I tell Wayne and I am going to take our spare kart out on the track, as I don't want to screw up my new kart in the rain. So I go out on my racing slicks, and for about 25+ minutes in the rain, I am trying to keep the kart on the track. The car totally understeers, meaning that coming into a corner, you turn the wheel, and nothing happens, so you just go straight right off the track into the dirt. If you floor the kart with the wheels slightly turned, you do a 180 degree spinout, and have to grab the clutch before the motor dies. If you come into a turn, and brake too hard and the steering wheel is slightly turned, the wheels lock up and you spin. It is kinda of frustrating, but it is also challenging and fun. Meaning that you try to go an entire lap without spinning, if you succeed, you try to go a little faster. I must have spun 50 times driving around the track in my practice session. I try different lines around the turns, I try to aim for the spots with no puddles, aim for the where the marbles are, etc., trying to find some grip.

Meanwhile, Bob and Oscar (another front runner) on their rain tires are ripping it up on the track, meaning that if I am turning 1:09 around the track with the race tires, they are turning 52 seconds around the track with the rain tires. After my session, Wayne goes out in the spare kart and does the same thing as I did, meaning spin everywhere. It rains pretty much the rest of the practice session, so we end up going out a couple more times, and then calling it quits for the day. KRC says that we should show up at 9:00 a.m. Sunday, and our rain tires will be ready. Anyways, I feel like I really got to practice kart control today.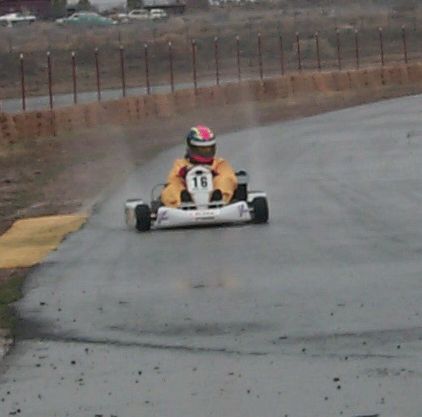 Tom Milner Jr (from the BMW Racing Family) coming into a turn
We show up on Sunday, and it is damp, but not raining. Qualifying doesn't happen until noon, so we have some time to practice. We now have a set of rain tires and a set of racing tires ready to go. We take the rain tires out on the track for about five laps, just to get a feel for them. The track is starting to dry, and some people say that if you use the rain tires on a completely dry track, you will shred them in 10-15 laps. We try out the rain tires, and they are awesome in the wet. You can brake, and you can turn pretty damn good. When you accelerate, you can still spinout, so you have to make sure you are feathering the throttle around the turns until you get the kart pointed straight. The track is still kinda wet, but it is drying up rapidly. We kick back, and wait for the qualifying session.
The F2 guys go out and qualify before us. It seems like the track is drying more and more, but there is still the possibility that you could spin in a turn if you put the slicks on. On the other hand, if you use the rain tires, you might burn them up as the track is drying, and you must use the same set of tires for qualifying, the qual race, and the final race. So all fifteen F1 drivers are watching the F2 guys in qualifying, trying to figure out which tires to use. The F2 guys go out on the track five at a time, and they each get five flying laps, and the best lap is your qualifying time that you are positioned on the grid. As the last F2 guys go out, the track seems pretty dry. Wayne and I are watching Bob, as whatever Bob does, we do. With about 4 minutes left in the qualifying session, Bob makes a move to swap his rain tires for his dry tires. Okay, so now all fifteen drivers are scrambling to swap out their tires. Wayne and I have our Makita cordless impact wrench, so we are rushing to get all our tires changed for the next race. Everyone else is scrambling for tools to get their tires changed.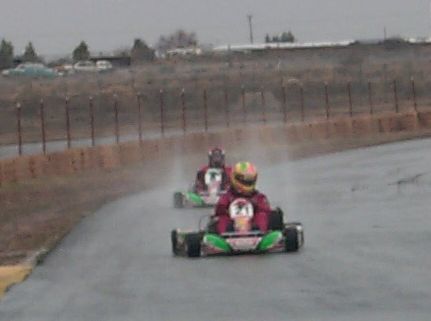 Five foot high rooster tails shooting up into the air
We go out for our qualifying session. Everyone is a little cautious, as it is not dry enough to go full speed, and you don't want to take a chance at spinning and wiping out and stalling the kart, which means you will qualify at the back of the pack. I end up running I think a 44.96, which isn't too bad, considering it was still damp. So on the provisional grid, I am 2nd after the first group qualifies. Unfortunately, we dried up the track for groups 2 and 3, so their lap times are faster, as the track conditions are better. I end up gridded 7th, but at least Wayne is behind me, and for the first time in ages, Jeff is also stuck behind me. Heh heh heh...
So we eat lunch, and we get ready for the qual race. The F2 guys go out for their 15 lap race before us, and then it starts to rain. Okay, so now we gotta figure out if we continue to use our dry tires, or should we switch to the rain tires. If it starts raining harder, you will get your ass kicked with the dry tires on. If it stops raining, and you have the rain tires on, you will burn them up and you won't have any rain tires left for the final 25 lap race. Decisions, decisions.......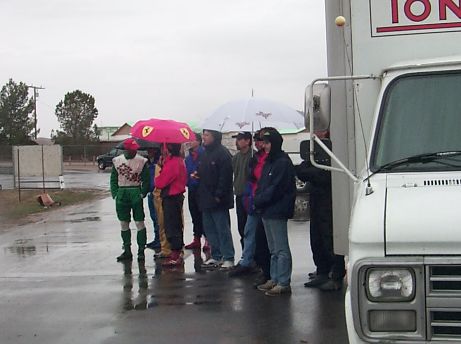 Watching the F2 racing, trying to figure out what tires to run
Everyone is intently watching the F2 race. Most of them are on dry tires, and we are seeing if they can maintain grip around the fast turns, or do they spin out. Me and Wayne don't know what to do, we figure we watch Bob, as he is a airplane pilot, and he might have someone he can call and get the latest weather report for the Lancaster airport. (Wayne and I always assume that everyone else is cheating or has an "extra edge" in order to go faster). The rain keeps coming down. The F2 guys are starting to lose grip. The skies don't look too dark, but the rain doesn't seem to want to stop. Four minutes before the end of the race, Wayne says we should make a move to get our rain tires on. Right after that, Bob makes a move to put his rain tires on, so all 15 of us F1 drivers start to frantically put our rain tires back on to get ready for the race.
So we are gridded for the race, rain falling on us, most of us with rain gear on. I am gridded 7th out of 15. Bryant, Ferrari of Beverly Hills saleman, is on pole, with Bob right behind him. Green flag drops, and we all blast into turn 1. I get a fairly good start, and I make up a couple of spots going into turn 1. Somehow, Jeff gets in front of me going into this turn. Everyone is jockeying for position. Jeff and Vivek rip into a turn side by side at a high rate of speed, they touch wheels, and go spinning off in to the hale bales. DNF for them. Numerous other people wipe out in the rain, stall their karts, and are DNFs. I keep pushing on, and then I start to realize that I am in second place in my first F1 heat! I look around for the first place guy, and that is Bob. I try to gain ground on him, but it ain't gonna happen this race. Bob takes 1st, I take 2nd. Wayne stalls his kart on the start for the first time, but at least in F1 you can restart your own kart. So Wayne was gridded about 10th, stalled it, pushed started his kart, hopped in, charged up the field, and ended up about 6th after the carnage, so he passed about 9 people in the rain. Definitely a good race for him.
For the final race, everyone is talking crap. Jeff is saying that while it is true that I took 2nd, it was only because half the field spun out or crashed, and claims he was "legitimate" second place until he and Vivek crashed into each other. Well ya, know, if ya can't finish the race....all you are is a DNF in the final results....heh heh heh..
Bryant "Ferrari Boy" Kreaden also stops by to talk some friendly smack, saying that I better be watching out for him in the final race. Bryant is pretty fast, and he took pole in qualifying today (but remember, the track was more dry for his qualifying session.) "Ferrari Boy" isn't a derogatory name for Bryant, we are just jealous that his job is selling Ferraris for Ferrari of Beverly Hills. Part of his duties are when taking delivery of a new car, he can take the buyer for a "test drive" of their new Ferrari, and showing them the features of the car, how fast it accelerates and how quickly it stops, and what it sounds like to ricochet the exhaust note off of the high rise buildings. Bryant is the guy I bought my F355 from two years ago. He always has some interesting stories about customers that come into Ferrari dealerships. Like the high profile, obnoxious movie star who allegedly came into a Ferrari dealership, and said, "How much will you pay me to drive this new Ferrari in your show room around town." The salesman then kinda looked at the customer quizzically, saying, "What are you talking about sir?" The customer then said something like, "You can pay me to drive this new Ferrari around town, I will show it to my rich friends, and they in turn will probably come down here and buy a Ferrari from you. It will be a great sales tool for you." The Ferrari salesman then looks at him like the customer is a bonehead, and then says in very proper english, "Sir, you are mistaken. There are only two people in the entire world that get paid to drive Ferraris. And they are Michael Schumacher and Rubens Barrichello. Everybody else has to PAY for their Ferraris."
==========NEW PULP RACING MONEY MAKING IDEA========
GET YOUR NEW HONDA
AT ROCK BOTTOM PRICES!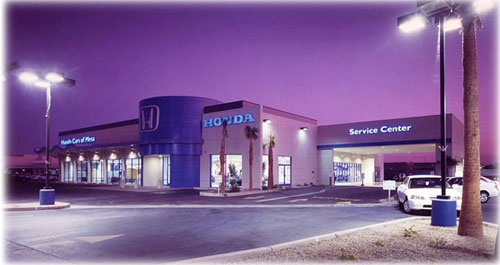 Honda Cars of Mesa in AZ. Great prices! Ask for Mark 480-733-5166.
Okay folks, as you know, NASDAQ is down, and I need to make some cash to go racing. In order for me to make cash, you have to make more cash then me. So here is my idea that I put forth to all you Californians, especially you guys in Southern California. Here is my premise:
Californians buy lots of Honda Cars.


In most cases, the demand for certain Honda Cars outstrips the supply of these Honda Cars in California.


Which means, Honda Dealers in California charge more for cars. Because they can.


Buying a car is usually an unpleasant experience for most people. Sales people are a pain in the ass, and you may feel that you are pressured to buy a car. You have to drive around to a bunch of dealerships to get price quotes, see what is in stock, etc. It sucks.


Searching for a good deal is a pain in the ass, even if you are using a website like Carpoint. They don't have this Internet thing quite figured out for buying a big ticket items like a car. I know, I tried to buy my S2000 via the Internet, and it didn't work out.
But, in other states like Arizona, there maybe more Honda Cars available to dealers than then can sell. So demand is low. We also know the following:
No Honda/Acura Dealer in California wants to sponsor me.


Honda Cars of Mesa in Arizona is willing to help me out with some of my track fees.


Cars are cheaper in Arizona, than California. Can you see where this is going?

So here is my plan for all you people in California that are thinking of buying a new Honda:
Get a quote from your local Honda dealer here in SoCal for the car you want. Inevitably, it will be expensive, just like Ice is expensive at the Equator, and Hot Coffee is expensive at the North Pole.


Call Honda Cars of Mesa. Tell them you want the "Pulp Racing Special Pricing" on the Honda car you wish to buy. Honda Cars of Mesa will then give you a smoking deal on a car that could potentially save you hundreds or even thousands of dollars on a new car. For example, my S2000 was about $5000 cheaper from Honda Cars of Mesa than the local So Cal dealers. Another guy bought a Honda Insight, and it was $2500 cheaper than the local Socal Dealers. We are not talking about trivial savings, this is big bucks!


Get a price quote from them. If it is cheaper, and you want to buy it, then they can fedex all the papers to you. Since you are buying out of state, you can't physically go to AZ and buy the car, but they can ship it to for about $250 or so, and it will arrive at your doorstep. Or you can arrange to have them meet you at the California Border with the car. You never have to go to the dealer and sit there for several hours haggling, signing papers, etc. Screw that, get all this stuff done at your leisure.


Since you are from California, I get a small kickback from Honda Cars of Mesa to help finance my entry fees for every Honda car that they sell into California. Kinda like a marketing cost to them. You can then email me, and tell me you got the "Pulp Racing Special Pricing" on your new Honda and you took delivery of your car from Honda Cars of Mesa, and I, in return, will send you a free Pulp Racing Shirt. You Win, I Win, Dealer Wins. You can even argue that you won the most out of everyone, as you saved the most money. Call Mark Geiger at 480-733-5166, or email him at internet@hondacarsofmesa.com

Caveats:
You will probably spend $100 or so in Notary fees for the documents that Honda Cars of Mesa will Fedex to you.


You will still have to pay California Tax and Registration on this new car from AZ, there is no legal way of getting around that. But at least you save big bucks on the purchase price. And you will probably have to stand in line at the DMV.


You might have to get a $35 smog check, since the car was bought out of state.


This isn't instant gratification. You can't tell them you want to buy today, and get the car tomorrow. It will probably take 7-10 days to get the paperwork done and take delivery. But you get it cheaper, and with less hassle and haggling. And they can drop the car off at your doorstep.


But, if you take all the caveats into consideration, and you can save from $2000-$5000 off the price of your new Honda, doesn't it make sense? If you can save a couple of thousand of bucks, you can go out and start buying some go-fast parts for you new Honda with that extra cash.....and then meet us at the next track event.....

NOTE: This deal isn't finalized yet....I am waiting for Honda Cars of Mesa's final approval. But I wanted to get these stories up ASAP.
==========END OF PULP RACING MONEY MAKING IDEA========
Alright, so now it is raining harder for the final race. I am in the front row of the grid, in the number 2 spot, next to Bob. Behind me is Oscar, who is extremely fast and always a contender for first place in F1, and next to him is Ferrari Boy. On the third row we have Wayne and Mark (who won the F2 championship last year. He should have won it, as it was his fifth damn season in F2. Kinda like some guys spend five years playing Triple AAA baseball before moving up from the minors into the majors). Jeff is in the back of the pack, due to his DNF. Anyways, all fifteen of us are revving our engines, waiting for the the flag to drop. Ryan from KRC raises the flag from his waist to the top of his head and gets ready to drop it, but a bunch of people launch their karts as soon as Ryan moves the flag upwards, instead of waiting for him to drop the flag from the up position. I see Bob's kart jump forward, and I immediately launch my kart, and everyone is off, shooting five foot high rooster tails of water just like they do in Formula One, but on a much smaller scale. I get a real good launch, and then coming out of the first turn, I am in 1st place! I am the Rain Master. Bow to Me. Stare at me in Awe.

Finishing up the first lap, Ryan is waving flags frantically and motioning everyone to stop. I guess it was a false start, and we have to restart the race. Ooops. Wayne said all 15 people jumped the start except for him, as he was waiting for Ryan to move the flag DOWNWARDS, instead of everyone suddenly doing burnouts as the flag was being move to the UP position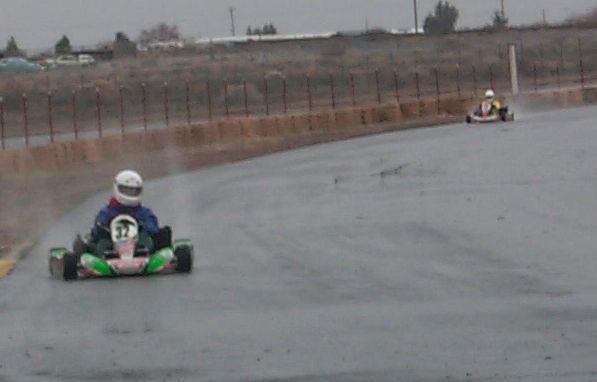 A couple of the guys in F2 in the rain
Okay, so much for a good start, here we go again. We are lined up again same as before, and this time we wait for Ryan to move the flag UP, and then down. Green flag drops, and everyone goes barreling into the first turn. Now this first turn is exceptionally tricky if the road is dry. But now, the track is a big puddle, so everyone is rocketing into this turn and experiencing understeer, and as soon as they apex and hit the gas, everyone's back end starts sliding, so there is more confusion than usual in this turn. And after the first turn, and the mass confusion, I come out of the turn in 1st place. I am the Rain Master. Now we got 24.9 more laps. I concentrate on going as fast as possible, without spinning and losing my race lead. All that practice in the rain the other day with the slicks on is helping a lot, as I can really feel when the backend is going to break lose, and I also know when I can floor it without spinning out. I am braking pretty deep into the turns without locking up the tires and spinning, feathering the throttle around the turn like there is an eggshell between me and the pedal, and right before the front wheels are turned straight, flooring the gas, spinning the tires, and rocketing through the gears. I look behind me, and there are a couple of people about 10 kart lengths behind me. Eat my rooster tail, you losers!

After five laps, they are still 10 kart lengths behind me. I RULE! I pass some people that have spun out and stalled their karts. I keep looking backwards down the straights trying to see where the F1 veterans are, meaning Bob, Jeff, Bryant, and Oscar, but I don't see them. 15 laps into the race, I am keeping a 10 kart lead over the Mark, the 2nd place guy. So we have two guys from last year's F2 class dominating the F1 race. Then I blow by Bob. I lap Bob! But not because of skill, it looks like Bob is having engine problems, and he is going at 50% his normal speed, figuring that if he can finish the race, he will at least pick up some points. I start weeding my way through slower traffic. When you get behind someone, you take the brunt of their 5 foot high rooster tail of water, so you can't see a damn thing. Wayne said he was caught behind three fast guys, and all three of them were throwing buckets of water back at him.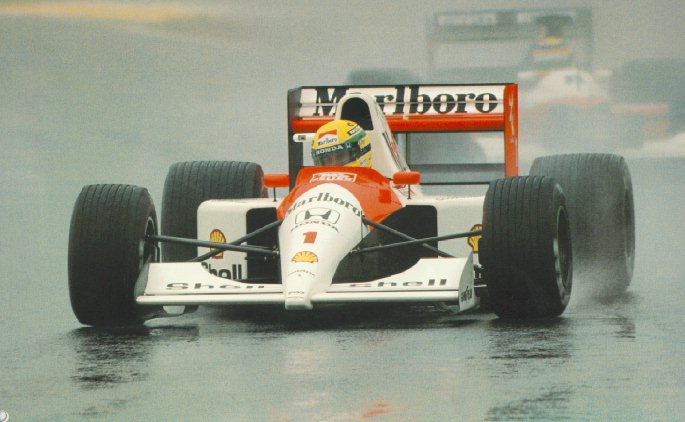 Senna always kicked ass in the rain. Definitely a Rain Master.

But now I have a bigger problem. I see that Oscar is making his move, and he is driving like he is pissed. He must have spun out or been in an altercation that slowed him down, but he is in his racing rhythm now. He is gaining on Mark, which means he is gaining on me. I look on my Micron timer, and we got 7 laps to go, and Oscar is still gaining. Oh shit. 5 laps to go, Oscar passes Mark, and he is aiming at me. 3 Laps to go, and I get caught up in slower traffic, and Oscar gets by me. DAMN. I try to give chase, but I don't want to over drive, as I can still make it to the podium as long as I don't spin out. On the high speed back straight, we are going about 75 mph in the rain into a fast left hand turn before braking and downshifting 3 gears. I try to make up some ground, but I ah....overdrive, and I take it a little too fast around the turn, and I have my first spin in the race. Shit. I grab the clutch, keep the motor revving, and luckily I don't stall it. I get moving again, but now there is no way I can catch Oscar unless he also spins. Mark is behind me, and we got two laps left. I get by a couple of slower guys. Now my engine suddenly won't rev over 10,000 RPMs, and the redline is 14,000 RPMs. Now I am worried that I am having the same problem as Bob, meaning that perhaps something got waterlogged on the engine, and power is going down. I keep short shifting for two more laps, as Mark is making up ground on me. They finally wave the checker flag, and I end up taking 2nd place by about 5 karts lengths over Mark. I am the Rain Master. Mark takes 3rd. Wayne takes 8th, with Jeff getting by him at the end of the race for 7th. Both of them spun multiple times. Five of the top six finishers are from the F2 class, thus making a strong showing against the big boys in F1. The results and "official" summary of the rice will be here in the next couple of days..

Wayne and I agree that this race was one of the most fun races that we have ever participated in, due to the rain, close competition, on the edge of spinning and wiping out the entire 25 laps, big rooster tails of water coming off of everyone's karts, etc. Definitely a Go-Fast Crack Pipe experience. Of course, people will say that the only reason I came in 2nd is because of the bad conditions. But I seem to remember that Schumacher and Senna usually win in the rain.....humm.....I wonder what that means......
We got prize money this year also. Everyone kicks in $50 for the race fund, which means $750 in prize money for our race, and I think 1st takes 30% and 2nd takes 25%, so I think I get $187.50 for my 2nd place win. Hey, I am a PROFESSIONAL now. I make money when I race. Then I start calculating my approximate expenses for the weekend:
200 Track Support Saturday (Meaning KRC supports and fixes kart)
200 Track Support Sunday (Meaning KRC supports and fixes kart)
150 Entry Fee
150 KRC Super Cup Registration for 2001
150 Rain Tires
150 Two Rear Rims for Rain Tires (since rim size are different)
30 Race Gas
70 Hotel
65 Diesel Fuel for truck and trailer
$1165 Total

Ouch. The don't call it the Go-Fast Crack Pipe for nothing. Okay, so I am only out $977.50 for the weekend, since I am a Rain Master and took 2nd place at the track. Now in theory, I could blow off the KRC track support fees, but since I can't fix a damn thing on my kart, I am sorta paying insurance to KRC to make sure that they fix what breaks. (Hey, buy stuff from me at the Pulp Store so I can get some tires! Thanks!)
But if you were on a budget, and you were a decent kart mechanic, and you didn't stay overnight, and it wasn't going to rain, and you owned your own kart, and you towed it to the track yourself, you could theoretically do the next race (after you paid the yearly Super Cup Registration fee), for the following:
150 Entry Fee
170 Set of new tires
30 Race gas
65 Diesel Fuel
$415 Total, which is a LOT cheaper than auto racing.

To some people, the $150 entry fee might seem steep, but KRC is buying you lunch, directing $50 towards prize money, and they use the rest to get exclusive rental of the track and cover some of their costs. We did a couple of events with SKUSA last year, but they have about eight or nine run groups, and it sucks waiting around all day long. This way, we are the only people on the track all day long.
Next race is at Las Vegas Karting Center on March 11. Las Vegas is an awesome track, it one of the faster tracks, and Wayne and do better on tracks that take big balls and less skill. Technical tracks kick our ass. Let's see how the rookie F1 guys do against the veterans at this event!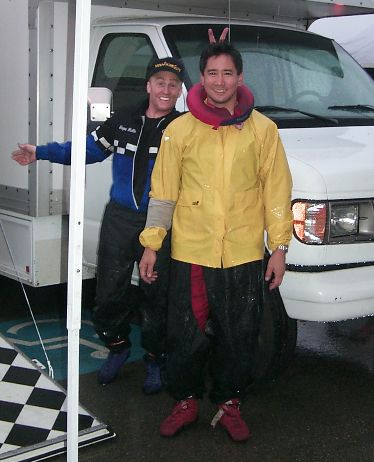 "Rain Master" has a big hole in the crotch, and $187.50 in his pocket.
March 3rd, 8:30 p.m., Saturday night, Speedvision TV.
Schumacher kicks everyone's ass in the first F1 race of the season.

(Note: A moment of silence please for the Track Marshall that was killed from the debris of the high speed crash during the race.)

But one of the big highlights of the race is that young kid named Raikkonen. Supposedly this guy is a karting champ from Finland, and this is only his 24th race ever in a car. Sauber calls the kid on the phone and ended up hiring him to be their Formula One driver, and the FIA almost didn't give him a license to race in Formula One as many people felt that this guy should have more experience in driving cars before running with the big boys in F1. Apparently Sauber was able to swing this guy's license, and he ends up taking 6th place in his first race in an Formula One car! Amazing. Wait....I got an idea......

COMPARISON OF RACING RESUMES
Kimi Raikkonen
Doug Hayashi
Finland Karting Champ
Takes 2nd in First KRC F1 Race in the wet. Three top 10 finishes at LA Street Race. Fifth fastest driver ever at the June Hill Climb
24 Races in a car
140+ Track Events in car
2 years of experience racing cars
9 years of experience racing cars
Current Team - Sauber, Formula One
Current Team - Pulp Racing
Finland Racing Legend in Karting
Legend in his own Mind
Well if Kimi Raikkonen could get a job racing an F1 car based on his credentials, and then if you look at my credentials, you don't think that maybe, just maybe........hum......yeah.....yeah.....oh...wait.....my phone is ringing......maybe it just might be the call I have been waiting for my entire life.......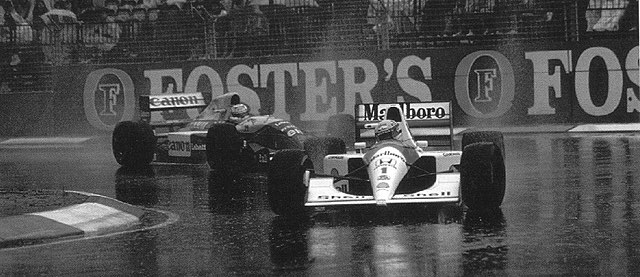 Formula One cars racing in the rain. I am sure I am qualified to do this.<grin>