Kart Racing Company SuperCup Racing Update – Sept 20, 2000

Going to DEFCON 3 with Tony Karts


(Huge Controversy Erupts over "Equivalent Hardware")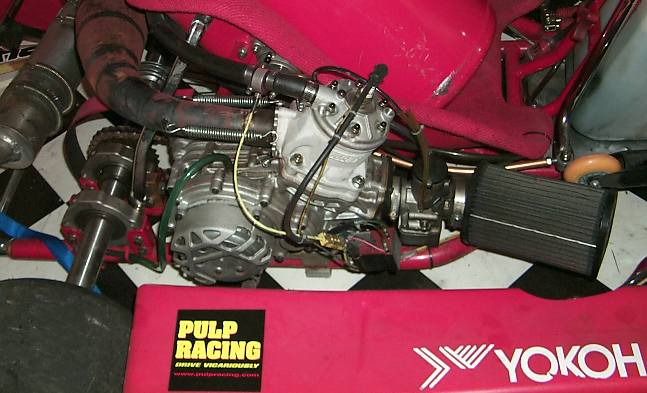 The controversial Vortex 125 cc Kart Motor
(Disclaimer: This is how I remember the event. If there are any wrong facts in here, let me know. If your browser shows broken links, hit the "refresh button" on your browser. You need to buy a faster internet connection!)
So now Wayne and I are in our 3rd season with Kart Racing Company's KRC SuperCup Series. Let's do a quick update on how the season is progressing.
KRC runs two SuperCup Racing Series a year. Each series is five races, of which you can throw out one race, and then you total points for the other four races. Person with the most points after five races becomes the champion, just like Formula One will crown their driver with the most points at the end of their season.
I took delivery of my new engine in the off-season, somewhere around May. It is a Vortex 125 cc Italian racing kart engine. KRC is having problems with Kawasaki in supplying their karting engines, so KRC is starting to move to the Vortex engine. Apparently Kawasaki is scaling back their efforts in 125cc shifter karts. Back in April or so, KRC asked me if I wanted to fork over $2500 and be one of the first eight or so drivers to buy the new Vortex engine. So naturally, if I can get new hardware, I will grab it ASAP. KRC is running two different classes, and F1 and F2. F1 has the faster karters with more experience, and F2 has the less experienced karters. Back in April, Jeff was pretty sure that he was going to move up to the F1 class next season (meaning July), and I was mulling it over. But in any event, the Vortex engine can be run in both F1 and F2, so if I bought the new engine, I could run in either class. So it seemed like a no-brainer to me to buy the engine.
After the final race for the spring KRC Cup Season in April, I decided to run F2 since I never made it to the podium. Wayne also has not made it to the podium. We decided that we ain't gonna get faster unless we get more practice. Jeff took 2nd place in points last year, so he is moving up to F1. Wayne and I figure that Jeff is progressing faster than us because Jeff drives a S2000 Sports Racer, which has similar handling characteristics as a go-kart. It can't be because he is a better driver than us……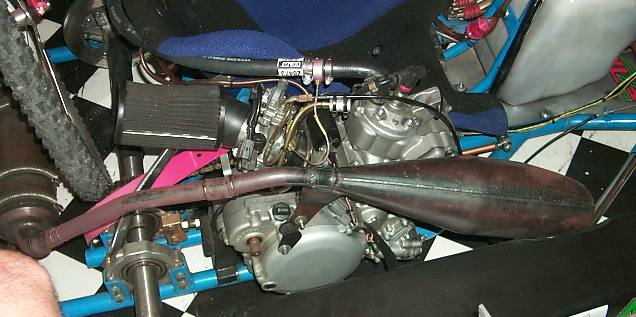 The Kawasaki 125cc karting motor
More practice means that at least once a week, we have to go to the kart track and put in our 2-3 hours of practice. Wayne also decides to buy a third kart that we will split. This third kart will be used:
As a spare kart in case we crash our kart beyond repair and have to get parts shipped from Italy.

Which means a long wait.

To be used by any friends that want to go and practice with us for a day.
As a spare kart in case we have a problem at the race, and we can immediately switch to our backup kart.
For emergency spare parts.

This is especially important on race day
Okay, so now that we have a third kart, now we have to get the karts to the track. The 48-foot trailer is too big to take to the kart track. The back of the Ford F350 is too small. The back of the Explorer is too small. Which means, we have to break down and buy yet another trailer to take our karts to the track. We settle on getting a 16-foot trailer by Mighty Mover. The trailer came with tiled floor, a workbench, some cabinets, and an interior light, so at least we didn't have to screw around with modifying the trailer. Wayne took the trailer down to Modern Image, and they put stickers all over it. It is an el cheapo trailer, it doesn't feel like it is made as solidly as as our big Wells Cargo trailer we use for the cars. But it was in stock; it has shelves, a bench, tile floor, etc, already installed and ready to go, so we bought it.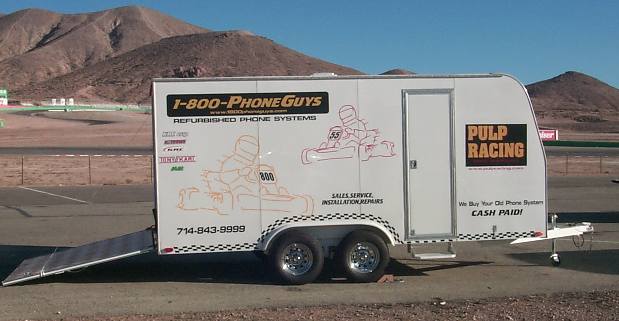 The new 16 foot trailer that we use for the KRC SuperCup

It becomes a pain in the ass moving tools back and forth from the big trailer to the small trailer, getting the tools all mixed up, etc. Screw it. Wayne buys a full set of Craftsman tools to keep permanently in the kart trailer. This ain't no Mickey Mouse operation. Okay, so now we got the trailer, we got the karts, we got a spare kart, we got tools, now let's see what happens.

Late May/Early June, 2000.

Wayne and I practiced a couple of times prior to this race. I took delivery of the new Vortex motor, and it took some getting used to. Wayne starts calling me a cheating bastard because I got a new motor, and he is convinced that I am trying to upgrade my hardware without telling him. After a bunch of practices, I get my kart dialed in pretty good. The Vortex motor pulls strong, but it bogs anytime you go below 10,000 RPMS. It makes power between 10,000 and 14,000 RPMS. If you take a corner in third gear a tad too slow, you will bog the motor and people will pass you. With the Kawasaki motor, you don't get that "boggy" feeling like you do with the Vortex. I feel pretty good about the times I am running, I am dropping into the high 43's at the Willow kart track on old tires. So I figure I can be a contender for the F2 championship this season. I send in my entry form to KRC for the first race, and I circled the "F2" entry option, as I decide to run one more season in F2 before hopping up to the big boys in F1.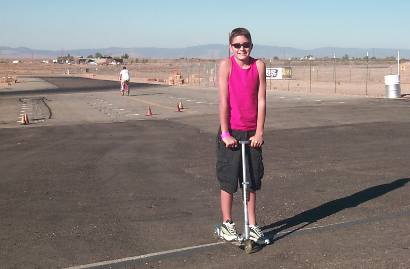 Looks like a regular kid on a scooter, right? But we got plans for him...
First Race, June 7, 2000
I get to the track, and KRC says that everything is set to go. I look at their signup roster, and notice that I am in the F1 class. I tell them that this is wrong, I sent in my form, circled "F2", so to just change it on the form. KRC insists that I am entered in F1. I insist that I am not, and I explain that if I have never made it to the podium, it would be stupid for me to move up to the next level of racing. They then tell me that I have an F1 motor. I reply that this is NOT true, as when I bought the Vortex motor, I was told I could run F1 or F2 with the motor. KRC replies that this is true, BUT I have to have the F2 head on the engine, which lowers the compression, to make it more equivalent to the existing Kawasaki engines that are still used in the class. And, they don't have an F2 head with them at the track. Now this is a problem…..as I can't use the kart that I have been practicing with the past couple of weeks in the first race. My options are:
Use a KRC rental kart that they setup for someone else who cancelled at the last minute
OR
Use our spare kart
At the last car event at Willow Springs, we had about six different people drive our spare kart, and I am not sure if anyone crashed it, or if the engine was still making good power. Normally we get the kart engines rebuilt after every 5 to 6 days of racing. Furthermore, we have an extra large seat in the spare kart to accommodate Larry, Jessie, Brent, Bob, etc in case they want to race the karts. And it is a pain to change seats in a kart, as it takes about 30-40 minutes to swap it out. I decide to use the KRC rental kart.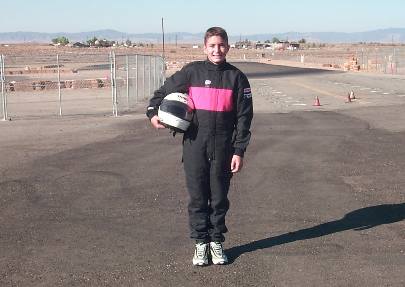 We throw a driving suit on Dana (who is Wayne's nephew)
I run the KRC kart in practice, and I run a 44.3 in it. Not great, but it might do. I figure with good tires on it, maybe I can get into the 43's, and I can be a contender in the first race in the quest for the KRC F2 Championship.
We put new tires on the kart, and I get out there for qualifying. Except that it seems the engine on the spare kart is bogging a bit. Bummer……I struggle and get a 45.13, which is 1.7 seconds off the pole position speed of Mark Volen, who runs a 43.43. So I am gridded 7th out of 15, instead of making a bid to be in the front row. This sucks. KRC starts working on the kart, figure it could be a clogged carburetor that is causing the problem. After a half hour, they think they fixed it, and I run the heat race, but the kart still isn't running properly. I finish the heat race in 9th place, and we go to the main race gridded in that position. The kart continues to bog, and I end up 10th in the race. This is a disaster. Bummer, as now I have to probably use the first race of the season as my throw away race. I can't afford any DNFs or poor finishes for the next four races. Wayne takes 5th place, and says that it serves me right that I didn't get to run the Vortex motor in this race, as I am a cheating bastard. Mark ends up with 25 points, Wayne 20 points, and me 15 points. Bummer.
Early July, 2000.
We take the trailer out to Amago for some extra practice. Amago is out by Mount Palomar, sorta close to the San Diego area. On the way over there, we stop at the Pachenga Indian Casino around 8:00 a.m. The parking lot is half full this early in the morning. Wayne and I agree that the people in the casino have a serious gambling problem if they have to gamble this early in the morning. After 45 minutes, I lose $300, and Wayne wins $400. We head off to practice. We get to the Amago track 30 minutes later, and then we find out that KRC support trailer with all the other karts has a flat tire, and they have no spare tires. AND, we also find out that the track doesn't open until 11:00 a.m. on this day. So…..it is back to the casino, with 3 other karters. This time, I win $500, and Wayne wins another $300. After about 40 minutes of gambling, it is back to the racetrack for practice. And after practice, we of course head back to the casino, where we kick some ass. I go home up $500 for the day, and Wayne goes home $900 up for the day.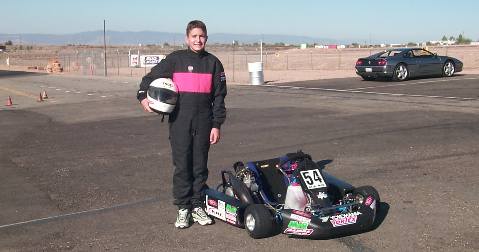 We put him next to a 125cc Tony Shifter Kart that does 0-60 in four seconds.
Race #2, July 9th, Amago Raceway
The race is on Sunday, and KRC has a scheduled practice for everyone on Saturday. So we do another day of practice, which means another two stops at the casino, where I win about $100 bucks and Wayne wins another $500. Wayne is on a roll at the blackjack table, I am convinced he has sold his soul to the devil…..
After a few practice sessions, Dave and Wayne ask me about my "problem" with "spinning out" on this track. I ask them to clarify what they mean, as I don't spin. Dave and Wayne both say that they saw me spun off the course multiple times, rocks thrown all over the track, and me with a broom borrowed from the track, sheepishly sweeping off the mess I made at turn at the end of the straight. "Oh, you mean those spins", is my reply. I tell them that in practice, I take every turn to the maximum limit, and then try to find where I go OVER the limit and spin out, so I can then throttle back a tiny bit to go through the turn faster the next time. I also mention that I have finished my last six races, so even if I spin out in practice, I don't do it in the actual race. They of course tell me I am full of shit, and that they expect me to spin out in the final race here at Amago. Secretly, I tell Larry the Mechanic and Wayne's brother that I will be winning the kart race at Amago this weekend. I feel pretty confident that I can beat everyone. I feel so confident, that I setup two video cameras on the track, one at the end of the front straight, and one at the end of the back straight to record my victory and gloat afterwards. My kart is running good, my laptimes are fast. The extra practice has built up my confidence.
The extra day of practice seems to help. I feel pretty fast on the track. During the qualifying session, I run 33.12, and finally after 12 races and a year of karting, I finally nab my first pole position! I out run Mark Volen by .4 seconds, and I am also faster than two of the F1 drivers who have Vortex engines with the faster head on them. So now I feel I am a legitimate contender for the F2 title. Hey, maybe I can add "KRC Karting Champion" to my racing resume.
Wayne starts complaining that my engine is an unfair advantage, as evidenced by my first ever pole position, and because it is .5 seconds faster than his lap time. Out of all the people in F2, there is only one other person who has the Vortex engine, and that is one of the rookies in the series. So now everyone is saying that the Vortex is much faster on the straights that the Kawasaki, as I am gaining ground on everyone on the straightaways. I tell everyone that this is absolute nonsense, as I am braking later, throwing the kart into the turns, getting good rotation via trail braking, and coming out of the turns much faster, and thus am pulling away from people due to skill. Even Jeff is also saying that I have a "cheater motor". Everyone who is in F2 hears what Jeff and Wayne are saying, and they talk in front of my back that I am a cheating bastard because of the motor. I keep trying to explain that it is my improved driving skill that makes up for the fact that I nabbed the pole position by 4/10ths of a second, but no one is buying it. Because in racing, the slower people NEVER EVER give credit to the person(s) that beat them. You will hear more excuses that you can ever imagine when you go and listen to conversations of the losers after each race. Stuff like:
My tires were deteriorating too rapidly
That guy bumped me unfairly in the turn and threw off my momentum
My suspension isn't aligned quite right
My tranny isn't shifting as fast as it should
My engine needs a rebuild
That dude over there was holding me up for five laps and blocking me
My brake pads aren't stopping as good as they should
My carburetor isn't running properly, I think it is clogged
My seat is too far forward, so the pedals don't feel right
I didn't get a chance to counter balance my kart
etc., etc., etc.

Whine whine whine whine.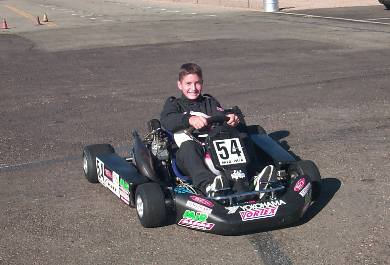 We sit him in the kart, which can hit 85+ mph depending on the gearing
What seems weird to me is that Wayne and all these people are bitching that I have a cheater motor, yet most people completely ignore the fact that the official KRC Rules state that the only motors you can use are the stock Kawasaki motor OR the stock Vortex Motor with the F2 lower compression head. So I merely took advantage of what the rule books, you can have motor A or motor B, and I chose motor B. Everyone else can still has the option of buying a Vortex motor and running in the next race, but instead they chose to keep their existing Kawasaki motor and bitch that my motor is a cheater motor. Secretly, I think it is because that if these people who complain actually went out and bought a Vortex motor, and then if I still took pole and beat them, they wouldn't have any excuses to fall back on, and they would recognize that I am the superior karting driver.......
So we go to the first heat, and I am leading around the procession of eleven F2 drivers in the warm-up lap. I am feeling pretty cool, as everyone is BEHIND me for a change. We do two warm-up laps, and then we do a couple of practice burnouts before we grid. I stop my kart for the first practice burnout, slowly let out the clutch, and floor the gas…..but nothing happens. My engine revs, but the kart doesn't go anywhere. Everyone behind me passes me, and moves over to the grid. Unbelievable…..the first time ever I take the pole, now I am a DNS(Did Not Start). Apparently there is a little key that tightens the sprocket to the axle, and that came lose, so the sprocket was spinning on the axle, instead of being tight and making the axle turn the tires. I sit out the heat race, and start mentally preparing for the final race…..where I have to grid at the back of the pack. KRC starts hustling to fix the damage sprocket and axle, and in about 40 minutes is able to come up with a temporary fix so I can run in the final race.
While we are waiting for the final race, people are still whining over the fact that my kart is "unfair". Wayne, my best friend and racing partner, is claiming that everyone should sign a petition to kick me out of F2 and put me in F1. Since I got pole position, everyone is bitching and moaning. I try to build my case, which is the following:
For the last race of the previous season, I remind people that I took 4th on the grid in qualifying at Las Vegas, and two of those four drivers moved up to F1. So I would have been 2nd on the grid in Las Vegas with the same people that are racing in my class today. So it is NOT inconceivable that I am on the pole by sheer skill, because at Las Vegas, we ALL had the SAME Kawasaki motors. I came in 5th in overall points for last season, and three of those drivers moved up to the F1 class. Combined with the fact that I can see where everyone is braking into the turn and I am braking much later, justifies in my mind that I am a legitimate contender for the F2 title. And, that it is pure driving skill that got me this pole position.
Okay, so we are gridded last for the final race for points. We are now Formula One wanna-be drivers in our Tony Karts, all revving up our engines to be ready for the standing start. Green flag drops, and we are off. I am cautious going into the first turn, as it is pretty tight and gnarly, and I don't want to take out one of the backmarkers.
After a few laps, I make my way up from last place to 6th place. I am chasing down Wayne for a few laps, and then he makes a small mistake and goes wide. I dive in under on the exit, and we bump, but we both stay on the track, with me in front of him. I am now in 4th place, and am making my move up to the leaders. I am blasting through turns, except I take one turn a little too fast, and I almost wipe out, and the kart bogs down a bit. Wayne gets by me here, and now I have to chase him down AGAIN. Two more laps I get by him, and I am now in 4th place, and closing in on the leaders. I get behind Vivek who is in 3rd place, and start dogging him, but I get sloppy and am not able to make the pass. Bummer. I end up 4th, just missing a podium finish. But 4th place is the best finish that I have ever had in a KRC cup race, so that is at least a nice consolation prize. Plus the fact that I beat Wayne also helps my ego.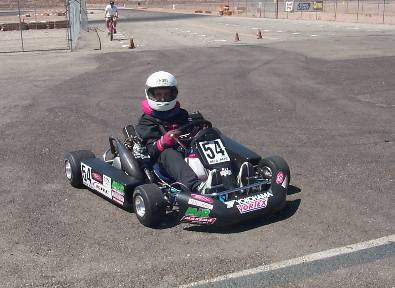 The transformation into cool racer dude is complete. Now drive it like you stole it!

On the way home, it is Wayne, his girlfriend Amy, and me in the truck. Wayne and I argue continuously on the way home about whether my Vortex motor is faster than the Kawasaki. I insist that it is the driver that makes the kart faster. Wayne insists that my motor is much faster, and that is why I pull on the straights. After 90 minutes of debate, Amy finally says, "OKAY OKAY, can we please talk about something else".

Three days later, we are still arguing at the shop. Wayne insists on pulling the karts out of the truck, and we are going to do standing start practices in the parking lot of our building complex at 6:00 p.m., after our other neighbors go home. I tell him that this is ridiculous, because standing starts depend too much on the driver. Since I suck at starts, he can probably beat me in both karts. Wayne also wants to have his brother Bobby check out our "drag race starts", and determine which kart is faster. Larry and Jesse from NSX Modified show up, and they are judging also. Wayne grabs a guy who owns the company across the street, and has him also watch as we rip up and down the parking lot. We can only accelerate for about 100 feet, as we don't want to go off the driveway or hit one of the dips in the parking lot. Almost everyone says that my car is faster, but I insist it is because the Vortex engine sounds a lot better than the Kawasaki engine. Wayne beats me in most of the starts using either kart, but this is because I suck at starts. I mean I really suck at starts. I attribute my poor starts to the fact that I haven't driven motorcycles. You need to balance out the clutch release with the gas, and I can't quite figure it out yet. I either give it too much clutch or not enough clutch.

I tell everyone the only way to really tell is to setup two timing lights about 150 feet apart, and then have the same driver rip through the lights in both karts, and have a digital readout of the time. Of course we loaned our extra timing light for the karts to KRC at the last race and forgot to pick it up, so we have to grab our spare Hot Lap timers that we use on the Porsche and the NSX. We setup the timing lights, duct tape the Hot Lap receivers to the karts, and proceed to try to get some trap times in the parking lot. Except now we are having problems with the Hot Lap Timers, one of the transmitters doesn't seem to be working correctly. So after two hours in the parking lot, we both come to the same conclusion as before……meaning Wayne is still sure my motor is an unfair advantage, and I am sure my motor is equivalent to the Kawasaki.

The next day Wayne talks to a guy who works on Kawasaki kart motors, and this guy claims that he feels that the Vortex motor is putting out 39-40 HP, and the Kawasaki from 35-36. Wayne says that this is proof. I say it is not, because the guy he talked to did not take into account that I have a lower compression head than the normal Vortex motor, which thus makes it closer to the Kawasaki. I tell him there are only two ways to prove if my kart is faster in my mind:
I thrash my kart around one of the kart tracks and get a good lap time.

I then take Wayne's kart, and see how closely I can a lap time equivalent to my lap time.

If I can run about the same lap times, there is no difference.

The other way is to put our karts on a kart dyno, and get a printout.

And right now, the stock market is down too much for us to go out and buy a kart dyno, although we did briefly consider it…
Wayne says that method #1 above isn't good enough, because he feels that I would sand bag on my lap times in my kart, thus invalidating the test. Method #2 sorta gives us a reason to buy our own kart dyno, but because NASDAQ is limping along at 3700, we cancelled that idea. But we did think about this possibility…

So the next race is at Willow Springs. Wayne and I get two extra practices in during the early part of August, using the new trailer. For practice, Wayne and I swap our karts. Wayne claims he is almost one second faster using my Vortex, compared to running his kart. He is running 45.4 in his kart, and 44.7 in my kart, so he is .7 seconds faster in my kart. So now he is screaming that this is an unfair advantage. Curiously, I am running 44.5 in my kart, and 44.8 in his kart. Since this is only .3 seconds faster, and I am not used to his kart, I claim that with practice, I could run the same times in his kart as my kart. He claims this is bullshit. I claim there is such a big time differential in his driving the karts because he isn't taking the turns fast enough in his kart, and the Vortex helps "hides" this problem. Anyways, we feel that we are getting better and better, and will soon make it to the podium.
August 19th, 2000
We are schedule for a night race at the Willow Springs kart track. Big lights will be put on the track so we can see where the heck we are going. We are running with the Gold Coast Karting group. Which is a big mistake, as instead of KRC owning the track for five hours, we are sharing the track with at least 7 other run groups for 11 hours. Gold Coast seems to be running a little late with the run groups, which sucks.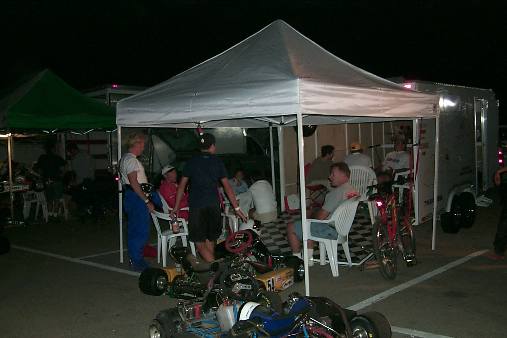 Hanging out by our trailer at the night race
KRC did not receive their usual allotment of Maxxis HG3 tires. Instead, we have to use the Maxxis SLC tires, which are designed for longevity. Meaning that they are a harder compound, and they don't stick worth a damn. Everyone is about two seconds slower on these tires than our usual tires. Since we are a spec series, everyone is required to run the same slippery tires. In qualifying, I end up on pole for the second time in a row, with a 46.10, which would be a slow time if were were running our usual spec tires. I even have a faster qualifying lap than Jeff (46.25) and he has the full Vortex motor with the F1 head on his kart.
Okay, so for the first heat, we have a field of about 17 karters in the F2 class. I am leading everyone around for our warmup lap, just like they do in the Formula One races that you see on the television. We are revving up our engines again to 14,000 RPMs, waiting for the green flag to drop. The flag is normally held in the "UP" position for 2-5 seconds. However, this time, it seems that the flag is only held in the "UP" position for a half a second. EVERYONE gets a jump on the start, except for me. I have been mentally practicing my starts to be ready for the flag to drop in 2-5 seconds, so I am shocked when it drops in .5 seconds. It is like the Red Sea parting around me, as other karters are blasting by me on the starting, going into the first hairpin. Mark, the winner of both the Race #1 and Race #2, sees Wayne run over the front of his kart and catch air, as another karter crashes into Wayne. Pure chaos, as about five karters wipe out on the first turn, just like they do at the start of a Formula One race. KRC decides to allow a restart. People are pointing at me for causing the wreck due to my poor start. I am saying that I can't help it if people crash into each other. If you crash into a car on the 405 Freeway because they were going too slow is it your fault, or is it the guy who was going slow?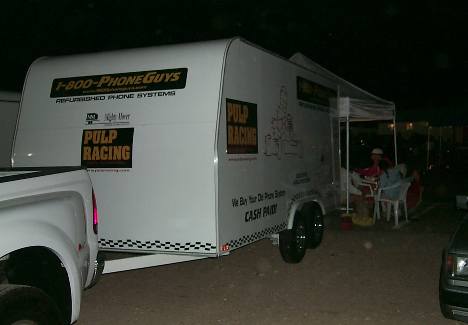 The trailer at night
Okay, so we restart, and I get a reprieve on my poor start. Green flag drops, and again I get a horrible start. Four people pass me going into the hairpin. Damn, I gotta practice those starts. After about 5 laps, I get by everyone in front of me due to great braking maneuvers and my karting skills. Of course, everyone I passed claims it is because of my Vortex motor. I cruise home pretty easily in first place for this heat race, undoubtedly because Mark, Wayne, and everyone else who wiped out in the first turn had to start from the back of the pack in this race. It will be different, for the final race. During the LONG break between races, people are saying that they are going to lineup their karts pointing around me for the start of the next race.
The Final Race for points.
It is now about 9:30 p.m. at night, and they have the big ass gas powered lights on the course. You can see pretty good with these lights, and the air is nice and cool, instead of being 95+ degrees like it was earlier in the day. Green flag drops, and yet again I get a poor start. Three people fly by me, and I am back to chasing them down again. After a couple of laps, it is Mark Volen in first place, Gene is in 2nd place, and I am chasing down Gene. I get by Gene once, but then he returns the favor and he gets by me. We are battling it out, and the race is to be 25 laps. On what seems to be lap 12, the flagman is waving five fingers at us. Does that mean five laps? Five minute? Five people behind me? Who knows? Whatever. I am right on Gene's butt, waiting to make a clean pass. If I screw up my pass and crash into Gene and we DNF, then we both get zero points for this race, and the entire weekend is wasted. I figure that I will wait for the white flag to come out (signaling one lap left) and then I will make my move. We race a couple more laps, and then coming down the front straight, the flagman is waving the checkered flag, signaling the end of the race. What the hell? I never got the white flag. Gene beats me by half a kart length for 2nd place. Apparently Gold Cost was behind on the event schedule, so they decided to shorten the race WHILE WE WERE RACING. So we only raced 17 laps instead of 25, and part of the field never got the white flag. What a ripoff. Anyways, I take 3rd place, which is the best finish that I have so far. I am now in 3rd place for points, with Mark in 1st place, and Wayne in 2nd place by one point over me. I start doing the mental calculations, and it is looking bad for me to be the winner of the KRC F2 series, as Mark now has three first place finishes. I have a 9th, a 4th, and a 3rd. If you get pole position, you get one extra point, so it means like I can
count points for the equivalent of a 3rd place and a 2nd place finish. Wayne has three 5th place finishes.
Next Race, Las Vegas Karting Track
Now, we are getting dead serious. I am pissed, as in the first three races of what could have been my championship season, the results are:
Willow Springs – Wrong head is on my Vortex engine, I can't use the kart I have been practicing with.

Loaner kart bogs down.

Instead of first place, I take 9th
Amago – I take pole for the first time.

But kart breaks prior to the start of the first heat, so I have to start the main race from the back of the pack.

Instead of first place, I take 4th place
Willow Springs – I take pole for the second time.

I win the first heat.

In the final, they cut the race short 8 laps, and I don't get the white flag.

Instead of first, I take 3rd.
Wayne and I decide that two weeks prior to the Vegas event, we will drive out to Vegas and practice for a couple of days. I take the wife and Wayne takes Amy out to the city that never sleeps. The girls spend all their time at the malls shopping, and we spend all our time at the track and the blackjack table. It is a good arrangement…until Wayne and I get their shopping bill.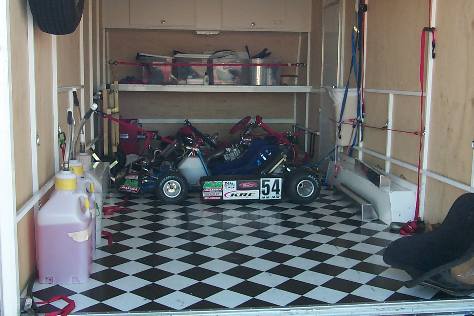 Inside view of the trailer. We can fit three karts on the floor.

We take our karts out to the track, and we feel real slow. Pole last time was a 46.13, and we are struggling with trying to break 49.00. Apparently it rained the night before, and there was a lot of dust on the track. There was also only one other karter on the track,(another guy from the KRC F1 series who was getting some extra practice in), and he too was having problems breaking out of the 49's. We at least feel more comfortable about our shifting points and breaking points on the track, so hopefully that will help make us faster around the track in two weeks. I am getting killed at the blackjack tables. We make one last stop at the Prim Valley casino at the Stateline before we head on the road, and Wayne clears $800, and I clear $2000. A big score. Whew! That almost puts me back to even for the trip. Wayne ends up coming home with $1000 in gambling winnings. Wayne also complains that the Vortex motor is a huge advantage at the Vegas track, due to its alleged "extra power". Whine Whine Whine….

Two weeks later, September 8,9,10 at Las Vegas, Race #4.
Okay, so we have practice session on Friday evening for a couple of hours, and on Saturday afternoon for a couple of hours. Wayne and I plan to be there for both practices. The girls are there for three full days of uninterrupted shopping.

Friday, September 8th
We practice for a couple of hours. Wayne and I are feeling pretty confident about this race. I feel like I am going to take Pole again. At the blackjack tables, Wayne is doing pretty good. Unfortunately for me, I am crashing and burning at every blackjack table I step up to.

Saturday, September 9th
We practice for a couple more hours, and then go see the Cirque De Soleil at Treasure Island. It's a good show. Blackjack was better to me on this day.

Sunday, September 10th


There is a new format for this race. A lot of people complained that at the last night race, we got cheated out of laps, and practice time. So KRC is making it up to us here in Vegas. We are going to have a qualifying session, then two 12 lap preliminary heat races, and then a final 25 lap race. In 100 degree weather. Normally we just have one preliminary heat. Luckily, Wayne and I still work out three times a week at the gym to stay in shape for karting, so we should be better off than the drivers who are not working out. Mark says that he did the math and that if I take pole in this race and the final race next month, and come in first place in the main heat for this race and the next race, and he doesn't finish higher than 3rd in either of the races, then I become the KRC Supercup F2 Karting Champ. This is my new goal in life.

We practice for a couple of hours, and then it is time for our qualifying session, where we each run five laps, and KRC checks the laptimes to see how we grid. I end up running a 46.71, which puts me on the pole for the THIRD consecutive race in the F2 series. Kinda like how Schumacher is kicking ass in Formula One with his qualifying sessions. Which means this is the third consecutive race that people are screaming and bitching about how I have a "cheater" motor. I keep telling the whiners and complainers is that the reason I am faster is that I am not lifting off the accelerator on the big inside sweeper turn and on the big outside sweeper turn. Everyone else confesses that they are lifting just a little in these two areas. I tell them that I go into the turn with my foot on the accelerator, pushing me back into the seat, as if I were doing a leg press, so I am committed to going through at full throttle. There ain't no way I can lift off the throttle using this technique. If I feel I am going to understeer off the track, I just correct it with steering. I mean, come on, this is racing, don't be a wuss and lift in those turns. And this is why I take pole position by .1 seconds over Marcos the Kid. (Note, I refer to Marcos as "the Kid", so you don't confuse him with Mark V., who is an old fart. Marcos the Kid is about 17 years old, is fast, and has cute track babes hanging out with him at the track. We all wish we were racing karts when we were 17 with babes at the track.)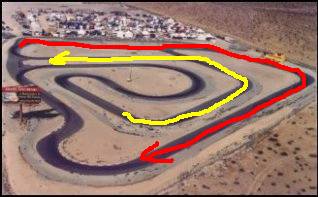 I am full throttle on the big sweeper (red) and the inside sweeper (yellow)
Okay, so I am gridded on pole for the first heat. We have about 15 people in our race today. So that means there are 14 people who are slower than me around the track………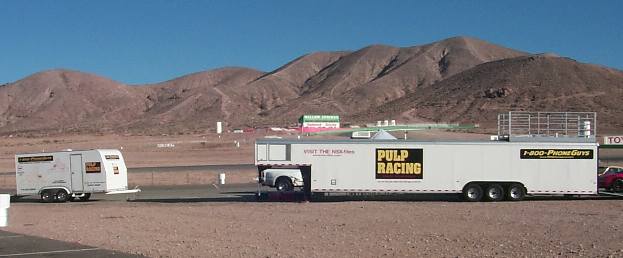 Comparison of the kart trailer and the car trailer
I am gridded on the inside position towards the first turn, which isn't more than 80 feet away. I figure this is good, as my starts suck, and if I block to the inside, no one will get around me, as the distance is too short for people to get a good run to the turn. The flag drops, and I suck again on the start. Mark Volen blows by me on the inside, with two wheels off in the dirt. Damn his ass, I was so slow on the start, he figures he can just go off into the gravel and still have enough speed to get around me. Four people blow by me, and I have to chase them down. On the long back straightaway, I dive to the inside, and one by one, I pick them off by braking later into the turn. Finally, there is just Marcos the Kid in front of me. I dog him for a couple of laps, and decide not to take a chance at diving in on him, as if we crash and DNF, then we start at the back of the pack. He finishes first in this heat, and I finish second, and Wayne is 6th. Thus, Marcos and I start on the front row for the second heat, with Marcos on the inside this time.
2nd Preliminary Heat
Okay, green flag drops, and again another miserable start. Three people blow by me again going into the first turn. Unbelievable. Okay, let's play chasing games again. After a couple of laps, I am right behind Gene, who is a guy who races in the Russell Formula series. The previous heat race that was an hour earlier, I blew by Gene on the inside of the back straight by outbraking him, but this time, Gene is doing a good job of protecting that inside line by blocking me from diving underneath. I try to zip around the outside of this tight, 2nd gear, right hand turn, which then leads of an immediate left hand turn, and then about 150 feet down another right hand turn, but there is no way that I can pass him into the first turn. For a couple of laps, I check to see if I can take the outside line, and get more speed coming OUT of this turn than Gene, and then get enough speed to dive underneath Gene in the second right hand turn. This is possible, since Gene won't have as much speed coming out of the first turn, as he is cutting it too early to block me out. There is a little bit of daylight there for me to dive in on the 2nd right hand turn. I think about it. Mark, who is behind me, sees what I am comtemplating on doing, and is hoping that I try to make the dive into the turn, and crash into Gene, thus DNFing both of us.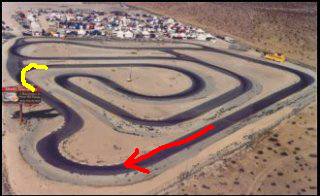 Gene blocks on back straight(red), thus losing speed into next right turn(yellow)
After looking at this scenario for about five laps, I decide that it is not worth the risk in the qualifying race, and I settle for 2nd place in this heat. Which means I am on the front row for the final race for points. And, I have a good feeling that I can pass Gene on that 2nd right hand turn. Marcos the Kid attempts a tough pass going into the final turn before the big sweeper, and touch tires with another karter, spins off, and DNFs. Bummer for him, he is at the back of the grid for the final points race.
The Final Race
Before the start of the final race, everyone is trash talking as usual. Wayne and Mark keep saying that everyone is going to line up behind me in "V" shape, as they know I will screw up the start again. I keep telling Mark that his worse nightmare is going to happen, that I will win this race and he will finish 4th, which means that his entire weekend was wasted in terms of coming out here for points. Mark just laughs……especially because he has seen my starts……
So we line up for the final race. Gene is on pole. I am second. Mark is 3rd. Wayne is 6th. We do our warmup lap before the gridding, and then suddenly my kart exhaust gets REALLY LOUD. Uh oh….there are two springs that hold this two piece exhaust together, and somehow they broke on my exhaust, and I lose part of my exhaust on the track. Now the kart is real loud, and it is down on power. Ah Shit. Not a DNS right before the big final race. Ryan waves me to get into the pits ASAP. I zip over there, and Rudy and Bob frantically throw a couple of springs and another pipe on my exhaust. I zip back out to the track. Instead of everyone gridded and revving their engines, now they are gridded but standing outside of their karts, as it appears that KRC will wait for me to take my place back in the lineup. As I take my spot, I can hear Wayne and Mark grumbling about how I should probably start in the back of the pack, instead of on the front row because my muffler broke, and it held up the race. Whiners.
Okay, so now we take ANOTHER warm-up lap, and we re-grid for the final race. Lots is at stake here. Wayne and I have spent two weekends and a total of five days practicing on this very track to make sure we do good in this race. Mark is trying to clinch his championship. I am trying to make sure Mark doesn't close the door on me, so I can be crowned the F2 Champion. We regrid the karts, everyone revving their motors and waiting for the flag to drop. The worse thing you can do in a kart race is stall your kart on the grid while waiting for everyone to grid behind you, or waiting for the flag to drop. If you do this, you are an automatic DNF, and are out of the race. And you take a chance that someone will run right over the top of you when the green flag drops, and you stall it.
So we have 15 engines revving waiting for the flag to drop. Flag drops….and two more people get by me on the start. Damn this sucks. Okay, so I am in 4th place. Wayne is one of the guys that gets by me. A couple of laps later, I get by Wayne and another guy, and now I see Gene in front of me. On lap 7 or so, I have him reeled in, and he is doing another great job of blocking the inside passing lane on the back straight. Which means I have to setup to dive in on the 2nd right hand turn after the hairpin at the straight. It is a risky pass, but I have to take first place and Mark needs to be 4th or worse for me to have a chance at being the karting champion of the world (well, my small world at least). I stalk Gene for a couple more laps, and I know I have 15 more to laps to make the pass, but I remember what happened the last race when I waited for the white flag before I attempted by last pass. I start setting up, following Gene at 75+ mph through the big sweeper turn, a couple of feet off his bumper. I do two laps like this, gauging the probability of diving in on the 2nd right hander. Probability looks like 75% that I can do it without making both of us crash. Mark is in 4th place, fighting it out with Vivek. So if I can pass Gene, there is a chance that I can win, and Mark finishes 4th, thus setting us up for a great final race for the championship next month.
I decide that that now is the time to make the pass. I tuck in behind Gene, dive in, and psyche myself up for the pass. Then, suddenly, Gene starts pulling away from me at a rapid pace. Huh? What happened? My kart starts getting wobbly. No way. What the F…….Unbelievable. A flat rear tire. Meaning a tire with zero air pressure. I am forced to wave everyone by, and I pull off to the side of the track, with a DNF. The Karting Championship is now just a wild ass dream…..as it ain't happening for me this season. Gene ends up 1st, Mark 2nd, Vivek 3rd, Marcos the Kid come from the back of the pack to pass Wayne on the very last turn of the race for 4th place, the same place where he wiped out in the previous race, and Wayne takes 5th. If Wayne would have blocked on the inside, he would have taken 4th place, but he didn't see the Kid right behind him. So Wayne takes his fourth consecutive 5th place finish in a row. This DNF is critical in the points race, instead of fighting for 1st place in points, now I am down to 5th and falling rapidly….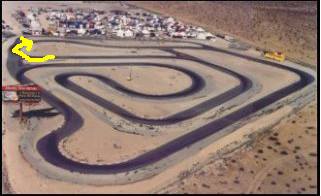 Wayne forgets to block inside, and gets passed by The Kid (in yellow area)
But I can't complain too much. After all, KRC was able to fix the exhaust that enabled me to at least run in the race. I took pole, and two second place finishes in the preliminary heats, and had a chance at first place. So at least it was a fun weekend, and I got lots of racing in, even if I DNFed and lost money at the blackjack tables.
Karting is truly addicting. Even more so than racing the NSX. We have on last final race, now changed to somewhere around the first week of November at Willow Springs. Everyone was saying that they wanted to run on a variety of tracks……so KRC decided we would do Willow Springs again, which is boring, but this time we are going to run the race in the backward configuration that the kart track is normally run. I don't think any of the 35+ KRC drivers have ever driven this course backwards. Hopefully I can take my 4th pole in a row, and actually win my first kart race. Otherwise, I will probably be bumped up to F1 next season, which will make it exceptionally hard to make it to the podium with the fast guys in F1. Karting is also 1/5th the cost of auto racing. You can get a full set of tires for your kart for $160. On the NSX, it cost $900. An engine rebuild on a kart is a couple of hundred dollars. Engine rebuild on the NSX is.....too much to even imagine...
Note: There is only one race left this season. Next series starts up in January. You need to buy a Tony Kart right NOW, and practice for a couple of months, and then be ready for an ass whupping come January......
Note: Of course, people will say that the story above about the last four races is not accurately reported by me, and that I am full of shit. To see another viewpoint (not necessarily the truth...), go to the "Results" menu item on racing section of the KRC Website.