Alfa Romeo Club of Southern California
Laguna Seca, February 13/14, 1999
Valentine's Day at Laguna Seca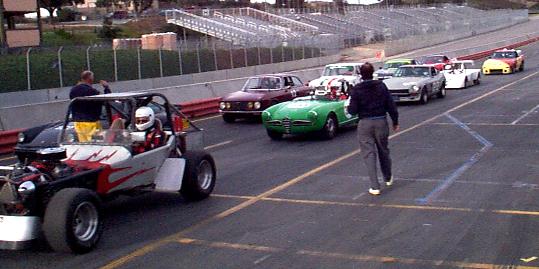 The starting gride for the final race on Sunday. Wayne and I are in far upper right

Despite what we do, we always endup running around with our heads cut off. Here's the story of what happened at Laguna Seca.
Monday Morning
Drop off race rims at the tire shop. I go back later to pick them up, and they said that I have a cracked rim. A CRACKED RIM? I didn't hit anything. I doubt that my mechanic hit anything. It is cracked in three places on the inside of the rim. Holy shits, this is a pain in the ass. These are the magnesium Technomagnesio wheels, so you can't weld them or fix them. I call Comptech, and they said don't worry about it, send it to them, and they will check it out. In the meantime, I have them send out a new one to replace it. I call Larry to see if he has all the parts he needs to put a new idler pulley on for the supercharger. It wasn't spinning all that great, so I ordered another one from Comptech. Larry also asked me to get another plastic idler pulley from Comptech, as that is probably why I was breaking belts, because I didn't have the exact size width pulley for the supercharger belt
.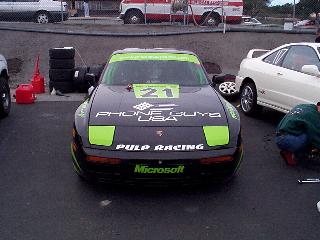 Wayne debuts the "new look" of his 944 Turbo
Wednesday Morning
I wake up early. Comptech has the rim, and said that they will warranty it. Whew!

After five months of waiting, yesterday I was notified that my new "Sunday Cruiser Car" has finally arrived. It is a bright red, F355 F1 GTS.
Wednesday late morning. Wayne, Dagmar, and I head off to Ferrari of Beverly Hills to pick up the F355. More on this later in the next story...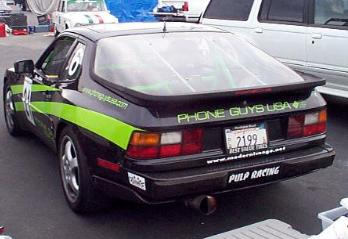 Rear shot Wayne's wild "fluorescent" green decal scheme

Wednesday Night
We have late softball game, it doesn't end until 10:30 p.m. I call Larry, and ask him if the car is ready. He says, "Not quite". I ask him if I drive the 45 minutes to his house if the car will be ready and he says, "Uhhhh, no, you might have to wait a bit. Or you can pick it up in the morning." I know tomorrow is going to be an ugly day getting ready for the race, so I decide not to take any chances. "I'll be there in an hour". I get there, driving my red, 1986 Toyota MR2, and it is freezing cold, by California standards. Which means it is about 40 degrees. Larry, Chris, Jennifer, and I are shivering in Larry's garage, while Larry puts back all the idler pulleys. I finally leave Larry's around 1:00 a.m., leave the MR2 with him, and get back home around 1:30 a.m. But at least the NSX is sitting in my garage, and running real strong! I leave the MR2 there, figuring after I get back from Laguna Seca, I will drop the NSX back off in Riverside and then drive the MR2 back home while Larry works on it. For the past 8 months, either my NSX or my MR2 has been at Larry's in Riverside…..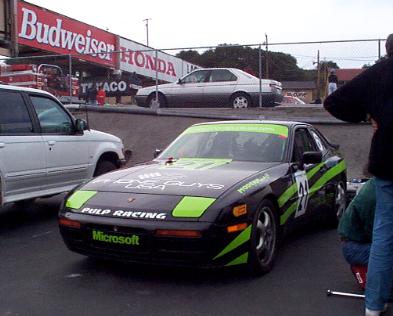 I call it "puke" green
Thursday(day before we are leaving for Laguna Seca)
Here's the ugly list...
7:30 a.m. Drop NSX off at Acura for oil change and check tranny fluid. (Larry didn't get a chance to complete this).
Wayne picks me up at Acura, drops me off at my house. He drives off in the F355, I get his truck. Talk about a good trade……
Drop tire + new rim off at Allen Tire with Wayne's truck.
Go home, start packing and getting ready for trip. Pack up the truck with the racing stuff.
Go to Allen Tire, pick up tire+rim.
Pickup NSX at Acura. Leave Wayne's truck at Acura dealer.
Drop Acura off at Alignment shop by Wayne's work.
Run across street, get Ferrari from Wayne.
Call around and find Auto PC dealer. Check Internet, find out decent price, then find out who will sell me one locally ASAP.
Go to bank, deposit check and get cash for Clarion AutoPC
Drive to parent's, take them for spin in the Ferrari. They can't believe their son is stupid enough to spend money on a third, red, two-seater, mid engine sports car, and still lives in a rented, two bedroom, townhome. I tell them it is a "life-style" decision.
Drive home, check for UPS delivery. Valentine One Radar Detector arrives! Gotta make sure we are "protected" when we drive.
Drive to Anaheim, get Auto PC.
Drive to Brea, drop off Ferrari, Auto PC, and Valentine for installation at California Mobile Systems(714-993-3200). They are the only people that I trust with putting a stereo in my car. I explain that I am going to Laguna Seca for four days, and to take their time and be extra meticulous putting the stereo + radar detector in the F355. Unfortunately, they insist on putting in top of the line speakers made by ______ Acoustic. I have to leave it blank, because I refused to buy or patronize any store with the word ______ in it, because I am (used to be?) a big Laker Fan, and I HATE the Celtics. I think it is pretty funny that _______ Market chain restaurant is going broke. What were they thinking? You can't open a ______ Market restaurant here in Laker town, where for years in the 70's and early 80's the Celtics destroyed the Lakers in the NBA finals? There are people here that will never forget the pain of those seasons. People listened/watched the Lakers for 82 regular seasons games, and probably 20 playoff games, only to see their team lose AGAIN in the finals against the Celtics. Do you know how many people committed suicide because of this constant agony? Danny Ainge? He's a big crybaby. Larry Bird? I hate his guts. Everytime I see him on the TV on a commercial or doing an interview, I have to jump up and scream, "%#$!@ you, Larry!". My wife thinks I am psycho. Anyways, I guess I am digressing here....
Get Cab, go back to Acura dealer.
Pickup Wayne's truck at the dealer
Go to Beef Bowl, get a chicken bowl for me, and a combo bowl for Wayne
Drive to Wayne's work, eat chicken bowl in car because I am starving, and there is a lot of traffic on Adams blvd.
Wayne is picking up his car at Modern Image, which is where the new decals are being created and put on Wayne's 944. Modern Image was supposed to have the car done three days ago. We still have to get brake pads installed on Wayne's car. So it looks like we have to do it in the morning before we take off to Laguna.
Cleo's cathouse won't fit in NSX, drive Wayne's truck to my parents.
Drop off cathouse at Parents.
Drive home, pick up Cleo the Cat.
Drop Cleo the Cat off at parents. Parents are overjoyed to see Cleo. Perhaps they is a big hint that they are anxiously awaiting the wife and I to start making babies soon........instead of always running around doing this car-geek stuff.
Drive back to Wayne's, drop off truck, get NSX.
Drive NSX home.
Start packing for trip……..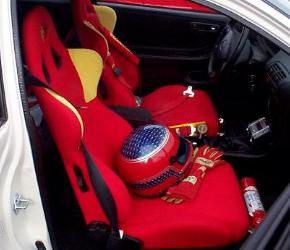 Nice seats in Tino's Integra Type R
Friday Morning
1. Pick Wayne up at tire place where he is getting brake pads installed
2. Go back to Wayne's work, pack up trailer.
3. Go back to tire place, pack up 944 on trailer, and finally, after 24 hours of preparation, we are off to Laguna Seca for the Alfa Romeo Club Time Trial and Race event.
We do the long drive to Laguna Seca. It takes us forever to get there, because Wayne is trailering his 944 Turbo. The wife flies up there to Monterey Airport, and is going to meet us at the Hotel. After she buys everything in sight at the artsy fartsy shops in Carmel……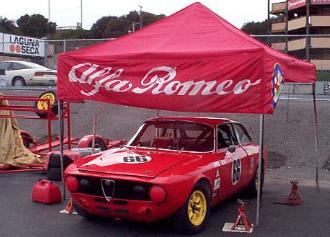 Obligatory picture of nice looking Alfa Romeo. (Hey, it's an Alfa event, after all!)
Saturday morning:
Wayne is raving about how much more fun his car is to drive since he dropped all the weight out of his car. It accelerates better, and brakes a lot better now. Unfortunately, he pulls into the pit on his first run group with a weird noise coming from his rearend (of the car). It sounds like metal on metal, like a clicking noise. We drive it around the paddock, and something is definitely wrong. Now this really sucks, as we spent all this time getting ready for this event, and now Wayne's car is broke. Wayne starts calling all the Porsche dealers and German fix-it shops in the area, but no one is open to take a look at it. I hop in my car to get ready for the 2nd warm-up session, while Wayne finds a guy with a 944 at the track, and asks him what he thinks the noise could be. They isolate it to be the rearend or the CV joint. Wayne jacks up the car, and just like two years ago at the Virginia City Hill Climb, there is no grease in the CV joint, it is bone dry.
In the second warm-up session, I am running 1:46's, which is a good 2 seconds faster than I have ever run. Supercharger and Brembos are working great. Car seems like it is really dialed in. I am running the stock 92 exhaust, as I didn't want to deal with the sound limits at Laguna Seca. This does seem to slow my car down a bit compared to the Comptech exhaust, but the car is still running pretty strong.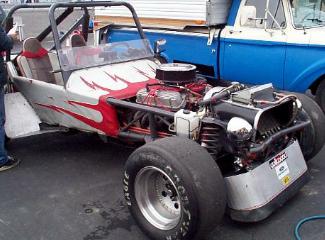 Paul's infamous Dunestang
In the second warm-up session, I am following an older Alfa Romeo, with Alex as my passenger, at about 90 MPH coming out of of a sweeper (turn 9), and the Alfa dumps oil on the track about 20 feet in front of me. Me and Alex go instantly shooting off the track, over the small gutter, and hit some sandbags that appear to be setup to route the rain water off of the track. Sandbag explodes like it was hit by dynamite.(unfortunately, like an idiot, I didn't have the video camera running, as it was a "warm-up" session.) We bring the car in cursing because we think there may be some severe damage. We park the car, and check for damage. Nothing seems broken, but the alignment is all out of wack. I have to cruise into town to fix the alignment, and Wayne has to also go into town and buy a grease gun and a ton of grease.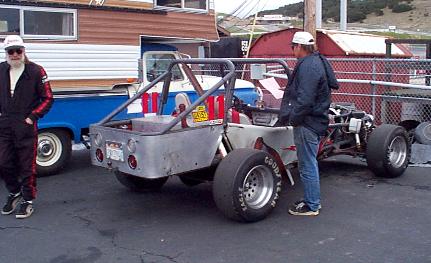 Built in 1984. That is 15 years of racing that Paul(left) and Steve(right) out of this machine
12:00 p.m. Saturday
I get to the first alignment shop, but it will be 90 minutes before they can start. I go to the second one, and they said that they can start in 30 minutes. Since the qualifying race is at 3:00 p.m., I figure I can get back with plenty of time to spare for the race. The Goodyear tire shop guys say, "oh, come back in 60-90 minutes, and we will be done. I notice there is a Japanese restaurant with sushi bar across the street, and I am now feeling good about this. Everyone else is at the track eating dry sandwiches, while I am scoring a big bowl of noodles and some sushi in a comfortable restaurant, and also get to the read the morning paper about how Clinton came out smelling like roses yet again. I eat a leisurely lunch, and then at 1:15 cruise across the street to pickup my car. It is sitting right out in front, and now I feel like I am going to go back to the track and do some serious damage on Wayne. I get there, and then the guy says, "Uh…..your car is too low for our rack, we can get the laser beams to lineup properly to do the alignment." I scream, "Oh shit", and now mass panic sets in. The guy says the Goodyear shop on the other side of town has the right setup for a lowered car like mine. I hop in the car, and I first go to the shop across the street. They said that they have the same model rack as Goodyear. So I now drive 20 minutes the other way to the other Goodyear. I get there, and I explain my situation. They guy says he will try to help me out, but they have another car on the rack. Now it is 1:40 p.m. Damn. The mechanic gets the other car out of the way, and proceeds to start aligning the car. The guy seems real meticulous, which is good, but he is moving pretty damn slow. I decide there is no use stressing over this, as if I miss the qualifying race, the only real damage is that I start at the back of the pack. I hope for the best, that maybe someone screwed up and wrecked their car, so the race is delayed……..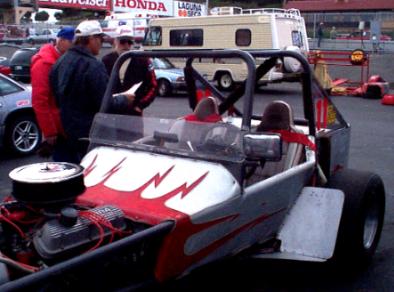 Paul consistently places high in the Alfa Race Group. Winston Cup slicks, big V-8 are the key
I get back to the track at about 3:45 p.m., and everyone is packing up. The race is over. Wayne is cursing. Apparently he emptied the grease gun into the CV joint, and everything is fine again. He went out for the qualifying race, and after 4 laps, he was in first place kicking some serious butt, and running 1:45's, which he reminds me is faster than I have ever ran at Laguna. Unfortunately, on lap 5, he got black flagged for sound, and thus disqualified for the race. He was screaming that it was a conspiracy, that for the first time ever he is winning a race, and then they black-flagged him. It is Wayne against the World. I remind Wayne that LAST time we were at Laguna Seca, he got black flagged for sound, so why did he think this would be any different? He is still convinced of the conspiracy against him. So it looks like we have to resort to putting V8 vegetables juice cans on his 944T's exhaust (again, just like last year) to deflect the sound away from the sound meter again. Wayne also mentions that he and Bill S.(running a Vette with a monster engine in the time trial group) have the fastest times of the day.
Sunday
We get to the track. We only have one warm-up session for the race group, and it is a great session. We are duking it out with the Dunestang, a 911, and two Lola type cars. The Lola's would normally kick our ass, but they are severely hampered by the sound limitation also, so they are running slower than normal. My car is feeling good, but not perfect due to the alignment, but I feel I got a great chance to still win the race, even though I have to start in the back of the pack again. Wayne is gridded in front of me, since he was a DNF. For lunch, we hook up with Dagmar, who is shopping in Carmel by the Sea. We call Dagmar, and tell her to get us reservations for lunch, and order Spaghetti for me, and chicken parmesean for Wayne. We leave the track after the last practice session, drive 15 minutes into Carmel, and by the time we meet Dagmar at the restaurant, our food is ready. Perfect timing! We eat a good Italian lunch at a little café in the heart of Carmel, while everyone else is eating mass-produced sandwiches at the track. We wolf our food down, and then zip back to the track.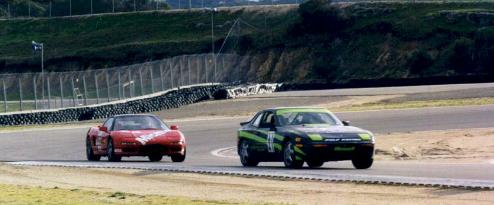 Chasing Wayne down in the practice session. (photo by Vytas)
Gridded in front is Paul with the Dunestang. Via the transponders that the Alfa Club is experimenting with at this race, the Dunestang is running 1:48's. Since it is a 10-12 lap race, we have to make sure that we can move to the front of the pack quickly, as there is a very good chance we can chase Paul down. But we can't let him get too big a lead, or else we are toast.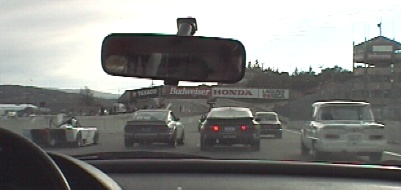 Start of race, four cars wide, Wayne with the brake lights on. Damn, I can't get by!
There are about 12 or so cars in the race group. I am gridded 12th, Wayne is gridded 10th. The green flag drops, and Wayne is doing a kamikaze move right between about four cars barreling up the straightaway.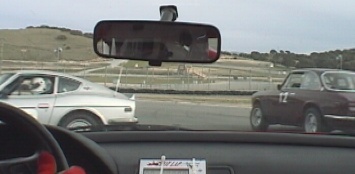 240Z loses it in turn one and spins in front of me. Lookout!

I try to get around a silver 240 Z, but he blocks me at the top of the straightaway where the bridge is. Going into Turn 1, the 240Z apparently goes in a little to hot or one of his calipers seizes, as suddenly he is slowly spinning right in front of me at the apex. I can see which way he is spinning, so I time it that I will get by him with minimal risk. By lap two, it is the Dunestang in first, a black 911 in second, Wayne in third, and me in fourth. On lap 3, Wayne passes the 911 on the inside of turn five, and since they slow down to the take the turn side by side, I launch pass the 911 after the exit. Now it is the Dunestang, Wayne, then me for the lead.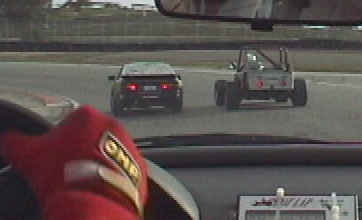 Wayne and the Dunestang going into turn 5
On lap 5 or so, Wayne tries to take the Dunestang on turn 5, but comes up a bit short. The Dunestang and Wayne are drag racing up the hill, and I am right on their butts.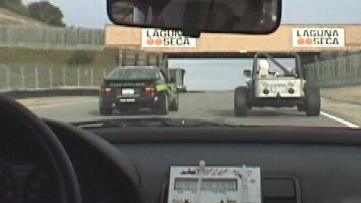 Drag race up the hill. Who can get through turn 6 fastest?
Going into turn 6, Wayne and the Dunestang are side by side, Turbo vs. Big V8.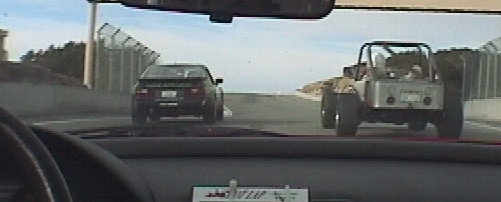 Approaching the Corkscrew, Wayne's turbos kick in and he gets by the Dunestang
After turn 6, the Dunestang is a little in front, but somehow Wayne manages to pull in front of him before the corkscrew. Wayne is now in the lead, and I have to get in front of the Dunestang. Going down the front straight, the Dunestang and I are about even, but the with the Brembos, I can out brake him at the end, but he is making his car real wide and I can't get by him. In turn 4, I try to take the Dunestang, but I don't have enough exit speed and he ends up in front.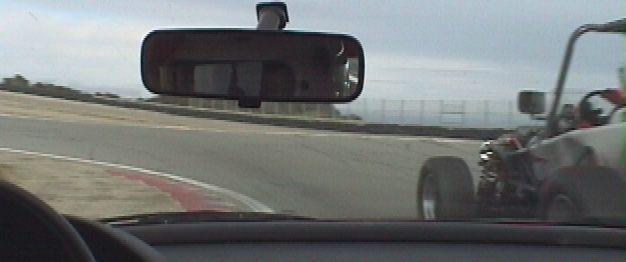 Paul dives down and snags the apex from me at turn 6. Damn!
In turn 6, I dive in, but again I don't have enough exit speed to pass him. We drag down the front straight again, and coming into turn 4, I try again but can't take him. In turn 5, I get a good launch and we are drag racing up the hill, and finally I get by him. Now with about 5 laps left, Wayne is now 6 seconds ahead because it took me an extra two laps to get by the Dunestang, and Wayne is running 3 seconds a lap faster than the Dunestang. My next lap is my fastest lap ever at Laguna, a 1:44.75. Wayne is about 5 seconds ahead now. Next lap I drop another second, using the Brembos and supercharger. Wayne is now four seconds ahead. Next lap, I got it down to about three seconds, and I now know Wayne is starting to sweat.


One lap to go, Wayne's lead is cut down. Hopefully he will feel the pressure and spinout.
I bet he was hoping the supercharger belt would break! The next lap I can't gain any ground on Wayne, and he ends up taking first place by about three seconds, and I come in 2nd, with the Dunestang in third.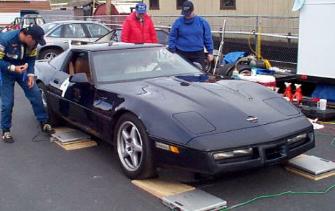 Bill's Vette had fastest time of the day, somewhere around 1:44.30 or so
I ended up with the 2nd fast lap time of the day with the 1:44.75, and Bill S. in the Vette with the rumored "monster" engine is about a half-second faster or so in his time trial group. Wayne's fastest lap was about a half second slower than me. Wayne can't stop talking about how he crushed everyone. If I could have only qualified in front of him, he would have been toast…….if only I had been able to use the regular Comptech exhaust and ignore the noise regulations.....if only I could have made and early pass on the Dunestang........if only I had let out some air out of one of Wayne's tires prior to the start of the race....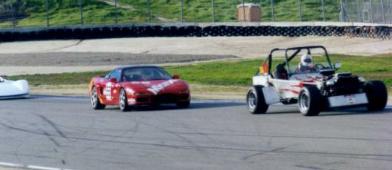 How often do you see a Dunestang, an NSX, and a Lola battling it out? (photo by Vytas)
Paul comes up to me and said it was a good clean race, but when I passed him, he thought I slowed down a little to much and he pointed to the back of my car bumper, where his big slicks touched the bumper. I said that I was taking a really early line to get by him, and if I didn't slow down, I would probably exited too wide and spun off or bumped into his car. He said no problem, that it was a real fun race for him.
Final results and lap times are at http://members.home.net/esands/alfaclub/results1.htm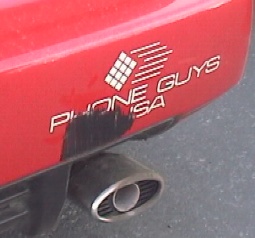 Tire mark from the Dunestang!
Anyways, it was a real fun weekend. We really need this wheel-to-wheel experience at Laguna, as the PRO Racing guys are going to be here April 3rd and 4th, and we want to understand where the best places to pass, where to setup, etc, as well as where to watch out as the Porsche 911s dive bomb into the apex. There were not as many people here as a normal track event, but this is Valentine's Day Weekend. The scam for those of you who could not make it this weekend because of spouses who didn't want to spend time at the race track, ya gotta do this next year:
1. Tell you spouse/spouse equivalent that a couple of romantic NIGHTS in Monterey will be good for Valentine's Day weekend.
2. Have her/him say, "Yes, I want to go".
3. Make Hotel Reservations, take off Feb 15 as a travel day from work.
4. Get her/his firm committment on the weekend.
5. THEN, say, "Oh honey, by the way, The Alfa Romeo Owner's Club of Southern California has the beautiful Laguna Seca track that weekend, and it is only 20 minutes from Monterey. Mind if we hang out during the DAY with some NSX owners, and we can have romantic evenings together?
6. After she says, "okay, as long as we consider it a Valentine's Day weekend".
7. THEN, immediately send in the track form and sign up.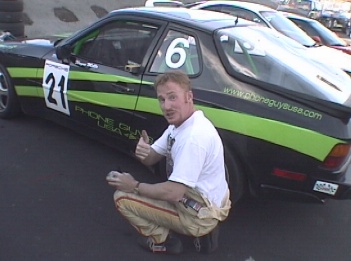 Wayne gloating about his victory in the race. It ain't gonna happen again!
Next race event is the Professional Racers Organization(PRO) in Tijuana, Mexico the middle of next month. The organizers say that there will be between 15,000 and 20,000 screaming, waving fans in the stands for this street race . We will be in the featured race. These are sprint races, no enduro, so Wayne and I will NOT be teaming up for this event, it will be between me in my NSX and him in his 944 Turbo to see which of us conquers Mexico. Doug Ota warns us that the BMW Club refuses to go there, because there are people and dogs running across the track DURING THE RACE, sometimes objects are thrown at the cars as they are ripping around the track, and it is total chaos with a bunch of drunken people. I figure if it is going to be total chaos, big drunken crowds, screaming people, soldiers in the streets with guns to maintain order, lots of scantily clad women, and a bunch of fast cars fighting to see who is #1, then me and Wayne are the right guys to send into the Heart of Darkness. I feel like the narrator dude in Apocolypse Now, or Hunter S. Thompson on the road to Las Vegas.........I should be able to some wild video footage for The NSX-Files Volume IV......
.