KRC Cup Spring Racing Series, April 28/29, 2000
The Fight for the Championship of the World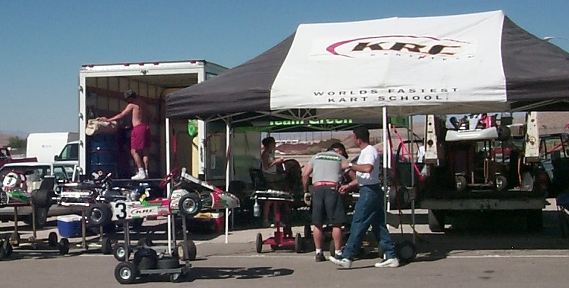 KRC prepping the 20 karts for the big race weekend
Resuming from the last karting story.....
Okay, as you will remember, I am leading in points for the KRC Cup Championship series going into the last race. But, given that there are five races, and you have to drop one race, so you count the points for your best four races. If you do the math, there are four guys who have been consistently faster than me, except for one reason or another they had a DNF or a DNS, and received 0 points for that race. I have finished all my races, so that is one of the reasons why I am leading the series. So what needs to happen is that I need to finish high up in this race, and I drop the points from one of my other four races
.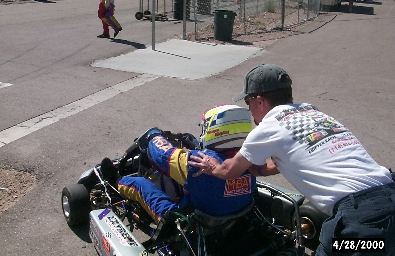 Shifter karts have to be pushed started to fire them up
Greg, Jeff, Dave, and Mark all need to just finish halfway decent, and they will beat me for the title, $1000 cash, and a scholarship to the Russell Racing School. So what I need to happen is similar to what happens to teams in Formula One that are slower than Ferrari and McLaren: I need the four fastest guys to DNS, DNF, crash, etc. Sounds far fetched? Hey, Ferrari and McLaren don't win EVERY race, just about 99% of them....here's the story.
So after the PRO Racing Series event last weekend, we are now schedule to head off for Vegas for the 2nd weekend in a row. After last weekend's fiasco at the blackjack table, this doesn't sound like all that good of news to me. We have to do the usual routine, meaning that if we are going out of town, this would be a good time to get some maintenance done on the F355s. Wayne wants to drop off his F355 in Culver City at Premier Motorsports to have them check alignment on his doors and hood. Wayne is a perfectionist with his cars, everything has to be perfect. We decide to drop off his car, catch a 1:30 flight out of LAX via National Airline, and head off to Vegas. We leave Premier Motorsports about 12:15, and blast off to the airport. We argue briefly about which is better, flying from LAX or driving from LAX to Vegas. We figure it takes about 4.0 hours from LAX to get to Vegas if we haul ass and fly under the radar coverage using Wayne's Ford Explorer. We end up taking the plane, but we start the clock at 12:30 p.m. We park the car, get the tickets, take the tram, wait for the airplane, wait in line, wait on the runway, fly in the air, get to Vegas, wait for luggage(hey, we had all our racing gear with us), get a rental car, drive to Hotel. Elasped time: 4.5 hours. Hummm...driving would be faster.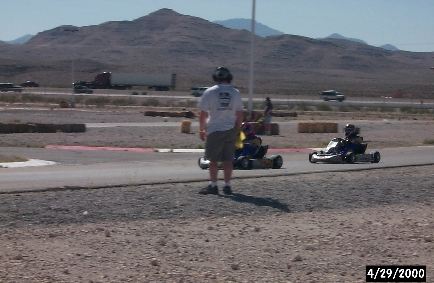 Some people buzzing around the track
As we are waiting for our luggage, I put 20 bucks into the quarter slot machine. After about 10 pulls of the one armed bandit, I hit three 7's for 500 quarters, or $125. This could be a good weekend.
We make our way to the hotel, and incredible, we score a suite again at Bally's. We have about 3000 square feet of space for the two of us, and Jeff and his wife. Wayne and I go to the Venetian and checkout John Morvay's East Coast Connection and play some blackjack. After the night is over, I go to sleep up about $500, and Wayne is up about $700. Things are looking good.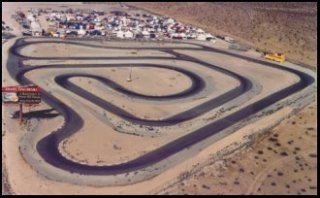 Picture of the track
Saturday, we have practice at the track. The Las Vegas track is a high speed track, which makes it a lot of fun to drive on. Fun means real, scary, as you are ripping around sweep turns going 70 mph, one inch off the ground. Jeff, Greg, Dave, and Mark are all there, so it looks like they are all hungry for the title as well. In the practice sessions, I am running faster than Mark, about the same as Dave, but slower than Jeff and Greg by about 3/10ths of a second. Wayne is having some problems getting dialed in, so he is a second behind me. We practice until about 2:30 p.m., and then we are wiped out. Back to the hotel to gamble.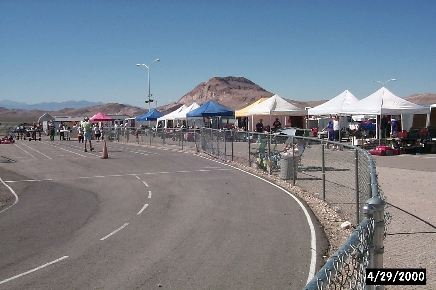 Hot pit of the Las Vegas Kart Track
Later that night, Jeff and Sunni convince us to go play a little craps. Wayne and I barely know the basics about the game. I just want to make a quick score so I can head back to the blackjack tables. I know that the Field bet is a bad bet (meaning you are betting that the shooter rolls a 2,3,4,9,10,11, or 12), and it pays even money, except that 2 and 12 pay double your bet. So betting on the field is kinda like guessing red or black, or betting against someone as to whether they are hiding a quarter in their left hand or their right hand. I make a couple of field bets, win one, lose one, win one. Then I feel I am ready. I throw down about $40 on the field bet. The pit bosses look at me as if to say, "Oh good, another amateur player from some computer geek company".the shooters, rolls a 3,, and I hit a winner!. Now I have $80. Okay, I am in control again. I let it ride. Boom, it hits again with the shooting rolling an 11. Now I have $160, let's let it ride again. Yeah baby, do it again. Boom, I hit it again with a 4, yes, I own this game, I am in control. Now we got $320. Should I pull it? Or go for it one more time? Yeah, baby, one more time, roll those dice.......uh oh, shooter rolls a 7, game over. Now I got nothing. This craps is a really stupid game. I stop playing the game, and take a break to get a beer. I come back to the game to watch Sunni, Jeff, and Wayne play. Someone is rolling, and hits about 8 field bets in a roll without losing. Of course, no one plays the field, as it is a stupid bet. I start thinking....let's see, if I would have let my bet ride for 8 times in a row, that would be 40-80-160-320-640-1280-2560-5120. DAMN, that would have been $5000 if I had some balls to let it ride 8 times in a row. So much for craps, this is a really dumb game.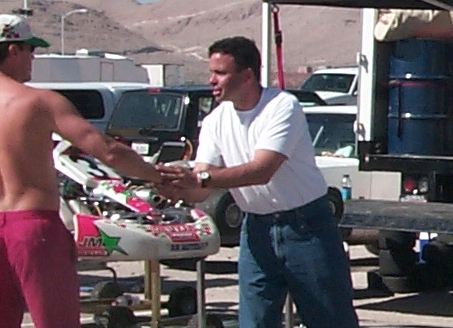 Mark, a contender for the title.
Later that night, after everyone goes to sleep, I hit it big at the $100 minimum table. I start with 2 chips, and seem to be unstoppable. I am hitting 15's and 16's and getting 21, and the dealer is getting 20. I can't be beat. In theory, many people including me say you should aggressively ride out your winning streak until you hit a short losing streak where the cards and strategy aren't working. I take the 2 chips up to $3000 big ones, and then lose a couple of big hands. I cash out for $2500, and head to sleep. Yeah baby.....almost even from the weekend before......
Sunday. We do a couple of practice sessions, and then qualifying. I choke in qualifying, and run a 46.80, which is slower than yesterday. I get the kart out of shape too much. But, it is good for 4th on the grid, which ain't bad. Jeff makes a rare mistake, and spins out in qualifying before logging a time, so he is at the back of the grid for the qual race. This is good....because if he has to work his way through the pack, there is a chance he will crash and take another front runner out with him. Greg is on pole, with Marcos the 16 year old gridded 2nd, Dave is 3rd, and Mark is gridded behind me. Getting ready for our F1 style standing start, I see that the first turn comes up quick and is fairly tight. If Greg and Marcos both aggressively dive into the turn, they could take each other, and then Jeff is at the back of the pack, and then all I have to worry about is Dave and Mark. Green flag drops, and Greg and Marcos make it cleanly through the first turn, followed by Dave and then me. I am hanging right behind Dave, and for once, I actually feel like I could be slightly faster than him. For the first time ever, I rarely make a mistake shifting or getting the kart out of shape. For a couple of turns, I think about diving down towards the apex on Dave, but if I accidentally take Dave AND myself out, then I am screwed and we are then at the back of the pack for the final points race, as Greg, Jeff, and Mark can still score a lot of points. I decide to take the cautious route and not chance it in this qual race, which determines how we grid for the final. Jeff make his way through the pack, and finishes 5th behind me. So there is no change for the front runners.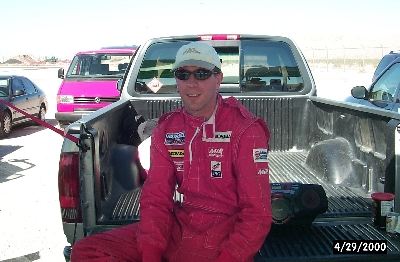 Jeff, a contender for the title
Okay, now I start thinking about scenarios. Greg is on pole, Dave is 3rd, Jeff is 5th, I am 4th, and Mark is 6th, and Marcos the Kid is 2nd. I need the four front runners to DNF in order to win. Greg and Marcos will fight for position into turn 1. I feel fast enough that I could potentially hold off Jeff if I don't make a mistake. But if I hold off Jeff, and Greg takes the lead into the first turn, no one else really has a chance of catching Greg except for maybe Jeff, and I need someone to chase Greg and potentially mix it up with him. But then again, I don't want to let Jeff get by me, as I want to beat him fair and square in this race. But if I do let him get by me, then he has to first get by Dave, who is pretty fast and hard to get around. If Jeff needs to pass Dave, he could take both of them out, and then I only have to worry about Greg and Mark. Hummm...decisions, decisions. Jeff is thinking about the various scenarios also. All he has to do is finish right behind Dave to beat Dave in overall points for 2nd place. Dave doesn't want to give up 2nd place to Jeff. For about 20 minutes, Jeff and I go through various scenarios. One ugly scenario for Jeff is that since Dave and Greg are friends, Greg could theoretically let Dave by for the lead, and if Greg comes in 2nd, Greg still wins overall points champ, but then Dave wins 2nd place in points, with Jeff 3rd. In the end, I decide that I will do my best to move up the pack into the first couple of turns. If I can't make progress on Dave or Marcos, then I tell Jeff I will be watching for him on the inside of the major turns to make sure he doesn't take me out by crashing in front of me, then he can race wheel to wheel with Dave for the 2nd place championship. But secretly, I think there is still a chance that there could be some major havoc on the track, and I would have a chance to finish high up in the standings.....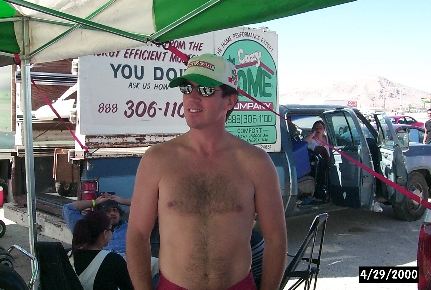 Dave, a contender for the title
We grid for the start, and everyone is eyeing the person gridded next to them. Green flag is getting ready to drop, everyone is gunning their motors to 13,000 RPMS, power braking, holding on the to clutch, waiting for that flag to drop. The start is extremely important, as you can make up anywhere from 1-5 positions on the grid if you get a good start. The adrenaline is pumping, everyone is thinking, "I am going to kick that guys ass next to me getting to the first apex. Flag drops, and I drop the clutch.....but I let the clutch out too fast. My motor bogs a bit, then I get hooked up and start going. I wait too long to grab second gear in the panic, and within 2 seconds five karters PASS me going into the first turn. SHIT, all that thinking about strategy for nothing. What a bonehead! So now I gotta chase down five people that I qualified in front of, as well as try to keep Greg, Jeff, and Dave in my sights. Okay, so we got 25 laps to get this accomplished........
One by one, I start picking off the five guys who passed me. It takes me about 15 laps to get back to my original position. One of the five that I have to pass is Wayne, but it takes me about two laps and I dispose of him. I get by Mark. So now I am in 5th place, behind what looks like Greg, Marcos, Jeff, and Dave. Jeff gets by Dave, and now I am closing in on Dave, Around lap 19, I get within about 8 kart lengths of Dave, which I feel is a big accomplishment, considering I boneheaded the start. The kart is getting a little bit of oversteer coming out of the fast sweepers, but I can still kind of control it. Coming through the inside sweeper in 6th gear at about 70 mph, I get two wheels off on the exit into the gravel, then all four wheels at 70 mph in the gravel. I keep my foot on the gas, and luckily I am able to drive on the gravel for about 60 feet and then somewhat gracefully get back on the track without spinning. However, Dave is now about 20 kart lengths in front of me, and there is no way I can catch him now.
The big race now is for third place, with Jeff and Dave battling it out. Dave starts to close in on Jeff on the last lap, but Jeff takes the checkered flag. Jeff also slows down a lot after the checker, not realizing that Dave was right on his butt. Dave crashes into Jeff, but unfortunately for me, they both finish the race without a DNF. Good for them, bummer for me, as Greg takes first, and Mark takes 6th, which means in over all points, the four fast guys infront of me take 1st, 2nd, 3rd, and 4th overall in points, and I end up in 5th. But, at least progress was made by the end of this season, in that I can qualify in the upper 25% of the grid. I figure Greg, Jeff, and Dave will probably move up to the F1 class, so if I stay in the existing F2 class, I might have a chance to be overall champ next year. The guys in the F1 class this season are extremely fast, and there is no way I can even come close to them. But, maybe after one more season of hard work....maybe there might be a chance, and then I can start to race for the $1000 purse for first prize that the F1 guys race for in every race. Hey, maybe ya could make a living doing this...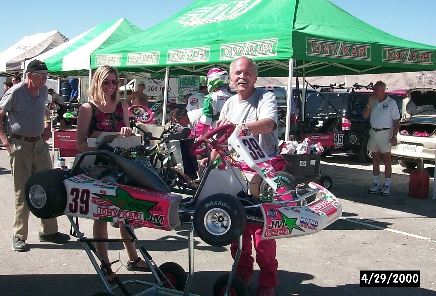 The Winner of the KRC Cup......Greg, the oldest guy on the track!
Immediately after the race, Wayne, Jeff, Sunni and I head to the Silverton hotel, where we rent a room for a couple of hours so we can take a shower and relax before the plane flight. Rooms were cheap and plentiful, except I have a horrible run of luck at the blackjack table and at the craps table.....but I still make it home with about $1800 profit for the weekend......which still ain't enough to make up for the previous week's losses...
So we don't have any racing for a month or so. Gonna be tough to get an adrenaline kick. But at least God is coming into town on May 21/22nd for an appearance. Meaning that Springsteen is blasting into town on May for the last leg of his tour that began over a year ago, and we got some good tickets to checkout the shows, so we have something to psyche up for. After all, this could be his last tour ever with the E Street Band (it's been over a decade since he toured with them last). If he waits another decade to tour with them, he will be about 60 years old, and who knows if he and the band can still rip out three hour sets like they do now....
So the new kart season starts on June 11th, were we will race another five races to crown the new winner of the title. You still have time to get your ass out and start practicing with KRC. Call them at 818-507-1436, and tell them that you want to take on Doug and Wayne for the next season, as you think you have what it takes to be a karting champion. And Wayne and I will look forward to kicking your rookie ass all over the track next season!
Spring 2000 F2 Championship Standings
Willow
Streets
Las Vegas
Amago
Las Vegas
Final
Driver
Kart #
Qual/Finish
Points
Qual/Finish
Points
Qual/Finish
Points
Qual/Finish
Points
Qual/Finish
Points
Adj. Points
1
Greg Smith
# 39
4th/1st
25
1st/1st
51
DNS
51
1st/1st
77
1st/1st
113
113
2
Jeff Littrell
# 95
1st/DNS
1
2nd/4th
23
13th/1st
48
3rd/2nd
72
DNQ/3rd
95
94
3
Dave DeGraw
# 3
3rd/2nd
24
4th/3rd
47
4th/3rd
70
2nd/DNF
70
3rd/4th
92
92
4
Mark Volen
# 9
2nd/3rd
23
DNS
23
11th/4th
45
5th/3rd
68
7th/6th
88
88
5
Doug Hayashi
# 55
5th/6th
20
7th/6th
40
14th/7th
59
4th/5th
80
4th/5th
101
82
8
Vivek Tandon
# 69
11th/4th
22
9th/9th
39
15th/DNF
39
14th/7th
58
5th/DNF
58
58
6
Marcus Guerrero
# 65
10th/7th
19
15th/8th
37
17th/6th
57
6th/DNF
57
2nd/2nd
81
81
7
Chris Land
# 62
7th/5th
21
14th/14th
33
DNS
33
10th/4th
55
9th/8th
73
73
9
Dave Giannetta
# 32
DNS
0
12th/13th
13
4th/DNF
13
9th/6th
33
8th/9th
50
50
10
Wayne Mello
# 54
12th/DNF
0
6th/DNF
0
8th/5th
21
8th/DNF
21
10th/7th
40
40
11
Scott Schumacher
# 35
13th/9th
17
11th/12th
31
DNS
31
11th/DNF
31
DNS
31
31
12
Kris Kiteliner (RIP)
# 26
DNS
0
3rd/2nd
24
DNS
24
DNS
24
DNS
24
24
12
Imron Husseign
# 64
6th/DNF
0
DNS
0
12th/2nd
24
7th/DNF
24
6th/DNF
24
24
14
Gabriel Moffat
# 8
8th/DNF
0
5th/5th
21
9th/DNF
21
DNS
21
DNS
21
21
15
Craig Cutler
# 4
DNS
0
8th/7th
19
DNS
19
DNS
19
DNS
19
19
16
Wally ?
# 98
15th/8th
18
DNS
18
6th/DNF
18
DNS
18
DNS
18
18
16
Vernon Wnek
# 99
17th/DNF
0
16th/DNF
0
DNS
0
12th/8th
18
DNS
18
18
18
Fellipo Valle
# 44
14th/DNS
0
10th/10th
16
2nd/DNF
16
DNS
16
DNS
16
16
19
Steve Bennett
# 7
DNS
0
13th/11th
15
3rd/3rd
F1
DNS
F1
DNS
F1
15
20
Andre Cavin
# 50
9th/DNF
0
DNS
0
1st*/DNF
0
DNS
0
DNS
0
0
20
Barry Welton
# 199
16th/DNF
0
DNS
0
DNS
0
DNS
0
DNS
0
0
Note: Final Standings compiled, edited, and formatted very nicely by Jeff