January, 2001
Gearing Up for the New Racing Season
New Year's Resolution: No Thrashing Around like Idiots before a Race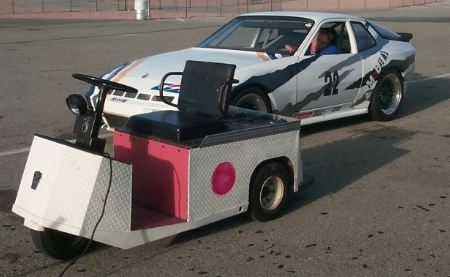 Larry scammed this battery powered kart to use at the track. We need a bigger trailer!
The new year started out a little better than the previous year ended. Meaning that at least the NASDAQ started up on a positive note. For a while there, it was looking real ugly. It is still ugly.....we aren't planning on racing as much as we were before, but at least there is a glimmer of hope. My New Year's resolution is that we need to take more time to get the cars ready for the next race, especially as we will be doing fewer events, so the ones we do make, we need to make sure we are prepared to do battle. We can't be scrambling around the night before a race doing mechanic work on the cars.
TCRA was at Laguna Seca on January 13/14. We thought about going, but decided to wait for the stock market to recover. Larry was still working on my car, and we still didn't get Wayne's slave cylinder for his clutch fixed yet. We are off to a slow start for the new racing season. We think our first car event is going to be at Buttonwillow with Open Track/NASA LA on February 10/11, and our first KRC kart racing is February 25th. We haven't run with the NASA yet, so this will be our first event with them.
As I mentioned in the last chapter, Wayne was selling his Ferrari and I was also selling mine due to the NASDAQ crashing. Wayne was able to sell his for $120,000 big ones, which isn't too bad, considering he drove it for two years, and he bought it used for $135,000. So it cost him about $15,000 for two years of fun in an F355 GTS, (not counting the interest payments on the car, of course), which works out to about a buck a mile. I mean, many people probably buy one of those SUVs that I despise, and they probably lose $15,000 in depreciation in two years, right? What would you rather drive for two years:

1. A 5000 lb tank that handles like the Titanic and sounds like a truck?
OR
2. A sports car that handles like it is on rails and sounds like a wanna-be-F1 car?

It is an obvious choice, if ya ask me.
So right now, Wayne decides that is going to pick up a used NSX to be his daily driver to replace the Ferrari, as he feels that it won't break down on him.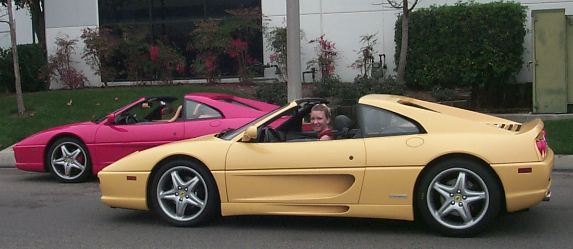 Amy, Wayne's girl friend, getting ready to cruise the F355 to Premier Motorsports
I had to take my car down to Premier Motorsports in Los Angeles back around December 22nd or so, along with Wayne's F355 to get prepped before we sell them. Amy drives Wayne's F355, and Wayne follows us in the Ford Exploder. We each have one of the two-way racing radios, so we can have a group conversation on the way over to Premier. Amy says she feels like she is Cameron Diaz when driving the F355. I say we should sell the screen play rights of The NSX-Files to Hollywood, and we will demand that Cameron Diaz can play her part in the movie. I say that Tom Cruise will play me. Wayne says Harrison Ford will play him. It will be a blockbuster film.....maybe we can get Spielberg to produce it.....

I agree with the Premier guys to do the following on my car so I can get ready to sell it:
Replace center caps on three wheels that had cracked from heat/stress

Fix a small tear in the leather

Repaint an aftermarket speaker panel

Repaint the F1 paddles

Repaint the center console where I had some chips from the five point harness cam lock

Repaint a chip in the removable top

Repaint a chip in the passenger door

Repaint the from spoiler bottom skid plate

Re-shoot the under coating under the car

Wet sand parts of the bumper and the bottom of the rear fenders behind the wheels.

Detailed the car and the engine compartment

Put clear stone guards on the rear wheel fender to protect against chips

And do anything else to make the car look brand new
Dave, one of the owners there, is the smoothest talking guy in the world. He tells me that I will have the car back by next week, or a little before New Year's Eve. From Wayne's previous experiences with him, I know this ain't gonna happen. But he is such a friendly guy who makes you feel that you car will be PERFECT when it comes out, you can't get angry or mad at him. You don't want to rush him. After all, the tagline for his business is "Ferrari Collision Repair", and all he works on are Ferraris. There are a bunch of 360's and F355's currently in his shop that got mangled due to their newbie owners having the driving ability of those clowns on Fox's "World's Worst Drivers".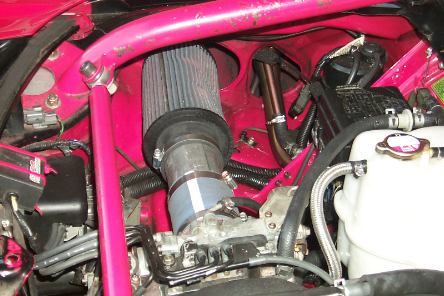 Extra large K&N filter with long air tube
Click here for bigger picture

While this was being done, I placed an add in the Ferrari Market Letter that said the following:

355 F1 GTS, S/N 114882 (1999 USA Model). Red with tan leather, painted roof, factory red brake calipers, drilled rotors, Clarion AutoPC with 6 CD changer, factory carbon fiber racing seats with leather, 27,000 miles, one owner, warranty expires February 2001.
(949)-720-xxxx (CA) $135,000
It is hard to determine the value of my car, because uh…..with 27,000 miles on it, it has more miles than any other F355 GTS in the newsletter, even those that are 1995 models. There are at least four F355 GTS that are 1998/1999 models that have less than 3000 miles on them. Hey, what can I say…..mine doesn't sit in the garage much. Also making it hard to determine value is the fact that it has the F1 tranny, and the factory carbon fiber racing seats.
As soon as Dave at Premier was finished with the detail/touchup job to get it all nice and shiny for the next owner, I had him ship the car to Ferrari of Beverly Hills. It gets shipped to them around January 16th, so Dave is about 19 days late. But he says the car is perfect, it is awesome looking, and he had to wait for a dry day, as he didn't want to ship it on the rainy days we were having, etc. etc. I am not too disappointed…..as if I had the car in my greedy little hands, I would be putting on 70 miles a day just going up and down PCH at high rates of speed…..and I am trying to keep the miles down on the car so I can sell it.

At Ferrari of BH, I need to have the following done for the next owner:
Coolant is leaking about a 6 inch wide puddle every night.

Throttle is sticking. You are doing 70 MPH on the freeway, and let off the gas, and it keeps going for about 2 seconds.

Alarm keeps going off, so I haven't been able to arm the car in a month.
My warranty expires February 10th, so I figure if I can get everything fixed, someone can buy the car and thrash it for a week, and if nothing breaks, he/she is all set for it to be his "Sunday Afternoon Car". If something does break, they can use the warranty to fix it.

So now the search goes on for a car to replace the Ferrari as my daily driver. There are lots of cars out there, but I narrow down my criteria to the following:
Must be fun to drive. This is the most important criteria.

Must have a removable top, or a convertible top. Having the F355 GTS is great fun here in SoCal. Since I have the NSX as the "race car", there isn't a problem with getting a car with a removable top, since this car will rarely see the race track. (Most track events do no allow convertibles unless they have a roll bar or roll cage.)

Must be relatively inexpensive.

Must have great handling. I want to rip around turns and freeway onramps.

Must have a high revving engine.

Must have great brakes. I want hit the brakes 20 feet before I enter the intersection at a red light, and experience the deceleration of a 2 g stop.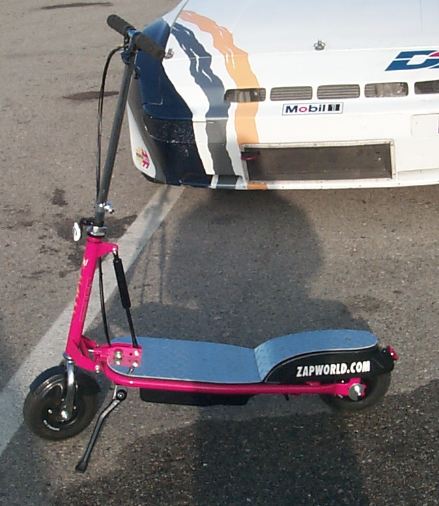 New electric Zappy vehicle that the wife got me for Xmas. The new Daily Driver?
Okay, so let's look at what's out there:
Corvette Z06. Not bad for a street car. Great power, excellent handling, rave reviews in magazines. But it gets rejected because it is American car, and probably cost $60,000, so it is too expensive, even if you could get your hands on one.

Porsche Boxter S. Great looking car, seems like it would be fun to drive, but it is probably $50,000 and...well...it's a Porsche. I don't want to be a Porsche guy yet.....although the performance specs on the new GT2 car look pretty damn good.

Used NSX. Thought about this, but I already have an NSX. I need something different. And once I bought one, I would end up supercharging it, putting bigger brakes on it, stiffer springs, and then I am up to $50,000+. And then whenever the Flamemobile needed a part, I would probably pull it off of this car, and then my dependable street car ends up sitting dead in the water.

BMW M3. The new M3 is pretty impressive. But this will probably be a $60,000 car if you can even get your hands on it. And worse, it is a BMW…..I think of them as "chick cars", or something your mom would drive the children to school in. Something you use to put two baby seats in. If a car has more than 2 seats, it ain't a sports car in my opinion.
So, after deliberating about it for a couple of weeks, I decide that the Honda S2000 fits the bill. Seems fun to drive, 9000 RPM redline, great handling, relatively cheap. The MSRP is around $32,700 or so, the question is can I find a dealer that will sell it that cheap. Larry says he thinks the S2000 is a car for "effeminate males", to put it nicely. But I figure I can get the car, eventually come up with some bucks to put the Comptech S2000 supercharger on it which gives it 295 HP at the rear wheels, and thus it should be pretty damn fun to drive on the streets. Since it is a Honda, it should never break, right?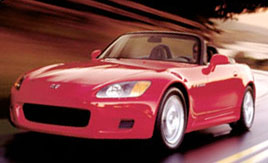 The potential new daily driver

January 19th, 2001.
We decided that we needed some kart practice, so we went out to Willow Springs, leaving the shop at 5:00 a.m. Which means I have to wake up a 3:30 a.m. to get ready for the day's activities. Wayne says that this is too early, but I tell him that if we leave at this time, we will be be physically on the track in our karts at 8:00 a.m. sharp, and then we can blast out of there and get back to the shop by 1:30 p.m. We are scheduled to dyno our cars at 5:00 p.m. tonight, so we need to get back relatively early and trailer the cars over to the SHO Shop. I figure it takes us a little over two hours to get to Willow Springs, Wayne has to eat breakfast at the McDonalds there in Rosamond, then we have to sign in at the track, then we have to unload the karts, check tire pressures, fill up with fuel, etc. This is the first time on the track for Wayne since the last kart race, and this is my third practice session since then. I figure if we can get our cars dynoed, and verify that everything is fine, we can then take the cars to Willow Springs for a test day on Monday morning, and sort out his new race car, and check to make sure my car is okay. We both probably have 1500+ laps of experience at Willow Springs on the big car track, so that is what we use as our reference point in terms of how the cars are working.
Wayne convinced Armen to come down to Willow Springs with his friend Roman. Armen owns Newport Autosport, which is pretty famous for the cars that they sell. They have an awesome collection of Italian hardware, and their cars are always in pristine condition. Armen has sold everything from 308's to F40's to F50's. Right now, he is one of the few people in the world who has a legalized McLaren F1 for sale in his show room. This can be yours for 1.5 Million dollars. No, don't even ask for a test drive unless you show up with a big briefcase full of Ben Franklins as a down payment. One of the reasons why Armen has such great cars, is that he resists the urge to drive them, thus the cars are in perfect condition with very low miles. If I owned that dealership, the McLaren would become my daily driver.........and I would go broke very quickly trying to sell exotic cars that have been thrashed by the dealership.....
So we are practicing on the kart track, having a good time, and Armen pulls up, and says, "Hey, the lady at the desk said that today we could go on the Streets of Willow Springs for $75. Hummm….the Streets of Willow is a high speed track for karts, and a medium speed tight track for cars. That would be cool…….as with the proper gearing, you can hit 90-100 MPH in our karts on this track. We don't have the right gears with us, but this sounds fun anyways, as we haven't raced our karts on this track in six months. We want to have a KRC race at the Streets of Willow, because it is way less technical a track that the Willow Kart Track. You need tons of skill on the Willow Kart Track, but on the Streets you need big balls and the ability to be fearless when racing at 90+ MPH side-by-side into a turn. Let's just say we do better on the Streets than the Kart track......

We get a couple more sessions on the kart track, and then move our entire operation over to the Streets. We rip around there for quite a few sessions. The new section of track that they added is awesome, it has a turn that is like a bowl, or a mini-NASCAR half oval. Roman blows up his engine, and it seizes on him. Armen's kart eventually dies also, and we can't get it re-started. Looks like they are done for the day. We look at our watch….uh oh….it's 2:00 p.m., we were supposed to be back at "work" 30 minutes ago. We pack up, and head back home, and fight the dreaded LA Rush Hour Traffic. We decide to take the carpool lane, even though we aren't sure if vehicles with trailers are allowed in the carpool lane. Screw it, we got to get back fast, and get the race cars dynoed..

We get back, and I thrash around getting Wayne's car trailered to the dyno at 5:00 p.m. sharp, as I am the Time Master, and if I ain't watching the time, everything goes to hell and we don't get anything done. Unfortunately, Big Brain Larry isn't there on time, and neither is Wayne. We need Larry there to help decipher the dyno data, and we want Wayne to drive the car on the dyno, just in case the engine should blow up, we want him in the driver's seat to take responsibility. I am dead tired now, as I have driven 5 hours on the freeway, and 6 hours on the kart track. I chase down my car at Larry's shop, and ask him where the hell he is. He says my car won't start, so he is delayed. Okay.....now it is 6:00 p.m., and we haven't dynoed yet. Larry says that the starter is bad on my car, so they have to push start the car. He makes it over to the dyno, and starts to work on Wayne's car. Last time, Wayne's car was putting out 220 HP, as he just bought the car from Wingco. We then dumped the car off at Vision, and they think they fixed the problems, but we never got to re-dyno the car. From now on, we want accurate measurements that say that our engines are working fine prior to the next race.
This time, after tune ups by Vision and Larry, Wayne's car it is putting out 295 HP at the rear wheel, which isn't bad for a basically stock 944 Turbo engine with just a chip. This car was built to be lightweight and dependable, instead of heavy weight and grenadable like his old 944 Turbo. Only problem is that it looked like the boost gauge was pegged, so Wayne has the car dropped off at Vision, as he wants to make sure that the car isn't running excessive boost, as he doesn't want to blow the engine up yet. But the general consensus is that the car is making proper power, and he should be ready for our test day at Willow Springs on Monday.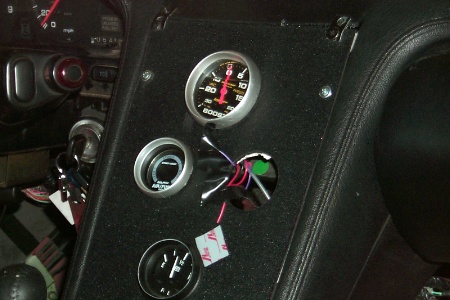 Larry stole one of my gauges to help dial in another customer's car
Click here for bigger
Larry says that on my car he wants to switch out plugs, coils, fuel pressure, sensors, FMUs, etc, in an effort to figure out why my car was running so badly last time on the dyno and at Sears Point. I tell him that if my starter is bad, and we have to push start the car, then when the car is elevated on the dyno and strapped down, we can't turn the car off to make any changes like he wants to experiment with, as we have to take the car OFF the dyno, UNTIE the straps, LOWER car off the dyno, PUSH the car, START Car, put car back ON dyno, RE-STRAP car, etc. for each change. So, at 7:30 p.m., we decide we can't dyno tonight.....instead we will go for Monday night after Larry replaces the starter. Shit, I should have just went home right after the kart practice, instead of screwing around for another 3 hours doing nothing. So it looks like no test day at Willow for us, until we get my car dynoed and verify that we are ready for the new racing season.
I call some of the Honda dealers here locally in SoCal, and then I remember why I hate car sales men/dealers. Ya ask them a question, "Do you have a red S2000 in stock", and they don't tell ya, they get your name, phone number, etc, and say that they will call back. Duh, dealers are on short allocation, so if you have a red S2000, it is sitting right in the middle of your damn showroom. Of course a couple of them call me back, saying that they have a yellow one in stock, or a silver one, and I know they are going to torture me over the next month trying to sell me a car I don't want. Duh......I said Red. Gotta be Red. I find one, and the rep says he wants somewhere in the neighborhood of $39,000 or so, as it has shiny wheels, extra dealer prep, etc. Yeah right.....like I am going to pay $6,300 over MSRP for this car.
I check MSN Carpoint, and try to get a quote, but there is nothing close of MSRP in their database. But I get an email from the NSX list server (which is having "growing pains" to say the least....now I know why there are two Ferrari Clubs and two Porsche clubs, as once the list grows from a small group of friendly people to 700 opinionated people, everything goes to hell), and Mesa Honda in Phoenix is advertising an NSX T for sale, and they said that also have a Red S2000 for $33,363, which is about $600 over sticker. Hummm.....that ain't too bad.....
I send them some email, and tell them I am interested in the car, and they said when I am ready to buy, let them know, and they will setup an appointment. A couple of weeks go by, and I decide to pull the trigger. I tell them I am definitely interested, and am willing to put down a deposit, and I will fly there and pick it up. But they say that since I live in California, it is better if they deliver to me in California for registration/taxes/etc, and they want to meet me in Blythe to take delivery, and they will drive the car there. Since it is a new car, I don't want anyone putting the "break in" miles on a car with a 9000 RPM redline, as I know I would be spinning it to the redline every chance I got. I ask them if they can tow it to Blythe, and I will meet them there. They check on the price, and they say for $250, they can deliver it to my doorstep in Newport Beach. Okay this sounds even better. I tell him I am real close to getting the car. I ask them how they can sell it for so much cheaper, and he says, "supply and demand". Lot of people in SoCal want the car, and not so many people here in Phoenix want the car. After I take delivery of the car, I am supposed to go to the DMV and get it registered for California, and pay the taxes, etc.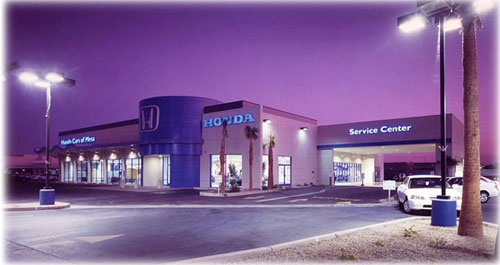 Honda Cars of Mesa in AZ. Great price! Ask for Mark 480-733-5166.
"Supply and Demand" is a concept that those assholes in the California Governor's office, the California Power Companies, and the idiot power activists should familiarize themselves with. Everyone is pointing fingers at everyone for their misguided attempt at de-regulation, which for some reason, didn't seem to contain basic logic about Supply and Demand. If they would have taken a refresher course in economics 101 and paid attention to basic concepts of supply and demand, we might have been able to avoid the current power crisis we are having here in California. I know California is probably the laughing stock of the US right now because of the stupidity of our leadership.......but then again, I am driving my car in 70+ degree weather, and most of you are stuck in the snow for another three months until springs thaws your ass out. So who is the stupid one? <grin>

I do a little research on Mesa Honda by emailing the NSX List Server. A couple of people had good experiences working with them, so it seems like they are reputable. Apparently they were blowing out S2000's at good prices when they first came out, so they made a lot of people happy. Hummm.....this is encouraging.......
January 20th, 2001.
Ferrari of Beverly Hills ships the F355 back down to the shop in Huntington Beach. I take delivery of it, and Dave at Premier did a GREAT JOB at prepping the car for sale. I mean he did a STUPENDOUS JOB on the car. It looks like it is brand new. I take the car home, and it looks great, and Ferrari of BH fixed all the mechanical problems. Apparently it was just a loose hose clamp for the coolant leak, a little lube for the sticky throttle, and a new inclination sensor for the alarm.

The latest issue of the Ferrari Market Letter has been on the streets for five days.....and no one has called about my car. Might be time to use Ebay to get some advertising out there about the car.

The next day I drive the Ferrari over to our shop. It is 70 degrees outside, the sun is shining, the top is off. I am blasting through 90 degree right hand turns without using the brakes, zipping up the freeway, and revving the car to 8500 RPMS on every shift. I go through a couple of underpasses, and listen to the F1 sound coming from the exhaust at 104 db. U2's "Beautiful Day" is blaring on the stereo. At a stoplight, there is a truck with a mom and three teenage girls in it that are screaming and clapping and giving me the "hang loose" and "thumbs up" signs when they see the car. I stop by NSX Modified, and Larry says that he can't believe I am going to sell the car. I drive back home down Pacific Coast highway in the sunset. It is a perfect car driving day. I start smoking the dreaded Go-Fast crack pipe. "Hummm.....yeah, the car goes out of warranty in three weeks, and it will be expensive to maintain…..but this is a pretty damn fun car, and today was a perfect day......maybe if I just drive it on the weekends like most Ferrari owners, maybe the maintenance won't be that bad on it......yeah yeah........I know......I'll still buy the S2000, but use that as the "every day" driver.....which will save wear and tear on the F355.......that way I can still keep the Ferrari.......so I can completely justify the purchase of the S2000, as driving the S2000 most of the time over the course of a couple of years will save at least $33,363 in maintenance costs on the F355.....yeah.....yeah....that makes perfect sense to me. The Go-Fast crack pipe is hard to avoid once you are hooked.....and your sense of what is "logical thinking" becomes warped.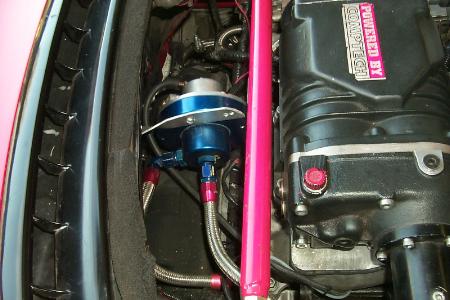 Fuel regulator is easily accessed to adjust when on the dyno
Click here for bigger

January 21, 2001.
In the morning, I open the garage door. There is a new, 12 inch puddle of coolant below the Ferrari engine compartment.....but hey, yesterday was a perfect day, so I don't mind.....I have conditioned my mind to realize and accept that this car was made hand made by craftsmen whose definition of quality control is, "Did Schumacher finish the Race?". But it is one of the few cars in the world you can experience a "Perfect Driving Day".
January 22, 2001, 6 p.m.
Me and Larry are back at the dyno shop. I feel like I live at this place sometimes. The last time we were here was right after Larry put together the engine from scratch, and it was only putting out 278 HP at the rear wheels. Prior to that, we were getting 338 HP and 230 ft lbs of torque with the other engine that had the JE pistons in it that Comptech built, so we were down about 60 HP. Larry thrashed to get the engine in the car the night before the Sears Point race, and we didn't have enough time to tune/sort the engine out prior to putting it on the dyno. If you recall, we had problems that entire weekend with the timing, engine missing, etc. Which served us right for waiting until the last minute to get ready for the race weekend.

Anyways, Larry is feeling pretty confident about how the engine is running now. He says that the engine sounds perfect and the car pulls strong on the street. Right now, we are running straight pipes with a little bit of baffling in it, so it is barely street legal. Let's just say with these straight pipes, we won't use these as a daily driver muffler.

We throw it on the Dyno, and we see what we got here. First run, it comes up 366 HP, and about 247 ft lbs of torque. Vadim says that I didn't take the car to the redline, so the next run, to make sure I take it to 8000 RPMs. I tell him that I did that, and he says that the tach is probably optimistic. Next run, I take it to 8500 RPMS, which was probably a little too high, but the dyno says that at 8200 RPMs it is putting out 380 HP and 249 ft lbs of torque. This is 42 more HP than the car has ever put out. Larry is laughing....as he said he knew he got it dialed in good this time. Vadim usually rags on my dyno performance, saying that I never got above 230 ft lbs. of torque, which he felt was too low for the supercharger setup. Now he says that with my car putting out 249 ft lbs. of torque, he feels it is running like it should.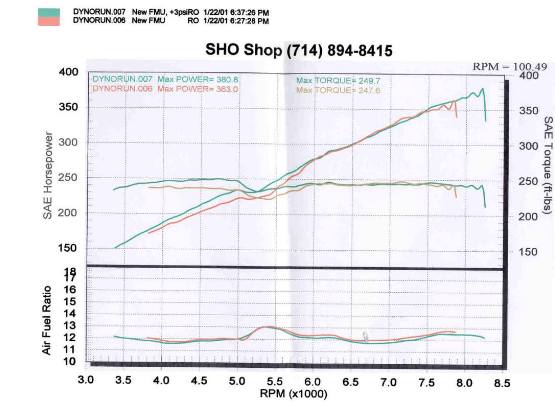 The dyno chart from the SHO Shop. Two runs using different fuel pressure settings.
Click here for bigger

Yeah, I know, dynos are not the most accurate devices in the world. But the SHO Shop dyno has been pretty reliable over the years, and the same guy (Vadim) runs the dyno all the time, who also offers advice on what adjustments (fuel, air, timing, etc.) on what he would suggest to change for the next dyno run. So I feel pretty confident that his dyno is "accurate", if there is such a term in the dyno world. I ask Larry what he did differently this time, and he said that it was the right combination of fuel/air/plugs/new intake/sensors/injectors, along with using the fuel pressure gauge, boost gauge, air/fuel mixture gauges.
So the engine has the following parts on it for this dyno run pictured above:
1. Stock block and pistons (The engine with JE pistons had the ring problem, so it is sitting in Larry's shop, waiting for repair)
2. Comptech head and cams, aka the Comptech Internal Engine Modifications (IEM)
3. Comptech 9 lbs pulley
4. K&N air filter with long intake made by Larry
5. Cat bypass pipes
6. Larry custom straight through pipes with minimal baffling.
7. Fuel pressure gauge
8. Boost Gauge
9. Two air/Fuel mixture gauges

A lot of people are calling Larry as to what to do to get similar performance from their superchargers, but it is not an easy thing to do over the phone. It is not like it is an A/B kinda thing. You need all the appropriate gauges installed, then you have to fiddle with sensors and fuel and injectors and timing, etc. Also note that this dyno run was made with 50% racing gas, and straight pipes that are so loud you would be busted for sure by the local law enforcement.
Randy N. finds out that my dyno run beat his direct port NOS injected NSX by one measly horsepower. But he has been trying to get Larry to schedule him a dyno run, so they can test out some new jets/injectors on his car, to see if he can take the title back from me. I might have to concede that his car has the current title over here at Larry's shop, as his car is fully streetable without a doubt, whereas mine is kinda on the line with the configuration that was on the dyno.....as it probably blows 107 db at full throttle with this particular exhaust on.
====BLATANT COMMERCIAL ADVERTISING FOR NSX MODIFIED====
Larry has a new, limited time, introductory pricing for a new clutch for the NSX for those of you who need a new clutch. Below are the details:
1. Includes a new ceramic puck clutch disk
2. Includes complete rebuild of factory clutch
3. Includes new pilot bearing
4. Includes new throwout bearing
5. Includes resurfacing of the flywheel
6. Includes resurfacing of the mid plate
7. Includes resurfacing off the pressure plate
8. Includes special treatment of the starter ring
9. Includes shimming the dowel pins
10. Includes polished released bearing guide (if you send your old one in)

The above setup will allow for smoother clutch travel, no resonation through the clutch pedal, and no clutch chatter. Five people currently have this installed and are happy with it. We are using this new ceramic puck clutch disk in the Flamemobile (which has a six speed single disk clutch) for the upcoming racing season. Larry examined a couple of racing clutches for other automobiles before deciding to build these for the NSX.
The introductory price for this new clutch for a five speed is $850 + shipping + applicable taxes + your old clutch core ($200 more without the core). Installation is another $450. The cost for the six speed clutch is $200 more, so $1050 + shipping + applicable taxes + old clutch core. So if your NSX clutch is dying, you might want to give this NSX clutch a try. Call Larry at 714-842-9135 for more info, his email address is nsxlarry@msn.com. Pulp Racing and The NSX-Files have no financial interest in NSX Modified, other than we want to make sure Larry has enough money so he can eat and work on our cars. For those of you that have not met Larry, he uhh.....eats a lot.......
==END OF BLATANT COMMERCIAL ADVERTISING FOR NSX MODIFIED==
January 23, 2001.
Mark at Mesa Honda fedexes me the documents to have sign with a notary public to get the transaction rolling. I sign them, and fedex them back. So far, this is pretty cool, as I didn't have to go out and drive around talking to various Honda dealers to get a good deal on the car, nor did I have to sit at the dealership for three hours signing papers and running credit checks. I have Bill Z, an NSX owner in Arizona, to stop by the dealer and check out the car for me to verify that it is in good shape. He says that it looks great, and it has 11 miles on it, just like Mark said it did. Cool, sounds good.
Wayne takes my F355 for a cruise. He comes back, and says, "Uhh......the 'SLOW DOWN' idiot light is blinking on the dash....I think something is wrong'. Oh great....well.....at least I got three days of driving in it before it goes back to the dealer for repair.....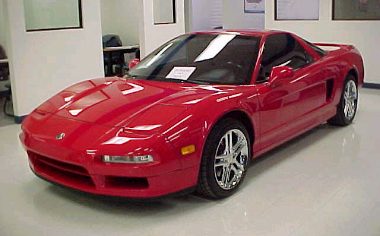 Buy this 1996 NSX T with 23k miles from Mesa! Email Mark about price!
Get a free Pulp Racing Jacket with purchase if you mention this website to him!
January 25, 2001.
I drop the F355 off at Ferrari of Orange County to get the SLOW DOWN light checked out. Apparently if a catalytic converter is overheating, the SLOW DOWN light starts blinking. I got sixteen days left on my warranty.....whew, that was a close one.....
NOTE: Now remember, Wayne and I drive our F355's really, really hard. We drive them like we want to blow them up. You probably won't have any problems with yours. Jeff claims that his was very, very dependable, and that it is no less reliable than my NSX. But then again, if this were true, F355's would be sold with more than a two year factory warranty. It sure would have been nice if if Ferrari backed up their F355's with a three or four year warranty.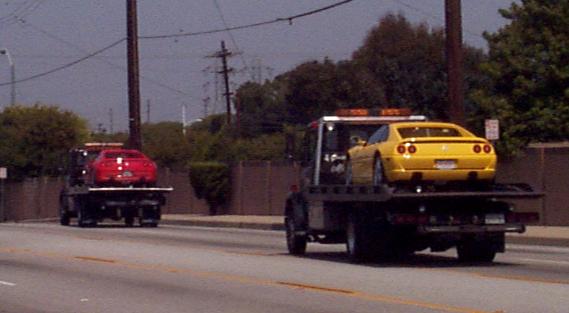 F355: One of the most exhilarating cars to be in. When it ain't broken.

Over at the www.corner-carvers.com, they have their track records posted for the members that post to their bulletin board. Bryan has been asking for my lap times at Dromo One, which is one of those indoor go-kart tracks. They only go about 30 mph, but it is pretty fun when ya can't make it to the real kart track or the race track. After digging around in the shop and trailer to find my manual for my Datacam unit, I came across my long lost time sheet from Dromo. Here it is, the previous corner-carvers record for fastest lap time was 27.24. Guess who is the new King of the Hill at 26.74....heh heh heh....you think you got the right stuff? Head down to Dromo One and let's see what ya got.

January 28th, 2001.
We blow off watching the Superbowl, and instead drive out to Willow Springs about 5:00 p.m. I usually only watch the Superbowl when I have a large amount of money bet on the game, or if I am in a mood to drink 8 beers. Our game plan is drive up to Willow Springs, spend Sunday night in Lancaster, and in the morning we are going to practice karts for four hours, and then hop into the cars and test them out. This way, we can make sure we won't have any mechanical problems for the NASA Buttonwillow Race.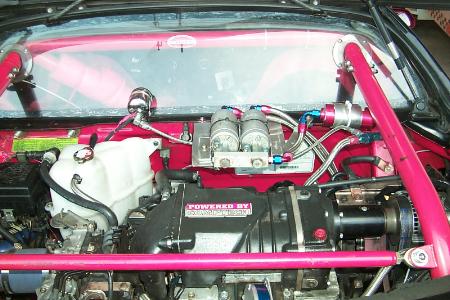 Fuel pressure gauge is in middle of rear window, next to it are dual fuel pumps
Click here for bigger
January 29th, 2000.
We stop at a store on the way over to the track.

=======NEW FLASH - WHITE BREAD MYSTERY PARTIALLY SOLVED!
I consider myself to be a bread connoisseur. I eat lots of plain bread, usually without any butter or jam or jelly on the bread. For 40+ years, I have been eating Weber's white bread as my sandwich bread of choice, and also used for french toast and regular toast in the morning. A lot of times I also eat the Weber's bread when I am at the race track, with nothing else, just the bread itself. When my mother-in-law comes over, she insists on buying the cheap bread, which doesn't taste as fresh, isn't moist, and doesn't have a good crust, and I have to patiently explain to her not to buy that cheap bread, but instead spend the extra dollar and buy Weber's. Anyways, you get the point, I really like Weber's bread.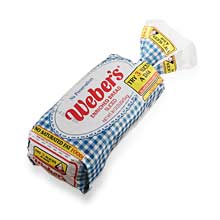 The Best White Bread Around.....or at least it used to be..

But then something weird happened recently. I have been buying Weber's bread, and it doesn't taste the same anymore. At first I thought it was because the Weber's bread was a couple of days old. Maybe instead of delivering 3 or 4 times a week to the grocery store, they started delivering twice a week to save costs, and I have been picking the days when the bread wasn't freshly delivered. My regular toast didn't taste the same, the french toast didn't taste the same, sandwiches didn't taste the same, and eating the plain white bread didn't taste the same. So this has been going on for a couple of months, and I have been scratching my head about it, and quite frankly, I get pissed off every morning when I eat my bread. So, over at the grocery store on the way to the race track this morning, I see the Weber's Bread delivery guy there, and he is bringing in fresh bread to the store.
I ask him, "What the hell is the deal with the Weber's bread, it doesn't taste the same any more.". He rolls his eyes, and then he tells me this incredible story. It seems to be all true, check out the links below. Here it goes (note: I am not a lawyer, but this is what I get from reading the links below):
Apparently Interstate Bakery wanted to acquire Continental Bakery. In the SoCal area, Interstate owns Weber's bread, and Continental owns Wonder Bread. These breads have distinctly different tastes and textures, and I hate Wonder Bread. I never buy it. I mean, companies merge/get acquired all the time, right? Well, not according to the DOJ. The DOJ felt that by two of the three largest white pan bread makers in SoCal merging together would not be good for consumers, as then Interstate Bakery would own and control Weber's, Wonder, and some other off brands, which by the DOJ's definition is that Interstate is cornering the white pan bread market. So the DOJ filed an antitrust case against the white bread makers. Can you believe this idiocy? THE BREADS TASTE DIFFERENT. They are NOT a substitute for the other. Not only does the DOJ work to crash the Microsoft stock price (which means all investors who have mutual funds or directly own MSFT take a huge hit in their retirement cash, or worse yet, their racing fund), but they play a big part in why my white bread doesn't taste the same.
Apparently, Interstate Bakery was given approval to acquire Continental, providing they sell off one of their labels and the recipe for that label to another competitor. Apparently Interstate sold off the Weber's label to Four-S Bakeries, prior to the final judgement of the DOJ's antitrust case. But then, it looks like Four-S merged with Bimbo Bakeries (I am not making this up.....), and Bimbo assumed that they are now the owners of the awesome Weber's bread. But Interstate came back, and said that that the rights to the Weber's Bread isn't assignable to another party, meaning Bimbo, so Interstate took Four-S to court about this, and threatened a lawsuit if they divulge to Bimbo the secret formula to and the know how on how to bake Weber's bread. So Four-S, in an attempt to make sure they don't get sued by Interstate, put on administrative leave all the people at Four-S who knew the secret formula for Weber's, so Bimbo cannot use them to make Weber's bread. But since Bimbo now at least owns the Weber's "Branding", they continue to sell Weber's bread in the Weber's wrapper, but it ain't the same bread that I know and love. Bimbo appears to be trying to make the Weber's bread without the right recipe. THIS IS WHY MY WEBER'S BREAD TASTES TERRIBLE. This is why my taste buds have been confused for months on end. Now Interstate says that Bimbo is destroying the Weber's brand name, as they ain't making the bread correctly, but yet Interstate won't let them use the formula that is locked in a safe. So in short, Interstate is saying, "You idiots, give me my damn Weber's bread back, you ain't making it right, you don't know how to make it right, and we ain't gonna tell you how to make it right.". So now the DOJ steps in, and files a contempt of court order against Interstate. There is also a consent decree that was filed. This is how your tax dollars are used by those geniuses at the DOJ. You would think they could use those tax dollars to fight crime, setup a good drug rehabilitation program, or sweep off the dust on the freeway offramps so I can pull .98 G's in the turn. Instead, they are running around screaming that someone is trying to corner the bread market. Have you ever looked at all the bread that is currently available in your local grocery store? There must be 20 different kinds of bread you can buy, with many different price points. THERE IS NO MONOPOLY IN BREAD. Just like there is no monopoly in operating systems. If you don't like Microsoft operating systems, use your power of choice and go buy a Mac, go buy a Linux powered PC, go buy one of those "cutesy" internet terminals that connect to your phone, go buy a Palm Pilot, go buy IBM's OS/2, go buy a Sun Workstation, or go buy AOL-TV. My point is that there are substitutes should you feel that Microsoft has a monopoly. There is choice....unlike your cable TV provider, your electric company, your gas company, your local phone company, where there is NO CHOICE.
So anyways, I am telling the bread delivery guy, "I just want my damn bread the way it used to be." He looks at me, and then he says, "Pillsbury. Try the Pillsbury White Bread". So I try the Pillsbury White Bread, and I'll be damned.........it taste like the old Weber's bread! Problem solved! But I am still confused....did Interstate remarket the Weber's formula under the Pillsbury name? Did Pillsbury steal the recipe from the safe at Four-S? Did someone from Four-S defect and sell the secret to Pillsbury? Does Interstate own Pillsbury, and are they trying to torpedo Weber's since it isn't their bread anymore? Maybe Pillsbury reverse engineered Weber's bread to come up with the formula. Will we ever know the real truth? If someone out there knows the inside scoop, email me, as I gotta know what happened!
Now I know some of you may think this is a trivial issue. But let's say you have been drinking Heinekens for 40 years, or Crown Royal whiskey for 40 years, or Coca-Cola for 40 years, and then suddenly they change their recipe without telling you. Wouldn't YOU be pissed off?
==============END OF WHITE BREAD NEWS FLASH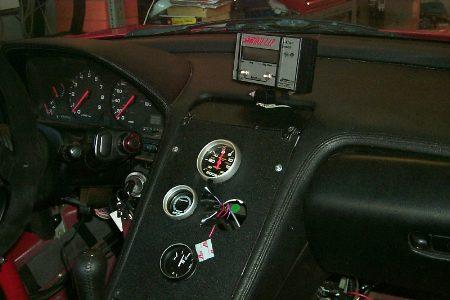 New location for fuel gauge, air meters, boost gauge, and Hot Lap Timer
Click here for bigger picture
Okay, so we get to Willow Springs. The goal is run a couple of lap times faster than a 1:29.75, to verify that the engine and car is working better than before. After all, you can put $10,000+ in go-fast parts on your car, but if you can't prove the parts actually dropped your lap times, what is the point? You have to be able to back up your claims with some numbers that are quantifiable...which to me means lap times. After all, who knows, the go-fast parts you put on your car might even make your car SLOWER than before, and you would never know it unless you test it out at the track. In the Ford Mustang world, Grigg's Racing sells go-fast parts and participates in many track events, including World Challenge Races, and thus we can see what type of lap times that he is able to get in his race car. It gives people a target to aim for....."hey, I want to run within one second of Grigg's laptime at Sears Point". I look at those World Challenge qualifying times, and I like to think.....yeah....I could be there in the grid, and duking it out with the back markers with no problem whatsoever. Another thing that is good about racing your car at the track is that rarely do go-fast parts fail on the street, as you can't abuse your car for long periods of time due to safety/police reasons. But at the track.......this is the true stress test for parts, so you can find out what works and doesn't work.
Alright, so we are at the track at 7:30 a.m., we have a partially cloudy sky, and about 31 degree weather. Unfortunately, we have a 30 to 50 mph wind blowing. It is freezing.....but we are on the go-fast crack pipe, so that is why we are here. Jeff shows up with his newly powder coated Tony Kart, and we are off practicing. Wayne and I run out first couple of sessions with sweatpants, T shirt, and heavy sweat shirt underneath our racing suit, cause it is damn cold out here. Jeff starts off by talking trash immediately, by saying that Wayne and I are keeping him up late at night. I ask him what he is talking about. He says that he is spending nights working on his RX-7, moving the engine/go-fast parts from a uh.....bent RX-7 over to a new RX-7 that is in good condition but doesn't have a running engine. He says he plans on building a streetable Virginia City Hill Climb car that will kick our ass at the Hill Climb this year in June. He is feeling pretty smug about this, until he finds out that my car is putting out 380 HP at the wheels......and then he says he might have to re-think whether or not to invest the time in building a Hill Climb car. He said that he heard that Amir had his F40 engine all taken apart, and building it to be ready for the Hill this year.....
After we get warmed up and dialed in, then we start our usually training routine. All three of us line up at the start/finish line, one of us motions 1-2-3 with their fingers, and we roar off from a standing start into turn one, and we race for two laps, and then we start over again. The start is very critical in a karting race, as well as the first two laps. We practice this probably 30 or 40 times over the next couple of hours. This is racing at its purest form.....one inch off the ground, 12 inches off of someone's bumper, and 7 inches from sideswiping the other person off the track. We do this with very little incidents, although I do rear end Wayne's car kinda hard, as he hit the brakes way too early going into turn one. At the end of the practice session, we would probably have to concede that Jeff is a tiny bit faster than us, but not by much. When the formal KRC races begin on February 25th, it will come down to who has the best start and best first two laps, and who makes the least amount of mistakes. A missed shift or getting slightly out of shape in a turn will cost you 20 feet that you will not ever recover unless the other person makes a similar mistake. You make 6 mistakes in a 25 lap race, and you finish 120 feet behind the other person who makes no mistakes. If you make one mistake each lap, you are on your way to getting lapped by the guy on pole.....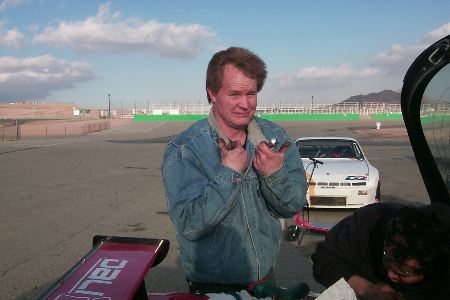 Mark, (also known as Thumbs), helping out Larry under the hood
At noon we switch over to the cars. Mark and Larry prep the cars, and we hop in those for some testing. A couple of Porsche dudes are on the big track also, and they are ah....real fast. The sun is hiding behind some clouds, so the track surface is kinda of cold. The wind is still blowing very hard, which is going to screw up our lap times. Wind is blowing dust all over the track. Anyways, we start testing.
It looks like my car is pulling strongly, despite having to go down the front straight into a 40 mph wind. Unfortunately, I can only run two warm-up laps, then one or two fast laps before the temperature gauge gets pegged into the red, and I smell coolant coming from the engine compartment, just like at Sears Point. I pull into the pits, and Larry bleeds the cooling system. I go back out on the track, and after a couple of laps, car overheats again. I pull into the pits, and Larry and Mark can't find where the leak is. They take off a bunch of hoses, check them, re-clamp them down. I go out, and the same thing happens after a couple of fast laps. We repeat this procedure a couple of times, and then Larry thinks maybe it is the thermostat, and the coolant is coming out from the overflow hose, so he screws around with the thermostat. By the time the temp hits the red, I ease off the pedal, and then when I coast into the pits, we can't find the leak, as you only see it under full race conditions. So this time I go out, and I get the car in the red zone right before the pit area, and then I cruise into the pits while the car is still steaming. Yup, sure enough....overflow bottle is spitting out coolant. Larry says the day is over, as it looks like the water pump. I still run a 1:31.47, which is 2 seconds slower than we wanted to run, but like I said, the track was cold, a strong wind was blowing, I had on old tires, and I couldn't string more than 2 fast laps in a row before overheating. So I figure under ideal conditions, I could have broken my own personal record at Willow.

Wayne seems to like his new car, he is running 1:31.53 with it, and he says after he gets more practice, he will be in the 1:29 range with it. The brakes work fine, power seems good, suspension is rigid and tight. So it looks like all we need to do is find some cash for new race tires, have Larry throw in the water pump on the NSX, and we should have everything packed in the trailer one week prior to our next event at Buttonwillow on February 10/11.
I should get the S2000 delivered by February 2.....stayed tuned for more fun and games for next month.....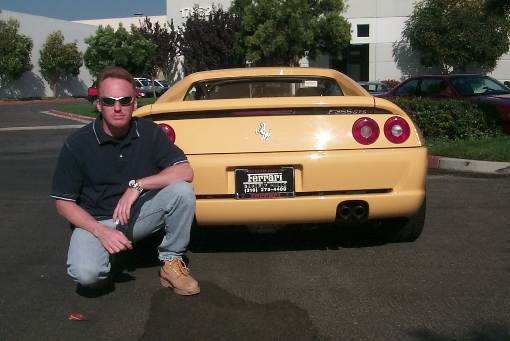 Wayne's list of cars owned/sold: 911SC, 911 Turbo Look, NSX, 944 Turbo, F355....