October 12, 2000
Pulp Racing grids up against Amazon
in a Race to Profitability
The Grand Opening of the Best Site in the World for Pulp Racing Paraphernalia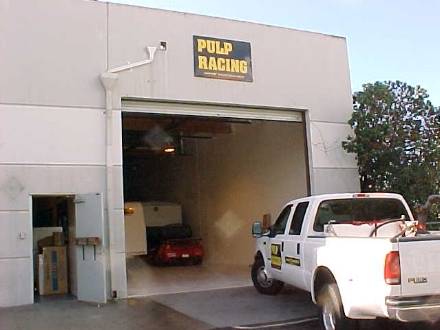 The physical location of the warehouse for the Pulp Store
=====Begin News Wire====
HUNTINGTON BEACH, Calif, Oct 11 /PulpRacingNewsWire/ -- Pulp Racing, a wholly owned racing mega-conglomerate wanna-be, announced today that it is entering into the Ecommerce market with the newly developed Pulp Store, powered by Microsoft technology. The Owner who is also the CEO, President, COO, CFO, CIO, janitor, and Test Driver for Pulp Racing is quoted as saying, "Hey, if other B2C (business-to-consumer) websites and portals are having problems losing large sums of money, then I will show them how to lose less money. For example, Amazon.com last quarter lost $317 million dollars, and over the last year lost more than one billion dollars. That's a lot of zeros. Pulp Racing's latest foray into Ecommerce will show the big boys how to maximize productivity, inventory, shipping, management, and brand recognition to get to what Wall Street wants to see: PROFITS."
Using Microsoft Technology from MSN's bCentral Web Services, Pulp Racing was able to get the main guts of the Ecommerce site up and running in a matter of hours, complete with shopping cart capabilities, shipping, taxes, drop down dialog boxes, credit card authorization, pictures, themes, etc, without the help of expensive web designers or consultants. The cost? $24.95 a month to Bcentral, which is considerably less that what the big Etailers are paying their ISP, web hosters, consultants, designers, etc. Amazon probably pays their staff and consultants a combined total of $24.95 a second to keep their e-services up and running. Instead, through MSN bCentral, I get the same type of service for $24.95 a month. So by my calculations I am saving $5.7 million a month in consulting/hosting/ISP costs to keep my site up and running compared to Amazon.com. Thus, if I can get some of you people to buy some Pulp Racing Stuff from me ASAP, I can declare that the Pulp Racing Ecommerce Division is making money and profits after the first month of operation, unlike Amazon.com, Buy.com, DrKoop.com, Boo.com, Priceline.com, etc. Long live Pulpracing.com!
About Pulp Racing
Pulp Racing/The NSX-Files is the World's Best Website for Real-Life Racing Stories, and is a motivating force in getting people to spend more of their time, money, and energy on making their vehicles go-faster around the track. Pulp Store builds on this momentum to allow people to Drive Vicariously via T-shirts, video tapes, and accessories using the Pulp Racing brand name. All rights reserved. If you copy or rip off my stuff, very bad karma will descend upon you!

=====End News Wire======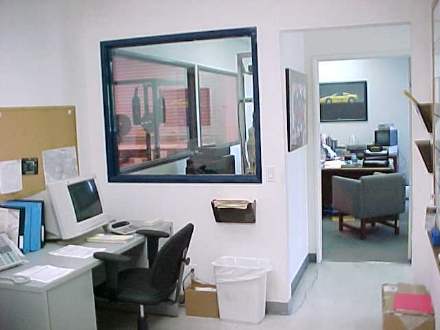 Pulp Customer Service Desk
Okay, so the Pulp Store, located at www.pulpstore.com, is now officially opened. The motivation for opening the Pulp Store is because too many people complained that writing out a check, stuffing it in an envelope, and then addressing the envelope was too painful a process to order the Pulp Racing T-shirts, videotapes, and other accessories. So I finally relented and got the online credit card processing working. (well, uh..to be specific, my wife got the all the ecommerce site and Pulp Store up and running. It pays to have a BWB).
So now you can order stuff from Pulp Racing via credit card. I have all items in stock except for some of the XXL shirts, which I should have in a couple of weeks.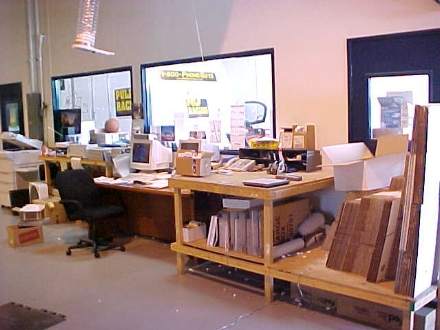 Pulp Shipping Department

Items for sale right now are Pulp Racing T-shirts, coffee mugs, 4"x4" vinyl stickers, and of course, the infamous NSX-Files video tapes.
FAQ (Frequently asked Questions):

Q: Is Pulp Racing going to manufacturing any go-fast parts for NSXs?
A: No. It is more fun to watch Comptech, RM, Dali, and Gruppe M and their supporters fight it out on email as to who is the ultimate tuner/inventor of go-fast parts for the NSX. Talk about religious fervor.....

Q: Any plans to race in the Speedvision series?
A: Not unless the NASDAQ hits 5500 and Acura comes up with a V8 or V10 NSX.

Q: When are you going to put some video clips on the website?
A: Bandwidth is getting cheaper, so perhaps by next year I can start putting clips up. But I might charge for that portion of the site, especially if I have to get more bandwidth for the server.

Q: How many hits a week do you get to your website?
A: Between 1000-2000 hits a week. There are a lot of people out there with a lot of time on their hands.