Sears Point, Touring Car Racing Association December 2/3, 2000
Smoking The Go-Fast Crack Pipe
"I don't need to Race. Instead, I choose to Race" - quote from a Racing Addict in Denial




The grid for the final race.......the NSX vs the Vette and BMWs
(Disclaimer: This is how I remember the event. If there are any wrong facts in here, let me know. If you have a 28k or 56k modem, you could be screwed looking at this site, as I design the site for people who want to GO-FAST. If your modem is slow, chances are your car is slow also. A DSL line or Cable Modem loads his page in 8 seconds. If your browser shows broken links, hit the "refresh button" on your browser, and you need to buy a faster internet connection! This page/story is designed so someone can connect to the page, hit the print button, and end up with a 30 page book <grin>)
Early November, 2000. NASDAQ is at 3333.
The NASDAQ is crashing. On November 1 of this year, the NASDAQ Composite was at 3333. Back in March of this year, the NASDAQ Composite was above 5000. Life was pretty good back then, but now the NASDAQ is down about 1660 points since then, which kinda means that various NASDAQ stocks have lost about 1660 bucks off their combined weighted index. The NASDAQ has funded our racing operation the past four years, led by incredible gains from Cisco and Microsoft. But now, Wayne and I got a problem, as we are losing money on WorldCom, Global Crossing, RF Micro Devices, and watching profits slip away with Microsoft. We decided that we would wait a while to fix our cars, perhaps until the start of the new year, or until the NASDAQ can recover.

Wayne still needs to find an engine for his 944 Turbo that caught fire and blew up. I still need Larry to pull the engine in the NSX and replace the rings. So Wayne and I decided we would blow off the car racing for a couple of months, and just do some practice with our old shifter karts to stay in shape and keep our skills sharp. This way, we could save some cash and try to ride out the market crash. This sounds sensible right? But then, the infamous Go-Fast Crack Pipe set in....and like Robert Downey Jr., we had a relapse....a big, big relapse......here's the story.
Some where around November 15th. NASDAQ is down to 3165. "We need to race radio controlled cars instead of the race cars and karts"
I get a call from Jeff. He says that he is bummed that he didn't get as much track time in his Sports 2000 this year, due to mechanical gremlins and a cracked tub that took some time to diagnose. He seems to be getting his car dialed in, and wanted to get some extra seat time in it. That, and the fact that he just bought one of those high end Pi Research data acquisition systems, pushed him to call me to see if Wayne and I were going to go to the TCRA Race and Time Trial at Sears Point. (Note: TCRA is the same as the TCC, they just changed their formal name from the Touring Car Club to the Touring Car Racing Association)

I initially told him I don't think we are going to go, but the more I thought about it, the more the Go-Fast Crack Pipe started to grab a hold of me. Let's see, haven't been to Sears Point before (well, we tried three years ago, but got rained out for the entire weekend), I haven't won a race or made the podium in a car race in ages, and many people have said that Sears Point is the best track on the west coast. The more I thought about it, the more I started to bug Wayne to at least drop his car off at Vision Motorsports and have the engine checked. We think he blew it up, but we ain't sure. Fire came out of the engine compartment, lots of smoke, and it sounds like big metal rocks are rolling around in the engine......but hey, maybe it is something minor, right?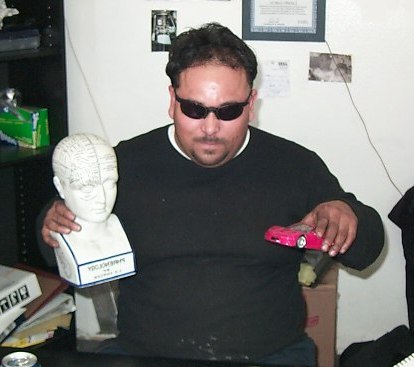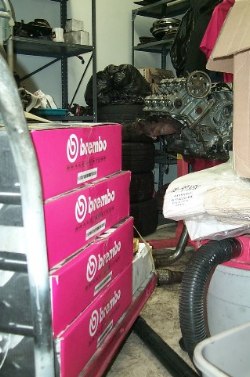 I am a Go-Fast Crack Dealer. I have the Big Brain to make your car go-faster.
Then my mind starts thinking a little more....humm....TCRA is doing Sears Point, and then two weeks later they are going to run at Laguna Seca. We could get the cars ready to go, and if all goes well at Sears, just park the truck and trailer in Northern California for two weeks, fly home, and then fly back up, take a short two hour ride in the truck and trailer, and be at Laguna Seca ready to duke it out. Hummmm......kinda sorta like two for the price of one, and after all, we ARE on a reduced racing budget. The Pipe is lit......and we are puffing away......yeah....that would be cool. We tell Larry about our plan, and he is up for it. But I also tell him that instead of him bringing a ton of extra parts, tools, and equipment, he is limited to one small box, as we might leave the entire trailer up in Northern California for two weeks, and he will need his tools and spare parts at his shop to work on customers' NSXes. Larry says that he feels that we are going to regret not having all his stuff in the trailer.


The guys at Corner-Carvers came up with the phrase "Go-Fast Crack Pipe"

November 20th. NASDAQ Drops below 3000 to 2875. "Playstation Racing will be our new thing. A used Playstation version 1. Or perhaps a Commodore 64."
At the previous kart race last month, we decided that Wayne would sell his Kawasaki shifter kart, and buy a Vortex engine with a new Tony Kart Mitox chassis for the upcoming season, and we would sell the spare kart we have, and purchase another new kart for me, and then I would use my existing Tony Kart as our backup kart. Hey, if Schumacher needs a backup Formula One car for his races, we definitely need a backup kart for our races. Confusing? Okay, let me explain it another way. We currently own a total of 3 Tony Karts, all with the Tony Extreme chassis. Two of those karts have Kawasaki 125cc engines, and the other one has a Vortex engine with the F2 head. Since we are stepping up in class to the F1 class of the KRC Cup for next year, it requires a Tony Kart with a Vortex motor with the F1 head. We could have sold just the Kawasaki motors alone, and then bought just two Vortex motors to put in our existing chassis, but KRC said that the used motor is worth a lot more if you sell it with a used chassis as a complete ready-to-race kart. What they suggested we do is sell our used chassis with the used Kawasaki motor, and buy a two completely new chassis and two new Vortex motors, and the price difference will be about the same as just selling the used motor and buying a new Vortex motor. Presented to us that way, we of course said, "Yeah, we gotta have TWO new chassis and TWO new motors, and we will sell the two old karts to someone who wants to get started in shifter kart racing. We figure we can sell the old karts fairly easy, right?? Yeah....right.......we take a puff on The Pipe. I tell the wife about our logic in getting two completely new karts for essentially the price of just two new motors, and she shakes her head and replies, "Only you and Wayne can figure out how to take a relatively inexpensive sport (compared to car racing) and make it as expensive as campaigning a full race car".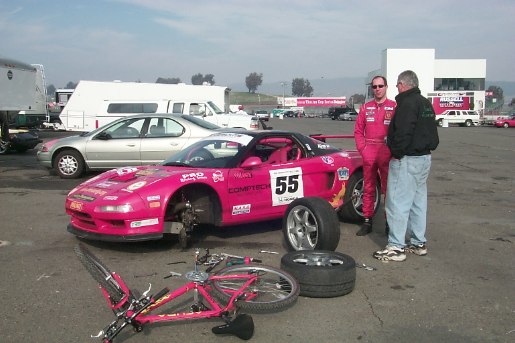 Jeff talking with Carl, his personal go-fast crack dealer
November 22. About 10 days before the race. NASDAQ crashes below 2800 to 2755. "Turtle Racing at the local beer joint is looking good"
Wayne finally drops his car off at Vision. They look at the engine, and say that they can make it go-faster again for about $10,000. Ouch. Vision is also an Official Go-Fast Crack Dealer, and they know that Wayne has two races in a row coming up. Larry, Mark, and Jesse of NSX Modified have the itch to go racing also, as they are also addicted to The Pipe. They don't drive on the track, but they like the rush of thrashing around to get the cars ready for the next run group, and then seeing the cars immediately get back on the track and kicking some ass. (Of course when the cars are kicking ass on the track, they take all the credit for it, with none going to the driver.) We decide that worst case, Wayne can't get his car finished in time, but then he can run my car in the time trial group, and I can run it in the race group. I also mention to Wayne that maybe he can rent a car from Sears Point for the wheel-to- wheel race, or see if the TCRA guys have a car that they want to rent to him for the weekend. Wayne remembers that one of the TCRA guys has a white 944 Turbo, stripped down to 2390 lbs, that he hasn't run in a year or so. I tell Wayne to ask about renting that car for the weekend. Wayne says he will do it later......but time is running out.
I tell Larry that we need to get rolling on my NSX to get it ready for the race. We are never ready on time, and time is creeping up on us quickly. There is quite a bit of stuff that we have to do to my car. We have to get the following done:
1. Pull the engine, as the rings are bad on my engine. Oil blowby is an ugly thing at the race track.
2. Take off supercharger, Comptech heads, etc.
3. Tear apart the spare engine that I bought many months ago
4. Put new rings on the spare engine
5. Put the spare engine back together
6. Put the Comptech heads, supercharger, etc, back on to my car.
7. Get the car aligned. (since we are dropping the entire rear suspension to get to the engine)
8. Get the car dynoed (since we are putting new engine together from scratch.)
9. Put all camera stuff, radio stuff, etc, back into the car and adjust, get the car washed, etc.
Unfortunately, Larry has a bunch of work scheduled, meaning that there are a lot of NSX customers that want to get their NSX serviced or have aftermarket go-fast parts installed. Getting ready for a track event is kinda weird....it is like studying for a history final. You know you should start two weeks in advance, but you always end up waiting until the night before and pull an all-nighter to be able to pass the test. And when you do pass, you feel really exhilarated, despite being dead tired and exhausted, knowing that you pulled it off successfully.

Larry has scheduled a dyno night for Wednesday, November 29th, which is the evening right before we are to pack up the trailer to go to Sears Point. For some reason, I smell impending doom.......don't you?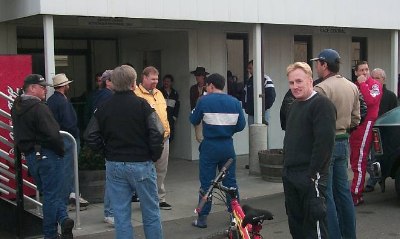 Wayne waiting for the RA (Racer's Anonymous) meeting to Start.

Wayne calls the TCRA guys. He talks to Emil, who sorta seems like the unofficial head of the TCRA, as it seems like he is the guy that owns the import/export business where the TCRA Headquarters is located. The TCRA denies that he is the Big Brain of the group, instead they insist that the TCRA is run by a committee who vote on various TCRA issues, and that is why their events runs smoothly. These guys are definitely on the Pipe, as inside their warehouse is a bunch of stuff that they are importing/exporting, but they also have at LEAST twelve cars in various stages of race preparation parked right down the center of their warehouse. They got CRXs, Porsches, Suburu WRX's with carbon fiber parts, Celica's, etc. These are also the guys that originally stripped out the interior of Wayne's 944 Turbo a couple of years ago to reduce the weight, thus turning it into a full race car. Emil tells Wayne that Wingco is the owner of the white 944 Turbo.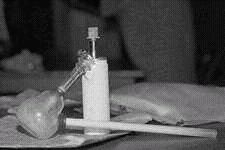 Is Racing more Addicting Than Crack Cocaine? You be the Judge....
Anyways, Wayne tries to talk to Emil about renting the car, and Emil says that probably ain't gonna happen, but he could probably buy the car for $18,000. Rumor has it that the car was originally built by a Porsche dude who had to sell it because of his wife, who apparently didn't want her husband to get hooked on the Go-Fast Crack Pipe. She knew the consequences of what would happen if he kept the car. Emil says that the car has a fiber glass body, stripped down interior, full rollcage, fuel cell, push button starter, Lexan windows, etc, etc. Emil keeps saying....."Only $18,000, it's a bargain". Wayne talks about maybe renting the car for Sears, and then if it works good, maybe he will buy it. The TCRA gang says, "Yeah, this car will run 1:28/1:29 at Willow.....and it is just a stock turbo on it. Just think what the laptimes you run if you put bigger turbos on it." But they politely decline renting the car to Wayne. I don't blame them, would YOU rent a race car you are trying to sell to someone like Wayne?
Wayne keeps trying to squeeze them down on the price. Emil and Wingco aren't biting........they see that Wayne has the go-fast shakes. Two races within two weeks of each other at two of America's best road racing courses.....and Wayne doesn't have a working race car. Wayne understands Robert Downey Jr's problem, Darryl Strawberry's problem, John Belushi's problem,.........and so do I.....the substance used is the only difference. The high is the same.....no, make that the Racing High is probably even better than a pure chemical high.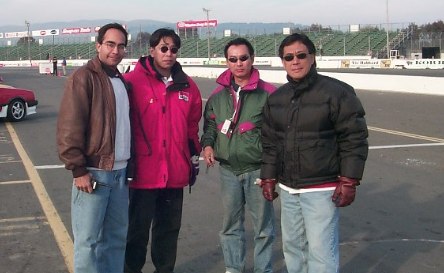 The TCRA Go-Fast Crack Gang Leaders
Thanksgiving Weekend. NASDAQ rises a mighty 150 points to 2904. "Here comes the rally"
I am searching around for Larry, but he disappears for two days. I mean, he vanishes in thin air, when normally he works 14+ hours a day at NSX Modified. Damn....I wanted to drive the NSX around town this weekend, to make sure everything is okay, and kinda shakedown the car ripping up and down Pacific Coast Highway. For all you dudes who do not live in southern California this time of year, it is sunny and 75 degrees and there are bikinis on the beach here. Instead.....I see my car with no engine in it, and the entire rear assembly of the vehicle on the ground. I ain't driving this anywhere for a while. Larry finally shows up, and says that he celebrated Thanksgiving in Vegas with an old friend named Elvis.......
Monday, November 27. NASDAQ rally putters out. Back to 2880. "There goes the rally"
My engine is still out of the car. All kinds of customer cars are showing up at Larry's, trying to get ready for the weekend. Alex is there with his immaculate NSX with the Gruppe M supercharger kit on it. Alex's car is a show quality car, and he is putting out big horsepower with his supercharger. When Alex first got his supercharger, it wasn't performing well on the dyno. So he got Larry to tinker with it, and Larry tuned the Gruppe M Supercharger to push out more HP than the Comptech Supercharger. Alex wants to get his car dynoed on Wednesday night, along with David's NSX and my NSX. Alex is heading out to a track event in Phoenix, and he wants to duke it out with other NSXers, many who have superchargers and a ton of aftermarket go-fast parts on their cars. Larry, Mark, and Jesse are thrashing to get all the cars done in time. Alex is the head of AV Motorsports, who is the exclusive importer of Gruppe M state of the art performance products for the NSX. For any inquiries, call them at 562-896-6399, fax them at 562-690-8479, or email them at knockout@ix.netcom.com. Alex's side occupation is that he is a dentist.....as like most of us, the Go-Fast Crack Pipe changes your perception of who you really are and what you do for a living....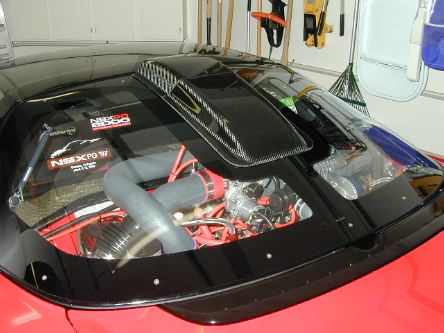 Alex's cool Lexan, light weight rear hatch with scoop, with massive Gruppe M Supercharger
Jeff C. from Norcal had his blue NSX trailered down from Norcal about three weeks ago. He purchased a used NSX and drove it for 600 miles and the engine spun a #3 rod bearing, possibly because there was not enough oil in the engine. He has gone to some local news channels to complain about the situation as he says that no oil warning light ever came on. A local Acura dealer wanted $25,000 to fix the motor. He heard about Larry via this website, and Larry said he could rebuild it for way less than half of what the Acura dealer is charging. Larry sent out the motor to a place that Larry has been using reliably for a couple of months, but apparently the engine shop lost one of their techs. As a result, Jeff's motor is late in getting fixed, late in getting parts that are needed, and returned back to Larry an entire month late. Now Larry has to finish up the getting the engine put back together and in the car, Jeff is disappointed that is it taking so long. So Larry decides for the future, he needs to find another engine guy to help with any NSX motors that get damaged. There are a lot of flakes in the racing industry, as I am sure you have all encountered some of them.

BUT, there is also a lot of false accusations and finger pointing going around in this industry, so it is very important to seek the real truth whenever you hear of a rumor. Verify the rumors with reports from all sources. Get specifics. Be like a New York Times reporter and get the facts. (Oh wait, I take that back, the Times broke the false Wen Ho Lee spy story.) Be like a major TV News Anchor. (Oh wait, I take that back, they announced the wrong Florida election results. Twice.) I mean, well you see what I mean....don't take for granted what people may say. Get the facts. Too many people misrepresent themselves or others, so be sure to check out any suspicious rumors you may hear. The Corner-Carvers website seems to be pretty good at checking out facts on the topics that they have expertise in. Check out this interesting thread where they seek the truth about some go-fast Mustang parts.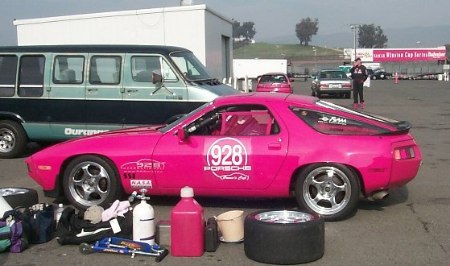 This guy showed up on Sunday to duke it out in the race group.

Meanwhile, Wayne takes another hit on the Pipe. "Hummm........if I talk to Wingco and get him to sell the car to me for $15,000, (after all, it has just been sitting in the TCRA shop for 18+ months or so), then sell my 944 Turbo for $10,000 without an engine, then my cost is only $5,000 or so, and then I have a purpose built race car that I can start modifying."
We have to go to KRC to pick up our old karts, as we had them tuned up and the motors rebuilt so we can sell them. Ya got $10,000 lying around, then you can have both of them, so you and a buddy can get hooked on the Go-Fast Pipe. The KRC guys are the dealers for Go-Fast Crack as it relates to 125 cc shifter karts. But they did make a fatal Go-Fast Crack Dealer mistake......they sampled a little too much of their own stuff. KRC is run out of Five Star Acura Service, which has about seven bays with car lifts for servicing Acuras and other passenger cars. Except the KRC guys have about half of the property devoted to storing, maintaining, and assembling about 25 Tony Karts, and the KRC guys are getting hooked on car racing. They ran the Motorola Cup Series last year with a couple of Porsches and also ran a World Challenge Race. Right now, they thrashing to get ready for the 24 Hours of Daytona in January, along with the Motorola Cup Series. When I was there, they didn't have any passenger cars on the lifts. But they did have a couple of race cars on their lifts, getting ready for their next big test days prior to Daytona. They forgot that if you deal in Go-Fast Crack, you should not sample the stuff too much.....or else you are hooked also.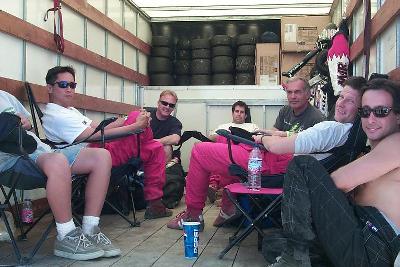 KRC Go-Fast Crack House, filled with addicts waiting for the Pipe.
It is kinda curious how KRC is run out of Five Star Service, TCRA is run out of an import/export business, Pulp Racing is run out of 1-800-Phoneguys, and AV Motorsports is part of a dental group.....The Pipe starts out small, with stuff like maybe a aftermarket exhaust, or a simple titanium shifter knob.......and then you start buying gears, Brembo brake kits, adding boost to the engine, lightweight body parts......and then suddenly it engulfs your entire business.....and then you start thinking that Robert Downey Jr is not a drug addict, he is just "misunderstood".

We decide to stop by the TCRA place, as it is sorta kinda on the way back from KRC, and talk to them about the white 944 Turbo. I ask Wayne if we should bring the small trailer to the TCRA shop with us, as I can see where this is going......he has that wishful look in his eye......imagining that he is leading the TCRA race at Sears Point with one lap to go, and he is looking in the rear view mirror, driving his car like an F14 fighter jet, twisting from side to side looking for enemy NSX bogeys coming from behind, just like Tom Cruise's co-pilot in Top Gun, trying to hold off the Flamemobile going into the Esses and the final two turns at Sears Point. The crowd is going wild, cheering and stomping their feet, chanting "GO WAYNE GO". Damn....the Pipe can really give ya some mega-hallucinations.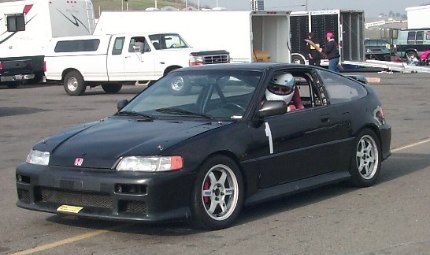 Andy's CRX. He is a board member of the TCRA Cartel.
We fire up the 944 Turbo at the TCRA headquarters. Wayne drives it around the parking lot, ripping it up and down the short alley way. Car sounds good and looks good. Wayne keeps trying to get Wingco to drop his price to $16,000. Wingco isn't giving in......he's got the only Go-Fast Crack around, and in four days, people are going to be ripping around the Carousel at Sears Point.....but only if ya got a car. Wayne says he has to think about it. I tell Wayne he can always run my car in the Time Trial group at Sears, but he says that it would not be any fun. He needs to have the wheel-to-wheel race group to get the full high, as wheel-to-wheel racing is 4x the high as the time trial group.
Tuesday, November 28th. NASDAQ falls below 2800 to 2734. "Blame this fiasco on the Floridians"
Wayne gives in to the Pipe. He calls Wingco, and says that he will buy it for $17,000. Wingco laughs........yeah right. "You want the crack, you gotta pay me $17,500". Wayne finally agrees, and says he will send Brent down to pickup the car the next morning.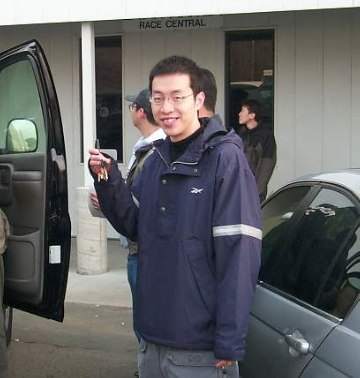 Wingco with 944 keys: "Go-Fast Crack is $17,500. No samples, no rentals. All sales final."
Wednesday, November 29th. NASDAQ Falls to 2706. "Cockroach racing....the new Fad"
Wayne buys $17,500 worth of go-fast crack. He becomes the proud owner of a new racecar.....one day before we have to pack the trailer to leave to Sears Point. The problem we now have is that since this car hasn't been driven in 18 months, we don't really know how ready it is for this weekend. We don't have enough time to test. Wayne hears about the dyno testing going on tonight, and scams his car in there. He also talks about switching the big red lobster Porsche brakes off his old 944 Turbo onto his new 944 Turbo. I am jumping up and down screaming, "NO NO NO. Don't bring out Raceaflais. Don't do it! No modifications the night before a track event." Disaster is in the air.......it is like watching the Concorde crash in slow motion, with hundreds on onlookers shaking their heads....
Wednesday late afternoon.
Wayne takes delivery of the new 944 Turbo. We start looking around at the shop......we have a 48 foot race trailer for the cars, an 18 foot trailer for the go-karts, a small one car trailer to shuttle the race cars back and forth to the various mechanic shops/alignment shops/dyno shops, two Porsche 944 Turbo race cars, one NSX semi-street legal race car, three Tony Karts, and two more Tony Karts on order. We take another hit of the Pipe.....ah...yeah, yeah, I am sure we can justify this somehow, even though the NASDAQ hits another low.......and we get flashes of Robert Downey Jr. in a straight jacket go through our mind.....but we picture him with a big smile on his face..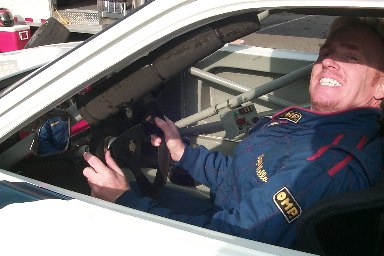 Wayne's got himself a race car for the weekend...

===================================
Saturday, November 25. Robert Downey Jr. gets busted for his habit in a hotel room.
Quote from Salon Magazine:
" So why did he again find himself under arrest Nov. 25, charged with possession of cocaine and methamphetamine, and why can't he kick the habit?
In part, because it's not a habit -- not something that can be overcome by sheer willpower, according to Jeffrey Hon of the National Council on Alcoholism and Drug Dependence. "Drug addiction is a chronic medical condition -- it's a behavioral illness just as much as diabetes or asthma is," he says. "It's not as if an addict can go into treatment and suddenly get cured once and for all." George Koob, a neuropharmacology professor at Scripps Research Institute, concurs: "Whether you're a movie star or a truck driver, you've got to understand that you always have to work at staying clean and constantly monitor yourself, just like a diabetic has to," he says. "
Now if you look closely at this article, you could easily change a few words and look what it says:

Wednesday, November 29th. Wayne Mello gets busted for his habit at his shop.
Quote from Salon Magazine:
" So why did he again find himself under arrest Nov. 29, charged with possession of two Porsche 944 Turbos, and five 125cc Tony Shifter Karts, and three race trailers, and a rig to pull the race trailers, and why can't he kick the habit?
In part, because it's not a habit -- not something that can be overcome by sheer willpower, according to Jeffrey Hon of the National Council on Going-Fast and Racing Dependence. "Racing addiction is a chronic medical condition -- it's a behavioral illness just as much as diabetes or asthma is," he says. "It's not as if an addict can go into treatment and suddenly get cured once and for all." George Koob, a neuropharmacology professor at Scripps Research Institute, concurs: "Whether you're a movie star or a truck driver, you've got to understand that you always have to work at staying clean and constantly monitor yourself, just like a diabetic has to," he says. "
=====================================

The new 944 Turbo is looking pretty tough
Dyno Test: November 29, Wednesday night, from 5:00 p.m. to 10:30 p.m at the SHO Shop.
We go to the SHO Shop in Huntington Beach, and these guys seem to have very good dyno expertise in helping people get the max out of their engines. Their dyno appears to be consistent and reliable, as we have used them many times now. Larry looks exhausted. He was thrashing on cars all week long, and not getting much sleep at all. And then Wayne throws the ,"Oh, by the way, can you dyno my car also?". I tell Wayne that he is screwing up our schedule, and we ain't gonna make it to the track in time. First he buys a car at the very last possible minute, now he wants to squeeze in on the dyno time. Larry wanted to drive the NSX around town, to make sure everything was okay, but as soon as it came off the lift, I took it to get aligned, as he had the entire engine and rear suspension out of the car in a zillion pieces.

Larry is getting pretty good at getting maximum power out of both the Comptech supercharger, and really doing a good tuning job on the Gruppe M supercharger. Alex's NSX puts out a stupendous 364+ HP at the rear wheels, and the power is linear across the RPM range on the graph, so he is ready to rock at his track event this weekend. Larry walks around strutting at the SHO Shop, as if he can hear Alex saying, "Check out the Big Brain on Larry". Wayne's new 944 Turbo is put on the dyno, and it fails miserably. It is putting out about 220 HP at the rear wheels, and Vadim and Larry are looking at the dyno chart and the air/fuel mixture, and they come to the same conclusion: The car is not putting out enough boost, (only about 5 lbs according to the boost gauge in the car), and they are afraid that the car is going to detonate at the race track. Wayne looks like instead of getting a bag of crack, he got a bag of battery acid.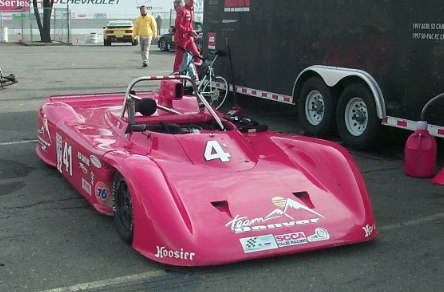 Jeff's Sports 2000
We put my car on the dyno, and it is dynoing at a miserable 280+HP, so it is down 60 HP from the previous engine. Larry says that the car seems to be misfiring, or there is a boost leak somewhere. Looks like I end up with a big bag of baking soda. No Go-Fast Crack for me tonight......
Okay, so we were going to pack the trailer up tomorrow afternoon and leave Friday at 5:00 a.m., but instead it is 10:30 p.m. and both cars have failed miserably on the dyno. Looks like we ain't going racing, unless we can figure out what is wrong. Larry says, "Don't worry, I think I can figure out what is wrong". Wayne says, "While you are thinking about what is wrong, why don't you throw the big brakes off the old 944 to the new 944? It should only take a half hour or so." I have a panic attack, "No, are you crazy? You can't make changes like that this close to the race. You smoking crack or what?" Then I remember....oh yeah....we been on the Go-Fast Crack Pipe all week long. Wayne claims it should just be a simple swap and replace, and then Wayne can worry about the 944 engine problems in the morning.
Wednesday night, from 11:00 p.m. to 2:30 a.m.
Back at the NSX Modified shop, Larry and crew thrash away for hours on Wayne's car. They take calipers off of the old 944, and take the calipers off the new 944, and switch them. Except they don't fit. Raceaflais rises to the occasion, and laughs his head off at our stupidity in trying to do a major modification at the last minute. Apparently it looks like you need some special spacer blocks to get the bigger calipers to fit. So right now, both of Wayne's 944's are on the racks at NSX Modified like sitting ducks, as they can't be moved. Larry starts on my car, and Wayne says that first thing in the morning, he will chase down the parts so the brakes will fit.
November 30th, Thursday morning. NASDAQ drops below 2700 to 2597. "You have to feed cockroaches. Let's take up jogging, it's cheaper."
Wayne says that he thinks he is going to sell his Ferrari F355. It is out of warranty. Ferrari wants $2800 to fix a leaky heater core. When you have the paper profits, you can sort of justify a go-fast street car that has the reliability of 100 year old punch-o-matic Voting Machine. But when you have paper losses, those monthly car payments that are double your condo payments seem ridiculous. Jeff also sold his F355 a couple of months ago, after it went out of warranty. So right now, it looks like I will be the last guy standing with the Italian Sound Machine.
I call Jeff, who convinced us to start gearing up the race team for this weekend, and tell him that we, uh...have a bit of a problem. Both cars aren't totally functional yet. Wayne wakes up early, and thrashes all morning long chasing down parts so he can get the big brakes to fit on the new car. Many hours later, he eventually gets the stuff he needs and drops it off at Larry's. Larry and Co. finally get the brakes on. Larry also re-installs the supercharger, checking for leaks. The motor on my car is still missing a bit, and it is bugging him. Wayne comes by around 3:30 p.m., and then drives his car over to Vision Motorsports, and begs them to fix his car so they can put it on the trailer tonight to go to Sears Point. By some stroke of luck, the Vision guys agree to work on his car into the middle of the night to get it working....and all it costs is cash.....they don't call it the Go-Fast Crack Pipe for nothing. Every hour or so from 5:00 p.m. on, Wayne calls me, and asks for the status of my car over at NSX Modified.

Wayne says that if my car is terminal for the weekend, let him know, and then he will stop the overtime clock over at Vision, and we can all go home and get some sleep. You think a hit of crack is expensive? Try overtime at a speed shop. At Vision, the 944 experts are saying that Wayne's car has some additional problems, such as:
Wastegate is stuck. This is why the dyno said the motor sucks. Vision is able to fix it.
Water pump is dying. Since they are 944 experts, they got spares lying around.
If we pull the water pump out, might as well replace the timing belt. Since they are 944 experts, they got spares lying around.

The big brakes are not on correctly, as the spindles on the new 944 are not the right ones. Now they are 944 experts, but they don't have super special parts like these laying around. Which means that we have to have someone take all the brake caliper/rotors/screws that were originally on the new 944 but were taken off and replaced with the old 944 big red brake parts, and switch them back again. Meaning that the big brake kit on the old 944 won't fit, so Vision is going to take the big reds OFF the new 944, and put the original brakes back on the new 944. So Wayne burned about 12 hours trying to get the brakes upgraded, and he ends up with the same stock brakes that he had to begin with, so it becomes an exercise in futility. Raceaflais smiles.

Larry puts the supercharger back together, and wants me to rip it down the street by the shop to check on the power. I take the car over there at 11:30 p.m., and tear up and down the street. 1st gear feels good, 2nd good, but 3rd gear only accelerates to 7000 RPMs and then the engine light comes on, and the engine completely shuts down. It does this three times in a row. I take the car back to Larry, and tell him that it ain't working. But I also calmly tell him that if we can't get it to work tonight, we can scrap this exercise, and we can fire up the Pipe in two weeks for Laguna Seca, so we will be more prepared. Larry insists on working on the car, as he feels he is real close to fixing the problem. He hasn't been to Sears Point before, and he is itching to be the pit crew chief that wins the TCRA Race due to his expertise with the NSX.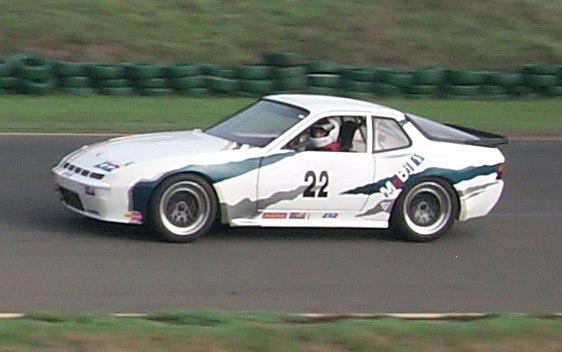 Wayne at speed on the track
Larry checks the coils, checks the plugs, checks the boost. Jesse and Larry mention that maybe it is the map sensor, since the map sensor is from the new motor that we are installing. We swap that out with the old one, and I go for another test run. 1st gear, 2nd gear, and 3rd gear at the redline are fine. No problems whatsoever. Car feels pretty fast, but we can't get it on a dyno to verify the power. I call Wayne, and he says that they are buttoning up his car, so he should be ready to trailer his car back to the shop in about 30 minutes. Which would make it 1:30 a.m. in the morning, the night before we are to leave for Sears....looks like we are not going to leave at 5:00 a.m. Wayne meets me at the shop, and by 2:00 a.m., we have the cars and equipment packed in the trailer. WE ARE GOING RACING! We can feel the go-fast buzz coming on pretty quick. We got two race cars ready to go(well, sorta ready to go, at least they are running halfway decent). We didn't get to fully test them, but we should be good for some fun this weekend. We agree to leave at 9:30 a.m. instead of 5:00 a.m., so we can avoid the LA morning traffic. We head back to our respective townhouses, and try to get some rest, dreaming of kicking everyone's ass at Sears Point this weekend. It is like we just scored two kilos of Go-Fast Crack, enough to last us two full weekends.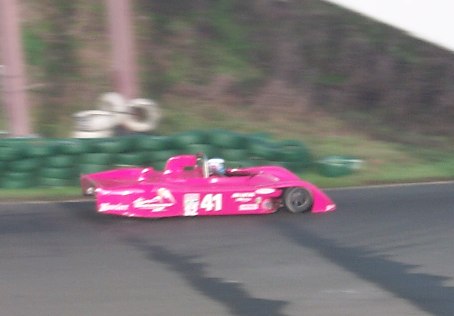 Jeff at speed on the track
Friday, December 1st. NASDAQ up to 2604. NASDAQ must have hit the bottom. It can't go lower!
Amazingly, we make it to Sears Point in about 8 hours. I was thinking it would take us 11-12 hours, but the 5 freeway is pretty much a straight shot, and the Ford Dually is pulling the trailer at a pretty high rate of speed. Wayne, the Wife, and I drive up in the truck, and Larry, Jesse, and Mark plan on driving up later, after Larry finishes up a couple more customer cars.
Saturday Morning, December 2nd, at Sears Point Raceway.
I feel pretty confident about this weekend. I downloaded this document from the Club Z website that has in depth information on each turn at Sears Point, such as where to brake, where the apex is, how to set up for the next turn, etc. I spent quite a bit of time memorizing the track, and some of the tips. Since I always try to get an unfair advantage, I also ordered a $20 BMWCCA tape that has an instructor going around Sears Point with a video camera in his car. I watch that numerous times.
TCRA only has about 50 cars at this event, usually they have 100-120 cars at their events. This time, they only allowed drivers that had at least four track events under their belt to enter the event, as they felt that this was NOT a track for beginners. Sears is a tough track, I would say that it is easily the toughest track to learn out of all the tracks that I have raced at. I downloaded the qualifying times from the recent World Challenge Race at Sears Point. Peter Cunningham took pole with a 1:44 laptime. Mike Eckhaus ran a 1:52, and it was his first time ever on this track with his World Challenge Corvette. I figure if Mike can run a 1:52, I should be able to run a 1:51.....even if Mike has been whupping on me the past year.....

We scramble to get the car ready. We have to put the front splitter on, get some gas for the car, get the radios installed, get the timers installed, get the camera installed, get the straight through racing pipes installed, etc. No matter how early you get to the track, you can't get everything you want done in time. The first session comes up pretty quickly at 9:00 a.m., and I miss the first ten minutes or so. No biggie, as I signed up for both the race group and the time trial group, figuring that I might need the extra time trial group to learn the track, or sort out any problems with the car. Everyone in the race group is out on the track. I head out to the pit exit, and Emil waves me out. So I head out straight onto the track......except I am a total dork, and I miss turn 1 completely, as we were thrashing on the car, and I didn't realize that after pit out, you make a hard left to get on the track. Instead, I just go straight down the drag strip track and I intersect with the end of turn 6 on the track where bunch of cars coming ripping around. So I get the ass clown award for the day, and I also get the first black flag of the day by the corner workers......
Okay, so I have been studying this track for many hours on paper and video tape. I figure this will help me get quicker on the track. Except the problem is that looking at a two-dimensional drawing of a track doesn't convey the important third dimension, which is elevation. Sears has about four turns that crest at the top of the hill, and you can't see the other side. So for a newbie on the track, it is scarier than NASDAQ below 2600. The local BMW guys are blasting around the track. After my first lap around the track, I sorta realize that all the documents and video tape that I studied helped a little bit.....but not nearly as much as I thought it would. I start to realize that this track is going to be the toughest track to drop your lap times. After my first session, my best lap time is a 2:09 or so. Houston, we got a problem. I am running a full 17 seconds slower than Mike, and 25 seconds slower than pole for the World Challenge race. Maybe I should take up knitting sweaters instead of auto racing........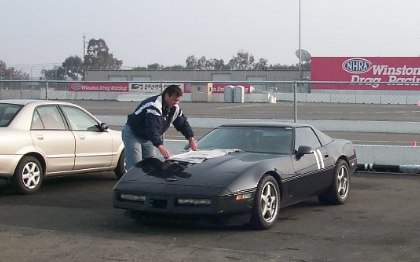 Bill with his ultra fast Vette
There are three BMW guys that are looking good on the track. They are doing a great job of launching their cars over the blind hills, and I mean launching. I will be about four car lengths behind them going up the blind hills, but on the other side of the hill, they end up 11+ car lengths on me, as they know exactly where to position their car to launch over hill and thus get on the gas much earlier than I can prior to the crest of the hill. Remember, this is racing, so you don't brake at the crest of the hill and figure out where to turn, you want to be accelerating way before you get to the top, so you can literally FLY over the hill. One of them comes over to the Pulp Racing trailer, and he sees that I have about 15 pages of the SAAC track document pasted to the side of the trailer, highlighted, with scribbles all over the document, and I am trying to figure out the track. His name is Gil, and he offers a bunch of tips about the track, as well as offering to show me the line in the next session. I gratefully accept his offer.....as it is always better to follow someone who knows what they hell they are doing on the track.
So I check out the competition during the break. Bill is there in his Vette, and he is always fast, but he doesn't have his full race tires, he has only his A032's. There are two nicely setup BMW M3's, but it looks like they are normally aspirated, so they should be beatable by my car, providing I can drive decently. Gil is there in his older BMW, and he is also normally aspirated. The BMW guys look like they have lots of experience at this track. Jeff is there with his Sports 2000, but he doesn't count in the race, as that hardware is the equivalent of a 600 HP Porsche racecar. The Sports 2000 only has a 140 hp Pinto motor, but it probably only weighs about 1200 lbs, with slicks, and will stick like a go kart around turns. So I figure that I have a reasonable chance to be King of Sears Point for the weekend among the car guys.....but only if I can get my act together......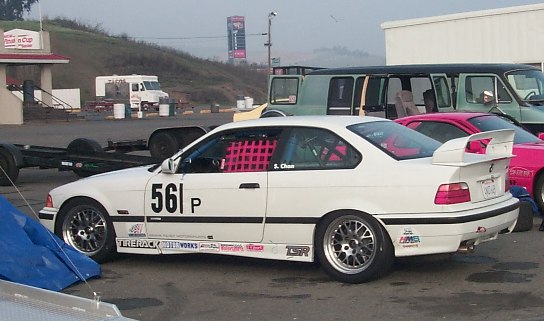 One of the BMWs that was kicking some ass
The next session, I follow Gil around for a couple of laps. Gil is smooth, he is just ripping through the blind hills and through the infamous "Esses" section of the track. I feel a lot better now. I drop 10 seconds off my laptime by following Gil, so I am running about 1:59 now. Looking a little more respectable. My car is idling funny with the straight pipes, and it almost sounds like I have a cracked header. Larry says that he can't diagnose it, as the straight pipes are too damn loud. I mean, with the straight pipes on the car, it is probably the loudest car out there. Larry wants to throw on our 2nd set of racing pipes, which has a little bit of baffling in them to decrease the noise and create some back pressure, but we boneheaded and only brought one of the two pipes. So, we throw the aftermarket street exhaust on the car, and the irritating cracked header sound goes away. Larry says that to his trained ear, the car still doesn't sound right, maybe the timing is wrong. Remember, we thrashed on the car the night before just enough to verify that we had decent power. We borrow a timing light from Jeff and Carl, and Larry starts tinkering. Meanwhile, Wayne's car dies on the track. Turns out it was just the rotor from the distributor was loose, and it was spinning freely. Minor bugs to work out still on his new race car. The 944 was overheating a bit, so Wayne thought the cooling system had to be bled, as this is the first time that the car was on the track in a long time. But Wayne overtightens the bleeder screw, and snaps it off. So he rummages around the trailer looking for a similar screw. Larry has his head buried in my engine compartment. We have complete chaos in our pit area, with the five of us running in and out of the trailer to grab parts, tools, screws, etc, every ten seconds.
Jeff and his mechanic Carl are a little more relaxed on their side of the pit, sitting in their lawn chairs and looking at us like we are the Five Stooges or The Moron Racing Team. Jeff and his mechanic take a more structured approach to a track event than we do. Carl believes that if the car isn't perfectly ready to go one week prior to the event, they cancel the track event. If we followed that philosophy, we would never make it to any events. Jeff's new Pi System will supposedly tell you your fastest section times through a particular turn, and then will predict your fastest theoretical lap taking your fastest sections times through each turn. This way, you know what the car is capable of running if you ran the perfect lap. You can download all this data into your laptop computer so you can visually graph your performance. Sounds pretty cool, except that it costs about $4500.....yeah, Jeff is on the Go-Fast Pipe also. So Jeff and Carl look organized and ready to rock and roll.....except the software comes with a copy protection code, and it appears that the code they gave Jeff doesn't work....so he can't analyze his data with his laptop. Pi Systems is closed over the weekend, with no customers support, so he has a high tech gizmo that cannot be used at its full potential this weekend.
Okay, so the third session of the day for the race group will be timed by the TCRA to determine the starting grid for the qualifying race at the end of the day. The only real gripe that I have with the TCRA events is that they use what seems to be a random, manual timing of laps to determine how to grid for the qualifying race. They don't have a formal timing system, so they have a couple of people, each holding what must be four stopwatches, and they are clocking lap times during the third practice session. They don't have enough people or stopwatches to clock all your laps, so they appear to randomly pick out some laps to time for each car, and then figure out the grid from there. I make sure I get on the track with lots of space between me and the other cars so I can get some clean laps, and I take another three seconds off my lap time, so now I am in the high 1:56 range according to my Hot Lap timer. Afterwards, TCRA has me gridded 7th with a 1:59. I grumble a bit, but everyone else is grumbling that their times seem slower than what they should have been. I can't complain too much, as the BMWs are still running faster than me, along with the Vette and Jeff, so I guess 7th more or less where I should be for the grid. And just a couple cars behind me, is Mr. Mello, with his new 944 Turbo. Wayne says that he is getting used to the car, and I will be dead meat in the qual race.


Larry, Mark, and Jesse thrashing on the car again
Okay, so Jeff is on pole for the qual race, and with his Sports 2000, he is running 1:41 or, so he is about 14 seconds faster than the Vette/BMW guys. We are gridded up for the race, and are coming side by side out of the final turn at about 35 mph. Green flag drops and I get a jump on a grey 944 Turbo that is in front of me, and I slide into sixth place. We come three wide into turn 1, and going into turn 2, it is Jeff, BMW, Vette, BMW, BMW, then me. Coming out of the Carousel, they all pull from me, and I try to catch up under braking going into turn 7. It looks like Gil brakes a little too late, I see tire smoke, and Gil slides off the track, and our little group of cars pass him. Gil gets right back on the track, but now he has to play catch up. I try to chase the Vette and M3 guys down, but they know the track pretty well, and they steadily pull away in the Esses and over the blind hills. I am pretty much driving by myself, without anyone close by me. This is boring.

But then I see Gil bearing down on me in his BMW. I try to hold him off for a lap, but he is clearly faster than me, so I let him by, and concentrate on following his line. I try to get right on his bumper. After a couple of laps, he lets me get by him. This is curious....he is clearly faster than me, but he lets me by. I come to the conclusion that he is either saving his tires for the final race tomorrow, or he wants to see what my driving line looks like with him on my bumper, so he can figure out where to dive in on me in the final race. He also probably figures that even though I have a lot more power than him, it will only take him a couple of laps to get by me, so he isn't worried about being gridded behind me for the final race. The track has less grip now as the temperature is dropping, but I run a 1:55.9, which is my fastest time so far, thanks to Gil. I end up 5th in the race. Wayne is a DNF due to the little screw on the rotor for his distributor cap coming loose again. What a pain in the ass.....I guess the little substitute screw we found won't hold his rotor down, which is probably spinning at 5000 RPMs. Back to the drawing board.
Okay, so now it is starting to get cold and pretty dark outside, but we can't leave the track yet. We are scrambling around trying to work on the cars. We fire up the generator, and we have all the lights on the side of trailer blazing, along with portable trouble lights, and portable light stands. Larry, Jesse, and Mark are thrashing on the cars. Wayne is calling around trying to find out if he can get a replacement rotor/screw for his car. Larry still feels that something is wrong with my car, and he says that he thinks the engine is still missing a bit. We borrowed the timing light again from one of the Vette guys next store, and he is screwing around with that. Matt, a regular from the Corner-Carvers website shows up, and he just happens to have a zillion screws in his truck, and one of them seems like it will fit. Two hours after the race, we are finally ready to head out for dinner. Nick, another local guy that is a regular on the Corner-Carvers site hangs out with us at dinner, and he listens to all of us rag on each other all night long. Larry says at dinner that he thinks has my motor running just the way he likes it for the final day at Sears. He says the car will kick some ass.....he just isn't sure about the driver......
Sunday Morning.
Larry is still dicking around with the car. I tell him not to worry if we miss the first practice session, as the track is real damp, and this is not a track that I want to be ripping around with potential wet spots. Wayne goes out on the track, and promptly spins his car going into the hill at the top of turn 2, even though he was only going 20 mph. Wayne comes back in, parks the car, and says that he will wait until it gets a bit drier. We would suck in a race in the rain on this track.
I take the car out in one of the time trial groups, and the car is feeling faster thanks to Larry and crew. I run my fastest lap so far, which is a 1:54.8. So we finally get my car dialed in for victory. I figure the BMW guys are running consistent 1:55/1:56, along with the Vette. I tell Larry that I am taking the BMW dudes down in the race, and Bill in his Vette is going down in flames with them. In the next time trial group, I take Larry out as a passenger, as TCRA only allows their instructors to take passengers in the time trial groups. Believe it or not, Larry has NEVER been in the car with me at speed around the racetrack. He refuses to get in the car with me at the track, because he is scared that I will kill him. Anyways, Wayne and I convince him to get into the car, and we go ripping around the track. Even with Larry's svelte figure in the passenger seat (he looks like Tony Soprano) I am turning 2:00 flat, and for the first four laps he is screaming and yelling with a big smile on his face like a kid who is on his first roller coaster ride. On lap five, he is strangely quiet, and from experience, I know that means to get in to the pits ASAP before the passenger barfs in their helmet, or worse, barfs in my car. We make it back to the pits safely, but there is a grating noise coming from the front of my car. Apparently the brake caliper plate screw was starting to work its way out, and the caliper was starting to drag on the rim. It appears that the aluminum adapter block that holds the caliper on has a steel bolts to hold it together. Larry thinks that with dissimilar metals combined with high heat and rapid cooling causes the bolt to eventually work its way loose. Larry pulls out the tap and die kit, and finds another bolt to use in the meantime, to get me back on the track. From now on, we are checking these bolts prior to every event. You would not think that these would come loose.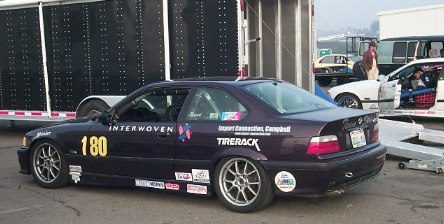 Nice looking BMW
There is one last practice session before the race group. In the previous run group, I smelled radiator fluid, which is a very bad sign, but after coming into the pits, we did not find a leak. This session, the smell is stronger and the car is starting to overheat, so I come into the pits, and we still can't find the leak. The car won't leak fluid while idling, it appears to only happen when the cars is at the redline on the track. We cannot find the leak by visual inspection from the top of the engine compartment, so Larry pulls out a mirror and starts checking the underside of the hoses on the car. He thinks he finds what may be a pinhole leak, but we don't have any extra hoses. Emil is on PA system, saying, that he wants all the cars in the race group to be gridded in five minutes. Uh oh....Larry, Mark and Jesse swing into action. We grab one of the tripods for the extra Hot Lap timer, and cut off the leg, which can be used as a pipe substitute, which can then be used as a hose substitute. Larry cuts the offending hose in half, to make the splice. We pull out the vise, hacksaw, hose clamps, and the pit crew is jamming, trying to make sure we make it to our spot on the grid for the race. They start to splice the pipe in, but then see the plastic gas can filling hose, and they cut that up and use that instead of the pipe substitute. After putting all this on, we fire up the car, but Larry says that he doesn't think the radiator cap is holding enough pressure, and that could also be why it is overheating. Larry is cursing, saying that this always happens when he isn't allowed to bring his extra 500 lbs of parts/tools/equipment, as he has spare radiator caps in his bag of tricks.
Meanwhile, Wayne is also scrambling. His car isn't shifting properly, and it appears that the slave cylinder for his clutch is leaking and dying a fast death. Mark, Larry and Wayne scramble to try to stabilize the the clutch, but Larry said that it ain't gonna work. Wayne says screw it, just bleed it and he will run it like that for the race. Wayne succumbs to the Pipe again. Larry shakes his head, as he has seen that look in our eyes....."Just get me on the track. So what if I won't finish....just get me on the damn track!"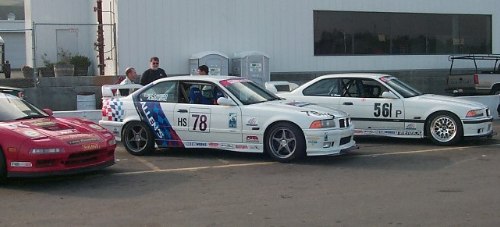 The two BMW M3's that were kicking my ass all weekend long
Okay, so we got Jeff on pole, Bill in the Vette, the two BMW M3s, Gil, and me. Coming around the last turn of the warmup lap, Jeff again goes pretty slow....heh heh heh.....this way I can use the supercharger to get a jump on the BMW guys. We are gridded two by two, the green flag drops, and I mash the throttle and let Larry's handiwork on the supercharger take over. I launch into turn 1 and blast in front of the two M3s. Ultimate Driving Machines? Bah Hah Hah! The Ultimate Driver is taking over! Coming out of turn 2, it is Jeff, the Vette, me, and then the BMW dudes. For 1.5 laps or so, I keep my position, and I start pulling on the BMW guys, as I can see them dropping further behind in my rear view mirror. I can imagine that Larry is strutting around the pit area saying, "Yeah, I am The Man with The Big Brain. Lookit my car kicking ass". Yeah.....now I just have to worry about Bill in his Vette. A couple of times I see the BMW guys jerking their car to the right to take a peek at the inside line going into turn 11 and thinking about attempting to out brake me, but I see them and I move to block the lane, thrash my Brembos at the last possible second, and then launch back into the Comptech Supercharger. Since my car is lighter and has more power, I can pull on them on the straights to make up for their speed in the turns.

I feel pretty good about my chances at holding off the BMW dudes, even though they were kicking my ass all weekend long. Going into the second lap, I downshift from 4th gear into 3rd...but I can't find 3rd gear. Oh no....not again....not a stupid clutch problem.....I try again and I successfully grab third gear. The BMWs get closer. Half a lap later, I have to shift from 4th to third, and I can't grab the gear again...it takes three tries. Uh oh....I seem BMW grills all over my rear end. Damn. Going into turn 2, I downshift into 3rd.....and I miss the damn gear again.....and I try once, twice, three times, four times, damn, and I still can't find 3rd.....the BMW guys almost crash into my slow, no-shifting ass, but at the last second they rip around me and then all of them are gone......They whip by the Ultimate No-Shifting Driver. Oh well....let's try to continue the chase. But now my car starts to overheat if it spends too much time above 7000 RPMS. Damn....either there is another leak, or maybe the coolant cap isn't holding pressure? I ease off the RPMs, and I try to shift earlier. I am worried that I am going to be flying into a turn, I will try to grab 3rd, and I will instead grab air, and then the car will spin as their is no traction coming from the rear end. The 928 rips by me. Another car rips by me. Jeff laps me. Damn damn damn.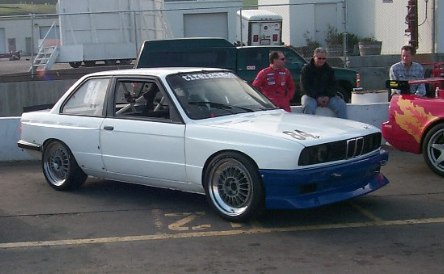 Gil's BMW. He kicked EVERYONE's ass in the final race except for Jeff
I finish the race a pathetic 8th or 9th. Wayne DNFs, as his clutch went out, just like Larry said it would due to the slave cylinder. Gil in his older BMW chased down the other two BMW M3s, and also out raced Bill in his Vette to take 2nd place in the final race behind Jeff's Sports 2000. If you looked at Gil's car, you would say that NO WAY is that guy going to beat me on the track. I figure either that his car has a BMW 12 Cylinder engine in it, or Gil is a god-like driver on this track. I don't want to be around Gil if he gets a faster car with more horsepower.....because then he might really do some big time ass whupping.....

So we get a bit of an ass whupping this weekend. We think about whether or not it is feasible to keep the trailer here in Northern California, and then just fly up for Laguna Seca. Wayne thinks we can fix his car at Laguna, but I am not sure about mine. We have a coolant leak somewhere, and I am worried about the clutch. I don't want to go back to Laguna and be searching for 3rd gear. We decide to take the trailer back home to Huntington Beach, tails between our legs, and regroup. Wayne and I agree that even with the problems we had at Sears, it was well worth the trip, and we are glad we thrashed to make it to Sears Point. We have a good racing buzz for a couple of weeks after the event, as we keep replaying our best lap at Sears Point in our head.
Larry has a bunch of customers that need their NSX worked on. He still needs to finish rebuilding Jeff C's NSX engine. Wayne and I decide to bail on going to Laguna Seca in two weeks, as we don't feel we have enough time to make sure the cars are working perfect before we leave. We don't want to go through another last minute fiasco.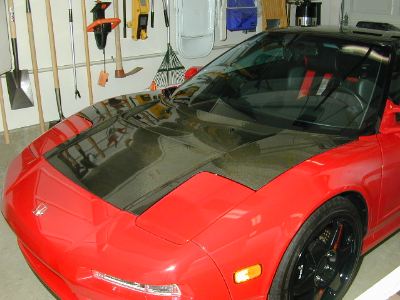 Alex's car with perfectly shaped and polished carbon fiber hood.
We check later on with Alex who ran his Gruppe M car in Phoenix at PIR for the first time. He said that the other NSX owners had more experience on the track, so they seemed to be turning faster overall lap times. However, Alex also said that coming out of a corner, in his very humble opinion, the Gruppe M NSX was pulling away from all the other supercharged NSXs at the track, so he is happy about how Larry got his car dialed in. Alex's Go-Fast Crack Dealer is Larry, Alex is a distributor for Gruppe M, so Alex is trying to subsidize his Go-Fast Crack habit by selling other people his brand of Go-Fast Crack. The Colombian Cocaine Cartel would be proud of his multi-level marketing organization...

December 8th or so. NASDAQ is up to 2917. Greed is permanent. People are betting on the stock market again.
Larry finally gets Jeff's block/motor back from the machine shop. Now Larry reassembles the engine, puts it back in into Jeff's car. He works on tuning it.....but he feels that the engine still isn't running perfect yet. It sounds fine to me, but Larry feels that it is running a little rough. Larry's a perfectionist....he calls Jeff, and tells him that he has to work on it a little more, and not to come down this weekend to pick up his car. Larry and crew pull out the engine again, completely disassemble the motor, and Larry sees that the camshaft seemed to have some grooves on it, probably from when the motor died and the valves hit the cams. Did the engine/machine shop let this slip by? Those bastards......and Larry thinks about opening up his own machine shop...
Weekend of December 9th
Larry goes with Randy over to the drag strip over at Pomona Raceway. Larry designed this special, custom, direct port NOS injection for Randy's NSX. Larry looked at some of the NOS designs that were out there, and most of them consists of a single hose that feeds into the intake via a fogger for the NOS. Larry gets this wacked out idea that instead of fogging the NOS into the air intake or the throttle body.....let's just shoot the NOS directly into the six fuel injectors on the NSX via six individual NOS lines. Yeah......Randy is hooked on the Pipe just like the rest of us, and this one is Larry's fault. Their goal is to get into the 11's in the quarter mile, which is pretty damn fast for an NSX. Randy's car has a stock engine, with exhaust, headers, airbox, and six big pipes fulls of NOS. Randy borrows a set of my rims with some Hoosiers on it, as he doesn't have any drag racing tires, and he figures the Hoosiers would be better than street tires. The month before, he ran a 12.3 in the quarter mile. This weekend, Randy has a hard time trying to figure out how to get the rear Hoosiers heated up for the burnouts. On his next run, he launches late and spins the rear wheels too much in 1st and 2nd gear, and ends up with a 12.5. Perhaps those used Hoosiers were a bad choice of tire for the drag strip. Anyways, Larry says he thinks the car as he set it up will do at least an 11.50, providing he can find someone who is experienced with drag racing, and we figure out how to properly do burnouts on the NSX......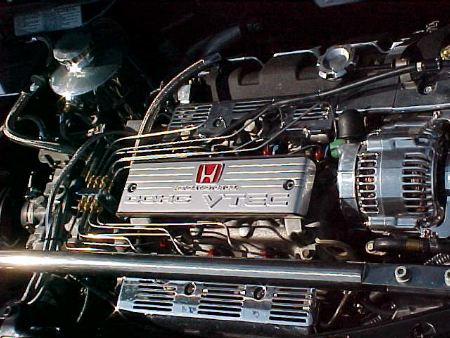 The thin chrome lines you see are NOS lines feeding directly into the fuel injectors
December 10th. NASDAQ at 2844. Going down like Monica Lewinski.
Larry starts on Jeff's motor again, and smoothes out the imperfections on the camshaft using sandpaper and his magic touch, until it is perfectly smooth. And then the crew reassembles the motor again. The engine now purrs like Cleo the Cat, and Larry is satisfied. He tells Jeff to come on down to Southern California. Jeff picks up the car, and is pretty happy with. Click here to see Jeff's feedback on NSX Modified.

December 17th. NASDAQ at 2596. This can't be happening!
Wayne decides for sure that he is going to get rid of the Ferrari, and puts a down payment on a big, new house in Huntington Beach with his girl friend Amy. So his $2000 a month car payment will now turn into a $2000 a month house payment. He schedules an appointment to get the car detailed so he can sell it in early January.
Larry finally has time to checkout my car, and he takes the clutch out to inspect it. He says that the clutch looks sorta okay, there are no broken parts, and thinks that the clutch was acting flakey because I was flogging it. Anyways, he starts to install a special AP racing clutch for my car, hoping that will cure the problem. I tell him that the BMWs and the Vette were kicking my ass around the Carousel (turn 6) at Sears Point, and maybe we need to do something to the suspension setup. He looks underneath....and it appears that I disintegrated one of the bushings on the right rear sway bar...which might explain why the other cars were faster through this turn. It couldn't have been my driving....

December 19th. NASDAQ down again to 2511. "Time to sell the F1 Sound Machine"
MSFT down to the low to mid $40 range. OUCH! I start to agree with Wayne. The Ferrari is a luxury item that you have when paper profits are good. When paper profits are going south, it is time to retrench and regroup. I decide to take my F355 to get detailed at Premier Motorsport in Los Angeles along with Wayne's F355, and put mine up for sale also at the beginning of the New Year. The F355 is frigging awesome, and it was great fun while it lasted......but now we have to go into defensive mode, and hunker down and ride out the crashing stock market. My warranty runs out in two months, and I don't think I can afford to maintain the car the way I thrash on it. As it is right now, it has to go into the shop because it is leaking coolant from somewhere, the throttle is sticking so after you take your foot off the throttle, it continues on for about two more seconds, and the damn alarm keeps going off for no reason, so I can't arm the car anymore. When the car is under warranty you can sorta deal with this because the car is so awesome to drive, but when it goes out of warranty and you have to pay out of your own pocket $95 a hour for a Ferrari mechanic to fix it, you might get a little frustrated. Maybe I can sell my car to this guy.
I am glad we saved up about fifty used race tires over the past four years, as we are gonna need them until the market revives itself! At least we already paid for the new Tony Karts, and I have a couple of cases of tires for the karts.....so we have some Go-Fast Crack to last us through the winter time....or until Alan G. can start jump starting the economy again. Perhaps after everyone sells their losing stocks in December for tax purposes, they will bomb right back into the stock market and start buying all these ridiculously low priced stocks, which will then get us a sustainable market rally. Sooner or later, the market will come back up. Remember, Greed is Permanent, and people won't be satisfied with 6% money market returns...so people will come back into the stock market as soon as all the idiot financial news reporters stop screaming, "The Sky Is Falling".

Jeff C is happy about his engine rebuilt by NSX Modified Go-Fast Crack Pipe Dealers
December 20th. NASDAQ at 2332. A new low for the last 21 months.
Larry calls me, and I can hear him jumping up and down in his office with excitement. At least he is happy, as stock market investors are jumping out of windows and committing hari-kari. Larry is happy because Randy's NOS powered NSX makes in in the Winter 2001 issue of Honda Velocity, with a five page article on his car and Larry's handiwork in making it go-fast. Here is a piece of quoted text from the Velocity Magazine:

"Though not listed in the source box, Pulp Racing in Newport Beach is credited by Nakagawa as a major supplier of advice and inspiration. Doug Hayashi, Pulp's proprietor, is considered by many NSX devotees to be a guru who racing experience has enabled him to take the lead in developing performance modifications for the NSX."
Well, you know the press never gets stuff right....and now there will be a million or so readers of the Honda magazine that think I actually know what the hell I am doing with the mechanical aspects of the car. But those of you who are regular readers of this web page know the truth, and are acutely aware of the following facts:

1. I am not by any means a race engineer.
2. I am not by any means a mechanic. Larry does all that stuff.
3. I don't develop any go-fast parts for the NSX. Larry tinkers around doing that stuff.
4. I don't sell any go-fast parts for the NSX. Larry sells the parts.
5. I don't install any go-fast parts for the NSX. Larry installs the part.
6. I have nothing to do with NSX Modified, that is solely owned and operated by Larry.

All I am is just a Pulp Story Teller, giving you inspiration, trying to get YOU hooked on the Go-Fast Crack Pipe.....
But Larry also has some bad news......apparently the AP Clutch kit for my NSX is missing an internal bracket for the throwout bearing. He calls AP....and they say they are shutting down for Christmas, maybe they can get the part in early January.

December 21th. NASDAQ at 2340. Puking along like a 17 year old drunken frat boy.
A guy from Fox Television networks calls me, and tells me that he was scanning the Internet and saw my web page about the NSX-Files video tapes. He wants to know if he can get free copies of the tapes so he can possibly splice some of the footage for a Fox TV special. This sounds kind of exciting, and I ask him that won't be a problem, what's the name of your show? He says, "Now, don't be offended, but I am a senior editor for Fox Television's "The World Worst Drivers", and I need some video clips for the next show." Oh great.....that will definitely chase away any possible racing sponsorship. Anyways, I send him the tapes, as Fox has some wacky TV shows...and I am sure an NSX-Files Episode will pull better ratings that some of that stuff they feed to the public.
Larry said that Randy's car will be also be in one of those Turbo magazines in the near future, but the magazine wants a full dyno sheet before they will publish the article. Randy calls Larry and tells him to tune the NOS and his motor so his car will pull 400+ HP at the rear wheel. Larry says that he is not sure he can do that without damaging the engine. Randy says that he doesn't care if he blows up the engine on the dyno and has to tow the car home, as long as he can get a dyno sheet that says 400 RWHP before it blows up. Larry looks at me and says, "Dude, your old high school buddy Randy is like....really seriously on the Pipe. He doesn't care if his car blows up, as long as the dyno says he is bad ass mofo."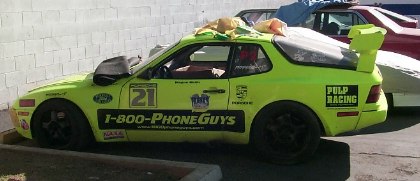 Wayne sells his old 944 with blown engine for $9500!
It looks like NSX Modified is laying the ground work for the following showcase cars that will be willing to do battle against any other NSXs in the land. I present to you the Acura NSXes supported by NSX Modified:
1. The Flamemobile - Claiming to be the fastest Road Racing NSX around that is also street legal. We are claiming track records for Willow Springs, Virginia City Hill Climb, Laguna Seca, Sears Point, LA Street Race.

2. Alex V's Gruppe M Supercharged NSX - Claiming to be best looking (click here for more pictures), and highest horsepower of any supercharged NSX for the street at 364 ponies. (Note: He doesn't put dry ice in his car for dyno runs)

3. Randy N's NOS Powered NSX - Will very soon after the next dyno run will be claiming the highest horsepower of any street legal NOS powered NSX, and potentially the fastest streetable NSX in the quarter mile. Yes, with the direct port injected NOS, Randy's car feel faster in acceleration than my car or Alex's car. (December 29th Update: Randy's car is dynoed at the SHO Shop in Huntington Beach, and after being tuned by Larry with various jets/fuel pressure, it puts out 380 HP, and 303 ft lbs of torque!)

4. Mark S's Twin Turbo NSX - Will very soon after the next dyno run will be claiming the highest horsepower of any street legal twin turbo powered NSX. Larry recently upgraded the Aerodyne Turbos that were originally installed by someone else.

So if you think the above claims are bogus, and that you, your car, your driving skills, and your aftermarket NSX tuner can claim one of the above four spots (Fastest on a road course, Highest Supercharged Horsepower, Highest NOS Horsepower, or Highest Turbo HP), then bring your "A" game down to Southern California, and let's see what ya got. We don't do illegal street racing, as we don't wanna see your rookie ass crashing into innocent people or buildings, so you will have to compete for bragging rights on the race track or the dyno. The gauntlet has been thrown down, let's get a little friendly Go-Fast Crack Pipe competition going at the track next year! And if you can beat any of the above four cars.....I will post it on this page and you will have 1200+ weekly readers of this site see that you are the true King/Queen in your category.

If you want to get an aftermarket Go-Fast Crack Pipe setup like any of the above cars, contact Larry "The Big Brain" Garcia at NSX Modified at 714-842-9135. He can help suggest, install, modify, and tune aftermarket parts from Comptech, Gruppe M, RM Racing, Dali Racing, and various rare aftermarket NSX parts directly from Japan for that "custom" look. And, he can back up what he does to your car with his experience on the racetrack and on the dyno.....so you can measure the performance of your NSX, as well as your skill level. For all the work, tuning, and support that Larry has done on my car for the past racing season, I had to give him this Christmas Present to show my appreciation for his expertise.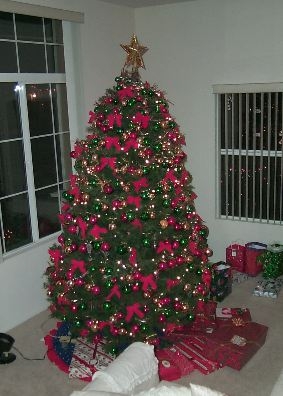 Have a great holiday! May you obtain many Go-Fast parts under your tree!
In summary:
And so ends the fifth year of The NSX-Files/Pulp Racing website. Wayne is bailing to Hawaii for Xmas and New Year's with Amy, so it looks like we are shutting down the operation for the Christmas vacation. Looking back, it was a pretty good year. We added seventeen chapters of fun and adventures about the Pulp Racing/NSX-Files/1-800-Phoneguys/NSX Modified wack pack. We feel like we got faster in our cars and our karts. We look forward to the New Year, as we plot on how to make our cars go even faster, become better kart drivers, and plan on kicking some serious butt at the track along with The Corner-Carvers. Have a great New Year, and drive safely during this holiday. We'll be back in full force in late January. Thanks for stopping by and Driving Vicariously with us!