The 2001 Virginia City Hill Climb
June 16/17, 2001
"Those Magnificent Men and their Flying Machines"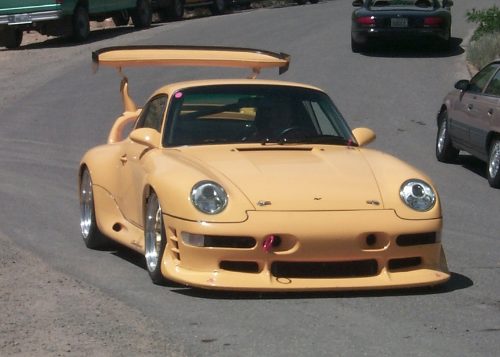 Steve returns to the Hill with a Big Ass Wing, and switches from 4WD to 2WD
(Click here for bigger)
(Disclaimer: This is how I remember the event. If there are any wrong facts in here, let me know. This is an "Unofficial Virginia City Hill Climb site". If your browser show broken links, hit the "refresh button" on your browser. You need to buy a faster internet connection! Note: Using the phrase, "Magnificent Men and their Flying Machines", was not meant as to be a gender slur against female drivers. As a matter of fact, there were some very fast females at the Hill this year. Meaning drivers like Jane and Toni)
Background:
Well, it is that time of the year again to go race at one of the few remaining hill climb races in the United States. This event is the highlight of our racing schedule, especially since the LA Street Race has been cancelled due to lack of sponsorship. Apparently Steve Beddor is no longer doing Pikes Peak, so it looks like this will be one of the highlights of his racing schedule. The Virginia City Hill Climb is an event where drivers try to get the fastest time from the intersection of the 341/342 up to Virginia City via the 5.2 mile truck route. It is a paved road, and the local police block it off so we can use both side of the road to rip up the hill. Most of the turns are marked 25-35 mph, and cars are going through these turns at 75-110 mph, with very few guard rails. If you happen to screw up a turn, you either hit the mountain, or you tumble anywhere from 20 to 400 feet off the cliff. Sooner or later insurance regulations, city officials, local residents, or law enforcement officials will probably shut down this hill climb race permanently, and all this fun will just be a distant memory as we grow old. Wayne and I would like to one day win this event......especially if it is the last one that they ever have. We could brag the rest of our lives about that victory.....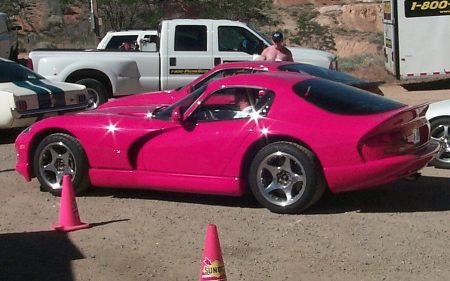 The Vipers guys showed up in full force
(Click here for bigger)
Thursday Afternoon, June 14th
Okay, so you read in the last chapter about how we frantically thrashed for an entire week to rebuild the Flamemobile. We got the trailer packed, and then it was off to the Hill Climb. This year, the Pulp Racing team consisted of Wayne, Larry, Reuben, and myself. We left Huntington Beach around 1:30 p.m., and blasted up the 395 to our destination. 8.5 hours later, in pitch black darkness, we cruised into the Cabin in the Sky parking lot. Last year, we parked at the bottom of the Hill, where the cars form a line before they go up the Hill, but we were told that the organizers of the event could not secure permission from the property owners to allow people to park there. We had to get to the Cabin in the Sky at a decent hour, as the 48 foot trailer is a pain in the ass to park in tight quarters, and we wanted to make sure that we were among the first people there.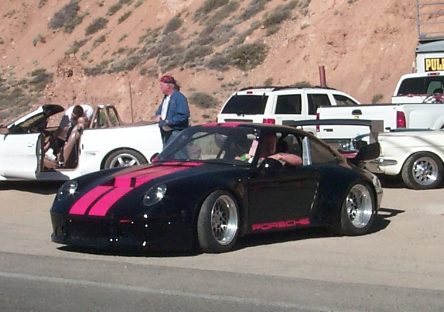 The Porsche guys showed up lots of exotic go-fast cars
(Click here for bigger)
Friday, June 15th
We wake up early in the morning, and have a leisurely breakfast, and then it is off to work on the cars. There is a lot of stuff that we still have to, as we are totally unprepared for this race. Our to do list consists of:
Take off street exhaust, put on Supertrapp Exhaust
Fix the driver seat that keeps moving around.
Clean up all the wiring that is all over the car
Adjust video camera, Datacam, etc.
Adjust timing devices
Wash/clean car
Adjust shocks/suspension stiffness
Properly route wires and switches for NOS into the dash.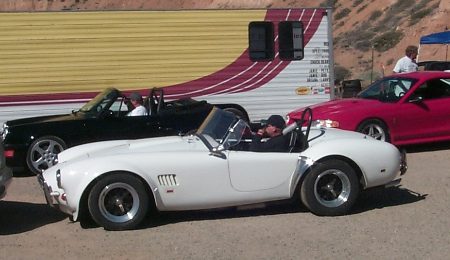 Cool looking Cobra, ready to do battle at the Hill
(Click here for bigger)
On Wayne's car, he needs to drive it around and figure out why he is only getting 4-5 lbs of boost, instead of the 15-17 he was hoping for. He is frantically trying to get a hold of Dwain at Vision to figure out what he can do to get the boost up to "normal". He and Larry are pinching hoses, trying to bring up the boost. Wayne finally gets Dwain on the phone, and he talks Wayne through about how to remove part of the wastegate, and Wayne does a 1st-2nd gear blast, and comes back smiling......as now he has about 15 lbs of boost.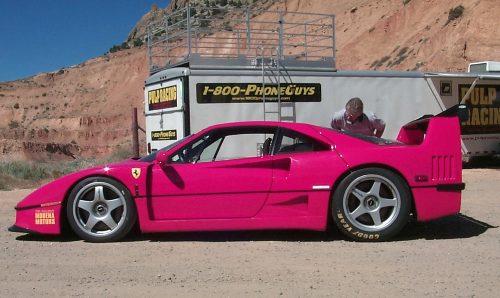 Amir prepared to go into battle against the RUF CTR2
(Click here for bigger)
Amir comes back with his trusty F40 that he trailers in. Amir always has interesting stories. He said that two years ago when he blew up his turbo seals, his car pretty much sat in a shop for about a year until last year's Hill Climb. Then he got it back, and then he went off on I think Turn 4, and damaged some of the carbon kevlar side skirts of the F40. So it sat in the shop for another eleven months, until this year's Hill Climb came around. So he has made huge car payments on his F40, and really only driven the car for two weekends the past two years, both of those at the Hill Climb. Parts for F40's are extremely hard to find, and he searched until he was able to find an extra set of F40 rims, just in case he needed to switch tires at the hill. So he takes the car and rims to Thunderhill, and of course they don't fit.....they rub slightly....so he comes to the Hill with just one set of rims.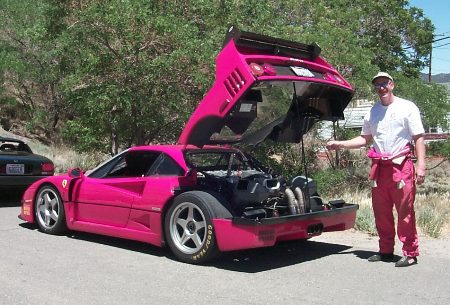 Amir holding the only tool that he feels he needs at the Hill: 13 mm wrench
(Click here for bigger)
Amir also said that he noted that the Pulp Racing Team has every tool and spare part imaginable for my car packed in the trailer. Amir said that he only brought one tool, and that is a 13mm offset box wrench to turn up the boost on his car. He came with his car ready to kick butt right out of the trailer.....unlike those of us scrambling around right before the event. Steve and Joe and Alister are there on Friday, working on the RUF. But their definition of "work" is that they are polishing the rims and waxing the car, to make sure it looks perfect in their quest to remain the Kings of the Hill. They are ready to defend their title.
There is also a writer/author there from Business Week, who is doing an article on the "quirkyness" of the Hill Climb. He is interviewing a lot of people, including Wayne and I. We both tell him how we are going to kick each other's ass this weekend, and I blatently plug the Pulp Racing/NSX-Files website. Looks like the hit counter will be going up dramatically when that article hits the stands. I envision millions of Business Week subscribers reading about how make it to the podium with the Flamemobile......and crush Wayne in the process.....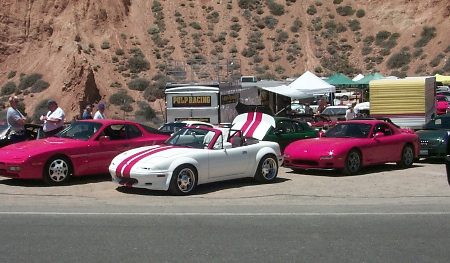 A Monster Miata, 944, and RX-7 gridding in line for their turn up the Hill
(Click here for bigger)
Around 5:00 p.m., after we have the cars out of the trailer and most of our stuff unpacked, some guy comes by and says that he is a representative of the IRS, and he has a local law enforcement officer with him. He claims that the IRS has seized the property that the Cabin in the Sky resides on, and that the IRS has no insurance on the property, and for liability reasons, we all have to vacate IMMEDIATELY. As in pack your ass up now. Apparently the story is that the guy who owns the Cabin in the Sky is some brothel owner who has come up against the IRS for tax evasion, and other "questionable activities", so he no longer owns that property. I get the IRS agent's cell phone number, and I pass it on to Amir, who says he will run it over to Bill Pound, who is getting ready to host a driver's meeting over at Mia's restaurant. We try to pack up ASAP and get our ass moving, as we need to park our trailer before 30 other people want to do the same. Kinda makes you wonder if this will be the last Hill Climb ever.
In our haste to pack up, we unhitch the EZ-Up before taking it completely down. A big gust of wind comes by, and the EZ-Up takes off like huge metallic tumbleweed, right for the Ruf CTR2. It actually walks OVER the Ruf without damaging the car. We run over in a panic, worried that it wiped out the windshield or the front hood of the Ruf. Luckily, not even a scratch mark....whew....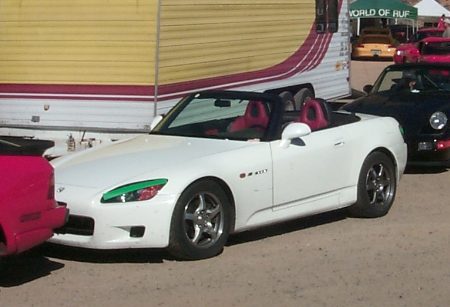 Aaron's S2000, ready for its first time at the Hill
(Click here for bigger)
Bill says that he checked with the government owners of the property, and got their permission to use it. Bill is pretty organized, and is used to dealing with all the local politics, permits, sheriffs, police, etc, so it is hard to believe that he screwed up. Sounds to me like someone with the government screwed up again. We would like to call someone, except it is Friday, 5:00 p.m. We pack our stuff up, and the local sheriff's officers says we should try to park in the dirt lot over by the top of the hill. We luck out, as there is a huge dirt area that they have cleared out, and we can easily park most of the trailer over there.
Note: Update, July 5th. Two women at the bottom of the Hill own the Comstock Chronicle paper up in Virginia City, and the did a follow-up "investigation" on how the IRS got involved up there. They called the IRS directly, who had no knowledge of any rep of theirs being told to go out to kick us off the property. Rumor has it that what may have happened is that some "other" car club and sanctioning agency tried to "squeeze" in their Hill Climb event on June 15 (yes, that is the day right before OUR event), but they got their ass rejected. Perhaps they thought they could piggyback on OUR event. Perhaps they didn't want to enter OUR event, as they knew we would crucify their lap times up the hill. Perhaps they tried to throw a monkey wrench into OUR event. But all they did was succeed in getting us to a better spot that the Cabin in the Sky. Isn't claiming that they have orders from the IRS a felony? Just wait till we start forwarding the digital pictures that we have of this guy.....heh heh heh....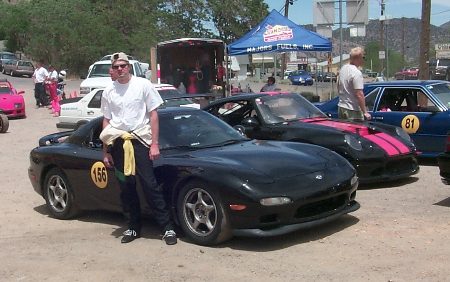 Lou Young runs a 3:34, which is 23 seconds faster than his last time at the Hill!
(Click here for bigger)
We head up to the driver's meeting register, and get back to the trailer around 9:00 p.m. Larry is running around, saying that he needs longer allen bolts to secure the seat properly. Great......9:00 p.m. the night before the event, and we have a wobbly seat. Wayne and I drive to Carson City, and luckily we find a Lowe's Home Improvement Center that has the special bolts we need. We get back to the trailer, we have the generator and all the lights blazing, as Larry and Reuben are busy working on my car again....nothing like stressing out the night before the event. I brought a small TV/VCR combo unit up to the Hill, so I can look at my video tape from last year, where I ran a 3:26. I wanted to review this prior to driving up to the Hill Climb, but I was at Larry's shop until the wee hours of the morning on multiple nights, so I didn't get a chance to look at it. This video tape has the Datacam info on it, so I can review how fast I was going through each turn, so I can start off in the morning aiming for those targets in the warmup runs. I power up the TV, and hit the Play button, and then discover that I left the video tape on the desk at the shop. Bonehead Racing strikes again......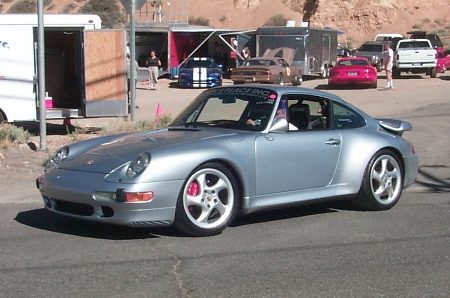 Carl is back with his Twin Turbo
(Click here for bigger)

Saturday morning, June 16th.
I wake up early to setup the Hot Lap transmitters at the start line and the finish line of the course. Bill Pound, organizer of the Hill Climb, doesn't tell people what their laptimes are until the end of the weekend. This is to prevent people from trying to go a little to fast to beat their previous time up the mountain, and thus crashing. So we setup our own timing devices, since we are, after all, "cheating bastards". I also notice that the Department of Transportation is out on the course with a pickup truck, and a guy strapped down with a video camera, recording what the course looks like prior to the event. Apparently the DOT just put up some new snow markers along the course, and a couple of guard rails, and they want Bill Pound to pay for any damages that may happen to the course. (remember that brick wall that was destroyed either last year or the year before?)
Wayne and I are in the pit area talking to people. We hear from Amir that his brother Ori will not be at the event this year. Rumor has it that Ori was preparing his Viper, but then blew up the engine a week or so ago at Willow Springs. Bummer for Ori. Wayne and I look at each other, and we grin. Ori's usually finishes up in 3rd place.....so third place is up for grabs, and it is gonna be one of us taking 3rd, and the other 4th. And you know who I think is going to be third place.....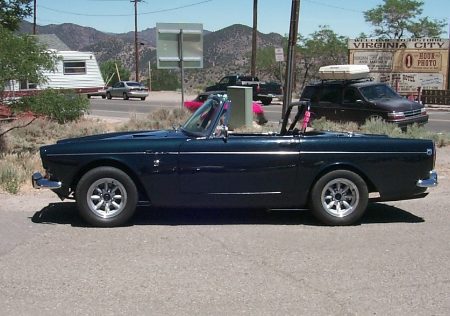 Cool looking Sunbeam Tiger
(Click here for bigger)
But then we look around........and we see that David Lesage is a cheating bastard. David usually drives a Purple Porsche 911, and is by our account, the all time fastest Porsche driver up the Hill for the June Hill Climb. He narrowly beat Wayne two years ago by a second, and he still retains that title. But it looks David isn't running the Barney Car.....it looks to us that David brought in the Porsche Turbo that won the LA Street Race last year, and won the Tijuana Street Race in 1998. If this car has the same powerplant as it did back for those two race, rumor has it he is putting out 681 HP! This presents a problem.........as David is a good driver, has lots of experience at the Hill, and now has the hardware to win the event......and push Wayne and I farther back in the pack........damn......we didn't expect that. People come by and are checking out my car and Wayne's car, trying to see what mods/tricks we have for this year. We keep quiet about my NOS setup for right now....we don't want to let the cat out of the bag too early.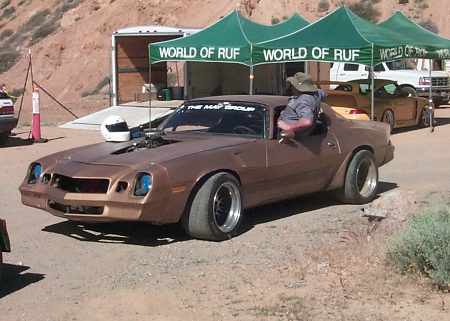 Good old fashion American Iron
(Click here for bigger)
Apparently David has been building a Porsche race car, but it wasn't finished in time for the Hill. Obviously, he was fighting against Raceaflais also. So he did the next best thing, which is borrow the fastest possible car from a friend. Rumor has it that this car was owned by the guy who crashed his 911 Twin Turbo coming out of turn 8 a couple of years ago.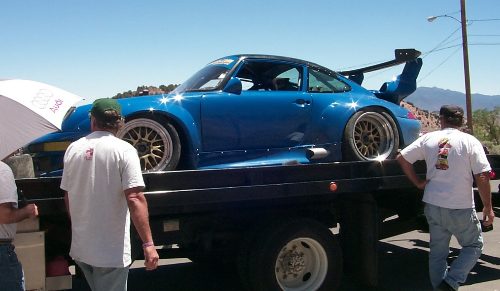 David brings a monster Porsche that could end the RUF's winning streak at the Hill
(Click here for bigger)
My first run up the hill I run a 3:34, which is damn good for a warm up run. Wayne runs a 3:31 on his first run, so he is very happy with his new engine that the Vision guys built. I tell Larry that my strategy will be not to use the NOS on Saturday, instead we will try to post some decent times without the NOS, just in case we blow up the engine. We don't want to be a DNS at this event, so we will tryout the NOS on Sunday morning. On my next two runs, my car feels sluggish. The Hot Lap Timer didn't register a lap time, so I check my camcorder. The camcorder didn't work either, the picture was garbled. Damn, Raceaflais is all over us. Meanwhile, Wayne drops a couple more seconds off on his next two runs, so he is at 3:29, which is close to his fastest time ever at the Hill.
Meanwhile, David in the monster Porsche is flying down towards turn 8 where the radar gun indicates he is at 133 mph before slowing down into the 25 mph turn. 133 MPH will probably make him the 3rd fastest time ever recorded on the straightaway at the June Hill Climb. As he negotiates the fast right/left turn combo, his quick release steering wheel COMES OFF the steering shaft. The result is this: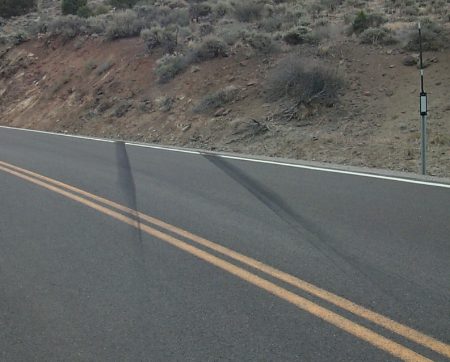 David goes into the Hill at 100+ mph with 681 HP. It ain't his car......
Luckily for David, he is not injured in the crash. But his friend's car is kinda hurt.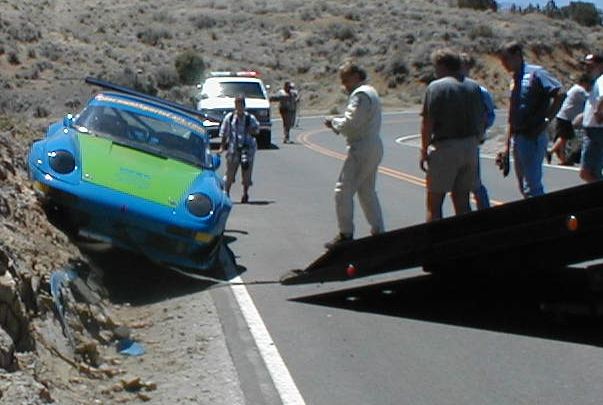 Porsche is embedded into the mountain - photo by Kevin Conway
(Click here for bigger)
Rumor has it that his friend had the chassis of this car sold to a person, and the engine sold to another person. This makes two cars that owner has owned that have not made it successfully through turn 8.........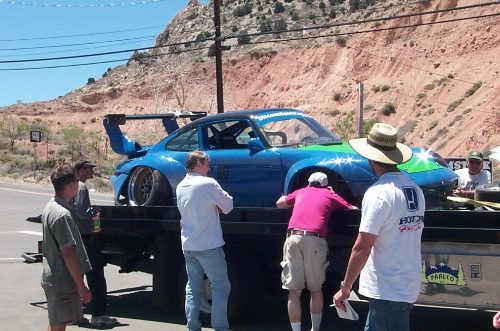 Vultures ogling and taking pictures of the car. That ain't polite!
(Click here for bigger)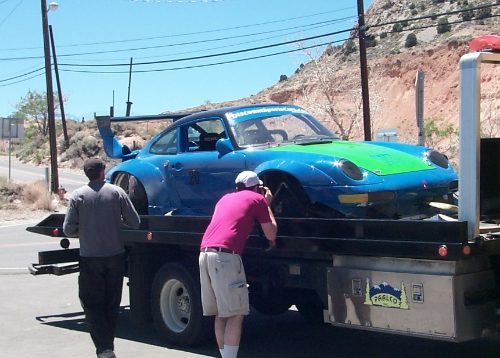 Closeup of the vultures. This just isn't right!
(Click here for bigger)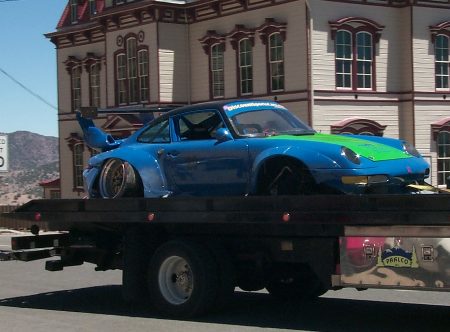 Picture with no vultures....
(Click here for bigger)
As soon as we find out that David is okay, you know what our next question is: "Did he get a good laptime posted before he crashed? Turns out that he crashed on his 2nd run, and on his first run, he caught up to the car in front of him......so it looks like Wayne and I are still in contention for 3rd place.....heh heh heh......one of us is still in contention for a podium finish. And I think it is going to be me.
Usually we get about 7-10 runs a day up the Hill, but on Saturday, there is some confusion, some crashes, lots of residents/tour buses trying to go up the Hill so the event has to be stopped, etc. So we got 5-6 runs up the Hill on this day. Not bad, but we could have used a couple more runs to get dialed in.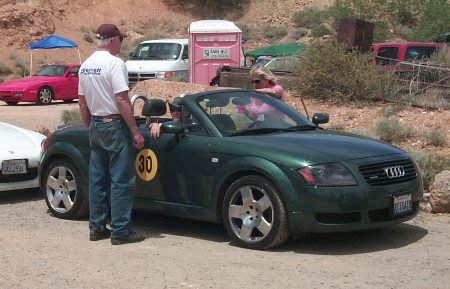 Sue is back with her Audi TT
(Click here for bigger)
I am still struggling. After lunch, I get a couple more runs in, but now the car is sputtering a bit. Engine light is coming on as I cruise back down the after after a run up the Hill. On my next run up the hill, I get to turn 1, and the car sputters and dies. I put the car in reverse and head back down in reverse to the start of the Hill. Looks like we have some work in front of us......this is what happens when you are not prepared for a race......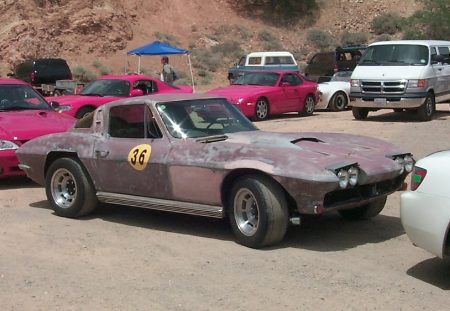 Extremely old American Iron
(Click here for bigger)
Larry thinks that the fuel regulator died, as we are only putting out 20 lbs of fuel pressure. We throw on a different fuel regulator with a different design, and give that a try up the Hill. This regulator really sucks, and we write off another run up the Hill. It is now the end of the day, and Larry starts to rebuild the old fuel regulator with a new diaphram, and we put the baffles on the Supertrapp exhaust, so we can drive around town and test the car. Larry is done around 7:30 p.m., and we then test the car on the other side of Virginia City, where there are some mountain roads we can blast up and down. Car feels better, we have good fuel pressure, and we have good boost. But this still isn't good. The Hill Climb is similar to an autocross, where the first run you set your baseline. The second run you go through the turns a little faster, and get more familar with the road, and you try to drop a second off your laptime. The next time you try to drop another second, the next time another second, etc. Unfortunately for me, screwing around with hardware problems on the car doesn't allow me to get into any kind of "groove" for going up the Hill.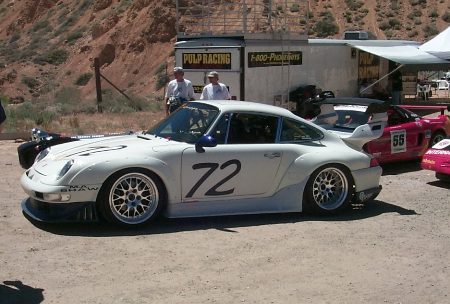 Another mean looking 911 GT3
(Click here for bigger)
Sunday Morning, June 17th
We take off the baffles, and we line up for our run up the Hill. Car feels better, and we run a 3:34, but it seems like we are only putting out 4-5 lbs of boost. Last night, with the baffles on, we were getting 7 lbs. We decide to put the baffles back on. Reuben throws them back on, but now the problem seems to be that the car is even slower. Seems like perhaps the boost gauge was off, and had to be reset back to zero, instead of putting the baffles on. Damn. So for run #3, following Wayne, we take off the baffles. Wayne is running about 3:26 up the hill, and is about a tenth of a second faster than I have ever gone up the Hill. We tell Bill Pound to grid us up together, and let me go about 4 seconds after Wayne, instead of waiting the normal 30-40 seconds behind each car. I decide to use the NOS on this run for the first time. I space myself about about 8 seconds instead of four seconds, as I figure I am going to easily catch Wayne using the NOS. More curious, is that without the NOS, I am hitting 118 mph at the end of the straightaway, which is 2 mph slower than last year......which indicates to me that in rushing to make it to the Hill Climb this year, we are not dialed into 394 rear wheel HP like the engine we blew up exactly 9 days ago.....looks like we needed some time on the dyno for the existing engine.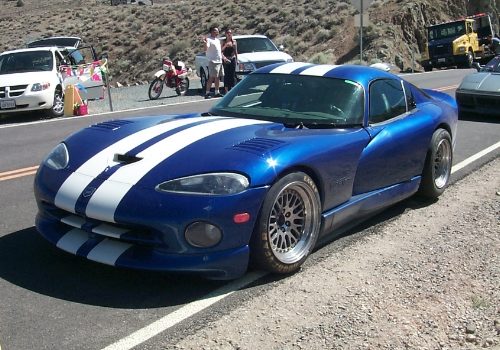 Viper that ran 3:30 last year. Upgraded to slicks, headers, exhaust, brakes for this year
(Click here for bigger)
Bill signals to Wayne to take off, and we blast up the Hill. But Wayne is totally dialed in, as he hasn't had to dick around with this car, and is dropping about a second off of each run up the Hill. He is going faster through the turns that I am, but when we get to the straightaway after turn 7, I hit the NOS, and it boosts me to 127.8 mph before coming into turn 8. This is about 8 MPH faster than I have ever gone down the straight! The only problem is that this is much faster than I am use to going into this turn, so I get severely out of shape under braking, and botch turn 8. Whew! Almost added my car to the list of cars that didn't make it successfully out of turn 8. No, I didn't get it on video, because my stupid camera didn't work again. Instead of gaining time with the NOS, I probably lose two seconds due to the car being squirrelly through the turns. In chasing Wayne up the Hill, I push him to run a 3:23, his fastest time ever up the Hill. I am running a doggy 3:29, and struggling with the car, the turns, etc, as I still haven't had a chance to get any rhythm going up the Hill.


Support Wayne's Racing Addiction. Buy Your Phone Systems from 1-800-Phoneguys

Wayne says that his goal was to get to 3:25, and now that he has a 3:23, he doesn't think he can go any faster without crashing his car. We checkout the competition, and we both think that the only car out of the 68 cars entered in the event that could beat a 3:23 is me, and I am struggling. Wayne decides to go take a long afternoon nap, as he believes he has 3rd place locked up. He says to wake him up if I make it to 3:22, otherwise, he is going to park it, and be happy with his 3:23.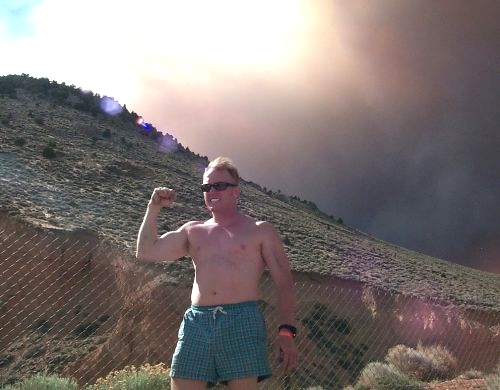 Wayne feeling victorious about a podium finish, as Truckee burns behind him
(Click here for bigger)
It is now lunch time, which is bad news, as most people run slower in the hot afternoon. I do a couple of runs in the afternoon. Amir is running slower this year also. But then again, I would be running slower also if I had an F40 that I have only driven two weekends the past year due to "incidents" at the Hill. He asks Wayne for some advice on what he should do to go faster, and Wayne says that it ain't worth wrecking the F40, and that it is too late in the afternoon to get fast times in. Larry is feeling sick, and is barfing in his hotel room. Probably because of the 13 course breakfast he had in the morning. Reuben and I are flailing on my car.......this is the Keystone Cops at the Hill Climb.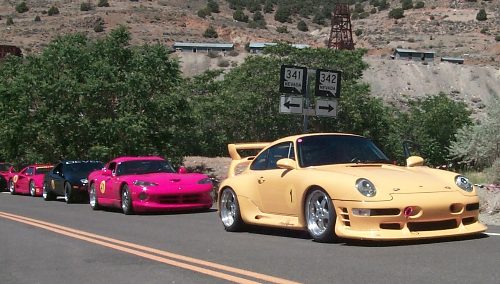 Nice aero package on the RUF CTR 2
(Click here for bigger)
Rick Doria is back this year, with girlfriend Jackie. He last ran about four years ago. Rick brought his #2 car, called the FrankenVette, which has averaged something like 169 MPH in those Silver State/Pony Express type of races. He is preparing his #1 car to average 200 MPH. Yes, his goal is that his AVERAGE speed will be 200 MPH, which means he could be hitting 230+ as his top speed. Jackie is his co-pilot, and she is sitting in the passenger seat with a laptop plugged into his engine management system, trying to dial the car in while racing up the Hill. Late in the afternoon, his rear brake caliper locks up on turn 2 or so, and he can't get it to release, and he can feel it slowing the car down. He didn't want to park it in the middle of the course, as then that would mean that it would hold up the event as they got a tow truck to bring him back down, and everyone is scrambling trying to get one last fast run in before the event is over. So he decides to just cruise it back to the top of the Hill, trying to stay in front of the guy behind him. He knows that he is frying the brake pads, so he tells Jackie that as soon as the car stops, she has to jump out of the car, as there might be a fire from the brake pad.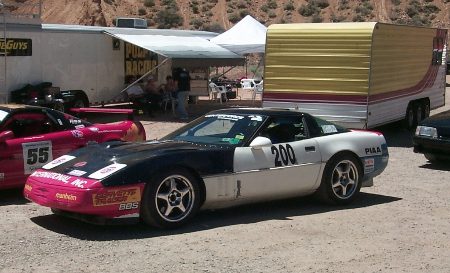 Rick Doria's FrankenVette, which averages 169 mph in events like the Silver State
(Click here for bigger)

He pulls in-between the Pulp Racing trailer and his trailer, jumps out, and fortunately, here is no fire. He grabs the air compressor, and starts shooting air on the caliper/rotor, to cool it down. Unfortunately, compressed air shot unto molten hot metal = FIRE, so now there are flames come up from his brake caliper. I pull in just in time to see the fire start, and I toss my extinguisher to Tom who runs over with a couple of other people. They are spraying the halon extinguishers on the fire, but it still is flaming, burning brake fluid and the brake hoses. Rick's fuel cell is close to where the fire is. Rick's car is also close to the Pulp Racing Trailer, which has 20 gallons of 100 octane unleaded fuel in it. Hummmm.....time to break out the big ugly chemical extinguisher, just in case we blow ourselves up. I spray the dry chemical extinguisher on the fire, which promptly puts it out, but turns Rick's rear wheel in a glob of gook. Oh well.....at least we didn't get blown up. Another 50 feet away is the Sunoco Race Fuel Trailer, who has about 200 gallons of race fuel sitting around. Curiously, there is a Quattro on fire that parks next to the fuel trailer......hummm......probably not a good scenario.....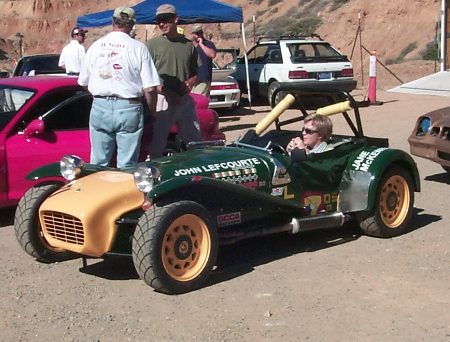 Jane was the fastest woman at the Hill, with a 3:50 in her Caterham
(Click here for bigger)
I go out for another run, but now there is a weird shimmy coming from the front of the car. Almost like a wheel is going to fall off. I take it slow coming up the Hill, and park the car. We jack the car up trying to see if a wheel is loose, but that doesn't seem to be the problem. Could be something more severe.....so I decide to throw in the towel, as we can't be ripping up the Hill if the suspension isn't right. Damn......looks like we are going to end up slower this year than last year, even with the NOS. And I am going to have to listen to Wayne talk about how he kicked my ass at the Hill Climb the next 365 days.....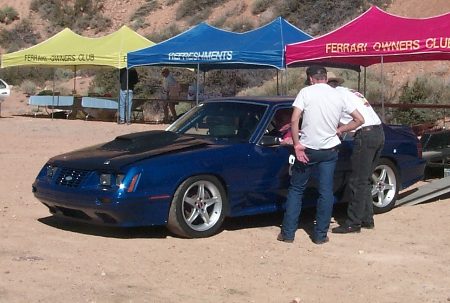 Mustang with a big ass hood scoop
(Click here for bigger)
Sunday Night
At the awards ceremony at Mia's restaurant in Dayton, we are kicked back and relaxing. Wayne is feeling pretty good about a podium finish, as we are pretty certain that he has 3rd place locked up, behind the RUF CTR2 and the F40. Amir is the presenter, and he is ragging on everyone's car and their performance during the ceremony. Amir doesn't name off all the times, as the printout is in 5 point text and he can't read it. He especially rags on the boneheads who took out a can of spray paint, and painted on the newly installed snow markers the apex entry and exits for each turn. Those guys are responsible for buying some paint remover, and restoring the course to the original conditions. Those cheating bastards.....at least they could of told us they marked the course, as we didn't see their markings. He reads off that Bo in the Caterham runs an incredible 3:24, almost knocking Wayne off the podium! Bo drops about 6 seconds off from his time last year. Now that is some great driving, especially in a convertible car. I would be scared shitless going that fast around the turns with no guardrails, in a car without a roof.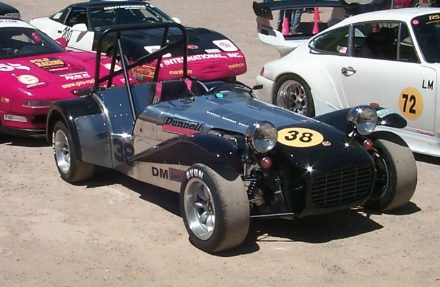 Bo's Caterham. He lives close to the Hill, and has been doing frequent recon runs
(Click here for bigger)
Amir then starts going over the times that the Viper guys ran. There were a bunch of them there, and we were not too worried about them. But then Amir says that the Michael, the fastest Viper guy, ran a 3:19! Wayne, Reuben, and I look at each other, totally stunned. Michael was fast last year with a 3:30, and he did modify his car, but we figured him for a 3:26 or so, not a 3:19. Wayne also said that he was talking to Michael, and that Michael said that he wasn't sure what his lap times were. We are all thinking, "Sandbagger!". But we have to give him credit, a 3:19 is a damn fast time......and he definitely kicked our ass. Wayne is totally bummed.....he thought he was going to become the 3rd fastest at the Hill this year, and 5th fastest over all........but he is leap frogged by Michael's Viper. But then Wayne starts rattling off all the "awards" that he can give to himself for the June Hill Climb the past 15 years or so. They are:
1. Fastest Porsche up the Hill. Yup, he has destroyed the laptimes of all the Twin Turbos machines that have ever come up to the Hill. (RUFs are not Porsches)
2. Fastest 4 cylinder up the Hill.
3. Fastest car with the smallest displacement up the Hill. (2.5 liter)
4. Fastest car that is the least expensive up the Hill. (He paid $17,500 for the car, which is the same price as five street rims for the RUF. The F40 is probably worth at least $280,000. You figure the Viper is worth at least $60,000).
5. Fastest car up the hill without racing slicks. (He used Hoosiers).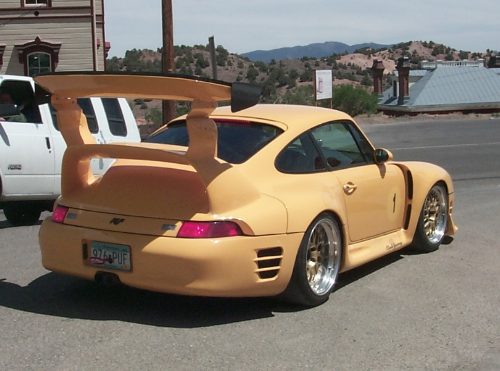 A RUF won again, probably the 8th year in a row everyone looked at its tail lights
(Click here for bigger)
I scribbled down some times at the awards ceremony, and I think the top 10 go something like this:
1. Steve Beddor - RUF CTR 2, 3:12
2. Amir Rosenbaum - Ferrari F40, 3:17
3. Michael Horzewski - Dodge Viper, 3:19
4. Wayne Mello - Porsche 944 Turbo, 3:23
5. Bo Elgby - Caterham Super Seven, 3:24
6. Mike Lesage - Porsche 993, 3:26
7. Carl Young - Porsche 996 Turbo, 3:27
8. David Lesage - Porsche 996?, 3:29
9. Doug Hayashi - Acura NSX, 3:29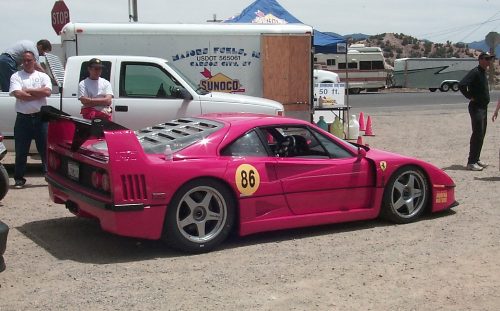 Yeah......Wayne and I need a couple of these.....
(Click here for bigger)
Here goes the arm chair analysis:
I sucked. If I coulda had my car dialed in, I should have been able to make it to 3:20. Shoulda woulda coulda. We did too much thrashing at the Hill trying to dial my car in. If we wouldn't have blown up the engine the week before, we coulda done much better. Excuses, excuses, excuses. Worse yet, I might get millions of Business Week readers finding out about how Wayne kicked my ass this year at the Hill Climb.

Steve kicked butt again. But, the past three years he has run 3:12, 3:13, 3:12. Could the RUF CTR 2's be maxing out? Amir ran 3 seconds slower than last year. Could fear of crashing be slowing him down? Michael came out of nowhere to gain 11 seconds from last year to become the third fastest driver ever at the Hill. Can he drop more time next year? Wayne dropped 6 seconds off his fastest time ever. Can he make it below 3:20 next year with the same hardware, or will he need a costly upgrade? Bo dropped 6 seconds off his fastest time in the Caterham, can he drop even more time next year? Out of the top 9 here, Steve, Amir, Wayne, David, and I have all had some "interaction" of the Hill over the past couple of years. After our "incidents", Steve ran a second slower the next year, Wayne ran 2 seconds slower, Amir ran 3 seconds slower, and I ran 3 second slower.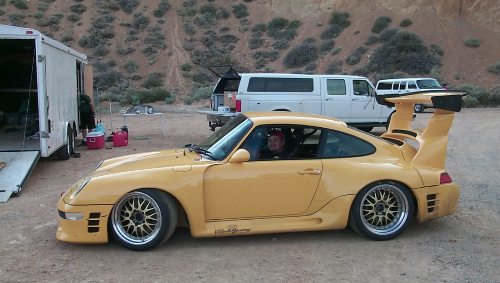 Reuben pimping in the RUF CT2
(Click here for bigger)
So we had a rough time at the Hill this year with my car. But we will be back next year, and we intend to be OVER prepared, and ready to become one of the top three Flying Machines that have conquered the Hill. The Zen Five will also make me stronger at The Hill next year.
Bill Pound also announces that he is stepping down as Event Master, and he will be assisting Dean Benz, the New Event Master. Bill has been in charge of this event for many years, with Frank Beddor lurking in the background helping out with logistics/financing, etc. Dean is one of the Quattro guys, and the Quattro Club has been a huge supporter of this event over the past years. I screwed up and should have taken more pictures of the Audi/Quattros for the webpage.
Monday night, June 18th
We make it back to the shop around 10:00 p.m., after stopping at four casinos on the way home. We kinda sucked in terms of luck.

Tuesday Morning, June 19th
Off to Hawaii, to catch up with the wife, who has been putting up with all this Hill Climb madness the past three weeks. It will probably take at least a week to finish up this story about the the 2001 Hill Climb......
Sunday, June 26th.
Rumor has it that on this day, Rick Doria was cruising his #1 Vette in an open road race at 216 MPH. Then a tire blew out. He and his co-pilot flipped and rolled the car. The #1 Vette is destroyed. Rick and co-pilot walked away from the wreckage........now that is a very lucky day for Rick and co-pilot, very unlucky day for the Vette......

I will post the final results of this year's event as soon as Darlene sends them to me in the mail!
We don't have any karting races for another two months, and not sure when our next car race is......we might be laying low for a couple of months, plotting what we are going to do next. We also need to get my car re-dynoed and figure out what is wrong with the fuel pressure, and other assorted bugs....
I am going through a domain registration change in the next week, and if there are any screw-ups with the administrivia, this site might be down for a day or two.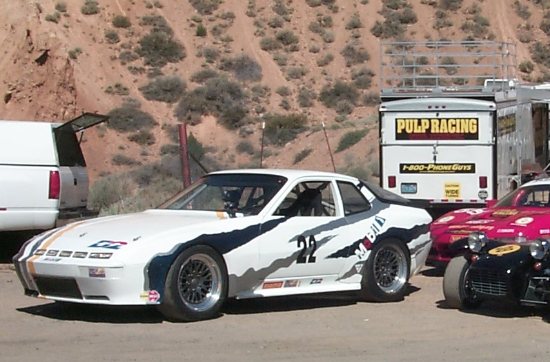 Wayne's car, fastest Porsche ever at the Hill
(Click here for Bigger)
July 5th, 2001.
I get the final results, and post them below. Here are some observations:
Bo Elgby had the 5th fastest time, but only the 24th fastest radar trap speed. Uh....he must be smoking through those turns in his Caterham!


Aaron Bitterman ran 27th with a 3:47 in his first time at the Hill with his relatively stock S2000 that had old race tires on it. He was 50th in top speed, which means he also was booking around those turns. We told Aaron that if you get below 4:00 in an S2000 the first time here, you are doing good, and he beat that by 13 seconds! Not bad for a four cylinder, normally aspirated engine!


David Lesage ran 133 mph in the radar trap, despite the fact that he only got 1.5 runs up the Hill. David is now the third fastest person in terms of radar trap speed EVER at the June Hill Climb, behind Steve and Amir.


Without the NOS this year, I was running about 119 MPH, and with the NOS turned on down the straight, I gained about 8 mph or so, with a 127.3, or 5th fastest radar trap speed this year. So, in theory, the NOS could have helped, if we could have got the rest of the car dialed in on time. Coulda shoulda woulda.....


Lou Young dropped 23 seconds off his last time at the Hill, running a 3:34 this year. He is only a few seconds off of Jeff's time up the Hill in his RX-7, so perhaps Lou can become the Fastest Mazda ever up the Hill next year.
July 13th, 2001.
The Business Week article comes out. Bummer, no pictures, no mention of the NSX Files website.
"Doug Hayashi, 42, brought his $100-an-hour mechanic to service his Acura NSX. Borrowing a trick from street racing, the mechanic added a nitrogen-oxygen bottle to the engine. With the push of a button, his Acura gets one short 12% boost in power...

Nobody asks how Hayashi can afford the mechanic. Racers rarely, if ever, discuss what they do for a living. (Hayashi retired from Microsoft at age 39.) Instead, they talk about cars and the race."
Oh well......at least they didn't print how Wayne kicked my ass........
So for now, the NOS comes out of the car(until next June), as we take a little time off before we regroup for our next race.....
| | | | | |
| --- | --- | --- | --- | --- |
| | | Final Official Results | | |
| | | June 16-17, 2001 | | |
| | | | Fastest | Average |
| | Driver | Vehicle | Run | MPH |
| 1 | Beddor, Steve | Yellow Ruf CTR 2 | 3:12.067 | 97.465 |
| 2 | Rosenbaum, Amir | Red Ferrari F40 | 3:17.922 | 94.582 |
| 3 | Horzewski, Michael | Blue Dodge Viper GTS | 3:19.506 | 93.831 |
| 4 | Mello, Wayne | White Porsche 944 Turbo | 3:23.403 | 92.034 |
| 5 | Elgby, Bo | Black Caterham Lotus Super Seven | 3:24.158 | 91.693 |
| 6 | Lesage, Mike | Black Porsche 993 | 3:26.805 | 90.520 |
| 7 | Young, Carl | Silver Porsche Twin Turbo | 3:27.679 | 90.139 |
| 8 | Fuson, Duck | White Porsche 911 | 3:29.422 | 89.388 |
| 9 | Hayashi, Doug | Red Acura NSX | 3:29.591 | 89.316 |
| 10 | Lesage, David | Silver Blue Porsche 996 | 3:29.833 | 89.213 |
| 11 | Doria, Rick | Multi-Color Chev Corvette | 3:33.473 | 87.692 |
| 12 | Young, Lou | Black Mazda RX-7 | 3:34.384 | 87.319 |
| 13 | Larsen, Kris | Black Porsche 993 | 3:35.011 | 87.065 |
| 14 | Bennett, Andrew | Green Audi Quattro Coupe | 3:35.153 | 87.007 |
| 15 | Wall, Alan | Black/White Chevy Camaro | 3:36.777 | 86.356 |
| 16 | Erb, Richard | Yellow Datsun 240Z | 3:37.160 | 86.203 |
| 17 | Treadway, Dean | White Audi, UR Quattro | 3:37.532 | 86.056 |
| 18 | Jemison, Patrick | Black Dodge Viper RT-10 | 3:40.928 | 84.733 |
| 19 | Mildren, Tom | Teal/Purple Porsche 911 | 3:40.964 | 84.719 |
| 20 | Baker, Niles | Red Mazda RX-7 | 3:41.044 | 84.689 |
| 21 | Pedersen, Chris | Blue Porsche 911SC | 3:42.932 | 83.971 |
| 22 | Gangloff, Eric | Pewter Chev. Corvette | 3:43.574 | 83.730 |
| 23 | Regan, Jeff | Gray Ferrari 348 | 3:43.814 | 83.640 |
| 24 | Hanson, Don | Black Porsche GT 928 | 3:46.364 | 82.698 |
| 25 | Pisciotta, Jeffrey | Black Porsche 930 | 3:46.996 | 82.468 |
| 26 | Harris, Randy | Black Chevy ZR1 | 3:47.823 | 82.169 |
| 27 | Bitterman, Aaron | White Honda S2000 | 3:47.987 | 82.109 |
| 28 | McKenna, Jane | Grn/Ylw Caterham Super Seven | 3:50.573 | 81.189 |
| 29 | Mace, Jim | Red Dodge Viper | 3:51.040 | 81.024 |
| 30 | Smith, Toni | Silver Porsche Boxster S | 3:51.343 | 90.918 |
| 31 | Lefcourte, John | Grn/Ylw Caterham Super Seven | 3:51.386 | 90.903 |
| 32 | Nix, James | White AC Cobra Convertible | 3:51.603 | 80.827 |
| 33 | DeCarteret, Bru | Black Buick Firebird | 3:54.661 | 79.774 |
| 34 | Smiley, Mike | Blue Ford Capri | 3:55.318 | 79.551 |
| 35 | Thrall, Gene | Blue Ford Capri | 3:57.961 | 78.668 |
| 36 | Sullivan, BJ | Red Dodge Viper GTS | 3:58.628 | 78.448 |
| 37 | Rooke, Chris, | Silver Audi S4 | 3:58.770 | 78.401 |
| 38 | Neighbors, Stephen | White VW Jetta | 3:59.212 | 78.256 |
| 39 | Harris, David | Red Birkin S3 | 3:59.368 | 78.205 |
| 40 | Benz, Dean | White Audi 5000 | 3:59.323 | 78.202 |
| 41 | Broadway, Paul | White Porsche 944 | 3:59.397 | 78.196 |
| 42 | Gunderson, Eric | Blue Sunbeam Tiger | 3:59.508 | 78.160 |
| 43 | Bloch, Andrew | Red Porsche 944 | 3:59.970 | 78.009 |
| 44 | Chafetz, Dan | Black Ford Mustang Cobra | 4:00.858 | 77.722 |
| 45 | Rouda, Nik | Silver Dodge Viper ACR | 4:01.279 | 77.586 |
| 46 | Sullivan, Daniel | Blue Audi S4 | 4:04.742 | 76.488 |
| 47 | Liebig, Don | Red Audi 4000 | 4:05.459 | 76.265 |
| 48 | Condon, Jim | White/Blue Shelby GT 350 | 4:06.158 | 76.048 |
| 49 | Creech, James | Red Ford Mustang Cobra | 4:07.110 | 75.755 |
| 50 | Butler, John | Green Ford Cobra | 4:10.819 | 74.635 |
| 51 | Allison, Gary | Blue Audi A4 | 4:12.662 | 74.091 |
| 52 | Barnett, Ed | Red Porsche 911T | 4:13.837 | 73.748 |
| 53 | Ferrari, Burke | Silver Audi S4 Coupe | 4:13.868 | 73.739 |
| 54 | Strann, Tim | White/Red Mazda Monster Miata | 4:13.948 | 73.715 |
| 55 | Orvik, Sue | Green Audi Quattro TT Roadster | 4:14.186 | 73.646 |
| 56 | DeNuzzo, Daniel | Red Mazda RX7 Coupe | 4:15.088 | 73.386 |
| 57 | Zehnder, Arnold | Black Porsche 911 C4 | 4:19.714 | 72.079 |
| 58 | Kliewer, Cyrus | Red Chevy Corvette | 4:19.869 | 72.036 |
| 59 | Bennett, Ken | White Audi V8 | 4:20.494 | 71.863 |
| 60 | Darringer, Christopher | White Audi Quattro 80 | 4:23.830 | 70.954 |
| 61 | Gillespie, Scott | Silver Audi S4 | 4:24.185 | 70.859 |
| 62 | Gardner, Wendy | Silver Audi S4 Coupe | 4:24.660 | 70.732 |
| 63 | Dauffenback, Rodger, | White Ford Mustang Convertible | 4:25.879 | 70.407 |
| 64 | Broadway, Jessie | White Porsche 944 | 4:27.462 | 69.991 |
| 65 | Turner, Ron | Black Toyota MR2 | 4:28.784 | 69.647 |
| 66 | May, Ted | Gold Chevy Camaro Z-28 | No Run | No Run |
| 67 | May, Stephanie | Gold Chevy Camaro Z-28 | No Run | No Run |
| 68 | Diaz, James | Blue Porsche 930 | No Show | No Show |
| 69 | Landis, Tim | Blue/White Dodge Viper GTS | No Show | No Show |
| 70 | Rosenbaum, Ori | Red Dodge Viper | No Show | No Show |
| | | | |
| --- | --- | --- | --- |
| | | Final Official Radar Results | |
| | | June 16-17, 2001 | |
| | | | Radar |
| | Driver | Vehicle | Speed |
| 1 | Beddor, Steve | Yellow Ruf CTR 2 | 140.9 |
| 2 | Rosenbaum, Amir | Red Ferrari F40 | 138.3 |
| 3 | David Lesage | Silver Blue Porsche 996 | 133.1 |
| 4 | Horzewski, Michael | Blue Dodge Viper | 130.5 |
| 5 | Hayashi, Doug | Red Acura NSX | 127.3 |
| 6 | Rick Doria | Multi-color Chevy Corvette | 126.3 |
| 7 | Young, Carl | Silver Porsche Twin Turbo | 123.2 |
| 8 | Mello, Wayne | White Porsche 944 Turbo | 121.4 |
| 9 | Treadway, Dean | White UR Quattro Coupe | 118.0 |
| 10 | Harris, Randy | Black Chev ZR1 | 117.6 |
| 11 | Hanson, Don | Black Porsche GT 928 | 117.6 |
| 12 | Lesage, Mike | Black Porsche 993 | 117.5 |
| 13 | Erb, Richard | Yellow Datsun 240Z | 116.1 |
| 14 | Jemison, Patrick | Black Dodge Viper RT-10 | 116.0 |
| 15 | Mace, Jim | Red Dodge Viper | 115.7 |
| 16 | Sullivan, B.J. | Red Dodge Viper GTS | 115.4 |
| 17 | Pisciotta, Jeffrey | Black Porsche 930 | 115.3 |
| 18 | Bennett, Andrew | Green Audi Quattro Coupe | 115.3 |
| 19 | Young, Lou | Black Mazda RX-7 | 114.3 |
| 20 | Gangloff, Eric | Pewter Chevy Corvette | 113.6 |
| 21 | Larsen, Kris | Black Porsche 993 | 113.0 |
| 22 | Pedersen, Chris | Blue Porsche 911SC | 111.7 |
| 23 | Rouda, Nik | Silver Dodge Viper ACR | 110.3 |
| 24 | Elgby, Bo | Black Caterham Lotus Super Seven | 109.3 |
| 25 | Fuson, Duck | White Porsche 911 | 109.0 |
| 26 | Baker, Niles | Red Mazda RX-7 | 108.7 |
| 27 | Kliewer, Cyrus | Red Chevy Corvette | 108.5 |
| 28 | Regan, Jeff | Gray Ferrari 348 | 108.2 |
| 29 | Nix, James | White AC Cobra Convertible | 106.4 |
| 30 | Creech, James | Red Ford Mustang Cobra | 106.4 |
| 31 | Strann, Tim | White/Red Mazda Monster Miata | 105.6 |
| 32 | Gunderson, Eric | Blue Sunbeam Tiger | 105.3 |
| 33 | Dauffenbach, Roger | White Ford Mustang Convertible | 104.6 |
| 34 | DeCarteret, Bru | Black Buick Firebird | 103.8 |
| 35 | Gardner, Wendy | Silver Audi S4 Coupe | 102.7 |
| 36 | Wall, Alan | Black/White Chevy Camaro | 102.5 |
| 37 | Thrall, Gene | Blue Ford Capri | 102.3 |
| 38 | Smiley, Mike | Blue Ford Capri | 102.0 |
| 39 | Bloch, Andrew | Red Porsche 944 | 101.8 |
| 40 | Ferrari, Burke | Silver Audi A4 Coupe | 101.4 |
| 41 | Butler, John | Green Ford Cobra | 101.2 |
| 42 | Rooke, Chris | Silver Audi S4 | 101.1 |
| 43 | Mckenna, Jane | Grn/Yellow Caterham Super Seven | 100.9 |
| 44 | Lefcourte, John | Grn/Yellow Caterham Super Seven | 100.9 |
| 45 | Condon, Jim | White/Blue Shelby GT 350 | 100.4 |
| 46 | Mildren, Tom | Teal/Purple Porsche 911 | 99.9 |
| 47 | Smith, Toni | Silver Porsche Boxter S | 99.8 |
| 48 | Chafetz, Dan | Black Ford Mustang Cobra | 98.6 |
| 49 | Zehnder, Arnold | Black Porsche 911 C4 | 98.0 |
| 50 | Bitterman, Aaron | White Honda S2000 | 96.8 |
| 51 | Liebig, Don | Red Audi 4000 | 94.0 |
| 52 | Gillespie, Scott | Silver Audi S4 | 92.8 |
| 53 | Harris, David | Red Birkin S3 | 92.1 |
| 54 | Orvik, Sue | Green Audi Quattro TT Roadster | 91.2 |
| 55 | Broadway, Paul | White Porsche 944 | 89.0 |
| 56 | Sullivan, Daniel | Blue Audi S4 | 88.2 |
| 57 | Barnett, Ed | Red Porsche 911T | 85.8 |
| 58 | Allison, Gary | Blue Audi A4 | 85.1 |
| 59 | Bennet, Ken | White Audi V8 | 84.0 |
| 60 | Neighbors, Stephen | White VW Jetta | 83.9 |
| 61 | Benz, Dean | White Audi 5000 | 83.5 |
| 62 | DeNuzzo, Daniel | Red Mazda RX-7 Coupe | 82.4 |
| 63 | Broadway Jesse | White Porsche 944 | 81.0 |
| 64 | Turner, Ron | Black Toyota MR2 | 79.2 |
| 65 | Darringer, Christopher | White Audi Quattro 80 | 77.3 |
| 66 | May, Ted | Gold Chevy Camaro | No Run |
| 67 | May, Stephanie | Gold Chevy Camaro | No Run |
| 68 | Diaz, James | Blue Porsche 930 | No Show |
| 69 | Landis, Tim | Blue/White Dodge Viper GTS | No Show |
| 70 | Rosenbaum, Ori | Red Dodge Viper | No Show |