Father's Day Weekend
June 19/20, 1999
The Good, The Bad, and The Ugly
Shoot It Out at the Virginia City Hill Climb
(and introducing the DATACAM)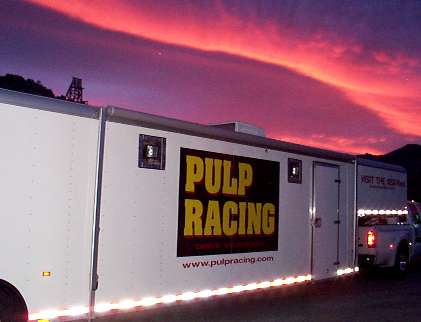 The Pulp Racing Trailer struts into Virginia City under a spectacular blood red sky
Disclaimers: This is how I remember the weekend. Also, if your browser shows broken links below, it is because you are living in the stone age and you have a 56k (or slower) modem. Which means if you hit the "refresh" button, the broken links should then turn into pictures. You need to update to ISDN, DSL, or preferably cable modem. Call your local MONOPOLY(meaning your local phone service or your cable company) which obviously hasn't done anything to help you, the customer, to get faster bandwidth to your house, since you have NO OTHER option but to get service through them. Complain to your elected officials and ask them why they are spending millions of dollars persecuting a software company that is trying to give you more stuff for free, when they can be fixing the REAL problem of promoting competition for high speed internet access to your house.

The Virginia City Hill Climb
Those words evoke fond memories of people who have successfully run their cars at the Hill Climb. And probably also cause some people who have wrecked their cars to have nightmare flashbacks. It is one of the most exciting, exhilarating road racing events you can compete in, running your car 5.2 miles up a paved mountain road with 21 turns with hardly any guardrails and some cliffs that are probably 400+ feet high. You don't want to make a mental error or have a mechanical failure at this event, as the consequences will be ugly. The local sheriffs block off the road to all traffic(except now and then they have to let a motorhome or resident go up the hill). Everyone gets between ten and twenty runs up the hill, and we compete for fastest lap times up the hill. All laps are timed electronically by the event organizers. Bill Pound and Frank Beddor are the two main people that organize this event. It is the highlight event of the year for Wayne and I, and we go to a lot of tracks, and a lot of events. On Saturday morning, Amir heard that Randy "Vette Guy" Harris's wife recently had a baby. He asked Randy, "How recently?", and Randy replied, "Oh about seven hours ago". Amir, stunned, said, "Shouldn't you be with your wife?". Randy replied, "BUT IT'S THE HILL CLIMB......". That about sums it up.....and the same for 70 other drivers that entered the Hill Climb this year. There are lots of great rivalries at this event(all friendly), and everyone wants to have bragging rights over their friends until next year's Hill Climb. Which is one of the main reasons that Wayne, Jeff and I are at this event.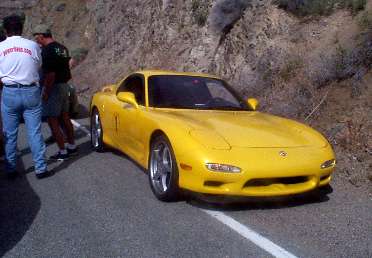 Jeff's RX-7. Can it be the "Giant Killer" for the weekend?


Remember the movie, "The Good, The Bad, and the Ugly" with Clint Eastwood, Lee Van Cleef and Eli Wallach staring as three low-lifes, all competing to find a cache of gold hidden in a confederate army graveyard. That's what I feel like. We are in Virginia City, a touristy, old mining town with coal burning locomotives, old cowboy saloons, and there was even an old fashion western shootout re-enactment on Main Street during lunch on Saturday, with everyone in their cowboy duds. Wayne, Jeff and I are squinting, looking at each other out of the corner of our eyes, hand right above their favorite weapon, ready to shoot the other two down in a blaze of glory...who's got the fastest trigger and best aim.....read on and find out. Click here for mood music if you have Real Audio Player)

This is how I remember the week of the 1999 Virginia City Hill Climb.....

Tuesday morning, June 15th, four days before the event. No matter what we seem to do, we can never get a good night's sleep before a trip. We take delivery of the new 48 foot trailer. It came in 10 days late, and we pushed hard to make sure we got it ASAP. I even wrote a note to Dennis, the owner of Big Tex West Trailers (714-828-9900), that if we did not get the trailer by June 14th, I would not take delivery and I would go out and buy a used trailer so we could use it for the Hill Climb. He in turned faxed my note to the factory, and screamed at them to make our trailer the highest priority, and to get it here in time. Thanks to Dennis, we get the trailer on time. We picked the trailer up, and I had Wayne follow me in the Ferrari to help make sure that I was driving the trailer okay. It is the same size as a Mayflower moving truck. In other words, you can't be bigger without being illegal. We decided to park it in front of the tennis courts by my rented townhouse, as there is always a big open spot on the street. Jeff calls, and says that he is going to drop off his race tires at my house to put in the trailer.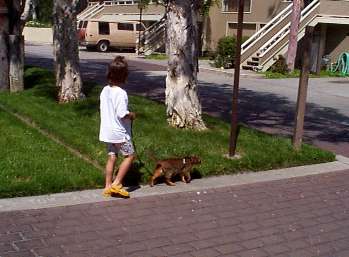 Jeff's daughter taking Cleo the Cat for a walk in our courtyard
Tuesday Afternoon.
Wayne and I keep trying to call Dwain over at Vision so we can pick up the 944 Turbo. It was supposed to be done Tuesday evening, but there is no answer at Dwain's. We figure either Dwain is busy working on the car, or there is a big party going on at his shop because the 944 is finished. We get the Explorer with the small, one-car open trailer, and decide to head off to Dwain's and try to pick up the car. We get there, and Dwain isn't around, but another guy says that Wayne's car is at the alignment shop waiting its turn in line, and they blew a breaker so the phone system was down. We figure since we drove 30 minutes already to pickup the 944, we just go to the alignment shop and grab the car and get it aligned a couple blocks from our shop. We take the 944 back to the shop and unload it, and Wayne rips it up and down the street. He is extremely happy, because it feels REALLY fast. He said suspension seemed a little wobbly, but he would get it aligned tomorrow. So, it looks like we are beating Raceaflais(Greek God of Racing that causes me and Wayne to flail around at the last minute getting ready for an event), as we have taken possession of Wayne's car, my car, and the trailer, and it is a full TWO DAYS before we have to leave for the event. Things are looking good! Jeff calls, and say that he realizes that since Wayne and I flail around too much, that his tires probably won't get to the Hill Climb in time for him to mount them, and replace his brake pads at a leisurely pace. He doesn't want to flail like us. He decides to have Tom pickup his tires from my house, as he is pretty sure Tom isn't going to flail around as bad as we are…..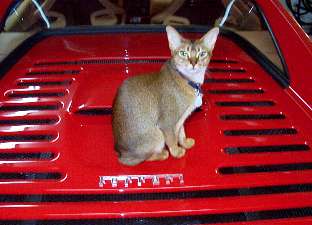 Cleo the Cat hanging out on the F355. What a spoiled bitch!
For right now, I decided to park the trailer back at the house, as we didn't have time to get a forklift to back it into the building. I have to swing a big U-Turn in the cul-de-sac of the shop, and proceed to do it. However, Raceaflais decides to screw with our minds. While making the tight U-turn, the front end of the goose-neck part of the trailer swings close to the rear window of the F350 truck. Not close enough to hit the window, as of course that would be a bad design by the makers of the trailer. But it is close enough to hit the optional electric fuel pump that I had installed, which is behind the window, and the goose-neck pivots the fuel pump so that it spins, and rams it right through the rear window of the truck. DAMN! We have the trailer for less than five hours, and we have our first accident. We pull out the vacuum cleaner and some brooms, and clean out all the glass.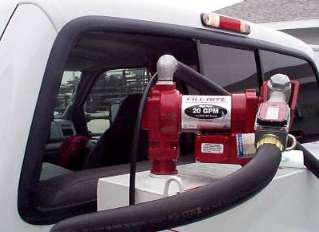 The pump for 88 gallon auxiliary diesel tank that spun into rear window of truck
I take the truck and trailer back home, and park it for the night. I am sure this will piss off the home owner's association, but hey.....I am a renter....what do I care? I would rather look at a nice truck and trailer than the ugly fence in front of a tennis court.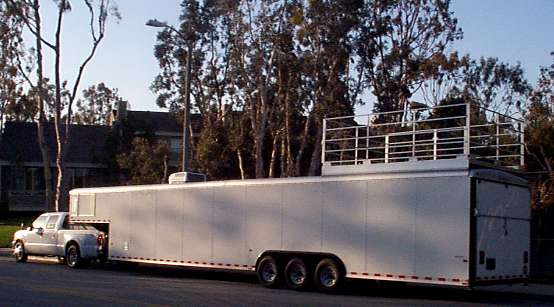 Trailer parked in front of the Tennis Courts. Observation deck collapses down.
Wednesday Morning. Raceaflais strikes again. Dwain calls, and says that we shouldn't of picked up the 944, as he wasn't finished with it. Stuff like checking the sway bar adjustments, tuning the engine a bit, checking the waste gate, etc. So we have to trailer it back over to his shop. Now we are behind schedule. Wayne is also behind in his business, and can't spend time getting ready for the event. We decided to throw additional manpower at the problem. My father-in-law can fix anything, and is more than willing to help get the trailer ready, meaning throwing in rubber coverings over areas of the trailer counter tops, loading the trailer, getting tools organized, sawing wood blocks to keep the cars from moving in the trailer, buying tons of stuff at the Home Depot like hooks, chains, tie downs, screws, bolts, tools, etc. He also buys about six elbow joints, a bunch of piping, and get a couple of custom pipes thread to re-route the auxiliary fuel tank pump so it doesn't hit the rear window again. This other guy Doyle walks into Wayne's shop, asking if there are any sales jobs open. Wayne met Doyle many times at some of the local restaurants a while back, and told him that if he ever wanted a job, to stop by. It just so happens that Doyle has many of those coveted qualities…….he used to work at a performance shop, used to have his own Motorsports company, and can drive a truck with a trailer. He is now looking for some other type of work, but we got a truckload of car stuff he can help us with. Wayne tells him that we need help getting ready for the Hill Climb, and if he wants to help out, would gladly appreciate it. So we got Doyle helping us check our cars, get race tires and wheels mounted, moving Wayne's 944 Turbo back and forth to Dwain's, getting the new bolts in for the extra rollbar protection I now have in my car, adjusting latches on the carbon fiber doors, etc. We also have to take the 48 foot trailer, and my NSX, and the 944 over to Big Tex West Trailers and get the trailer measured for D-rings to strap down the car. Big Tex will then drill/weld the D-rings in, and then we have to bring all the cars back to the shop. As soon as the D-Rings are in, then we have to get the trailer to Modern Image to get the decals put on. Dagmar came up with the general idea of what the stickers should look like. We did see the decals of a "Stealth" racing trailer that Paul Porteous had on his trailer at the Tustin Thunder races, but decided against that theme.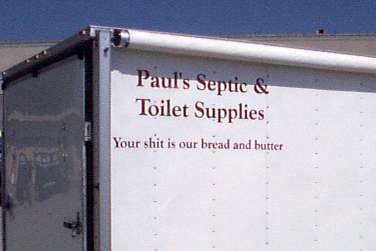 Would a thief spend time trying to break into this race trailer??

Wednesday Night. I haven't had time to buy a forklift yet. I have to park the trailer by the tennis courts again, and run off to our softball game. Dagmar comes home, and notices the trailer with the big "Pulp Racing" stickers all over it, and goes over to check it out. A security guard there is writing up a parking ticket. He tells Dagmar that the president of the homeowner's association came down screaming that he wanted the big "commercial" vehicle with all the stickers towed out of the complex immediately.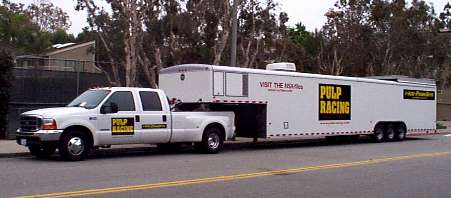 Trailer with the new decals on it

The guy screaming about the trailer is probably the same guy who took four days to fix the hot water pipes for our townhome in the middle of winter when my wife had pneumonia. I am normally not a hot head, but utter stupidity and incompetence I cannot stand, and I probably threatened him about the hot water problem after I did donuts in front of his townhouse with the NSX. But can you imagine taking a cold shower in 40 degree weather when you are sick for four days in a row? SCREW HIM, the trailer stays. Anyways, the security guards just chuckles to my wife and says, "How the hell could I tow his rig out of here? It's tooooo big...".
So we thrash all Thursday until 9:00 p.m. at night, but we are finally done. We don't have the forklift yet, but decide to see if I can backup the trailer into the shop. I have three guys with radios assisting me, and watching the rear and the sides of the trailer as we put it into the jackknife position to get it into the shop. Wayne is saying, "It ain't gonna fit, it ain't gonna fit". After a couple of tries, we are able to ease the trailer into the shop. If the trailer was 48.5 feet long instead of 48 feet, it would not make the angle into the shop…..
Raceaflais is defeated!!! We are ready for the Hill Climb!
Friday Morning, 5:45 a.m. We leave the shop, and head for the Hill Climb. The F350 dually is running strong, and it can pull the trailer with two cars in it up the toughest hills at 40 mph without a problem. Straight line on the highway, it will cruise at 70 MPH without any problems. Two weeks ago, I called the Auto Club, and had them send me directions for the truck route up to Virginia City. We follow the directions. Unfortunately, 3/4ths of the way through the directions, we realize that the route up the 5 Freeway is 120+ miles farther than going our normal way up the 395 highway. So it takes us 13+ hours to get to Virginia City, instead of the 10 hours that we had planned. Raceaflais gets us again.....Jeff was probably correct in sending his tires up with someone else who would get there on time...
We get there, park the trailer, and decide to worry about setting up the trailer in the morning.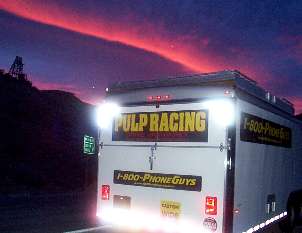 Rear view of the trailer
Saturday Morning
Jeff, Wayne, and I are talking trash about who is going to kick who's ass. Bill Pound, event master for the Hill Climb, announces that there will be a "warm-up" run for people to heat up their tires and get used to the car. However, there is a guy in a nice 911 Twin Turbo that goes a little too fast on the warm-up run. How fast? Well, let's just say that he was clocked on the radar gun at 123 mph on the warm-up run right before turn 8.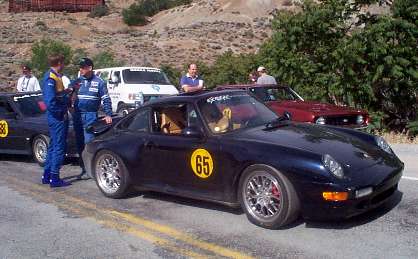 Before the warm-up run
123 MPH is extremely fast clocking here, probably only about 6 or 7 people have ever gone faster down this straight at the June Hill Climb the past 16 years. Rumor has it that this car had a highly modified engine that was putting out 680 HP. Only problem is that at the end of turn 8 there is a 25 MPH speed limit sign, and then a quick right hander and a quick left hander. The 911TT didn't make the turn, and hit the hill and rolled. This slows down the event, as they have to get a flatbed up the hill to bring the car down. Driver and passenger are fine, it pays to have a rollcage in your car for this event. Meaning a rollcage can save your life here at the Hill......At the awards ceremony, Amir said that right after the wreck, he went up there to help and check on the passengers, and he saw the "Black Box" like they have in the airplanes that was in this car, as this car had all the high tech gizmos in it. He punched the "Play" button, and all he heard was,"Heh heh. Heh heh. Heh heh. Hey Beavis. This is really cool!", and then all you hear is "WAM!" from the car hitting the mountain.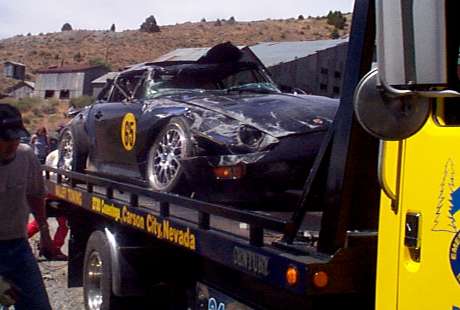 After the warm-up run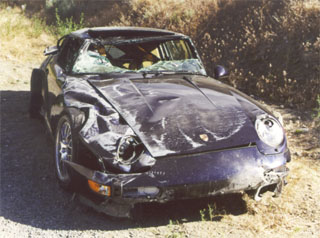 Photo ripped off from Jeff's website
Right after they clear this wreckage, we finally get our turn out on the track. Unfortunately, three cars ahead of me, a Mustang hits the hill and is upside down on the road. So we have to wait for yet another flatbed to come up the hill. Maybe we should call it the Virginia City Demolition Derby.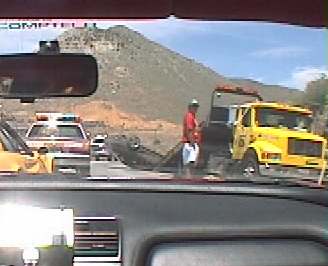 Mustang that flipped, and getting ready to be winched right-side up
Anyways, after another half hour wait, my wife and I get our chance to go up the Hill. We clock a 3:50 or so, which isn't bad for a warm-up run. The supercharger and engine are working good, feels real strong. Only problem now is that the suspension doesn't feel right, as a matter of fact, it feels downright dangerous. I had Comptech put on their PRO suspension kit, but I didn't get a chance to really test out the car, as I was flailing around with the trailer/truck the prior week, and my car was at Kiwi Auto getting the carbon fiber doors in, and then it went to Dave's Frame and Alignment for alignment, but the way the cage is now, Dale can't fit in the car to drive it around and test. I wanted to run the car through Ortega Highway or Angeles Crest before going to the Hill Climb, but due to Raceaflais, didn't get a chance. Okay, so now the rear end of the car is wobbling around. And I don't have the instructions on how to adjust the shocks. The old shocks had a knob on the top of the shock to adjust, and I can't find the adjustment on these shocks. I take Tino Stramotas and Kendall Pond up for a ride, and they mention that the suspension doesn't feel right either. I try to decrease the tire pressures, and that makes it worse. I increase tire pressures, and that helps a little bit. In any event, my fastest time of the day is 3:39, which isn't a bad time, but I don't feel comfortable pushing the car faster for fear of losing the backend. A couple of people mention that my car sounds funny going around the sweeper turns, and I mention that is because I am throttle steering through the turn to keep the car from going off the road. But my bigger problem is that Jeff and Wayne are running 3:33/3:32, about 6-7 seconds faster than me. Which really pisses me off. Wayne is scratching his head, and is pissed because Jeff is about a second faster than him. And Jeff has his "street car" here, and Wayne has his stripped down race car here. Jeff is pretty ecstatic that his RX7 is hooking up pretty good, and that he is beating both Wayne and I in our "race cars", as he puts it. And he is rubbing it in every chance he gets. Which means about every two minutes.....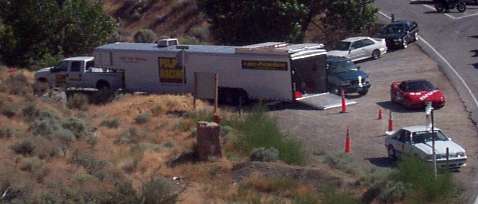 The trailer positioned at the the base of the 341/342 highway
At dinner that night, Wayne privately tells me and Dagmar that he is worried that Jeff is pushing it too hard trying to win at the hill. We tell Wayne that we are worried that he is pushing it too hard trying to beat me and Jeff. I make the comment that if someone crashes their car, it should be considered a DNF, and thus their previous lap times are all invalid, and that person is disqualified from our little match between the three of us....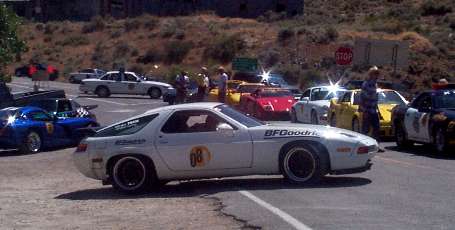 Rumored to be the fastest normally aspirated 928 around
Sunday Morning. I wake up a 6:00 a.m., and head down to the hill. I am the first person there, and I pull the NSX out of the trailer, and jack it up. I look at the shocks, and since my mechanical knowledge is next to nil, I can't figure the shocks out. Jeff cruises in, and I show the shocks to him, and he says that if I take an itty bitty allen wrench and stick it at the top of the shock mounting and turn the little hole up there an eighth of a turn at a time, that should do it. I do that to all four shocks, cross my fingers, and hope for the best. Since the shocks were wobbling too much, I turn it to full firm. I don't want any wobble in the car at all......
First warm-up run up the hill is a 3:41. And the suspension feels good, and the power feels good, and the new six speed feels good! 2nd run up the Hill, 3:39. 3rd run, 3:36, and I can feel the car hooking up real good, there is plenty more left. Right now, Jeff is still leading us, but he isn't improving much over his times from the day before, and Wayne isn't improving much either. I have improved 3 seconds from my time yesterday, and now I feel like I am starting off where I should have been early Saturday morning. I have lost an entire day of practice, DAMN! For the next run, Wayne and I agree to have me follow him with about a 4 second interval between our cars, instead of the normal 40 second interval. Bill Pound, event master, agrees to this. Last year, this is how Wayne and I got some of our fastest times, with me chasing him down, and him trying to avoid me in his rear view mirror. We rock through the course, and Wayne turns a 3:29! My timer didn't work, but I estimate a 3:32 or so. I have dropped seven seconds off my time from the day before by adjusting the suspension. Now I feel I am in the ball game against Wayne and Jeff. A little fine tuning, a little more speed carried through the corners, and they will be toast.....heh heh heh....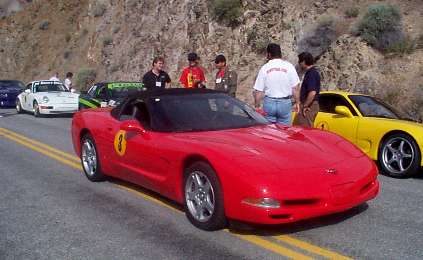 This guy RENTED a vette on Saturday, and then rented an NSX on Sunday. He also got the rental collision insurance.
Next run up the hill, Wayne and I decided to have me chase him down again. This time, we are rocketing through the hills faster than before, and Wayne is using all the road and then some, meaning he is entering turns and exiting turns and getting a little of his tire off the road so puffs of dirt/dust are coming off his tires. I am actually getting the Hoosiers to screech a little bit around some of the turns, and that is usually hard to do. Faster and faster we go, and coming into turn 20, which is a tough, sweeping left hand turn, I am hauling butt.....but then I see rocks all over the road, and Wayne's 944 Turbo limping along. I hit a couple of the smaller rocks on the road, and I slow down as you are forbidden to pass another car on the hill, thus screwing up my best run ever up the hill. Wayne apparently went a wee bit off, and he said his right side tires hit the rocks on the side of the road, kinda like the rocks that fall off the side of a hill. He calls them rocks......I call them boulders.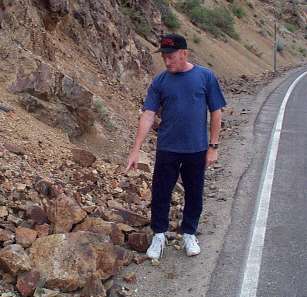 Wayne pissed off at the "rock" that got in the way. I call it a boulder = crash = DNF.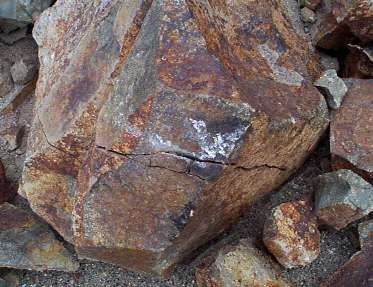 The boulder Wayne hit at 90 mph. Notice the scrape mark and crack in middle of rock.
Anyways, he blew out both right side tires, wiped out both right side rims, and did some minor body damage to his lower kick panels on his car. He limps his car to the end of the course, and parks it there for the rest of the day. He is done, as he doesn't have a separate set of rims. I immediately mention the "DNF" rule that I talked about the other day, and Wayne insists that he did not agree to any DNF rule, and that his time of 3:29 still stands as the fastest times between the three of us.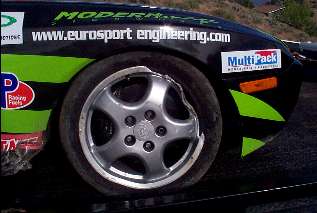 Wayne's rim is a little damaged......along with lower rocker panel
Wayne feels that if the rocks were not in the way, he would have a 3:27. I mention that if he didn't GO THREE FEET OFF THE ROAD AND CRASH INTO THE MOUNTAIN, that I could be leading the three of us with fastest time up the hill.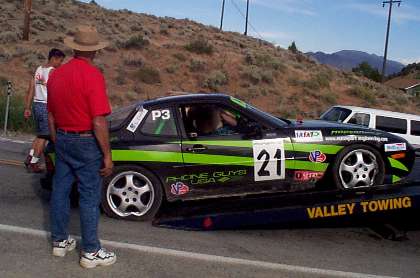 Wayne goes down in a blaze of glory....tires and rims shot out by the hill.
All of this activity happens right before lunch. On the same run that Wayne crashed, an F355 slides into the hill, and damages all the lower body panels on the car.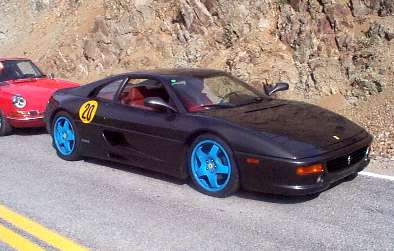 Nice F355 before it crashed into the mountain. I can't seem to find an "after" picture of this car.
Now it is lunch time, and it is starting to get HOT. The bad thing about the hill climb is that when it get really hot, the oil starts coming out of the asphalt. Or so says Tim Landis, who was pointing his pyrometer at the asphalt. He mentions that when the road hits 145 degrees(or something like that), it starts getting slippery. I think he is right, as my run after lunch is slower, and it doesn't feel safe at all out there. Jeff mentions that his car is sliding also, and isn't sure if he can beat Wayne's times. There is a huge battle going on between Steve and David Beddor vs. Amir and Ori Rosenbaum. Steve is running the fastest time up the hill in his screaming yellow Ruf CTR2 twin turbo. After lunch, Steve keeps the pressure on, but comes through turn 8 a little too fast, almost makes the quick right/left hander, but ends up going into the hill. His car has to be towed back, as he has damage to the right side of his car. Bummer, as this was the car he was going to use at Pike's Peak for the July 4th weekend, and he is not sure if they can fix it in time.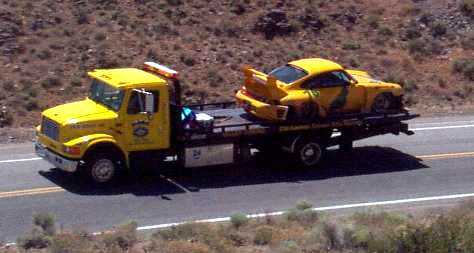 Steve Beddor's awesome Ruf CTR2 has to be towed down the mountain
Amir is running 2nd for the fifth year in a row. He is running some great times, and he now feels that he has a chance at being king of the mountain. He starts throwing weight out of his F40, and also removes the side view mirrors to get some help in overcoming wind resistance. Since the F40 is turbo charged, I would imagine that he started playing around with the turbo boost/wastegate to get a little more power out of the Ferrari powerplant. Let's take a moment to see what the results are: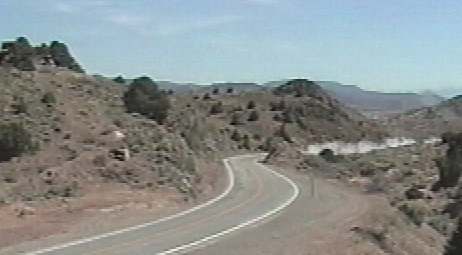 What's that dust kicking up in the background? A locomotive? The Road Runner?
(footage by Stevens Creek Dodge)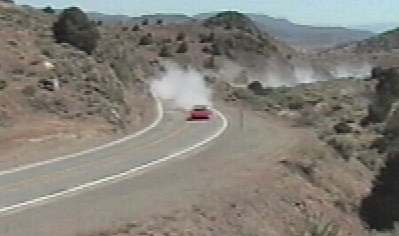 Wait. It looks like a red car. An Italian red car. With no mirrors. With extra boost, or a JATO?
(footage by Stevens Creek Dodge)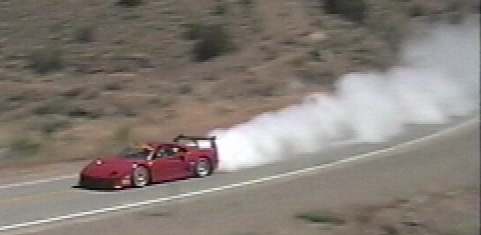 It's Amir........with a blown Turbo. Since he ain't got no mirrors, he can't see the show he is putting on...
(footage by Stevens Creek Dodge)
Bummer. Amir is now out of the event. But he did bring an F355 as a backup car, so at least he can cruise up the mountain in that car the rest of the afternoon.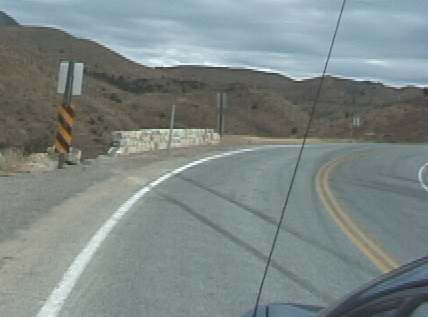 Skid marks from one of the Caterham's that luckily hit the small wall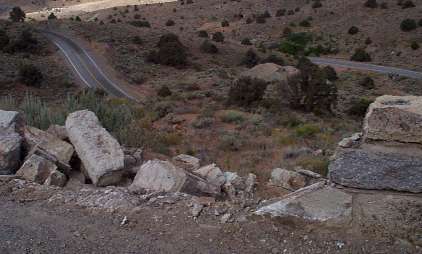 Otherwise, driver would have to start flapping his arms quickly to avoid a bad landing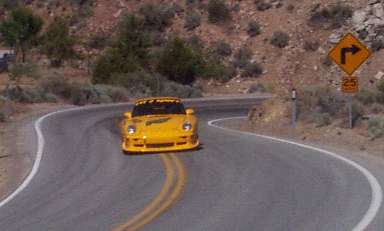 The new world record holder, Steve Beddor, approaching turn 2 in his Ruf CTR2 machine



I don't have the entire results for all the cars, but here is the approximate top 10:

1. Steve Beddor - Ruf CTR2 Twin Turbo - 3:12 (crashed, but posted a New World Record for the June Hill Climb, crushing the old record by EIGHT seconds)

2. Amir - F40 - 3:15 - blew up Turbo on the F40 (2nd, for the fourth year in a row at the June Hill Climb)

3. Ori Rosenbaum - 550+ HP Viper - 3:18 (fought overheating and bad brakes to post a very quick time)

4. David Beddor - Ruf - 3:24 (Ruf CTR2 Twin Turbo. Was the record holder from previous events)

5. David Lesage - 3:28 (purple 911 with big wing. Correction to earlier posting, David is the fastest Porsche Driver ever at the June Hill Climb the past 16 years. It was incorrectly reported earlier that Wayne was the fastest Porsche Driver at the Hill, as Ruf CTR 2's are not consider Porsches, as they are built by Ruf, the world's smallest car manufacturer)

6. Wayne Mello - 944 Turbo - 3:29 (minor crash. He wins the between Jeff and I for "King of the Mountain")

7. Guy Cunningham - 3:29 (Great driver in a Mustang. We were all accusing him of being supercharged or Turbo charged or Nitrous bottle. We opened the hood when he wasn't around......and didn't see nothing but a built up Ford engine with 295 HP at the wheels) Definitely the best bang for the buck car at the Hill Climb. Said he got all of his suspension parts over the counter via Bruce and John Griggs of Griggs Racing at http://griggsracing.com.

8. Jeff Littrell in RX7 - 3:31 - (Possibly the only driver in the top 10 to actually drive their car to the Hill Climb. Also claims fastest Japanese car at the hill, smallest motor up the hill, etc etc.)

9. Kim Crumb - 928 - 3:32 (Running what was rumored the the world's fastest normally aspirated Porsche 928 around)

10. Doug Hayashi - 3:32 (If Wayne wouldn't have crashed, and if I got my suspension dialed in a day earlier....woulda coulda shoulda been higher)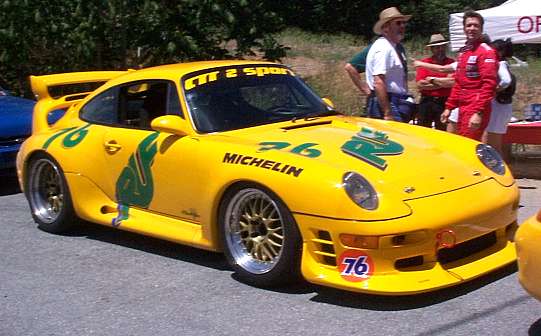 Fastest car up the hill, RUF CTR2 with 580 HP. Steve ran a 3:12, averaging 97+ mph!
(photo by Andy Woo)
Some other interesting notes:
My time of 3:32 would have won the 1996 and 1997 Hill Climb. In 1998, it would have been good for 5th place. This year, it is only good for 10th. Which means either that:
a. Everyone is getting to be a better driver
b. Everyone is pouring bucks into their cars
c. Everyone is getting closer and closer to pushing their cars to the ultimate limit of adhesion
d. All of the above.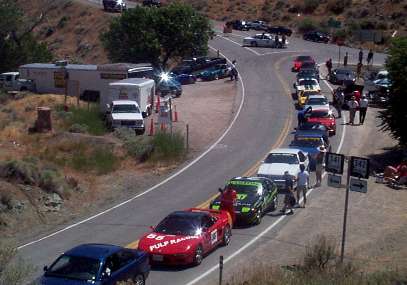 In line at the Hill. Notice the 341/342 sign
I ran about six seconds faster this year than last year, and my top speed at the radar gun increased from 108.9 to 115 mph.. Unfortunately, Wayne was 9 seconds faster than last year, Amir 6 seconds faster than last year, and Steve 9 seconds faster than his best time in 1994, and Ori an incredible 12 seconds faster than last year. Given the incredible gains by everyone, in order to be competitive, it looks like you have to figure out how to get two years faster next year, instead of just one year faster. So I guess that means you need double the modifications next year to move up into the top five. Or double the size of your cajones to keep the throttle down a little longer going around those corners....
I finally got a chance to try the DATACAM at full throttle. I had it in May, but my car wasn't working properly. The DATACAM is a black box that plugs into your brake lights, speed sensor, tach, hot lap timer, throttle position sensor, and also gives you lateral g-forces. It requires two camcorders(or one camcorder and a recording deck). The first camcorder acts as your lens, and plugs into the DATACAM black box. The DATACAM then creates the text info below, which then needs to be recorded and superimposed onto another recording device(which is why I use a second camcorder tucked behind the driver's seat to record the two feeds). Ya want more info? Call Tom at Acquisition Systems at 704-525-3166, and tell them that The NSX-Files sent you, as I get a kickback for advertising for Tom. (At least I am honest about it!). It does not create charts for you, but I think I will find that the data superimposed on the video tape will definitely help me more, as I can see the line and my speed/g's through various turns.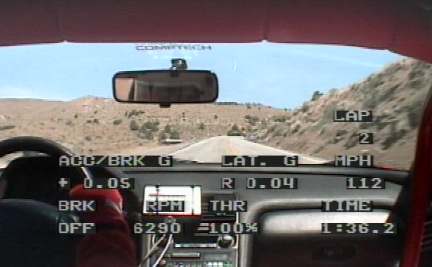 Introducing the Datacam. Shows full throttle at 112 mph about 250 feet before a 25 mph turn

We stopped at the first casino in Carson City on our way home. Wayne scored about $250, and I scored a $1000. The maximum allowed bet was $100, otherwise we would have killed them for double or triple that amount. We got in the truck/trailer, and started driving out of Carson City, and saw three more casinos.....but we couldn't find a place to park the truck and trailer, so we had to head home on a winning note.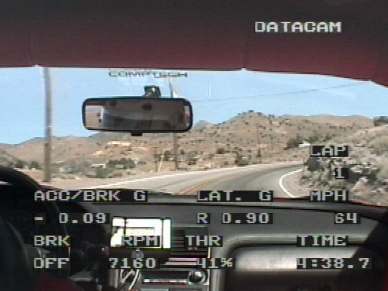 Shows pulling .90g through turn 2
One hour into the trip home, the truck transmission loses reverse and 1st gear, so we have to limp home in 2nd and third.

The hooks/chains holding my NSX bent, and thus the NSX was sitting against the rear trailer door for the last hour or so. (I checked the chains at every stop). We are lucky the NSX didn't rollout the trailer unto the highway. That would have made the local TV news....
To read about other people's experiences at the Hill Climb, checkout Jeff's report of the Hill Climb and Andy Woo's report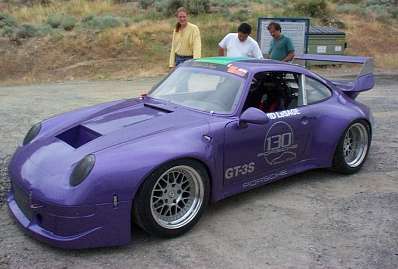 David LeSage's Purple 911
(Photo by Andy Woo)
Wayne, Jeff, and I plan to be back next year, and believe me, if you think this year was competitive, wait until you see what happens NEXT June.....I ain't losing next year to Wayne or Jeff........
Special thanks for this event go to Comptech for the go-fast parts and Shad for his help on my car, Dennis at Big Tex West Trailers for expediting the trailer and the mods to the trailer, Ian at Kiwi Auto for last minute rollcage work, Modern Image for the last minute decals, and Mike Duncan for the Carbon Fiber Door panels. And to my father-in-law Marian, and to Doyle for helping us thrash and beat Raceaflais(at least momentarily) before we drove up to the Hill.
| | | | | |
| --- | --- | --- | --- | --- |
| | | Final Official Results | | |
| | | June 21-22, 1999 | | |
| | | | Fastest | Average |
| | Driver | Vehicle | Run | MPH |
| 1 | Beddor, Steve | Yellow Ruf CTR 2 | 3:12.434 | 97.281 |
| 2 | Rosenbaum, Amir | Red Ferrari F40 | 3:15.477 | 95.765 |
| 3 | Rosenbaum, Ori | Red Dodge Viper | 3:18.721 | 94.202 |
| 4 | Beddor, David | Yellow Ruf CTR 2 | 3:23.526 | 91.978 |
| 5 | LeSage, David | Purple Porsche 993 | 3:28.495 | 89.786 |
| 6 | Mello, Wayne | Black Porsche 944 Turbo | 3:29.501 | 89.355 |
| 7 | Cunningham, Guy | Blue Ford Mustang | 3:29.651 | 89.291 |
| 8 | Jeff Littrell | Yellow Mazda RX-7 | 3:31.172 | 88.648 |
| 9 | Crumb, Kim | White Devek Porsche 928 | 3:32.360 | 88.152 |
| 10 | Hayashi, Doug | Red Acura NSX | 3:32.619 | 88.044 |
| 11 | Harris, Randy | Black Chev ZR1 | 3:34.110 | 87.431 |
| 12 | Hunt, Brian | White Chev Z28 | 3:38.472 | 85.686 |
| 13 | Young, Carl | White Porsche 911 | 3:40.044 | 85.073 |
| 14 | Demartines, Pierre | Green Caterham Super Seven | 3:40.555 | 84.876 |
| 15 | Bennett, Andrew | Sapphire Audi Quattro 4000 | 3:41.267 | 84.603 |
| 16 | Fuson, David "Duck" | White Porsche 911 | 3:42.196 | 84.249 |
| 17 | Rosembaum, Amir | Yellow Ferrari F355 | 3:44.808 | 83.271 |
| 18 | Wall, Alan | Black/White Chev Camaro | 3:45.921 | 82.861 |
| 19 | Neckas, Alex | Sapphire Audi Quattro 4000 | 3:47.069 | 82.441 |
| 20 | Elgby, Bo | Black Caterham Super Seven | 3:49.303 | 82.357 |
| 21 | Beddor, Frank | Black Ruf CTR 2 | 3:49.429 | 82.593 |
| 22 | Mildren, Tom | Teal Porsche 911 S | 3:49.442 | 82.589 |
| 23 | Lefcourte, John | Grn/Yellow Caterham Super Seven | 3:49.560 | 81.547 |
| 24 | Landis, Tim | Blue Dodge Viper | 3:49.560 | 81.397 |
| 25 | Westrate, Steve | Red Ferrari F355 | 3:50.500 | 81.214 |
| 26 | Thomas, Marc | White Devek Porsche 928 | 3:51.016 | 81.033 |
| 27 | Chafetz, Dan | Black Ford Mustang | 3:51.038 | 81.025 |
| 28 | Treadway, Dean | White Audi Quattro Turbo Coupe | 3:51.273 | 80.943 |
| 29 | Pisciotta, Jeffrey | Black Porsche 911 T | 3:52.970 | 80.353 |
| 30 | Hale, Darren | Blue Audi Quattro Turbo Coupe | 3:53.606 | 80.134 |
| 31 | Krystofiak, Terry | Blue AC Cobra 427 | 3:53.947 | 80.018 |
| 32 | Smith, Toni | Silver Mazda RX7 | 3:54.286 | 79.902 |
| 33 | Polito, Stephen | Red Ferrari F355 | 3:54.286 | 79.902 |
| 34 | Bennett, Ken | Black Audi Quattro Coupe | 3:56.062 | 79.301 |
| 35 | Early, Malcom | Yellow Ford Mustang | 3:56.798 | 79.054 |
| 36 | Young, Lou | Black Mazda RX7 | 3:57.765 | 78.733 |
| 37 | Townsley, Dan | Black Mustang Cobra | 3:58.156 | 78.603 |
| 38 | Gioco, Eric | Red Chev Camaro | 4:00.646 | 77.790 |
| 39 | Regan, Jeff | Red Ferrari 348 | 4:00.762 | 77.753 |
| 40 | Jemison, Patrick | Black Dodge Viper | 4:02.325 | 77.251 |
| 41 | Bourgevis, Doug | White Ford Mustang | 4:02.325 | 77.251 |
| 42 | Rove, Eric | Silver Audi Quattro Turbo Coupe | 4:05.527 | 76.244 |
| 43 | McKenna, Jane | Grn/Yellow Caterham Super Seven | 4:06.869 | 75.829 |
| 44 | Benz, Dean | Silver Audi A-4 | 4:08.535 | 75.321 |
| 45 | Mildren, Matt | Red Chev IROC Z28 | 4:08.804 | 75.239 |
| 46 | Cooper, Matthew | White Porsche 911 | 4:09.929 | 74.901 |
| 47 | Dugan, Dick | Blue BMW M3 | 4:13.912 | 73.726 |
| 48 | Condon, Jim | White/Blue Shelby GT 350 | 4:14.897 | 73.441 |
| 49 | Day, Ken | White/Blue Shelby GT 350 | 4:16.440 | 72.999 |
| 50 | Cooper, Nina | White Porsche 911 | 4:16.692 | 72.927 |
| 51 | Brockmiller, Tom | Red Ferrari 308 | 4:17.123 | 72.805 |
| 52 | Miramount, Bruno | Maroon VW Golf | 4:17.803 | 72.613 |
| 53 | Quast, Bob | Red NSX | 4:18.240 | 72.490 |
| 54 | Bayless, Gary | Red Porsche | 4:19.760 | 72.066 |
| 55 | Quast, Bob | Red Corvette | 4:20.795 | 71.780 |
| 56 | Cesare, Ian | Black Audi A4 | 4:22.365 | 71.350 |
| 57 | Cornell, Rod | Red Audi 4000Q | 4:22.645 | 71.274 |
| 58 | Fitzgerald, John | Black Porsche 924 | 4:25.140 | 70.604 |
| 59 | Lyon, Laura | Yellow Nissan 300 ZX | 4:25.789 | 70.431 |
| 60 | Luehmann, Jay | White BMW M3 | 4:26.268 | 70.305 |
| 61 | Barnett, Ed | Red Porsche 911T | 4:29.110 | 69.562 |
| 62 | Bayless, Micah | Red Porsche 912 | 4:29.920 | 69.353 |
| 63 | Zehnder, Gary | Black Porsche 944 | 4:32.962 | 68.580 |
| 64 | Lyon, Tom | Yellow Nissan 300 ZX | 4:36.387 | 67.731 |
| 65 | Neighbors, Stephan | White VW Jetta | 4:36.387 | 67.731 |
| 66 | Cesare, Joe | Black Audi A4 | 4:48.752 | 64.830 |
| 67 | Luehmann, Carolyn | White BMW M3 | 4:48.826 | 64.814 |
| 68 | Hanson, Don | Silver Porsche 928 | No Run | |
| 69 | Rady, Harry | Blue Porsche 911 TT | No Run | |
| 70 | Valencia, Tim | Red 4000 Quattro Turbo | No Run | |
| | | | |
| --- | --- | --- | --- |
| | | Final Results | |
| | | Radar Gun Top Speed | |
| | | | Fastest |
| | Driver | Vehicle | Run |
| 1 | Rosenbaum, Amir | Red Ferrari F40 | 135.5 |
| 2 | Beddor, Steve | Yellow Ruf CTR 2 | 135.1 |
| 3 | Rosenbaum, Ori | Red Dodge Viper | 129.5 |
| 4 | LeSage, David | Purple Porsche 993 | 127.3 |
| 5 | Beddor, David | Yellow Ruf CTR 2 | 125.7 |
| 6 | Beddor, Frank | Black Ruf CTR 2 | 125.7 |
| 7 | Rady, Harry | Blue Porsche 911 TT | 123.0 |
| 8 | Landis, Tim | Blue Dodge Viper | 122.1 |
| 9 | Jeff Littrell | Yellow Mazda RX-7 | 120.0 |
| 10 | Harris, Randy | Black Chev ZR1 | 118.9 |
| 11 | Crumb, Kim | White Devek Porsche 928 | 118.1 |
| 12 | Young, Carl | White Porsche 911 | 116.4 |
| 13 | Hayashi, Doug | Red Acura NSX | 115.0 |
| 14 | Neckas, Alex | Sapphire Audi Quattro 4000 | 115.0 |
| 15 | Bennett, Andrew | Sapphire Audi Quattro 4000 | 114.9 |
| 16 | Young, Lou | Black Mazda RX7 | 111.8 |
| 17 | Mello, Wayne | Black Porsche 944 Turbo | 111.6 |
| 18 | Westrate, Steve | Red Ferrari F355 | 111.2 |
| 19 | Cunningham, Guy | Blue Ford Mustang | 110.2 |
| 20 | Hunt, Brian | White Chev Z28 | 108.8 |
| 21 | Polito, Stephen | Red Ferrari F355 | 108.2 |
| 22 | Rosembaum, Amir | Yellow Ferrari F355 | 108.0 |
| 23 | Regan, Jeff | Red Ferrari 348 | 107.3 |
| 24 | Lyon, Laura | Yellow Nisson 300 ZX | 107.2 |
| 25 | Pisciotta, Jeffrey | Black Porsche 911 T | 106.6 |
| 26 | Krystofiak, Terry | Blue AC Cobra 427 | 106.0 |
| 27 | Bourgevis, Doug | White Ford Mustang | 105.8 |
| 28 | Jemison, Patrick | Black Dodge Viper | 105.0 |
| 29 | Quast, Bob | Red NSX | 104.6 |
| 30 | Quast, Bob | Red NSX | 103.7 |
| 31 | Cooper, Nina | White Porsche 911 | 103.3 |
| 32 | Chafetz, Dan | Black Ford Mustang | 102.4 |
| 33 | Fuson, David "Duck" | White Porsche 911 | 102.0 |
| 34 | Hale, Darren | Blue Audi Quattro Turbo Coupe | 102.0 |
| 35 | Smith, Toni | Silver Mazda RX7 | 101.9 |
| 36 | Gioco, Eric | Red Chev Camaro | 101.3 |
| 37 | Treadway, Dean | White Audi Quattro Turbo Coupe | 100.8 |
| 38 | Lefcourte, John | Grn/Yellow Caterham Super Seven | 100.8 |
| 39 | Dugan, Dick | Blue BMW M3 | 100.7 |
| 40 | Early, Malcom | Yellow Ford Mustang | 100.1 |
| 41 | Cooper, Matthew | White Porsche 911 | 100.0 |
| 42 | Wall, Alan | Black/White Chev Camaro | 100.0 |
| 43 | Thomas, Marc | White Devek Porsche 928 | 99.0 |
| 44 | Townsley, Dan | Black Mustang Cobra | 99.0 |
| 45 | McKenna, Jane | Grn/Yellow Caterham Super Seven | 97.2 |
| 46 | Mildren, Tom | Teal Porsche 911 S | 96.9 |
| 47 | Condon, Jim | White/Blue Shelby GT 350 | 96.1 |
| 48 | Rove, Eric | Silver Audi Quattro Turbo Coupe | 95.9 |
| 49 | Brockmiller, Tom | Red Ferrari 308 | 95.9 |
| 50 | Cesare, Joe | Black Audi A4 | 95.8 |
| 51 | Bennett, Ken | Black Audi Quattro Coupe | 94.6 |
| 52 | Mildren, Matt | Red Chev IROC Z28 | 93.9 |
| 53 | Day, Ken | White/Blue Shelby GT 350 | 93.6 |
| 54 | Demartines, Pierre | Green Caterham Super Seven | 92.9 |
| 55 | Elgby, Bo | Black Caterham Super Seven | 90.1 |
| 56 | Lyon, Tom | Yellow Nissan 300 ZX | 90.0 |
| 57 | Benz, Dean | Silver Audi A-4 | 87.5 |
| 58 | Zehnder, Gary | Black Porsche 944 | 85.9 |
| 59 | Cesare, Ian | Black Audi A4 | 85.9 |
| 60 | Luehmann, Jay | White BMW M3 | 85.1 |
| 61 | Fitzgerald, John | Black Porsche 924 | 80.1 |
| 62 | Miramount, Bruno | Maroon VW Golf | 80.0 |
| 63 | Luehmann, Carolyn | White BMW M3 | 77.9 |
| 64 | Barnett, Ed | Red Porsche 911T | 75.5 |
| 65 | Bayless, Gary | Red Porsche | 73.2 |
| 66 | Bayless, Micah | Red Porsche 912 | 68.5 |
| 67 | Cornell, Rod | Red Audi 4000Q | No radar |
| 68 | Hanson, Don | Silver Porsche 928 | No radar |
| 69 | Neighbors, Stephan | White VW Jetta | No radar |
| 70 | Valencia, Tim | Red 4000 Quattro Turbo | No radar |