Preparing for the 2001 Virginia City Hill Climb
Better, Stronger, Faster*
(Uh...well how about one out of three?)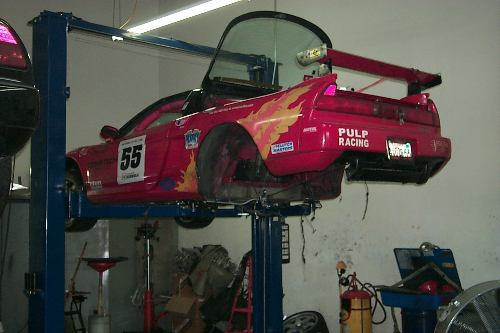 The Flamemobile in a familiar postion
"We can rebuild him. We have the technology. We have the capability to make the world's first Bionic NSX. The Flamemobile will be that vehicle. Better than it was before. Better . . . stronger . . . faster." - Rip off of the Six Million Dollar Man tag line*.
Picking up from last month's story....
NOTE: Bad grammar below, didn't have time to edit before we left for the hill climb.....will fix later...but at least you get a sneak preview of what's going on..
NOTE: I am behind two stories with KRC Super Cup. We have been getting our ass kicked.....so the stories take longer to write.

So after blowing up the clutch, and suffering with overheating problems, we decided that we are going to build us a Hill Climb rocket ship, and redeem ourselves from the previous events this year when we have been having some problems winning races, or even making it to the podium, or even finishing the damn race. Somewhere around May 14th, Larry starts to work on the new engine described in the previous story. I tell him that we should try to test out the car at Buttonwillow on Friday, May 25th. That only gives us a couple of weeks to get the car ready. Larry thinks that he will have the engine and car ready to go on the dyno by May 24th. My policy these days is that after any engine rebuild or major modifications, we take the car to the dyno to make sure it it working okay. We decide to ditch the six speed tranny, as we are blowing up too many clutches. It has to be the special clutch that comes with the six speed that is causing the problems, it can't possibly be the driver. I tell Larry to throw in my old five speed with the short gears that he has sitting around his shop.
Sunday, May 19th.
Larry pulls out the old engine out of the NSX. He and his crew are getting pretty good at pulling at dropping the engine out of the car in about 30 minutes, as they drop the entire rear subframe of the car. I tell Larry that he has four days to rebuild the car for the TCRA event. Larry inspects the old engine......and it looks like the new water pump wasn't working properly.....and that could be the reason for the overheating problem we have been experiencing........hummm.......at least it wasn't a cracked block.

Tuesday, May 21st.
New engine is still not in the car. I am freaking out. Larry says that normally it takes him about 10-15 minutes to setup the timing belt. So far he has spent almost two days dicking around with it. The NSX has four belt-driven cams, and Larry could not get the timing perfect on it. This drove him crazy. He decided that it must be because I must have damaged one of the Comptech cams, and maybe it is slightly bent. So he pulled everything out, and put in the old cams to check. The old cams were also a tiny bit off. So then he put the Comptech cams back on. He kept adjusting, fiddling, but he could not get it perfect enough to his satisfaction. So today, he tells me to bring the truck over, and let's bring the engine over to the engine builder, and have him check out what is going on.

We cruise over to the engine guy who O-ringed the block, and he looks at us like we are morons. So we get him, his helper, Larry, and I, all screwing around with the belts/pulleys/tensioners for about an hour. Even the engine builder cannot get it absolutely positively perfect, but the engine builder claims that sometimes you cannot get it PERFECT. Larry said, "Okay, if you say so, we will go with this, which is close to perfect, but it ain't PERFECT." We pack the motor up, and head back to the shop. I ask Larry what the heck was all that about. He says, "Well, I could not get it PERFECT, I could get it almost perfect, so I wanted to take it back to the engine guy and have him say, "Yes, this is good enough, there will be no problems, even though it is just a millimeter from being perfect. That way, if we fire up the engine, and we blow up a piston or valve, we can go back and say, 'Dude, you told us it would be fine, now our new motor is blown up, and we think you should help pay for part of the damage'." Okay, sounds like a good CYA if you ask me.
Larry and Co. are no longer answering the phones at the shop, and they setup the voice mail so no one can leave messages. Everyone likes to talk to Larry, and neither party can stop talking. So a 30 second conversation becomes a 45 minute conversation, and my motor is still sitting there on the ground. I glance at the clock, and the calendar, and mentally figure out that no way are we going to get the car back together, aligned, and dynoed for the Friday test day. I tell Larry he ain't gonna make it, but let's go for the Touring Car Club event on Saturday.
I also have Larry throw on some rebuilt Comptech Pro Suspension shocks. It has been a couple of years since we bought the shocks.
Wednesday, May 23nd.
I stop by the shop. Things ain't looking good. Larry says it is more important to get it done correctly, as opposed to meeting my schedule. We find a guy who is going to build us a double width racing radiator and it will be ready on Tuesday of next week.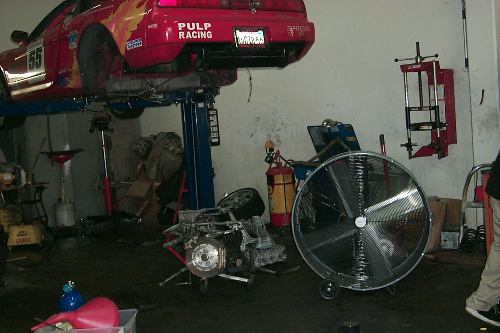 Larry said,"Too hot to work". So I got him a big ass fan. Now work faster!

Thursday, May 24th.
Car is still in a lot of pieces. Larry is fabbing parts. He thinks we will make the race on Saturday. I KNOW it ain't gonna happen on Saturday. I don't tell Larry this, as I figure if he has a Saturday deadline, maybe we can go for the TCRA event on Sunday.
Friday, May 25th.
Car ain't dynoed. Car ain't aligned. There will be no racing this weekend.
Tuesday, May 28th.
Memorial Day weekend was the weekend before. It looks like every performance shop in Southern California takes the entire week off. Don't they know that we are trying to build a Hill Climb Car? The dyno guys are on vacation, the alignment guys are gone all week. Radiator guy calls, and says, "Uhh....the radiator guys are building radiators for NASCAR right now, and they are backordered 4 weeks for custom radiators." Great.....just what I needed. All over town, no one can build us a custom double width radiator in under four weeks.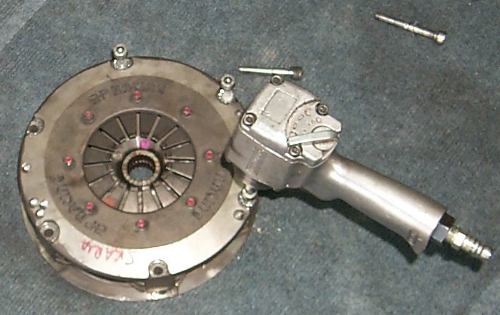 New AP Racing Clutch. No weak ass springs in the clutch to break.
Friday, June 1.
I get the car back! I drive it around town, mostly at night, as I am sure cops would love to pull me over and harass me. I go up and down some deserted roads to make sure it feels okay. Power seems good, but I realize that Bonehead Larry installed the wrong gearset. He put in the tranny with the long gears. Which sucks, as this means 2nd redlines at around 85 mph, 3rd redlines around 119, etc. With the short gears, 2nd redlines around 70 (depending on what ring and pinion you are using), 3rd redlines around 100, etc. So with the short gears, the car feels like it is more in the powerband. I scream at Larry. Larry calmly says, "The best bet is the bet you don't make", which is a line he picked up from Dagmar. I scream at him, "What the hell does that mean?". He then says that he put in the AP Racing clutch, which has no springs to blow up. It is an "on/off" clutch, meaning that either it is engaged or it ain't engaged. He figured that with this clutch, I can't blow it up, no matter how stupidly I shift. I remind him that I have demonstrated to him how to smoothly shift from 2nd to 1st at 32 mph in the S2000 without upsetting the tranny or engine, and that I am a professional, and I do this shift around all turns. And he then mentions that missed shift I did last year when I accidentally shifted into 3rd at 124 mph and blew up the motor (this tranny was geared so that 3rd redlined at 90 mph. But his point is that he had to make some mods to the tranny case to get the AP clutch to work, and he didn't want to do it to the good tranny, he wanted to use the long gear tranny to make sure it is even feasible, as he didn't want to damage the good tranny. So now all he has to do is swap out he trannys again, make the mods, and then I can use this new fangled AP Racing clutch. There goes another day lost, as now he has to swap out the trannys......there's another day lost.....

Larry and Reuben checking motor at Willow Springs

Monday, June 4th.
Dyno guys are back. The tell us they can put us on the dyno tomorrow. Awesome!

Tuesday, June 5th.
We are scheduled to dyno at 5:00 p.m. Larry finished up putting in the short gear tranny. At 4:15 p.m, I hookup the small open trailer to head over to Larry's, as we are going to dyno with the racing exhaust on the car, which is probably around 115 db at full throttle. At 4:16, Larry calls me, and says that there is a problem. Something blew upon a full start acceleration test blast that he did down the street. He thinks it might be the tranny......and we ain't dynoing tonight. DAMN! We almost made it to the dyno. I call the SHO Shop, and tell Vadim that we blew something up, and apologize that we can't make it tonight. He says no problem, as there isn't a line this week for the dyno. TCRA guys call me up, and tell me they would like me and Wayne to be at their event this weekend, which is billed as the TCRA vs. Vintage Car Club event. I tell them I would love to go, except we may have just blown up my car. Wayne's car is still at Vision, getting a new engine. Supposedly it will put out 375 HP and 350 ft lbs of torque, using about 19 lbs of boost for reliability. Wayne was able to trade a phone system for the engine, as Dwaine just opened up a new 15,000 square foot shop to build Porsches for his customers. Recession.....there ain't no recession over at Vision.....

Wednesday, June 6th.
Larry says that no problem, looks like just a rear axle died on us, possibly from the full throttle launch. He gets an axle, throws it on, and says we are ready for tonight. I call the SHO Shop, and beg them again to get on their dyno. They say, "Come on down". I can't make it tonight, as we have our coed softball game at 6:30 p.m. I tell Larry to take a couple of guys down with him and finish up the dyno. The other motor dynoed at 396 HP, and a lot of people with Comptech superchargers started screaming, "Bullshit", as they don't think a Comptech NSX can pull out this much HP. They think either the dyno was off, or it was a fluke run, etc. etc.

They throw the car on the dyno, and the dyno says "335 Max HP"., which is around what most people get with a 3.0 NSX engine with a Comptech supercharger on it. But then Larry grins, and then throws on his extra secret sauce, consisting of plugs, modified FMUs, regulators, etc.. They run again, and after some tuning.......the Dyno reads 394 HP! Larry jumps up and down, saying, "Shit, it may have been a fluke once, but I did it twice, with two completely different motors that I rebuilt, on two different days, and on the same dyno. I am the King. Talk shit now to me, all you non-believers!".

Mr. O from Japan, who is the Gruppe M owner, designer, builder, fabricator of Gruppe M products for the NSX is impressed. He asks Larry a bunch of questions about supercharger tuning. Larry reveals some tricks, like how my car is able to pull consistent boost even as RPMs go up. I used to complain to Larry that the Comptech supercharger would start out at 6-9 lbs, but then bleed down to 3-4 lbs as RPMs went up. Larry said that he got a bunch of different springs, and figured out which one would work with the supercharger to hold the diaphragm(?) open for a longer duration using a pressure gauge. Anyways, I do have to bow down to Larry, even though he is never on time with my car. Okay, so now we want to test my car at Willow on Friday, June 8th, for an open test day.
Thursday, June 7th.
Car is getting aligned. However, alignment guys says that front ball joints should be replaced, along with front tie rods, especially if I am going to be going to the Hill Climb. DAMN! We still decide to take the car to Willow, but we won't throw the car into the turns or try to setup a new personal lap record. We just need to test to make sure the car no longer overheats, and the only way we can do that is to drive it on the track. We can never get the car to overheat on the street, but after two hot laps on the track, we have been pegging the temp gauge in the red zone.

Friday, June 8th.
I wake up at 3:15 a.m., and get ready to go to Willow. I call Larry and Reuben, and wake their ass up at 4:00 a.m., and tell them to be ready at 4:30 a.m.
We get to Willow, and I gingerly get into the car. I haven't been able to go more than two laps without the car overheating. I get to lap 2.....and temp is still below halfway. Lap 4....temp below halfway. Lap 8....temp below halfway. Lap 10.....temp is below halfway. PROBLEM SOLVED! I don't try to burn up the track and go for our own personal lap record, as we need to get the ball joints and tie rods fixed before we do that.
But the Larry says, "Do you want to try to test out the secret weapon we have for the Hill Climb?". I tell him, "Of course, I am up for it." So Larry turns on the solenoid switches, bumps up the fuel pressure, and we then unveil the latest go-fast creation to help us kick some butt at the Hill Climb: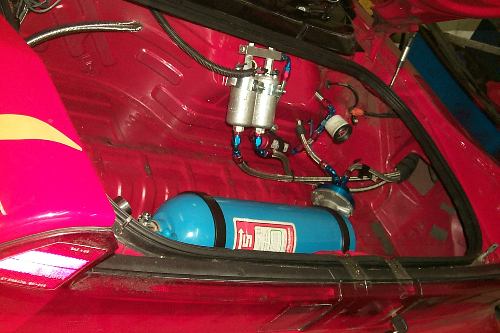 We are going for broke. We took 4th last year, this year.....we want to be King.
Yes, we ain't screwing around any more. We are adding NOS to the Flamemobile for this event. I don't believe in using NOS at the race track, but the Hill Climb ain't a race track. It is a special, one time a year event, that requires special, one time a year attention to kicking some butt. I had Larry hook up a NOS kit to the car, with a button on the steering wheel so when I am going on the straightaway sections of the hill, and I get a little injection of power into the engine. Jeff and Wayne ain't gonna take away my title that I took from them last year. I am the fastest out of the three of us up the Hill, and I intend to keep it that way. This is why we were worried that Larry blew up something important (engine/tranny) when he was doing his first gear blasts right before the dyno the other day. When Wayne discovered yesterday that I was putting NOS into my car, he immediately call me a cheating bastard and said he was calling Dwaine and telling him to crank up the boost on his car to 25 lbs. We were going to dyno the car with the NOS the other day, but Vadim said, "Uh....maybe you guys should break in the motor a little more before we try the NOS on the dyno....".
I tell Larry that last year, the only cars that beat me were Beddor's RUF (550 HP), Amir's F40 (550 HP), and Ori's Viper (600+HP). Last year I had 338 at the rear wheels, this year I have 394, and if we add NOS, probably add another 60 HP, so now I am at 454 at the rear wheels, which is probably about 500+ HP at the flywheel when my finger is on the NOS button.. Heh heh heh.....and I am lighter than those other cars. I have visions of being the King of the Hill.....

Okay, so I tell Larry and Reuben that I will do three laps around the track, and then I will raise my arm out the window, which means that on the next lap, I will use the NOS down the straightaway. I do one, two, three laps, raise my hand, and then prepare to launch the NOS on the next time around. I was doing hitting about 135 mph down the straight prior to using the NOS, which is slower than usual, but I didn't want to launch out of turn 9 as the ball joints are less than optimal. Coming out of turn 9, I get the car straight, and hit the NOS button. The sensation was weird....kinda like everything got quiet, and the car was "wooshing" down the straight, as if propelled by a silent rocket. I shifted into 4th and 5th going down the straight, and by the end of the straight, I hit 147 mph! Holy shits, this is 7 mph faster than I have EVER gone down the straight at Willow, and I didn't even get a good launch out of turn 9! I start to see my future flash before my eyes......let's see....I figure the NOS is good for another 12+ mph down the front straight of Willow, so if I add 12 mph to my 120 mph top speed at the Hill last year, that puts me at 132 mph before I go into the 25 mph turn, which means I could drop another 6-10 seconds or so off my time if I use the NOS on other sections of the track, which means instead of running my 3:26 like I did last year, perhaps I could run a 3:16 up the hill.....which might be lucky enough to be King of the Hill. And this could be the last Virginia City Hill Climb due to local citizens at the Hill complaining about the cars racing up the hill. And I could win it. And from now on, the rest of my life, I will always introduce myself as "Hayashi. Doug Hayashi. Winner of the last Virginia City Hill Climb ever recorded in history". Yeah yeah....I like that fantasy.......
Okay, so I am piloting away down the straight, Larry and Reuben are watching me blast away, and they are grinning from ear-to-ear, as they re-built the Flamemobile into the 6 Million Dollar NSX, meaning a better, stronger, faster NSX. Larry said the car looked awesomely fast going down the straight, and the guy standing next to them said the same thing.
At the end of the straight, I hit the brakes, and go into turn 1 feeling victorious....until I glance in my rear view mirror and is looks like the fog is rolling in....except it is sunny and 85 degrees outside. I look again in my rear view mirror, and the I realize that HUGE clouds of smoke are coming from behind my head. Oh shit, it must be overheating. I check temp gauge. No....temp is still half way. Thank God it ain't over heating. I check oil pressure. No...oil pressure is fine. I check the rear view mirror......something ain't good, as it looks like my car is on fire. I don't smell fire, and I don't smell coolant. But big white clouds are coming out from my car, so much that if you were behind me, you could not see my car through the fog. I pull into the pits, Larry checks the plugs, and things look okay. Maybe just a head gasket. We pack up, somewhat defeated, but at least the car doesn't overheat any more......so we solved one major problem.
Friday Night
Larry peers into each cylinder via the spark plug hole with his new telescopic periscope dohickey that allows him to peer into tight places, kinda like a proctologist. The first five cylinders look good, the last one, he blinks twice, and rolls eyes at the ceiling.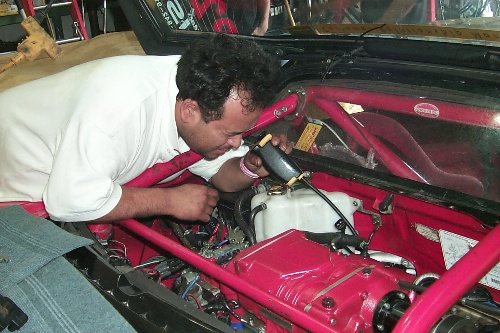 Larry with his periscope/microscope on a flexible hose
We blew up a piston on our newly O-ringed head motor. DAMN! We leave for the Hill Climb in six days. We are back to step 1, or where we were a month ago before we started rebuilding the car. I tell Larry we can blow off the Hill Climb this year, but he has a plan. He can take the old engine that was overheating, (but we think it could have just been a bad water pump), take off Comptech heads, supercharger, etc, and reinstall everything on top of the old block. I ask him if it is possible to do this in time for the Hill Climb, and he asks me, "How much money ya got....".

I am throwing too much money into the car. But it is kinda like being accused of being a serial murder by 10 witnesses, so you go out and kill the 10 witnesses. But then two more witnesses suddenly appear, accusing you. You all killed the first 10, so you might as well go out and kill the other two.......they can only put you on Death Row once.....kinda of a sick analogy....but my brain ain't working good now...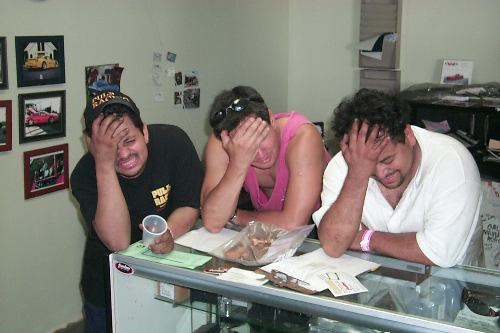 3 weeks working on the car, but blown up with 15 seconds of NOS
Saturday. Sunday. Monday.
Larry and crew are thrashing on the car. I am getting worried, and pissed that it ain't up and running yet. But Larry says that he wants to take his time with the re-build. We miss an alignment appointment on Monday morning, afternoon, and evening. Dale over at the alignment shop thinks we are total morons. He might be right.....

Tuesday
We miss the alignment appointment again in the morning and the afternoon. I stay with Larry, Butch, and Don until 3:30 a.m., as I believe this is going to require some supervision to make it on time. We turn the key on the rebuilt motor once to get some fuel pumped, and then on the second turn of the key, the motor fires up with a lovely growl. Yeah baby, it is coming to life. Larry smiles....."Of course it is going to fire up immediately.......I was real careful with this one."

Wednesday morning
Trying to make sure we are going to make it for a 4:30 a.m. trip on Thursday morning to Virginia City. Car still isn't done. Wednesday, we beg with Dale at Dave's Frame and Alignment to stay open for us. We have to replace front ball joints, which isn't an easy job. We scramble for parts. We get to Dave's at 5:30 pm., and he starts the alignment. However, he says that the rear suspension is screwed up, as a screw is stripped in the rear beam. We scramble to get a rear beam, and have to put that in. Car is still spewing an engine error code, so Larry has to trouble shoot that. I leave Larry at 11:00 p.m. Wednesday night, and he has to finish putting a new beam in and then buttoning up the car. Current plan is to pick up car Thursday at 6:45 at my shop., drive it, take it to Dale's at 7:00 a.m., align it, and then pack it in the trailer and leave by 9:00 a.m. Wayne gets his car back from Vision at 6:30 p.m., and Wayne is pissed as he is only putting out about 5-8 lbs of boost, and he thought he told Dwayne to pump it up for more power. Raceaflais is kicking our ass......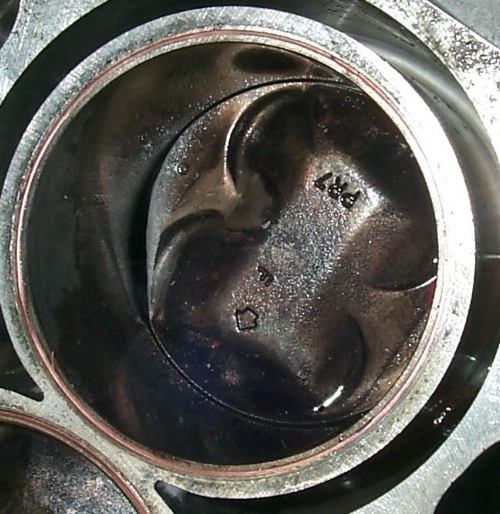 Notice how the piston isn't perfectly round. Oooops............
Thursday Morning.
I get up early. We were supposed to leave for the Hill at 4:30 a.m., but that obviously ain't happening. I decide I want to check the car out before driving it to Dale's, so I try to get to my shop at 6:00 a.m., that way I can rip up and down the streets of Huntington Beach and check to make sure engine is good. I decide to eat my Cocoa Krispies cereal at my shop before driving around. I get to my shop, cereal, milk, and bowl clutched around my chest, and walk inside....and my damn car isn't there. I drop my breakfast on the floor. It is 6:00 a.m., I call Larry, "Where the hell is my DAMN CAR?". He said that they worked until 2:00 a.m. again on it, and they were too tired to drive it over to my shop. He says to meet him at his shop in five minutes. I go over there, get the car, and he still hasn't fixed the engine error light. I drive the car over to Dale's, and it feels like the wheels are going to fall off the car. Dale does his expert alignment, and now the car feel good and tight again. I go back to Larry's, and we start to troubleshoot the engine error code. The NSX engine light will blink, and give us error codes like 46, 31, 16. A couple of the codes are wacky. Larry swaps O2 sensors, throttle bodies, etc, trying to figure it out. Two hours go by, and he traces it down to a bad wire in the damn harness. He fixes the wire, we fire up the engine, no engine error codes, and the car engine is rocking again. I take it down the street, hit the red line in first and second gear, and we have power again.
Only problem is that we don't have time to dyno this engine, or check for overheating at the track, or check suspension at the track. But then again, neither does Wayne......
12:30 p.m. Thursday afternoon.
The Pulp Racing Circus heads off for the Hill. I will update later next week the results....keep your fingers crossed for us.....we are going to need some luck with this one.....